What San Antonio Spurs Must Keep Doing to Win 5th NBA Title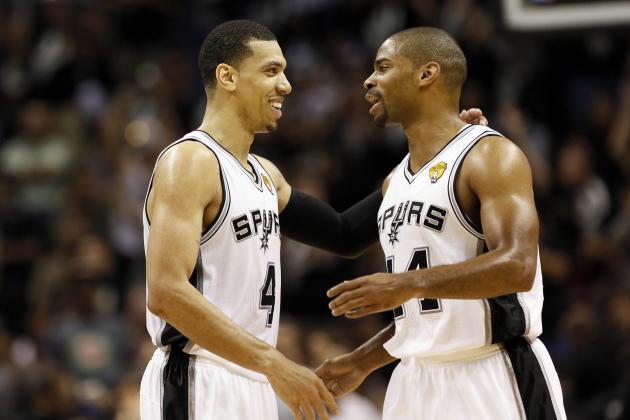 Soobum Im-USA TODAY Sports
Danny Green and Gary Neal were unconscious shooting the ball in Game 3. Can they continue their hot streak?
The San Antonio Spurs did everything right from the final 10 seconds of the first half until the final buzzer sounded en route to a dominant 36-point win over the Miami Heat in Game 3 of the NBA Finals.
Head coach Gregg Popovich's team holds a 2-1 advantage over the defending NBA champion Heat squad that is looking to avoid losing back-to-back games for the first time since January.
San Antonio has held a 2-1 series lead in the NBA Finals during three of its four championships, so this is familiar territory for Pop, Tim Duncan, Tony Parker and Manu Ginobili.
Each game of the Finals has exhibited vastly different—and unexpected—results despite the parity of this matchup. But the Spurs have come out on top of two games, and they must continue to do a few things to win two more battles for an impressive fifth title in 15 years.
Begin Slideshow

»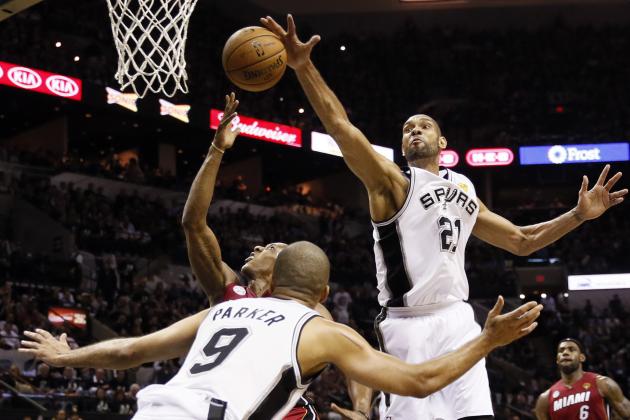 Soobum Im-USA TODAY Sports
Duncan swatted three shots on Tuesday, and his blocks are often momentum-killers.
Game 2 is the immediate example, as the Heat absolutely pulverized the Spurs with a 33-5 run in the second half to win by 19 points.
In Game 1, however, the San Antonio allowed runs only two stretches of a 7-0 advantage by Miami.
Then, in Tuesday's victory, San Antonio gave up two slightly larger, but still controlled, runs of 12-1 and 9-1. Yes, the 12-1 stretch anchored by Mike Miller tied up the game, but Parker and Neal made huge shots to extend the lead to six points at halftime.
The lesson learned here is that when the Spurs' defense limits the damage of the Heat's potentially lethal offense, San Antonio's chances of winning are exponentially better than when it allows a 33-5 run.
Hashtag analysis right there.
But in all seriousness, if Miami cannot string together a series of possessions where it dominates on both ends of the floor, Popovich's crew does not allow the game to get out of control.
When San Antonio stays physically under control and mentally composed, it is a dangerous team both offensively and defensively.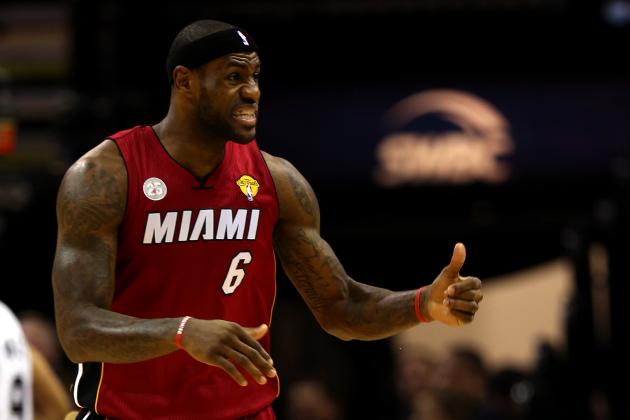 Mike Ehrmann/Getty Images
LeBron's shooting was awful in Game 3 other than one nine-point stretch in the third quarter.
LeBron James is the most dynamic player in the NBA, but he does his best work when he drives into the lane. Whether he finishes hard to the rim, kicks the ball out for an open three or takes a higher-percentage look from inside the free-throw line, James is deadly with the ball.
But San Antonio's Kawhi Leonard, tasked with the unenviable responsibility of guarding the best player in the world, has limited LeBron's driving ability.
SBNation's Mike Prada points out the amount of space Leonard allows James, and "it's working!"
Look at all the space Kawhi Leonard gives LeBron. And it's working!twitpic.com/cwrjl0

— Mike Prada (@MikePradaSBN) June 12, 2013
The Spurs have forced LeBron into taking 13 three-point shots, and James has only made three of those attempts.
He has connected on seven shots in each of the first three games, but his 21-for-54 mark from the field is far from LeBron-like standards.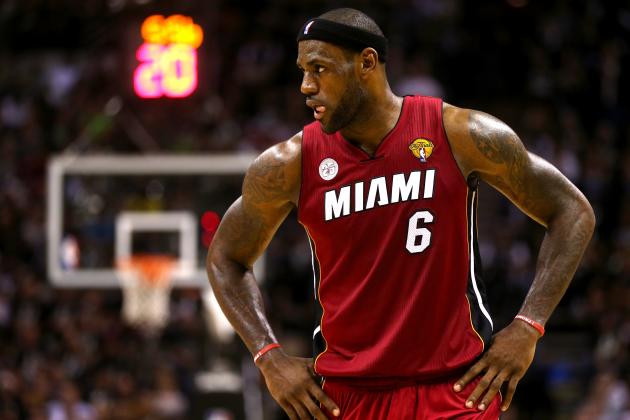 Mike Ehrmann/Getty Images
LeBron has made few appearances at the free-throw line in the Finals.
Piggybacking off the last slide, since James cannot attack the rim at will on San Antonio's defense, he has attempted just six free throws in the entire series.
For comparison's sake, LeBron shot six free throws in 14 of 16 games during the postseason before the NBA Finals.
James' impact on the line against the Indiana Pacers was evident when he made 15 free throws in Game 7 of the Eastern Conference Finals including six in the decisive second quarter.
But in Game 3 against the Spurs, he did not take a single free throw.
Leonard has done a stellar job thus far making James shoot outside, keeping him out of the lane and frustrating the superstar. Simply put, San Antonio must continue to deny LeBron high-percentage shots—especially from the charity stripe.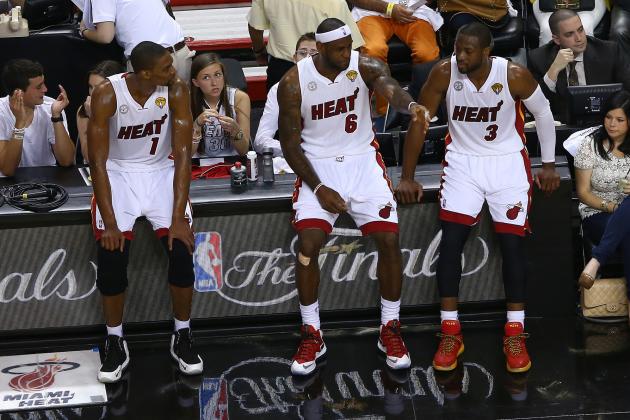 Streeter Lecka/Getty Images
Bosh and Wade have been relatively ineffective this series.
The Spurs have done an excellent job frustrating LeBron into deep and contested shots, but the two other members of the Heat's Big Three have yet to step up.
Including free throws, James has fired 60 of Miami's 278 shots (21.6 percent) in the Finals compared to taking 197 of 711 attempts (27.7 percent) during the Eastern Conference Finals. Essentially, LeBron is attempting nearly three fewer of his team's shots per game against San Antonio than he was vs. Indiana.
San Antonio is forcing the lesser players of Miami's version of the Big Three to make plays, and Chris Bosh and Dwyane Wade are struggling to produce at an elite level on both ends of the floor.
The duo has combined for a meager 80 points and an awful minus-57 rating during the NBA Finals.
Oddly enough, Miami was most effective in Game 2 when Bosh and Wade were on the bench as the Heat scored their first 22 points of the massive 33-5 run during that time.
Ultimately, the Spurs have basically made Bosh and Wade average offensive players while exploiting them on defense, and it is doing wonders on the scoreboard.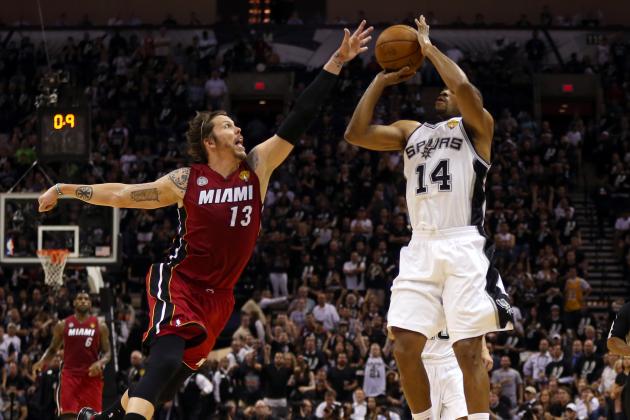 Mike Ehrmann/Getty Images
Neal's buzzer-beating three-pointer was a key play in San Antonio's Game 3 win.
Gary Neal and Danny Green combined for a brilliant and victory-defining 13-for-19 mark from distance in Game 3. Additionally, the Spurs set an NBA Finals record canning 16 three-pointers on the night.
Though that kind of torrid shooting cannot be expected every game, the Heat have conceded a slew of open looks to San Antonio's shooters.
As a team, the Spurs have made 33 of their 75 attempts from long range during the NBA Finals. Even in Game 2's beatdown loss, San Antonio shot 10-for-20 behind the arc.
While Neal and Green are a stellar 25-for-41 launching the trifecta, Ginobili, Leonard and Matt Bonner are just 7-for-27 on three-point attempts against Miami.
Even if Neal and Green cool down from their respective hot streaks, the typically reliable trio of Ginobili, Bonner and Leonard has plenty of room to improve.
As long as San Antonio keeps knocking down open threes allowed by the Heat, the Spurs will have an edge on the perimeter in the series.