Coming off one of the worst seasons in franchise history, you might say that the Phoenix Suns could technically use an upgrade at every single position.
However, some positions are more urgent and are greater voids to fill than others. Goran Dragic is no superstar at point guard, but he has certainly proven to be a tough, durable and starting-caliber talent.
Meanwhile, at other positions such as shooting guard, the Suns are a mess and desperately need someone they can try to build around for the future.
Through multiple draft picks, potential trade opportunities and salary cap space, the Suns will have the chance to find some of those players this offseason.
Here are the three positions that must be upgraded this summer.
Shooting Guard
As of now, the Suns have plenty of players capable of playing the 2-guard. The problem is, none of them are especially great talents.
Shannon Brown had a solid first season with the Suns, but due to a lack of effort on defense and extremely poor shot selection, he spent a significant amount of time this past season as a benchwarmer and may be released this offseason.
P.J. Tucker had a fantastic season with the Suns and proved to be one of the most hard-working, diligent players on the team. Even so, it is clear that Tucker is not fit to be a starter on a playoff team.
Wesley Johnson really picked up his game near the end of the season, and I would encourage the Suns to re-sign him. But despite a few 20-point outings, he isn't an especially efficient go-to scorer who Phoenix can count on.
So with that being said, the Suns must look elsewhere to solve their problem.
Luckily, the upcoming NBA draft may provide an answer to the team's issue.
Ben McLemore is still widely considered to be the best shooting guard of the 2013 draft class, and he would be the Suns' best shot at finding a go-to scorer. The problem is that most NBA mock drafts have the freshman guard out of Kansas being taken in the top three picks.
If that happens, perhaps the best option is Victor Oladipo, the versatile 6'5" guard out of Indiana.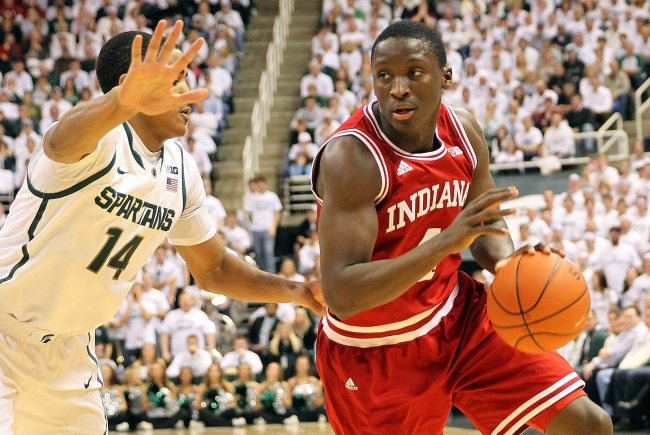 Mike Carter-USA TODAY Sports
Oladipo is not going to be a primary scoring option, but he is quite explosive, and his athleticism allows him to get out in the fast break and perform emphatic dunks. He also almost always takes smart shots, as evidenced by his crazy 60 percent field-goal shooting, and his 6.3 rebounds per game are fantastic for a guard.
Oladipo led the Big Ten with 2.2 steals per game and a defensive rating of 86.9. He has enough defensive potential to come into the NBA and immediately draw comparisons to other lockdown defenders such as Tony Allen, Avery Bradley or Iman Shumpert.
Later in the draft, prospects such as Kentavious Caldwell-Pope, Jamaal Franklin, Allen Crabbe and Archie Goodwin should also be available. Some of those guys may not be stars in the NBA, but at the very least, they would add more depth to the Suns' bench.
If they really want, the Suns could target a free agent such as Monta Ellis or trade for Eric Gordon of the New Orleans Pelicans. However, both of those players are fairly inefficient and would be unwieldy contracts for Phoenix, as Gordon is on a max contract and Ellis (whether he deserves it or not) will probably ask for at least $11 or $12 million per year, if not more.
What Should the Suns Do To Improve Their Shooting Guard Situation?
It all depends on how GM Ryan McDonough plans to rebuild the Suns and if he wants to build a team through free agency or the draft. In all likelihood though, we'll see one or two new prospects playing shooting guard for the Suns next year.
Center
Allow me to preface this section by saying that the Suns are not going to find an upgrade at center this summer. Unless they sign Dwight Howard or pull off a remarkable trade, they won't find a more talented player than Marcin Gortat.
However, Gortat is about to enter his 30s, so what the Suns must do is pursue a draft prospect or young player that the team can build around in the future. They may not immediately be at Gortat's level next season, but hopefully, that player will surpass him in the future.
Gortat is definitely a prime candidate to be shipped to another team. He averaged 11.1 points and 8.5 rebounds per game this season before going down with a sprained right foot, but his offensive production is way down ever since Steve Nash was traded to the Lakers.
Gortat only has one more year on his contract, and he didn't seem to be particularly happy about being on such a terrible team this year.
If Gortat starts dropping hints that he plans on leaving in free agency, the Suns should attempt to trade him immediately. There are already rumors of a possible trade with Portland that would send the 10th overall pick to Phoenix, and Boston and Oklahoma City are two other trade partners that could be interested.
Then, the Suns have to look for a fantastic prospect in the draft. Nerlens Noel will most likely be taken before the fifth pick, but that still leaves Alex Len, Steven Adams, Gorgui Dieng, Cody Zeller and Jeff Withey for Phoenix to pursue.
If the Suns do trade for the 10th overall pick from Portland because they are so high on Zeller, perhaps they will have found a new starting center.
Zeller was once considered a potential first overall pick for this draft class, but he has gone from overrated to seriously underrated due to the fact that he didn't meet expectations at Indiana.
Still, Zeller's combine performance surprised scouts, as he established himself as one of the more athletic big men available. He has great size and talent, and could be a fantastic post scorer for the Suns with a nice touch around the basket.
His defense is nothing special, but if he can improve that and develop a consistent mid-range jump shot, Zeller could become a starting forward-center for many years. He may not be a star, but it's also unlikely that he will be a complete bust.
Power Forward
This is easily the most difficult position for the Suns to upgrade, mainly because there aren't as many options available in the draft or free agency.
Right now, the Suns have several solid power forwards. However, let's break them all down one by one.
Markieff Morris had some solid outings at the very end of the season, and I'm still convinced he could potentially be a starter in the future. However, I can't see him as a starting power forward on a playoff team, at least not until he develops more of a post game, works on the consistency of his mid-range and three-point shots and shows more effort on defense.
Right now, he will occasionally have a fantastic game, but he is too inconsistent to count on as the team's future starting power forward.
Marcus Morris is another solid prospect who could provide depth off the bench as a role player or sixth man, but that appears to be his ceiling as an NBA player. He also struggled with the consistency of his shot, and while he did make 41 percent of his three-point attempts in December, that rate slowly declined throughout the course of the season until he shot just 20 percent from downtown in April.
Channing Frye is returning from heart surgery and while he was a fantastic spot-up shooter before this season, that could all change now. For one, this will be the first time Frye plays without Nash for the Suns, something that could affect the number of open opportunities he receives from long distance.
Additionally, we still don't know how his game will be affected by his enlarged heart. While he could thrive next season on a team looking for consistent scorers, he could also struggle and be forced to play a limited role. For now, nothing is certain.
And then there is Luis Scola. While Scola is probably the best player in this group, he is also already 33 years old. He really doesn't have a place on a rebuilding team, and I fully expect the Suns to attempt to trade him over the summer for young prospects or draft picks.
So, how do the Suns upgrade this position? Unfortunately, other than Anthony Bennett, there aren't really any great options in the draft.
Bennett, the undersized tweener, is expected to be a top-10 pick, and he is one of the most versatile scorers in his class.
Bennett is a powerful and explosive leaper who can stun the crowd with great dunks, and he can either score in the paint on opposing big men or shoot mid-range jump shots and three-pointers. He would bring some excitement back to the U.S. Airways Center with his highlights.
Bennett averaged 16.1 points, 8.1 rebounds and 1.2 blocks per game for UNLV, and he could be an exciting prospect to watch despite a shoulder injury that will keep him out for four months.
The other option is to explore the free-agent market. There, Josh Smith and Paul Millsap are two great power forwards who are still fairly young.
However, before the Suns attempt to chase after either of those two players, they must ask themselves a few questions.
First, how much are they willing to spend? Millsap may be signed to a fairly reasonable deal, but Smith is a player who might expect a max contract offer despite the fact that he has never been selected to an All-Star game. Do the Suns really want to commit that much money to a player who isn't a true superstar?
Also, how will this interfere with the rest of the rebuilding process? Millsap and Smith could be great as the second or third options on a playoff team behind a legitimate superstar. However, as the primary scoring option, their teams would only be mediocre at best.
If the Suns sign Smith now, that may guarantee three or four straight seasons of picking in the late lottery, where there would be a much lesser chance of drafting that superstar.
Essentially, what is more important to Suns fans? Getting back to the playoffs as soon as possible, or finding the most efficient way not only to make it to the playoffs but to the NBA Finals? Are fans content with being mediocre? They certainly shouldn't be.
Right now, Robert Sarver, Lon Babby, Ryan McDonough and Jeff Hornacek all have a goal. That goal should be to win an NBA championship. If that means suffering through a few dismal seasons for the sake of saving cap space and drafting promising prospects, it is fine by me.