Power Ranking Minnesota Twins Starting Pitchers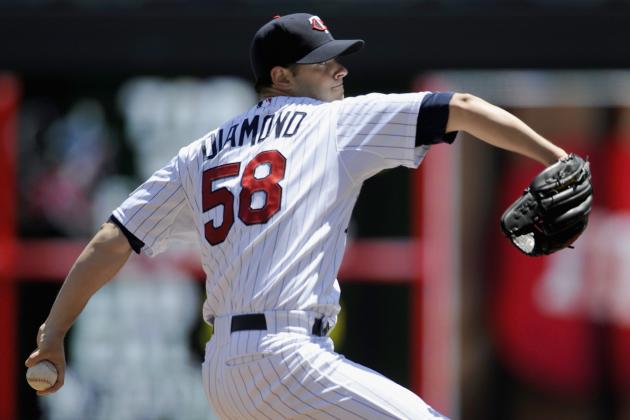 Hannah Foslien/Getty Images

"See the ball, hit the ball."
It's a pretty simple concept for the offensive side of the ball. The other side of the ball is all about the art of illusion.
Frankly, the Minnesota Twins pitching staff hasn't been very illusive in the past couple years.
They are basically a bunch of magicians who outright tell you how their tricks, or illusions, work. It's really kind of sad.
The Twins have thrown eight starting pitchers so far in 2013, and who knows how many more might toe the rubber to start some ballgames.
How do the Twins' current starters stack up?
Four starts were required to make the list, which explains the absence of Liam Hendriks from the power rankings.
All stats seen are from the Minnesota Twins page on Baseball-Reference.
Begin Slideshow

»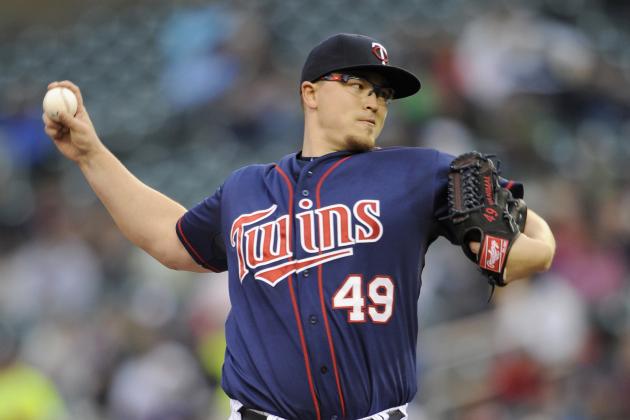 Hannah Foslien/Getty Images

It's probably safe to say if you were your team's Opening Day starter and make non-rehab starts in Triple-A, something went terribly, terribly wrong.
Welcome to the world of Worley.
The headline addition to the big league team's rotation was in the headlines for all of the wrong reasons.
Maybe someday, Twins fans…someday.
10 GS, 1-5, 7.21 ERA, 15 BB, 25 K, 48.2 IP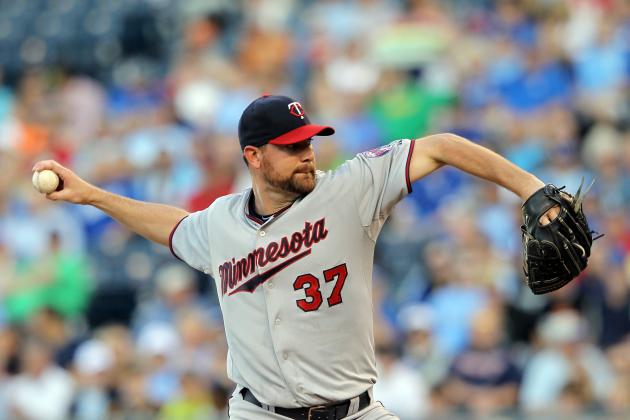 Jamie Squire/Getty Images

Not to be a Mike Pelfrey hater, but I simply can't believe that he is still in the Twins starting rotation.
I know he's coming back from Tommy John surgery, but Pelfrey just hasn't been very good for the Twins this year.
Maybe I'm just biased because Pelfrey is so unbelievably slow. I'll never forget when I made my 2013 Target Field debut, for the second game of the Miami Marlins doubleheader. It was unbearably cold, and Pelfrey still took forever on the mound.
No matter what way you slice it, Pelfrey hasn't been demoted to Triple-A, so he keeps the No. 6 spot...for now.
12 GS, 3-6, 6.40 ERA, 20 BB, 28 K, 57.2 IP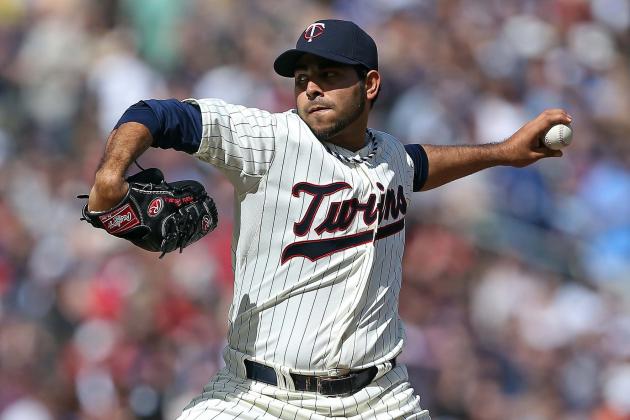 USA TODAY Sports

Vote for Pedro! (Note: I never really liked Napoleon Dynamite; I know I'm probably in the minority.)
Pedro is the only left-handed starter to have a winning record; granted, he and Scott Diamond are the only lefties.
Hernandez found some trouble and is currently down in Triple-A, which probably doesn't say much about the state of the Twins rotation.
6 GS, 2-1, 5.85 ERA, 10 BB, 17 K, 32.1 IP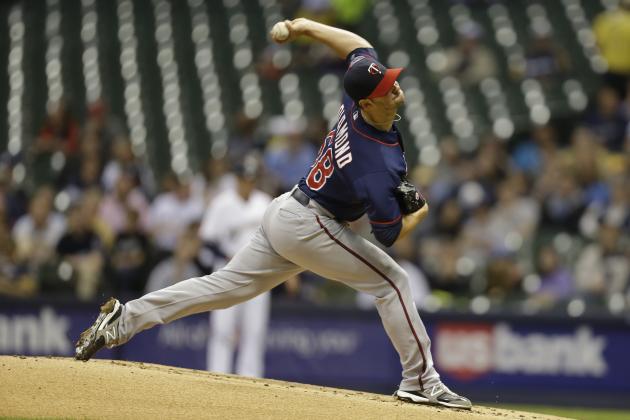 Mike McGinnis/Getty Images

Diamond was a real gem in 2012 for the Twins. In 2013, he has been a little closer to the jewelry you get in the machine for 50 cents outside the supermarket.
2012 may have set the bar way too high for the rest of Diamond's career, but he surely is better than what he has shown in 2013.
At least for Diamond's sake, he better be a little bit better. In the not-all-too-distant future, he'll be fighting for the fifth spot in the Twins rotation.
11 GS, 4-5, 5.19 ERA, 13 BB, 29 K, 60.2 IP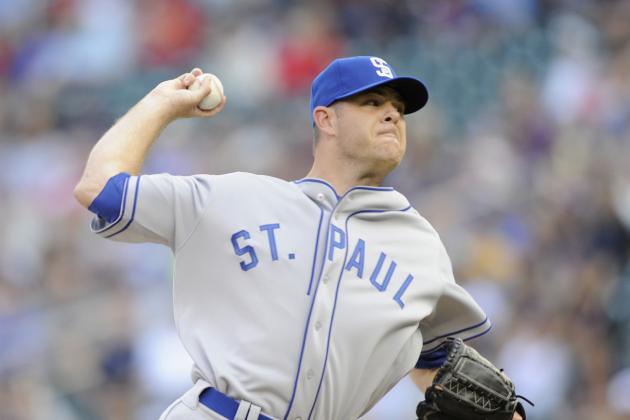 Hannah Foslien/Getty Images

I would be lying if I told you that Tuesday's performance from Walters didn't shoot him up a couple spots in the power rankings. Going seven strong innings will do that for a guy.
My main question about P.J. Walters is what does P.J. stand for?
His name is Phillip DeWayne…where does the J come from?
If anyone knows please tell me. I'm really, really curious.
4 GS, 2-1, 2.49 ERA, 6 BB, 14 K, 25.1 IP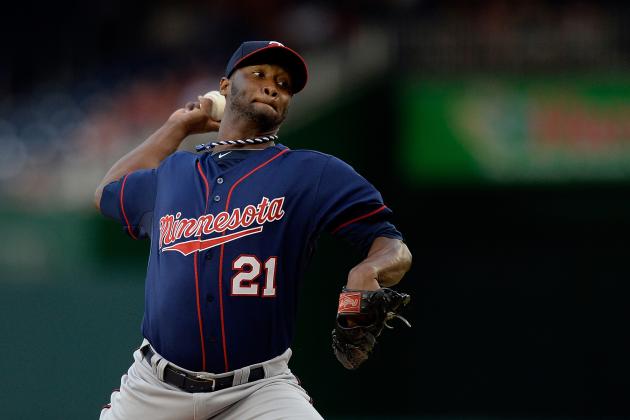 Patrick McDermott/Getty Images

World Baseball Classic hero Samuel Deduno has been one of the closest things to a hero the Twins rotation this season.
He has the lowest ERA of any Twins starter and is one of the few to actually have a winning record.
His success makes you wonder how this season may have gone if Deduno had been in the rotation all along.
4 GS, 2-1, 3.47 ERA, 10 BB, 13 K, 23.1 IP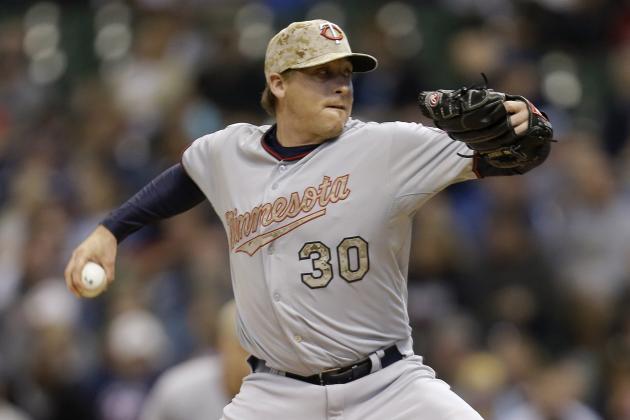 Mike McGinnis/Getty Images

Twins fans really need to slam weird questionable acquisitions more often.
Everybody and his long-lost English cousin slammed the Twins for giving Kevin Correia a two-year contract. Oh, how a couple months of baseball can change our perspective.
Correia is nowhere near a savior to a pitching staff, but he has been the best starter for the Twins.
That doesn't take much, but here's a toast to Kevin Correia. You have, so far, proven your haters wrong…We'll reevaluate in September.
12 GS, 5-4, 4.11 ERA, 12 BB, 36 K, 76.2 IP