Gary Neal, Danny Green Take Pop's Advice, Light Up Twitter With Game 3 Clinic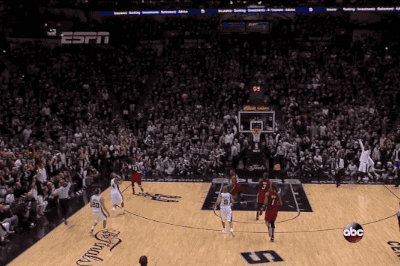 San Antonio Spurs coach Gregg Popovich knew what was at stake in Game 3 of the NBA Finals on Tuesday night.
With home-court advantage swiped from the defending champion Miami Heat and a full complement of AT&T Center faithful cheering on the Spurs for the first time this series, Pop pleaded with his team to not give away the edge they'd battled so hard to attain.
Not too mention the historical significance of what a victory has meant to teams in this very same position:
Remember The Stat: Since the 2-3-2 format, the Game 3 winner has won the Finals 92.3 % of the time.

— Skip

Bayless

(@RealSkipBayless) June 12, 2013
And this wasn't some complex, statistically backed strategy he wanted them to employ. No; this was simply an old-school coach offering a bit of old-school advice:
"Get your name in the paper."—Gregg Popovich, old-school awesome.

— Chris Jones (@MySecondEmpire) June 12, 2013
No matter its simplicity, that message took on enormous meaning as the game progressed.
Reserve sniper Gary Neal was the first to respond, putting on a first-half shooting clinic. His name's definitely headed for some premier paper position in the morning, but on Tuesday night he took over the new-age media world:
Gary Neal has 14 points at halftime, tying his playoff career-high for a GAME.

— ESPN Stats & Info (@ESPNStatsInfo) June 12, 2013
After Danny Green turned away LeBron James' shot in the closing seconds of the second quarter, a streaking Neal had the chance to send the Spurs into intermission with a surge of momentum. Neal set his sights from 25 feet and sent the hometown crowd, and Twitter, into a frenzy:
BANG

— Jared

Dubin

(@JADubin5) June 12, 2013
NEAL BANG!

— Zach Harper (@talkhoops) June 12, 2013
Gary. Neal. Game. Of. His. Life. So. Far. #HEATvSPURS #NBAFinals

— Josh Martin (@JoshMartinNBA) June 12, 2013
And Neal's first-half outburst wasn't just something for the media world to digest. Several of his NBA peers took to Twitter for a digital tip of the cap:
I told u guys about Neal! Heating up...

— Al Horford (@Al_Horford) June 12, 2013
GARY NEAL is out there BUMPINNN!!!!!

— Jeff Green (@unclejeffgreen) June 12, 2013
By the time the third quarter rolled around, another unheralded San Antonio marksman shot his way into the spotlight.
Danny Green, playing in his third season with the Spurs after being waived by the Cleveland Cavaliers, erupted for video-game numbers: 27 points, 7-of-9 from three. Maybe that's because he was working with video-game weaponry, at least according to Dallas Mavericks sharpshooter Dirk Nowitzki:
Green got a flame thrower

— Dirk Nowitzki (@swish41) June 12, 2013
By the time the final buzzer mercifully sounded to end San Antonio's 113-77 rout of Miami, the box score read like an unbelievable science fiction novel:
Danny Green & Gary Neal (51) scored more points than the ENTIRE HEAT STARTING LINEUP (43) in Game 3. #threeparty

— Numbers Never Lie (@ESPN_Numbers) June 12, 2013
And the perimeter shot chart for Green and Neal looked like a museum-quality work of art:
Gary Neal & Danny Green check out...A look at just their incredible 3's tonight (13/19, 68.4%) #NBAFinals twitter.com/nbastats/statu…

— NBA.com/Stats (@nbastats) June 12, 2013
These weren't completely uncharted waters for Green. He's been scorching at an historic temperature throughout the series:
Danny Green's 16 3-pointers made in this series are a Spurs record for most made in an NBA Finals series.

— ESPN Stats & Info (@ESPNStatsInfo) June 12, 2013
Of course this was still coming from a guy, who, again, was waived by the Cavs and playing in his first career NBA Finals:
How can you not be happy for @dgreen_14? #StartedFromTheBottomNowHeHere

— Marcus Thompson (@gswscribe) June 12, 2013
And this was a finer shooting performance than basketball's grandest stage had ever witnessed:
.@spurs set a NBA Finals record for 3s in a game w/ 16 (6 from Neal & 7 from Green) to lead the Spurs to a 113-77 victory over the Heat

— Bleacher Report (@BleacherReport) June 12, 2013
There are certain things that coaches can game-plan for and against, but once that opening tip gets tossed, there's no telling what will take place:
Just another Danny Green/Gary Neal podium night. AK

— Kamenetzky Brothers (@KamBrothers) June 12, 2013
And when that happens, perhaps the best way to describe the performance doesn't need numbers or stat-crunching analysis. Sometimes it's best appreciated with a respectful slow clap from a fellow long-range gunner:
Spurs blow out Heat, 113-77, but honestly S/O to Gary Neal and Danny Green. #StephCenter vine.co/v/bliLqMXB0ZQ

— SportsCenter (@SportsCenter) June 12, 2013
This article is
What is the duplicate article?
Why is this article offensive?
Where is this article plagiarized from?
Why is this article poorly edited?