Ottawa REDBLACKS Are Officially The CFL's Newest Team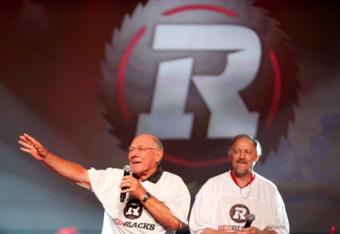 (Photo: The Canadian Press/Patrick Doyle via cfl.ca)

In a weekend ceremony, the new Ottawa franchise made official what most people already knew was coming. The CFL's newest franchise will be called the REDBLACKS when they begin play in 2014.
Apparently team management thinks this new name is "edgy". According to cfl.ca, Jeff Hunt, president of the sports division of Ottawa Sports and Entertainment Group (OSEG), had this to say at a special event to unveil the team name and logo:
We are thrilled to confirm our team nick name and logo design and to finally be able to tell the story behind them. REDBLACKS represents Ottawa's sports history and pays tribute to the Ottawa men and women who serve our country. From the original Rough Riders in the 1890's to the modern Ottawa Senators Hockey Club, red and black are the colours of Ottawa sport. They are also the ceremonial colours of Ottawa's Cameron Highlanders, the Governor General's Foot Guards and the RCMP. REDBLACKS gives us the opportunity to recognize our past and, at the same time, establish a fresh new identity for our team's future. It's unique, maybe even a little edgy, and it's a brand that we think will stand the test of time.
The new team logo, revealed at the same time, retains a similar look to the logo of the Ottawa Rough Riders of years past—with a large "R" as the focal point. The REDBLACKS' logo features the "R" on top of a saw blade background, which, according to REDBLACKS governor and OSEG partner Jon Ruddy:
... represents many of the characteristics we hope our players will demonstrate; speed, unstoppable force, precision, balance, strong-as-steel and even dangerous. It also has a relationship to Ottawa's founding as a lumber industry town.
Sentiment around the Internet appears to be mixed about the name. Numerous commenters on Twitter have criticized the moniker, with only a smattering of praise:
New Ottawa CFL team called the " REDBLACKS " ? that's the best they could come up with? Who is the marketing genius that picked that ?

— Steve Galley (@stevegalley) June 12, 2013
OK, after reviewing sports team names for all sports, I actually can say that #Redblacks / @Redblacks so the absolute worst team name, EVER!

— Paul Hobkirk (@phobkirk) June 12, 2013
OK I will admit it...I like the name #RedBlacks. #OttawaRedBlacks

—

Savi

Sr. (@SavMoney1point0) June 11, 2013
I'm afraid I have to side with the majority in this debate. While management seems to have come up with several reasons to choose REDBLACKS over every other name that could have been associated with Ottawa, it just leaves me cold.
Personally, I would have liked to have seen Ottawa readopt the Rough Riders title, but of course the Saskatchewan Roughriders would have none of that. But even so, there surely must have been a better, more fearsome name out there for the new CFL franchise.
Governors? Parliamentarians? Footballers? Lawmakers? There had to be a better option than REDBLACKS.
And while we're on the subject, what's with going all caps with the name? Did they figure that it would be more bold and impressive if written like that? To me it just looks like a gimmick to distract from the fact that the team settled on an unimaginative, uninspired name—and that's not a good sign. Not to mention how all caps is considered shouting in our modern, Internet-driven world.
On the upside, in a couple seasons we'll all be used to calling the team the REDBLACKS and the naming controversy will be in the past. For now, however, it looks to me like a first, big misstep to kick off the new franchise.
Follow me on Twitter @calgaryjimbo
This article is
What is the duplicate article?
Why is this article offensive?
Where is this article plagiarized from?
Why is this article poorly edited?