UFC 161: Predicting the Fight Night Bonuses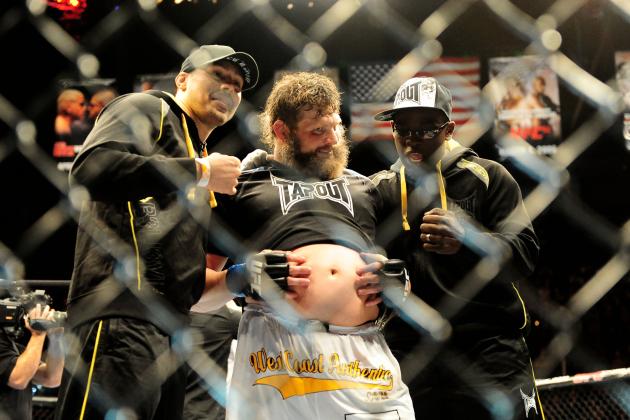 Mark J. Rebilas-USA TODAY Sports

Set for Saturday, June 15, UFC 161 is just around the corner. Injuries have ravished the card, dampening the enthusiasm it once garnered and rendering it far less intriguing than it originally looked.
But lowered expectations in tow, the show will go on from Winnipeg and will do so with a very real yet very quiet potential to dazzle.
Despite its limited star power, UFC 161 will feature several noted finishers who will be looking to add to their resume of highlight stoppages. The card will also host a handful of competitive pairings that have the makings of back-and-forth affairs.
Predictions for Knockout, Submission and Fight of the Night follow.
Begin Slideshow

»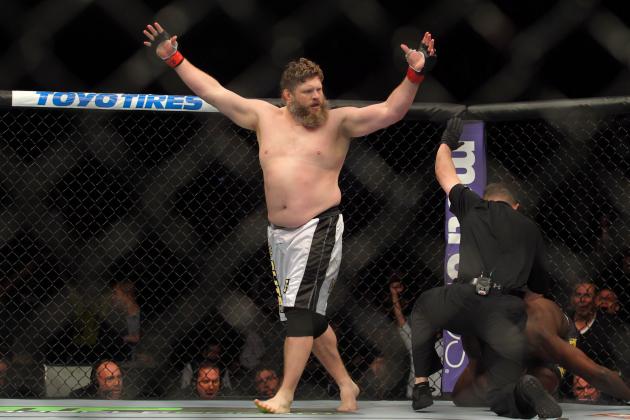 Brad Penner-USA TODAY Sports

Stipe Miocic is a hard hitter, and he knows it. Indeed, this realization is probably at least in part responsible for his willingness to sacrifice defense for offense in the striking department—a willingness to take a punch to land one.
It's not a completely foolish tactic for a fighter with as much power as Miocic, but it doesn't really work when his opponent is likely to knock him unconscious when he hits him. In Roy Nelson, Miocic finds someone who is likely to do just that.
If Miocic stays the course and implements his take-one-to-give-one method, he's almost certainly going to end up on the wrong end of a highlight-reel knockout.
Other top candidates
Dan Henderson
Yves Jabouin
Pat Barry
Photo by sherdog.com
The women have been finishing like it's going out of style since coming to the UFC, and that trend has a good chance to continue at UFC 161. A very good chance, in fact.
Alexis Davis wields a wicked submission game that has improved with time. And while Rosi Sexton has grasped over half of her career wins via tapout, the quality of grapplers she has faced is not representative of Davis' talent.
Basically, both women are good on the mat, so both are likely to want the action there. However, Davis is better and has an outstanding chance to win a nice homecoming gift when she competes in her native land this Saturday.
Other top candidates
Roland Delorme
Kenny Robertson
Shawn Jordan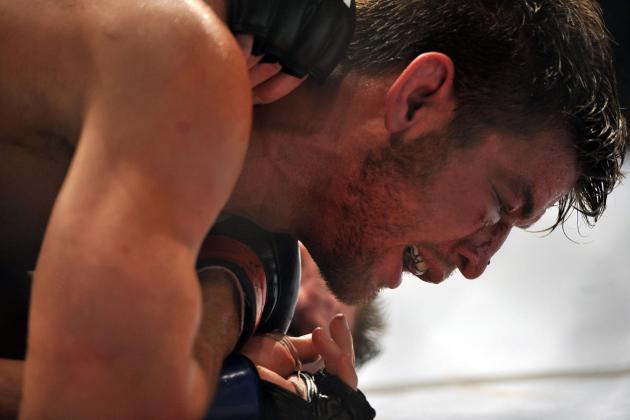 Joe Camporeale-USA TODAY Sports

For most events, one or two matchups stand out as obvious Fight of the Night candidates. That's not the case for UFC 161, which has a handful of competitive bouts but none that promise to be back-and-forth slugfests or fast-paced nail-biters.
That's not to say the event is void of any intriguing fights. It's just that none jumps out too far ahead of the rest. That said, I favor Sam Stout vs. James Krause to earn the nod for the FOTN bonus.
The potential is there for an early finish either way—Stout by knockout, Krause by submission—but Stout seemed to refine his style last time he competed, attacking a little more diversely and cautiously.
"Caution" is hardly a word synonymous with "action," but when applied to Stout vs. Krause, I see it making for a consistent, 15-minute bout with very few lulls.
Other top candidates
Rashad Evans vs. Dan Henderson
Ryan Jimmo vs. Igor Pokrajac
Roy Nelson vs. Stipe Miocic