UFC 161 Results: Questions Heading into UFC 162 Silva vs. Weidman Fight Card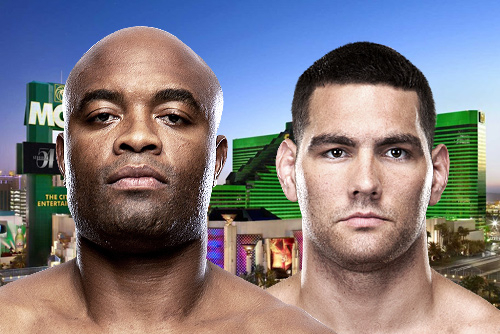 UFC 161 has wrapped up from the MTS Centre in Winnipeg, Manitoba, Canada. Full results for the fight card are below:
Rashad Evans defeats Dan Henderson via split decision (29-28, 28-29, 29-28)
Stipe Miocic defeats Roy Nelson (30-27 x 3)
Ryan Jimmo defeats Igor Pokrajac via unanimous decision (30-27 x 3)
Alexis Davis defeats Rosi Sexton via unanimous decision (29-28, 29-27, 29-28)
Shawn Jordan defeats Pat Barry via TKO at 0:59 of Round 1
Jake Shields defeats Tyron Woodley via split decision (27-30, 29-28, 29-28)
James Krause defeats Sam Stout via submission at 4:47 of Round 3
Sean Pierson defeats Kenny Robertson via majority decision (29-28, 29-28, 28-28)
Roland Delorme defeats Edwin Figueroa via unanimous decision (29-28)
Mitch Clarke defeats John Maguire via unanimous decision (29-28 x 3)
Yves Jabouin defeats Dustin Pague via split decision (28-29, 29-28, 29-28)
Following UFC 161 the promotion will take some time off and reconvene in Las Vegas on July 6 for UFC 162, a stacked event that will feature a number of the top featherweights competing as well as a middleweight title bout between champion Anderson Silva and top-ranked Chris Weidman.
What follows are some of the questions we have heading into the event.
Begin Slideshow

»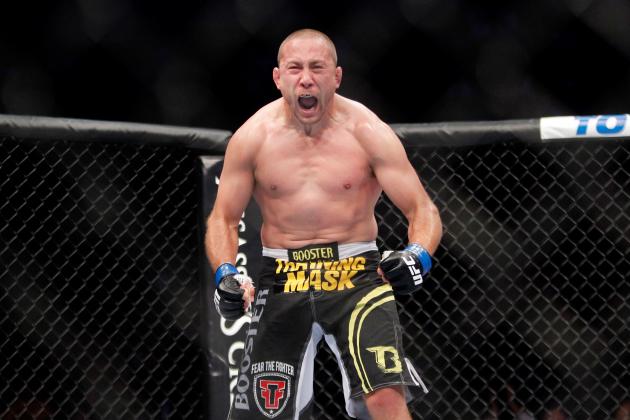 Bruce Kluckhohn-USA TODAY Sports

Following his win over Seth Baczynski at UFC on FX 6, Mike Pierce took to MMAJunkie Radio and called for a fight with either Jake Ellenberger or Robbie Lawler. The UFC denied both of Pierce's requests. Instead, Pierce will meet David Mitchell in the opening fight of the UFC 162 card.
In some ways it's puzzling that Pierce, a fighter who is on a three-fight winning streak, was denied a higher-ranked opponent. In one very important way, to the UFC at least, the denial is not so confounding.
From a racking up wins and ranking point of view, Pierce does deserve to face an opponent in or near the top 10 of the welterweight division. After all, he is 8-3 in the UFC with those three losses coming to Josh Koscheck (split decision), Johny Hendricks (split decision) and Jon Fitch (unanimous decision), and as stated earlier, he has won three straight.
On the other hand, Pierce's style of fighting is not the style the UFC seems to be interested in selling, even with a fighter on a winning streak. Pierce's wrestling-based style can leave fans cold, no matter how effective it is in securing a victory for its practitioner.
Dropping Pierce to the opening bout on the UFC 162 card and denying him his requested fights may be the UFC sending a message to Pierce that his style may not be what the UFC is looking for in its top contenders. Is that fair? Is that right? Nope, but it's the UFC's world—Pierce just works there.
Gary M. Prior/Getty Images

On almost every UFC fight card there is a matchup that makes you look at it and think, "this is the last UFC fight for one of these fighters." At UFC 162, that fight would be the Gabriel Gonzaga vs. Dave Herman scrap.
Gonzaga is in his second stint with the UFC after being bounced from the promotion following a four-fight stretch where he went 1-3 in 2009-10. Gonzaga returned to the UFC in 2012 and has gone 2-1 since then, with his last fight being a first-round knockout loss to Travis Browne.
Herman is on a three-fight losing streak entering UFC 162. He's also coming off a six-month suspension after testing positive for marijuana following his UFC 153 loss to Antonio Rodrigo Nogueira. Making things a little (or is that a lot) worse for Herman is the fact that he was popped for marijuana once before, forcing the cancellation of his UFC 136 bout with Mike Russow.
Oh yeah, Herman has also drawn the ire of UFC president Dana White for coming to the UFC on Fuel TV 1...well, I'll let White's words tell the tale, via Steve Cofield of Yahoo! Sports: "Listen, if you want to get noticed ... get noticed for your fighting skills. Not for coming in like a gorilla or wearing pink scarfs. And coming in to "Macho Man?" As I was sitting there, I'm thinking 'did I seriously let him come into this song?'"
So it would seem Herman is under the most pressure to pull out a win in this one, but by no means is the 34-year-old Gonzaga a lock to keep his job with a loss.
Edson Barboza entered the UFC after running up six stoppage victories in smaller promotions. Of those six, only one went past the first round.
That streak of stoppages continued with Barboza's UFC debut. Barboza's brutal leg kicks to late injury replacement Mike Lullo left many who saw that fight wondering a) what was keeping Lullo on his feet and b) what was keeping referee Marc Fennell or the cageside doctor from ending the fight early. Mercifully, the end finally came early in the third round, and UFC fans learned that Barboza was a fighter to watch.
If fans were watching after Barboza's UFC debut, they saw him run off three straight "Fight of the Night" victories in his next bouts, including the "did you just see that" moment of 2012 when he stiffened Terry Etim with a perfect spinning wheel kick to the head. A kick that earned him "Knockout of the Year" honors on many 2012 end-of-year recaps.
Barboza's winning streak came to an end when Jamie Varner put a beatdown on Barboza at UFC 146, TKO'ing the fast-rising Brazilian at the 3:23 mark of Round 1.
Barboza bounced back in his next bout, forcing Lucas Martins to tap to strikes in their January 2013 bout.
The loss to Varner took some wind out of Barboza's sails, but if he can add another stoppage to his list of accomplishments, he may be able to put that defeat behind him and call it a learning experience.
I'm sure his opponent on July 6, Rafaello Oliveira, has different plans for how the evening will end.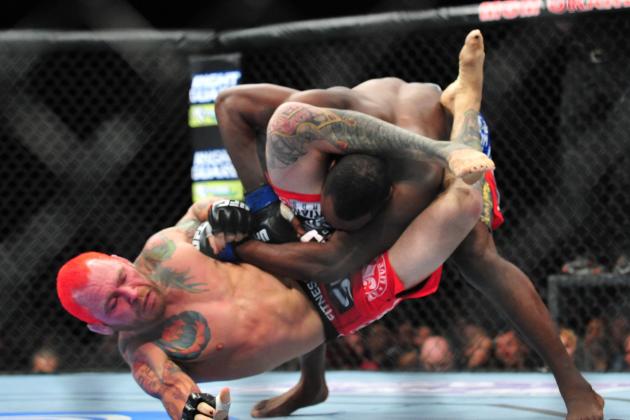 Gary A. Vasquez-USA TODAY Sports

If Gonzaga vs. Herman is the "loser leaves town" bout, then Chris Leben vs. Andrew Craig is the "who's going to bounce back from a loss" bout.
Craig was 8-0 heading into his January contest against Ronny Markes, but like many American fighters competing in Brazil, he tasted defeat, dropping a unanimous decision.
Leben's last bout was a December 2012 loss to Derek Brunson. Coming off a one-year suspension after testing positive for oxycodone and oxymorphone, he delivered a lackluster performance in that fight. The loss to Brunson leaves one to wonder, was Leben affected by ring rust or is time catching up with the fighter that made his name during the first season of The Ultimate Fighter?
Leben has much more at stake in this fight. Leben has always been a fan favorite for his take-no-prisoners style, but a third straight defeat is not something he wants to have on his resume, especially if he performs as he did against Brunson. Leben looked winded and nothing like the Chris Leben of old in that fight.
On a stacked card with a lot on the line, I would look for these two to come out fully charged and ready to scrap.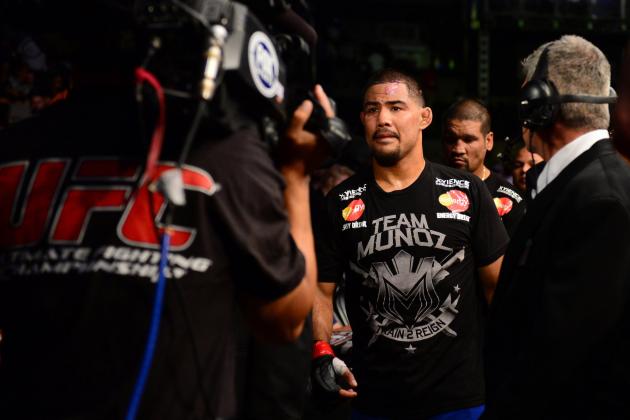 Kyle Terada-USA TODAY Sports

Damn, there's a lot on the line at UFC 162!
In the headlining event on the FX portion of the card (let's pretend a prelim main event is a thing), we have a scrap between two fighters hanging around the bottom of the rankings for the top 10 in the middleweight division, Mark Munoz (No. 8) and Tim Boetsch (No. 10).
Both fighters are coming off knockout losses—Munoz to headliner Chris Weidman, and Boetsch to Costa Philippou.
The middleweight division is not the deepest division in the UFC; hell, the No. 9-ranked fighter, Chael Sonnen, doesn't even compete in the division any longer. But that doesn't mean a loss is something either of these fighters can take lightly.
Both Munoz and Boetsch were looking like they were going to make a run at a title shot before their recent defeats. A bounce-back win at UFC 162 won't earn either an immediate title shot, but it will get them a fight against a top-five opponent and put them not too far out of contention.
Who will rise and who will fall when this one is decided?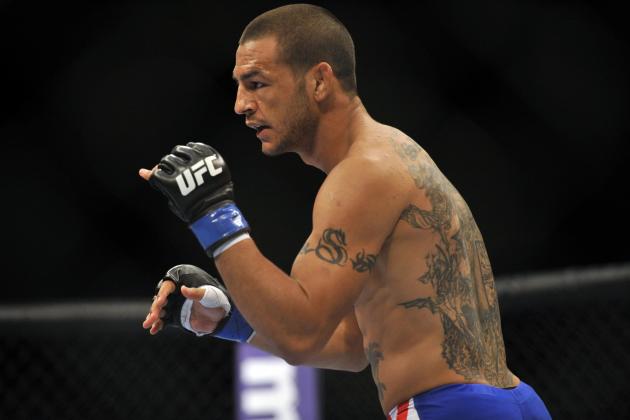 Joe Camporeale-USA TODAY Sports

Five of the top 10 featherweights had been booked for UFC 162. After an injury to Anthony Pettis, that number is down to three.
The two fighters removed from UFC 162 were Chan Sung Jung and Ricardo Lamas. Jung was moved to the main event of UFC 163, where he will replace Pettis and face featherweight champion Jose Aldo in that evening's main event. Lamas, well, he was just removed from the card, via MMAJunkie.com.
That leaves us with Dennis Siver (No. 6) vs. Cub Swanson (No. 5) and third-ranked Frankie Edgar facing unranked Charles Oliveira.
With UFC 163 taking place on August 3, odds are good that the next featherweight title contender will emerge from UFC 162, and if I was a betting man, I would say it would be the winner of the Siver vs. Swanson bout.
There is a very small chance that these two deliver a stinker and remove themselves from the running, but that chance is infinitesimal.
There's also the chance that Lamas, who is ranked No. 2, will get the shot at the winner of Aldo vs. Jung.
The removal of Pettis from UFC 163 may hurt the UFC's bottom line, but it does make things a little better for the fighters in the division. After all, Pettis was dropping from lightweight for the shot at Aldo, and Aldo was talking about moving to lightweight if he defeated Pettis.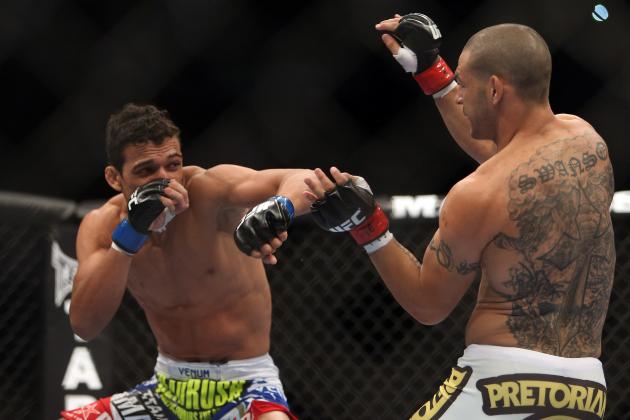 Tom Szczerbowski-USA TODAY Sports

How do you bounce back from a loss to a top-10 opponent? Easy, get booked to fight the No. 3-ranked fighter in your division and beat him. Sounds simple, no?
That's the spot Charles Oliveira finds himself in when he steps into the Octagon against Frankie Edgar. Oliveira is coming off a defeat to Cub Swanson in his last bout, while Edgar lost to featherweight champion Jose Aldo. A win over Edgar and Oliveira automatically becomes a contender in the stacked division.
Easier said than done, I know, but you asked how a fighter can bounce back from a loss to a top-10 opponent, didn't you?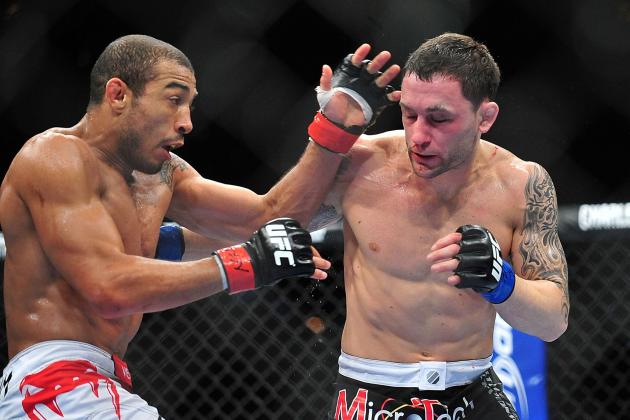 Gary A. Vasquez-USA TODAY Sports

I know the pound-for-pound rankings don't mean that much. They don't hold much meaning outside of generating discussion (or, is that instigating arguments?). I really don't pay that much attention to these rankings, but there are a lot of MMA fans who do, and some of them truly seem to be offended that Frankie Edgar is among the top 10 in those rankings.
They'll tell you that no way should a fighter who is coming off three consecutive defeats have a spot in those rankings. The naysayers will also not hesitate to add that some of Edgar's wins that preceded those defeats were really, really close and could have gone to his opponent. In short, they'll tell you Frankie Edgar doesn't deserve his ranking.
They may get their wish to see Edgar fall out of the equation when the new rankings are released after UFC 162.
If he loses, Edgar will surely drop out of the top 10, and even if he wins, he may drop out as he is facing an opponent that is not ranked in the top 10 in his division. Anything short of a stoppage and Edgar's pound-for-pound ranking will not be secure.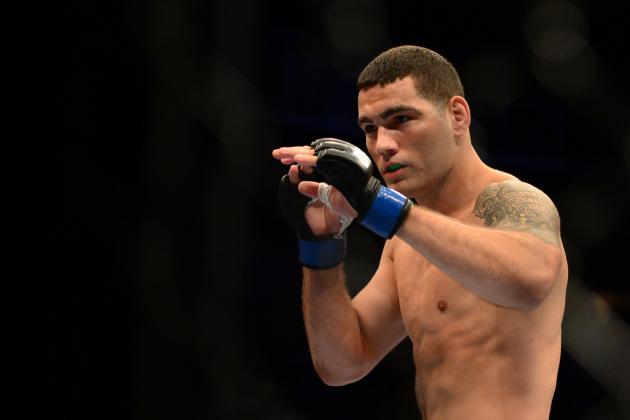 Kyle Terada-USA TODAY Sports

"Ayo, you come at the king, you best not miss."—Omar Little from The Wire
I hate to reference a TV show, but when it just happens to be the best TV show ever and the line in question was delivered by one of the most interesting characters ever developed, well, I don't need to make excuses.
Anyway, if MMA has a current king, that man would be Anderson Silva. Anything thrown his way, he's shrugged it off and retained his hold on his empire, the UFC's middleweight division. Sure, some have stepped up and challenged Silva, but they have all left the Octagon without a win, without Silva's UFC belt.
Next to challenge Silva will be Chris Weidman. Weidman's saying all the right things leading up to the event.
Let me rephrase that...according to UFC president Dana White, Weidman is saying the right things: "I spoke to Chris Weidman. He looked me right in the eye and said 'I'm telling you, I apologize, but I'm going to f**k up all your superfights, but I'm going to win this fight. I'm going to f**k up all your superfights and be your next champion.'"
White added that Weidman told him he would then give Silva an immediate rematch in Madison Square Garden after he took his title.
Confidence is a great thing to have, but what do you expect Weidman to say, that he expects to be just another victim of Silva's? Of course he's not going to say that. He got the fight he wanted; he's stepping up to face the king, but can he take the throne?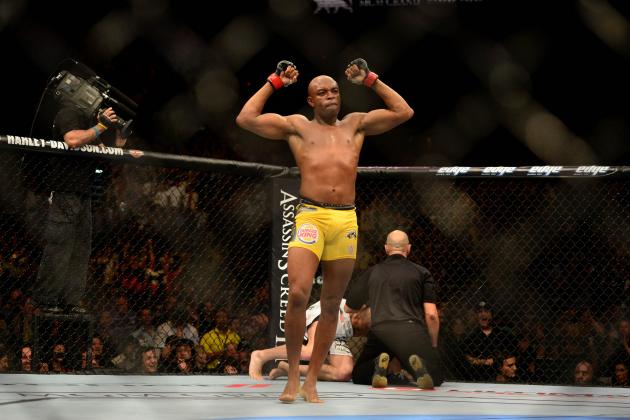 Mark J. Rebilas-USA TODAY Sports

When a sport has a dominant figure or team, fans sometimes get tired of that team or individual and begin to actively root against them. Some examples of this are the Dallas Cowboys, New York Yankees, Tom Brady, Sugar Ray Leonard and on and on and on.
That type of hoping for the downfall of a dynasty may be infecting the UFC fanbase—specifically the fanbase of the UFC's middleweight division, and even more specifically, the fanbase of UFC middleweight champion Anderson Silva.
Silva has dominated the division since defeating Rich Franklin at UFC 64. Yeah, almost 100 UFC pay-per-view events ago. Of course some fans are going to get sick of that dude, and that's going to lead to some wishful thinking that Silva's next opponent is always going to be the one that has the champ's number.
That hasn't happened yet, but can it happen with Weidman?
Weidman has a few strikes against him. He hasn't fought since July 11, 2012, and in that fight he topped an injured Mark Munoz. Weidman hasn't fought anywhere near the level of competition that Silva has. Weidman has never fought in a pay-per-view main event. Weidman has only nine professional bouts.
So, what does Weidman have going for him? He's a good wrestler who should be able to take Silva down. His ground game is better than other wrestlers that have been able to get Silva to the mat recently, and he's supremely confident.
Maybe, he's supremely confident.
There may have been a little dip in that confidence. In May, Weidman said to Matt Erickson of MMAJunkie.com, "I've seen his weaknesses, and I think I can expose him again and look for a finish or a good performance. You've just got be confident. You can say anything you want before the fight, but it's all about when you touch those gloves, do you still have the confidence? I'm going to make sure I do."
The most important part of that statement is "or a good performance." I may be reading into that, but looking for a good performance is a far cry from saying that he's going to win. That sounds more like he's going to go out there and give it the old college try. Maybe the confidence Weidman is portraying isn't as high as he would like to convince us it is.
Back to the point, does Weidman have the best chance of any of the fighters that have tried to defeat Silva, or are the fans just so desperate for a change that they have misguided faith in Weidman?
My honest answer is, I don't know. My head says Silva wins this one, but the chatter of Weidman and his faithful is starting to make me doubt myself a little bit.