Highlighting the Best Available NFL Free Agents at Each Position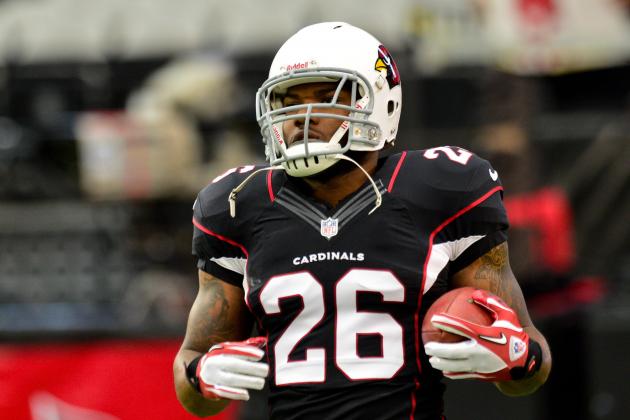 Matt Kartozian-USA TODAY Sports

Now three months in, the NFL's free-agent market has been mostly picked to the bone.
All the big deals have come and gone, and even the bargain players are starting to find new homes. However, there still remains a fairly large pool of players who don't yet have homes for the 2013 NFL season.
Among the unemployed are running back Beanie Wells, defensive end John Abraham, defensive tackle Richard Seymour, guard Brandon Moore, linebacker Thomas Howard and safety Kerry Rhodes.
In the following slides, we'll highlight the best available free agents at each position.
Begin Slideshow

»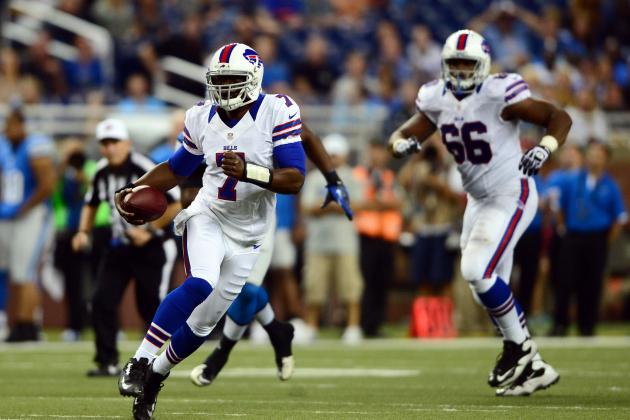 Andrew Weber-USA TODAY Sports

1. Tarvaris Jackson
According to Joe Buscaglia of WGR 550, the Bills decided on Monday to release Jackson, who was likely to be Buffalo's third-string quarterback behind E.J. Manuel and Kevin Kolb in 2013.
While he's no longer a candidate to start in the NFL, Jackson can be a reliable backup who brings experience and mobility to the position. It still might take an injury in training camp for Jackson to get a job.
2. JaMarcus Russell
There should be little doubt that Russell will eventually get a chance to complete his NFL comeback. A former top pick with as much natural arm talent as any passer in the NFL, Russell just needs one confident coach to view him as the ultimate quarterback project.
There's still hope that Russell can make something of his career, even if it comes as a backup. He first needs to get on a 90-man roster before camp.
3. Vince Young
It's almost hard to believe that Young, once a top pick of the Tennessee Titans after an electrifying career in Austin, actually turned 30 years old in May. While no longer a young quarterback with big upside, Young still has ability, especially as a runner.
He could compete to be a backup somewhere, but you wonder if any NFL team is going to give Young that opportunity.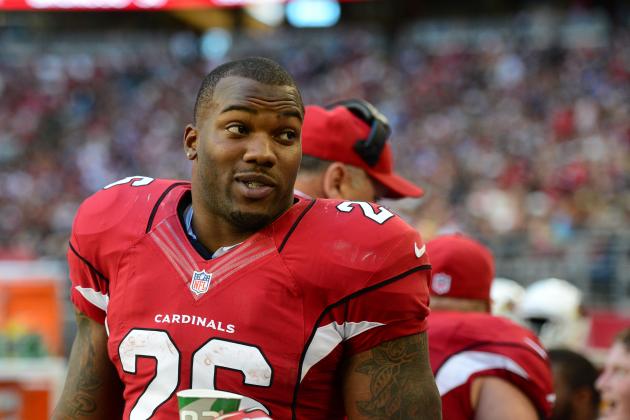 Mark J. Rebilas-USA TODAY Sports

1. Beanie Wells
A former first-round pick, Wells is still only 24 years old. He also produced during the two years he stayed relatively healthy in Arizona (2009, 2011; 17 touchdowns, 4.4 yards per carry). However, Wells has always struggled staying on the field, and his recovery from a knee issue is now holding up his market.
Wells still has ample time to get the knee healthy, and it wouldn't be surprising if teams waited to give him a deal until there's a better idea of where the knee is. If he's healthy—and that's always a big risk here—Wells still has the talent to contribute in a leading role.
2. Cedric Benson
A late camp signing by the Green Bay Packers last August, Benson started the first five games of 2012 before a Lisfranc injury ended his season.
While a steadying force for Green Bay early on, Benson still finished his third straight season under four yards a carry. He may need another injury situation this summer to find a gig before camp.
3. Michael Turner
He's 31 years old, and the Falcons put a ton of miles on his tires over the last five years. An ankle injury suffered in January's postseason likely won't help his cause, either.
As a short-yardage option with some power left in his tree-trunk legs, however, Turner still has a chance to help a team. He could stay on the market awhile longer.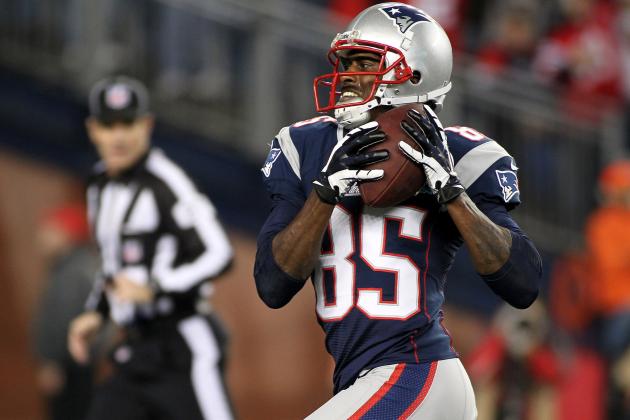 USA TODAY Sports

1. Brandon Lloyd
Lloyd will be 32 years old in July, and his one year in New England was more hype than production (just four touchdowns). Even his reunion with Josh McDaniels couldn't salvage anything more than a one-year stay.
However, Lloyd has 70 or more catches in each of the last three seasons, and he's clearly the best pass-catcher remaining on the market. Eventually, a receiver-needy team is going to come calling with the right offer.
2. Steve Breaston
Breaston's inclusion on this list highlights how thin the remaining receiver class really is.
A nagging knee injury in 2012 kept Breaston from extending his streak of four straight seasons of 700 or more yards, and it's most likely the reason behind his continued unemployment status. He'll also be 30 in August, so there isn't going to be a rush to get him signed before camp.
However, Breaston is an experience slot receiver who has produced in the right situations. He now needs to find another one before the 2013 season.
3. Austin Collie
Collie is quite possibly the most interesting free-agent receiver.
A budding star as a slot receiver for the Indianapolis Colts, Collie saw his NFL career ravaged by a string of frightening concussions. Teams should rightfully be cautious about signing a player with the concussion history Collie possesses, but if healthy, he's likely the best combination of youth and talent in this shallow pool of receivers.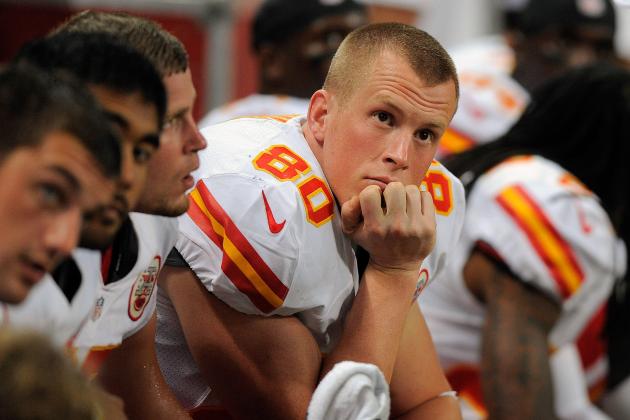 Jeff Curry-USA TODAY Sports

1. Kevin Boss
Like Collie, Boss has an extensive concussion history that will scare off teams. It's also possible he still won't receive medical clearance after his season-ending concussion from last season.
But when healthy, Boss is a capable red-zone receiver and in-line blocker. For the New York Giants in both 2009 and 2010, Boss went over 500 receiving yards with five scores as a 15-game starter. His medicals will control whether or not he plays in 2013.
2. Dallas Clark
The 33-year-old tight end showed in 2012 that he still has something left in the tank. After spending his first nine seasons with the Colts, Clark arrived in Tampa Bay and caught 47 passes and four touchdowns for the Bucs.
Maybe more importantly, Clark stayed healthy for all 16 games—something he failed to do in each of his final two seasons in Indianapolis. Still, a team will have to be razor-thin at the position before Clark has a legitimate chance at winning a job.
Kim Klement-USA TODAY Sports

1. Eric Winston
Winston is closing in on age 30, and he's been released in each of the last two offseasons.
However, it's rare to find an impact player at the tackle position this late into free agency, and for teams in need of an upgrade on the right side—especially in the run game—Winston makes a ton of sense.
The hold up for Winston likely remains money-driven, with his perceived value above the market's. But eventually the two will mesh and Winston will be starting at the right tackle of someone's offensive line. He's too talented to last much longer on the open market.
2. Winston Justice
Justice is likely best served in a backup role, and it helps his cause that he can play both guard and right tackle in a pinch. He's also only 28 years old.
You wonder if the first team who deals with an injury on the right side of its offensive line will be the one that eventually pounces on Justice. As a stopgap, Justice can be a cheap and reliable option.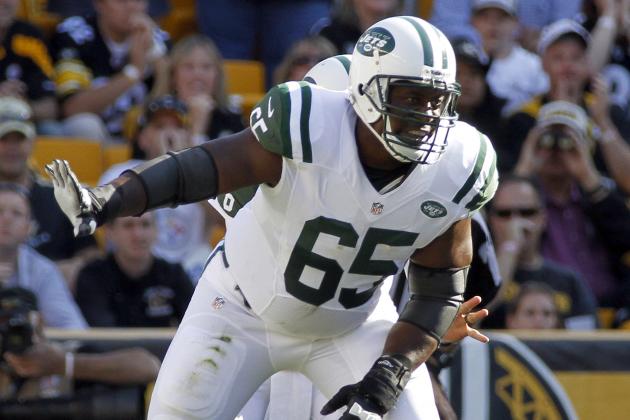 Justin K. Aller/Getty Images

1. G Brandon Moore
Moore remains one of the better free agents left on the market, but teams are obviously sending the message that the soon-to-be 33-year-old isn't worth as much as he thinks.
Advanced stats would say otherwise. Moore rated as the No. 4 overall guard in 2012 by Pro Football Focus (subscription required) and the third-best right guard. He made his money in the run game, but also allowed just two sacks. He should eventually find a club that wants him as a starter in 2013, but it's unlikely he'll get the kind of money he desires.
2. C Dan Koppen
Veteran centers can fall off quickly (see: Jeff Saturday), but Koppen is still only 33 years old and is coming off a decent year with the Denver Broncos.
Like always, the signing of a veteran center would serve as nothing more than a stopgap. And like so many others on this list, Koppen might need an injury to a starter for a team to cave. He can no longer move people in the run game.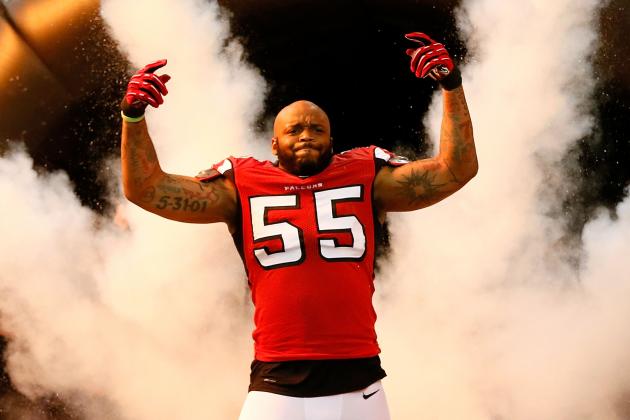 Kevin C. Cox/Getty Images

1. John Abraham
He might be 35 years old, but Abraham appears to have plenty left in the tank. The veteran has recorded three straight seasons with at least 9.5 sacks, including 10 for the Atlanta Falcons in 2012. Getting to the passer is not a problem for Abraham.
Price, on the other hand, appears to be the holdup on Abraham finding a team. Eventually, he'll realize that the market isn't going to give out a bunch of guaranteed money to a 35-year-old defensive end, regardless of his recent production. That should happen well before training camp.
2. Israel Idonije
The 32-year-old has 20.5 sacks over the last three seasons. His age will scare some teams off, but Idonije can play on the end on early downs before sliding inside as a nickel rusher on passing situations.
The open market isn't going to pay handsomely for an aging veteran who may be nothing more than a situational pass-rusher, but Idonije has been too productive getting to the quarterback not to find a team before 2013. Maybe Chicago is an option as training camp approaches.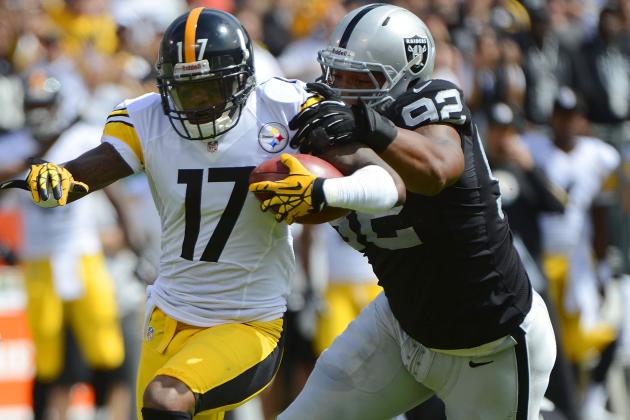 Thearon W. Henderson/Getty Images

1. Richard Seymour
Few believe that Seymour, who turns 34 years old in October, has run out of gas as an interior disrupter. But like so many on this list, the market price for the aging veteran simply hasn't matched what Seymour is looking for in a deal.
One would assume that a team (Falcons?) will eventually offer enough to get Seymour on a roster for 2013, but it remains possible that Seymour doesn't get what he wants and walks away. It'd be a shame to have the versatile skill set of Seymour get forced into early retirement by money hassling.
2. Sione Pouha
Now 34 years old, Pouha's best days are clearly behind him. Also, nagging back problems in 2012 mostly robbed him of the ability to hold the point of attack.
However, teams in need of a 3-4 nose tackle with run-clogging skills could call on Pouha, who shouldn't come with a high price tag. Used on a strict rotational basis, Pouha can still provide value in the middle of a defense.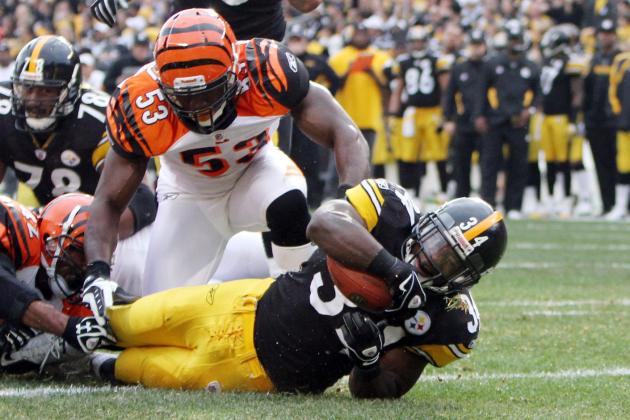 Jason Bridge-USA TODAY Sports

1. Thomas Howard
If not for an ACL injury that robbed him of all but two games in 2012, Howard would likely still be a part of the Bengals' plan at linebacker. His injury opened up the door for Vontaze Burfict, and now Cincinnati has moved on at the position.
However, it's easy to forget that Howard led the Bengals in tackles in 2011. And if the knee returns to 100 percent, Howard is still an athletic linebacker who can play three downs and cover in nickel packages. His continued unemployment suggests the knee might be too worrisome for teams to bite now.
2. Nick Barnett
The Bills released the 32-year-old linebacker in February, and the market has been mostly crickets for him since.
Barnett played both middle and outside linebacker for Buffalo, and he wasn't a slouch at either spot. Teams could be scared away by past knee and wrist issues, but Barnett has played 16 games in each of the last two seasons.
3. Bart Scott
Scott was a casualty of the Jets' housecleaning in February, and offseason toe surgery has kept most teams waiting on his status.
Now 32 years old, Scott is capable of playing only on early downs. He's also coming off his lowest single-season tackle total since 2004. A one-year deal is likely in his future.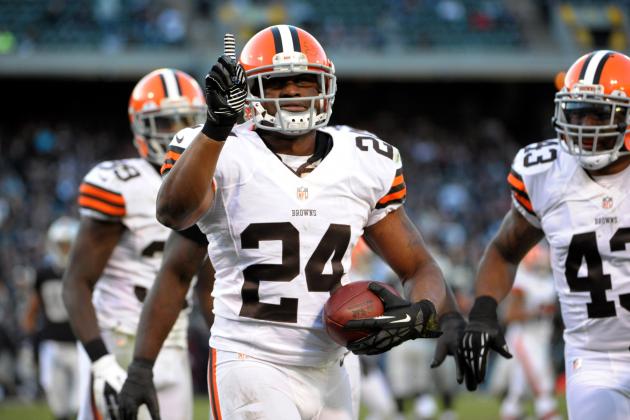 Kirby Lee-USA TODAY Sports

1. Sheldon Brown
While the cornerback market has been all but cleaned out, Brown remains as the best available option despite turning 34 years old in March.
As a three-year member of the Cleveland Browns, Brown intercepted seven passes and was a reliable cover man opposite Joe Haden. If he wants to continue playing, a one-year, incentive-laden deal may be his only option once a training camp injury pops up.
2. Stanford Routt
Routt was released by both the Oakland Raiders and Kansas City Chiefs over a three-month span, but eventually caught on as depth help in Houston and intercepted two passes.
His days of monster contracts are rightfully long gone, but the 29-year-old corner could provide the same kind of emergency depth for a secondary that he gave the Texans in 2012. After the cold reception from the open market, he'll now come dirt cheap.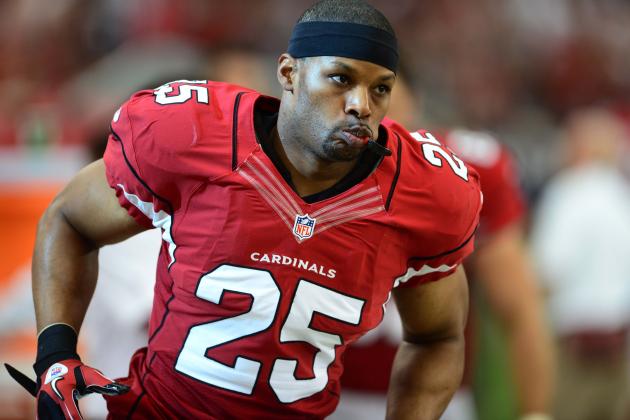 Mark J. Rebilas-USA TODAY Sports

1. Kerry Rhodes
Why Rhodes is still a free agent remains a mystery.
Despite grading out as the fourth-best safety in the NFL last season by Pro Football Focus, Rhodes has received very little interest on the market. He's also only 30 years old, so age shouldn't be a huge factor in the recruitment process.
Eventually, there's going to be a team that inks Rhodes to a short-term deal before or during training camp. If he's anywhere near the player he was in 2012, Rhodes will make that team happy it landed a quality player so late in the process.
2. Quintin Mikell
The St. Louis Rams dumped Mikell in March and then drafted safety T.J. McDonald in the third round of the 2013 NFL draft. Mikell has received little to no interest from outside St. Louis since, making it possible that Mikell and the Rams are playing chicken on the price tag for him to return.
Mikell graded out just below Rhodes at PFF in 2012, thanks in large part to the best pass-rushing grade among safeties. The Rams might want someone better in coverage to man the back end, but Mikell is still a starting-quality player who should eventually come at a reasonable price.