Israel stunned England inside Teddy Stadium in Jerusalem on Tuesday, scoring a late goal to earn a hard-fought 1-0 win to conclude Group A play at the European Under-21 Championship, per The FA:
FT Israel 1-0 #EnglandU21s: It's all over in Jerusalem as England finish bottom of the group after a third defeat at the Finals #IsrEngU21

— The FA (@FA) June 11, 2013
Both teams had their scoring chances early. Just a few minutes into the match, Israel midfielder Yisrael Zaguri had his shot deflected just wide of the goal by England's goalkeeper:
A shot from Israel Zaguri 18 yards out is deflected wide for a corner. 0-0 15m #IsrEngU21

— The FA (@FA) June 11, 2013
Moments later, England defender Danny Rose squandered a golden opportunity to put his side up 1-0 before halftime, missing from a few yards out:
Danny Rose with a great chance for England, but he fires wide from six yards out after Wickham's lay-off. 0-0 31m #IsrEngU21

— The FA (@FA) June 11, 2013
The two sides headed into the dressing room tied at 0-0 at halftime. But England was the more unlucky of the two sides, coming away with zero goals despite having created nearly three times as many scoring chances in the opening half.
England wasted little time applying the pressure to start the second half, though, nearly pulling ahead behind a tricky shot by striker Connor Wickham that barely missed the post:
Connor Wickham very nearly gives #EnglandU21s the lead, but his curler goes narrowly wide of the post. 0-0 50m #IsrEngU21

— The FA (@FA) June 11, 2013
Just when it looked as if the English would break through first, Israel's Nir Biton struck post with a screaming, swerving shot from distance in the 56th minute. It was a rare moment on Tuesday where the hosts were able to go on the offensive:
Nir Bitton rattles the #England crossbar with a fierce long-range drive after Steele is beaten. 0-0 56m #IsrEngU21

— The FA (@FA) June 11, 2013
There would be more chances for both sides in the late goings, but neither was able to capitalize as players began getting desperate:
Hopeful effort from Jonjo Shelvey 30 yards out, but it was always rising over the bar. 0-0 74m #IsrEngU21

— The FA (@FA) June 11, 2013
Finally, in the 80th minute, Israel broke the deadlock as Ofir Kriaf curled the game-winner into the bottom left-hand corner of the goal, causing Teddy Stadium to explode with the hosts just minutes away from their first victory of the tournament:
GOAL Israel 1-0 #EnglandU21s: Teddy Stadium erupts as the home side take the lead through Ofir Krieff. 80m #IsrEngU21

— The FA (@FA) June 11, 2013
Israel held on to win, capping off an extraordinary performance by goalkeeper Boris Klaiman, who recorded nine saves in the shutout win. England finished the match with nearly twice as many shots, somehow putting 15 shots on goal without scoring.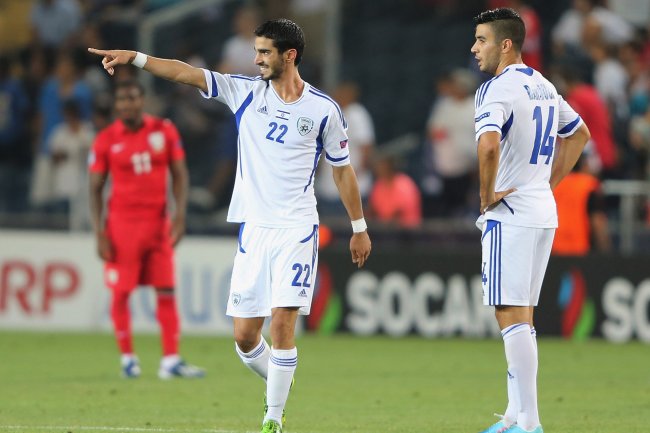 Ian Walton/Getty Images
Was Israel more impressive or England more disappointing on Tuesday?
With the loss, England will leave Israel without a single point earned in Group A. The reeling squad had lost its previous two group matches to Italy and Norway, scoring just one goal and surrendering four to the opposition. The English will head home having conceded five goals in three matches while scoring just one of their own.
Unfortunately for the host nation, the three points gained weren't enough to finish in the top two in Group A and advance to the Championship semifinals. Like England, Israel has been eliminated following a draw between Italy and Norway, who will both advance to the semifinals atop Group A.
Both Israel and England will be disappointed that their runs ended so soon this summer, but Israel can at least take solace in the fact that it was able to earn four points in three matches, while England will be wondering what went wrong.
Follow Bleacher Report Featured Columnist Patrick Clarke on Twitter.