NFL Records That Could Realistically Fall in 2013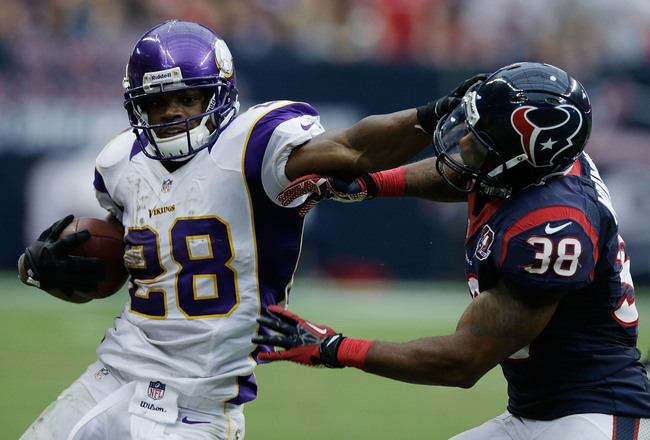 Scott Halleran/Getty Images
The NFL has embarked into an era in which players are bigger, faster and stronger. This, in turn, means the league is more competitive than ever and individual records are starting to fall faster than ever. From veterans to rookies, everyone wants to make a name for themselves by etching their names into the record books.
Some records that fell in 2012 are bound to fall again in 2013, while others will be eclipsed for the first time in over a decade. Whatever the record may be; no accomplishment will be viewed as too small. Every achievement is worthy of league-wide praise.
As we take a glimpse into the past, let's examine five records that could realistically be broken by the end of the 2013 season.
Michael Strahan's Sack Record of 22.5 Sacks
Everyone remembers Green Bay Packers quarterback Brett Favre laying down for New York Giants defensive end Michael Strahan in 2001 so he could break the single-season sack record. His mark and record after that infamous play was 22.5 quarterback sacks. Up until 2012, it was a record that was deemed untouchable.
San Francisco 49ers outside linebacker Aldon Smith, Denver Broncos outside linebacker Von Miller and Houston Texans defensive end J.J. Watt all pushed the record to no avail last year. Smith finished the 2012 season with 19.5 sacks, Miller with 18.5 and Watt with 20.5.
Even though all three were within arms reach by season's end, none of them were able to seal the deal. Yet, 2013 is shaping up to be the year when one of these three men get over the hump and set a new single-season record.
It will be hard for Watt to post back-to-back seasons of 20-plus sacks as a 3-4 defensive end, so Smith and Miller likely have the best shot based on the fact they are rush outside linebackers. Both players are once-in-a-generation pass-rushers, but Miller has proven that he is an once-in-a-lifetime pass-rusher.
This fact ultimately makes him the most logical candidate to break the record in 2013.
Individual Passes Attempted in a Season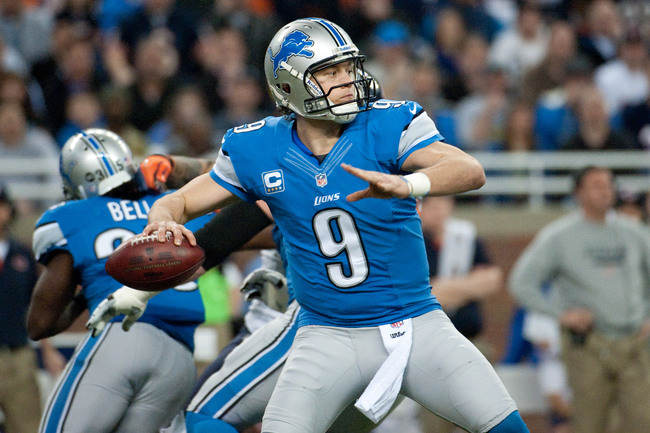 Tim Fuller-USA TODAY Sports
Every year it seems as if the league is getting a little bit more pass happy. Prior to the 2012 season, quarterback Drew Bledsoe held the record for the most attempted passes in a season (691). It seemed Detroit Lions quarterback Matthew Stafford was on mission to break his record in 2012.
The Lions were one of the pass-happiest teams in the league because due to a lackluster running game. Not to mention they were always playing from behind during the second half of football games, so it was inevitable that Stafford would break Bledsoe's record sooner rather than later.
Stafford not only broke Bledsoe's record, but eclipsed it by a wide margin when he finished the 2012 season with 727 attempted passes. His record and wide receiver Calvin Johnson's single-season receiving record were the two brightest spots for Detroit after they finished 4-12.
Looking ahead to 2013, Stafford may push his own record for the second time in two seasons. There's no guarantee the Lions' running game will be fixed with the addition of Reggie Bush, and there's no guarantee Detroit's defense will be any better than it was last year.
Additionally, this should help No. 9 stamp his name in the record books for the second consecutive season.
Eric Dickerson's Rushing Record of 2,105 Yards
In 2012, Minnesota Vikings running back Adrian Peterson fell eight yards short of Eric Dickerson's single-season rushing record of 2,105 yards. Halfway through the season no one thought Peterson would come close to the record, as he only notched three 100-yard games through Minnesota's first eight contests.
However, No. 28 turned things up a notch over the final eight games of the season. He eclipsed the century mark seven times and even managed to secure two 200-yard games during the final five weeks of the season. Furthermore, his 2,097-yard output was viewed as heroic because he had surgery for a torn ACL in 2011 and played through a sports hernia injury in 2012.
Sure, no running back has ever posted back-to-back 2,000-yard seasons. But if we know anything about Peterson, we should never count him out. Just when we thought he would never bounce back the way he did in 2012, he goes on to become the second most celebrated rusher in NFL history.
It will be an uphill battle in 2013 for Peterson, but he looks primed for an even bigger year if he can stay healthy.
Field Goals of 50 Yards or Longer in a Single Season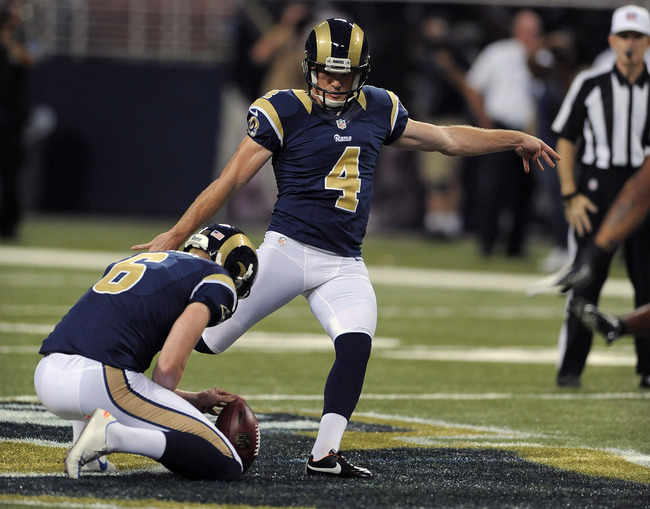 Jeff Curry-USA TODAY Sports
The 2012 season should have been pegged as the year of the kicker. Blair Walsh, Justin Tucker and Greg Zuerlein all took the NFL by storm when they combined for 21 50-yard-plus field goals. Walsh was 10-of-10 from 50 yards or longer, Tucker was 4-of-4 and Zuerlein was 7-of-13.
Walsh's 10 50-yard-plus field goals set an NFL record. The previous record for the most 50-yard field goals in a season was eight. Even though the second-year player out of Georgia now holds the record, Zuerlein of the St. Louis Rams seems most poised to break it in 2013.
Not only was he given the most attempts in 2012, but head coach Jeff Fisher showed immense trust in the sixth-round pick. Fisher would often send Zuerlein out to kick when the Rams needed a 60-yard-plus field goal.
Kickers are rarely viewed as game-changers, but that notion may change if another impressive kicking record falls in 2013. Moreover, look for one of the most underappreciated positions in all of football to start receiving some much-deserved praise by season's end.
Receiving Yards in a Single Season
As I previously mentioned, Calvin Johnson broke Jerry Rice's single-season receiving yards record in 2012 with 1,964 yards. Prior to breaking the record, few believed any wide receiver would be able to shatter the threshold that stood strong for 17 years.
So, is it logical to think Johnson or any other wide receiver has what it takes to break the record for a second consecutive season? Some people would say no, but I would say yes for two reasons. The NFL is a pass-first league and the current crop of wideouts in the league are as talented as it gets.
If Stafford keeps force-feeding Johnson, he surely has the best shot to break his own record, but one shouldn't sleep on players like Andre Johnson of the Houston Texans and Demaryius Thomas of the Denver Broncos. Johnson was targeted 159 times for 1,598 yards and Thomas was targeted 138 times for 1,430 yards.
Despite drafting Clemson wide receiver DeAndre Hopkins in last April's draft, Johnson should remain the focal point of Houston's offense. If anything the addition of Hopkins will free him up in coverage. This, in turn, will exploit matchups and expose No. 80 to more single coverage opportunities down the field.
Like Hopkins, the addition of Wes Welker in the slot should help draw coverage away from Thomas in Denver. Over the course of the final eight games of the 2012 season, he averaged 9.5 targets per game. Assuming that trend continues in 2013, we can expect No. 88 to see 152 targets.
That number would easily be a career high.
Keep Reading