Washington Redskins 2013 Salary Cap Breakdown by Position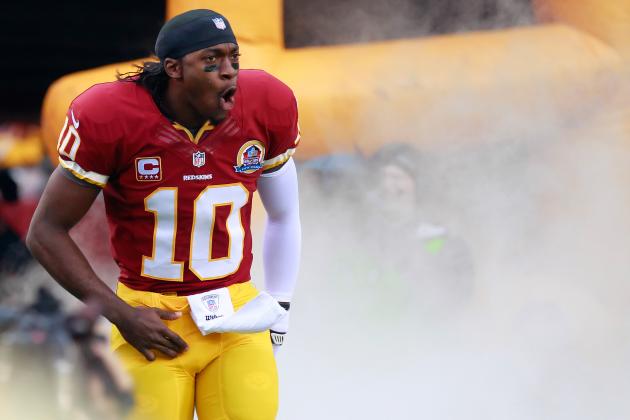 Geoff Burke-USA TODAY Sports
Quarterback Robert Griffin III is the eighth-highest paid Redskins player in 2013, counting $4.8 million against the salary cap.
In looking at the big picture which is the 2013 offseason, the Washington Redskins have done a remarkable job with their 2013 payroll when you take into account the $18 million penalty assessment handed down by the NFL—a 15 percent reduction in total salaries for a single season.
The manner in which the Redskins' front office were able to sign free agents and rookies, along with resigning or restructuring current player contracts, shows not only excellent financial management by the front office but a great deal of respect from the players for the organization.
As you could imagine, it must be a difficult and arduous task to remain competitive in the NFL when all of the teams are on the same playing field financially. In the case of the Redskins, to have far less money than other teams can substantially limit the caliber of talent the team can afford and retain.
The fact of the matter is—it did not.
It speaks volumes about the players who restructured their contract, wide receiver Santana Moss and strong safety Brandon Meriweather to name a few, and helped the team meet their 2013 adjusted salary cap limit, which amounted to $110 million.
With these factors in mind, I questioned how the Redskins will distribute this season's salaries throughout their roster. The following is a breakdown from lowest to highest, by position, of not only who will earn what in 2013—but also the percentage of money allocated per position.
Please note that salary cap calculations and designations are complicated to understand and even more difficult to explain. All numbers have been rounded-up for easier calculations.
All Washington Redskins 2013 financial information provided by Spotrac.com.
Begin Slideshow

»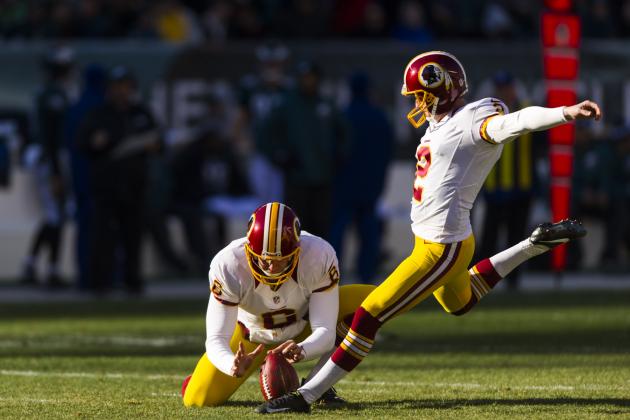 USA TODAY Sports
Kicker Kai Forbath connected on 17 of 18 field goals in 2012.
Specialty players include kicker Kai Forbath, punter Sav Rocca and long snapper Nick Sundberg. Combined the trio account for slightly more than one percent of the 2013 salary cap.
While we know Rocca signed a new two-year, $2.24 million contract in March, along with a $325,000 signing bonus, it was not revealed as to how much of that money will count against this year's cap total.
Long snapper Sundberg's $812,500 salary counts, while Forbath's $480,000 does not count.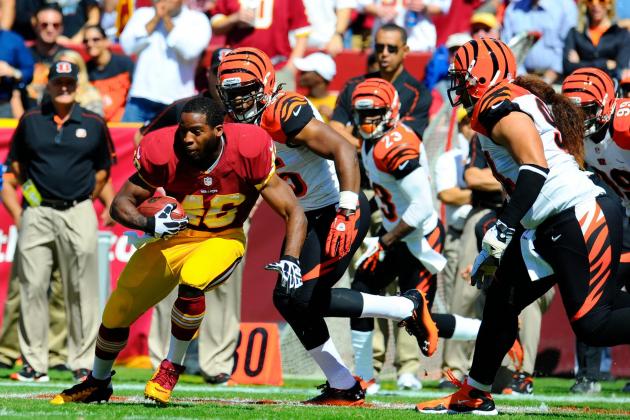 Dale Zanine-USA TODAY Sports

An astonishing fact to consider.
According to Football.player-salaries.com, the Washington Redskins paid $318 per rushing yard based on running back Alfred Morris' performance and salary last year.
Morris is not even the highest-paid offensive back, (running or fullback), entering his second season with the Redskins. In 2013, he counts just $31,000 against the cap, and his base salary is $480,000.
The top five cap hits for the Redskins backfield:
Keiland Williams: $630,000
Chris Thompson: $46,000 (signing bonus)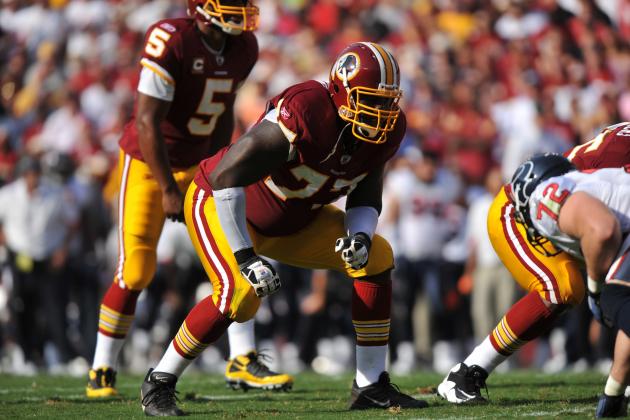 Larry French/Getty Images
Seen here in a September 2010 photo, tackle Jammal Brown was released by the Redskins in February, but will still cost the team millions.
It is shame to see one former player can cost the Redskins more money in 2013 than the entire group of running backs and fullbacks.
Tackle Jammal Brown, whose lingering hip injury prevented him from playing last season, was scheduled to count $4.6 million against the team's salary cap in 2013.
Instead, Brown was released from the team in February, saving $1.3 million in cap space, but counting $3.3 million in dead money.
In addition, the team has a $75,750 prorated signing bonus with tackle Tom Compton after the 2012 rookie was not signed to their 53-man roster until December 2012. Up to that point in the regular season, he was part of the Redskins' practice squad.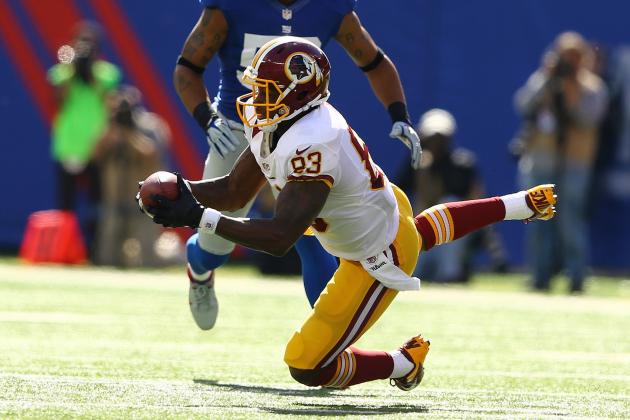 Al Bello/Getty Images

The Washington Redskins tight ends, Fred Davis, Logan Paulsen, Niles Paul and rookie Jordan Reed, account for the fourth smallest total salary cap space by position on the team. DeAngelo Peterson has a base salary of $405,000 that does not count against the salary cap.
Their salary cap hits are as follows:
Logan Paulsen: $1.1 million
Jordan Reed: $137,000 (signing bonus only)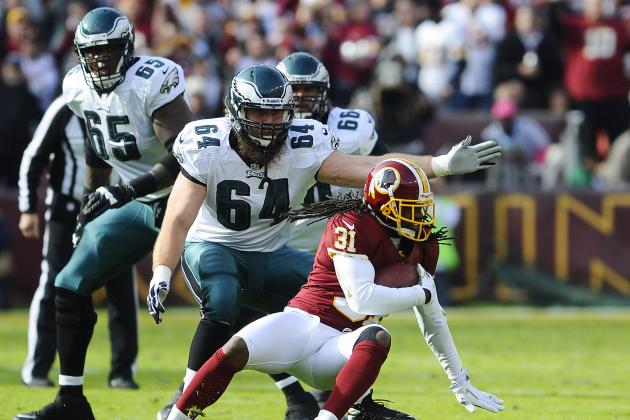 Brad Mills-USA TODAY Sports

With offseason signings, the Redskins have nine safeties with active contracts for 2013. Only Devin Holland and Tanard Jackson's money do not count toward this season's salary cap.
Jordan Bernstine was placed on injured reserve following a fourth quarter injury in Week 1. According to The Washington Post, he tore his anterior, posterior and medial collateral ligaments in his right knee during a kickoff return and had to be carted off the field.
Bernstine and rookies Phillip Thomas and Bacarri Rambo only have their signing bonus applied to the 2013 cap space, combining for $147,000.
Here are the remaining safeties and their 2013 cap hits:
Brandon Meriweather: $2.2 million
Reed Doughty: $1.5 million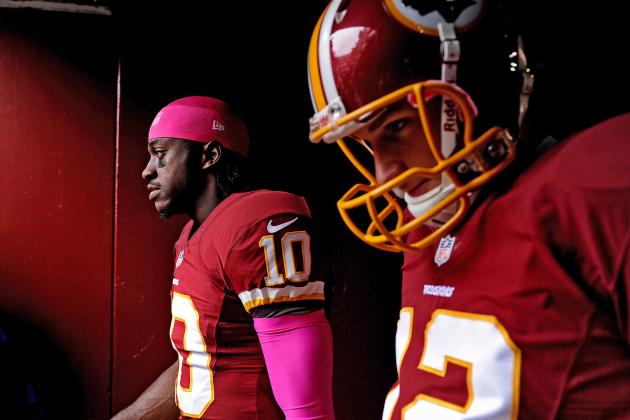 Patrick Smith/Getty Images
Quarterbacks Robert Griffin III and Kirk Cousins are No. 1 and No. 2 on the depth chart and in QB salaries for the upcoming season.
Quarterback Robert Griffin III has a 2013 signing bonus cap hit that is nearly $2 million above any other player on the Redskins. At $3.45 million dollars, his bonus is more than twice the amount of his base salary for the upcoming season, which stands at $1.35 million.
I'd say no other player, fan or anyone associated with the Redskins organization would have a problem with that. He is far from the highest paid player on the team.
QB Pat White's $480,000 base salary does not count against this year's salary cap.
The top three QB's cap hits are as follows:
Robert Griffin III: $4.8 million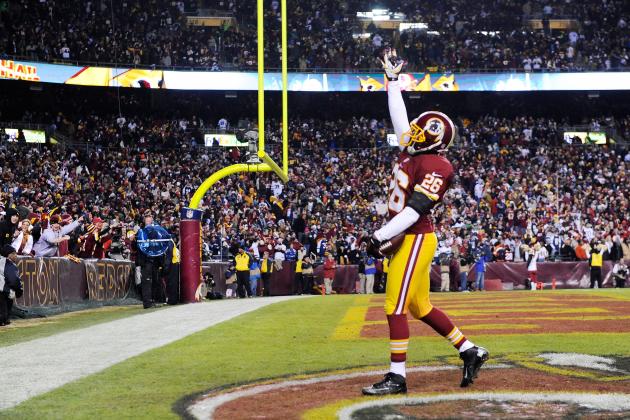 Patrick McDermott/Getty Images
Cornerback Josh Wilson leads the Redskins as the highest-paid player at his position.
The Redskins have seven cornerbacks earning a salary in 2013, and only five will count as a cap hit. Jerome Murphy and Chase Minnifield will not have their base salary included—$555,000 for Murphy and $405,000 for Minnifield.
Richard Crawford will only have his $16,000 signing bonus applied to the salary cap.
The four remaining players combine for the cornerback position salary cap hits, with Josh Wilson accounting for half of the total.
Here are the cornerbacks cap hits:
Josh Wilson: $3.43 million
E.J. Biggers: $1.5 million
DeAngelo Hall: $1.25 million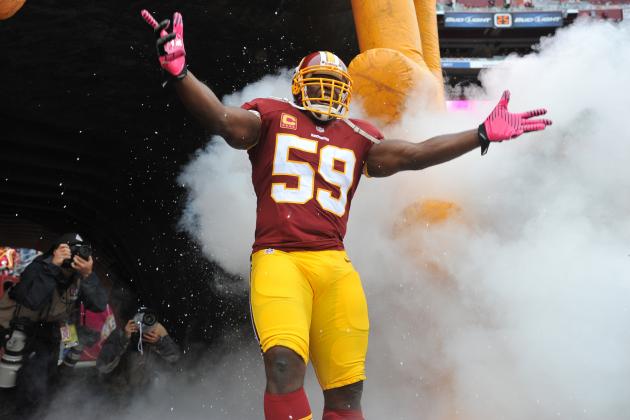 Larry French/Getty Images

As an individual position, the Redskins linebackers combined are the second highest-paid with less than $500,000 separating them from the top position—wide receivers.
There are nine linebackers whose salary will count against the cap this season. Here we get into serious money that counts against the cap.
For instance, the difference between the top cap hit, London Fletcher, and the bottom, Roddrick Muckelroy is more than double what all of the Redskins running backs and fullbacks combined will count.
Here are the linebackers totals against the cap this season:
London Fletcher: $6.2 million
Brian Orakpo: $5.1 million
Ryan Kerrigan: $2.4 million
Perry Riley: $1.45 million
Keenan Robinson: $585,000
Rob Jackson and Roddrick Muckelroy: $555,000 each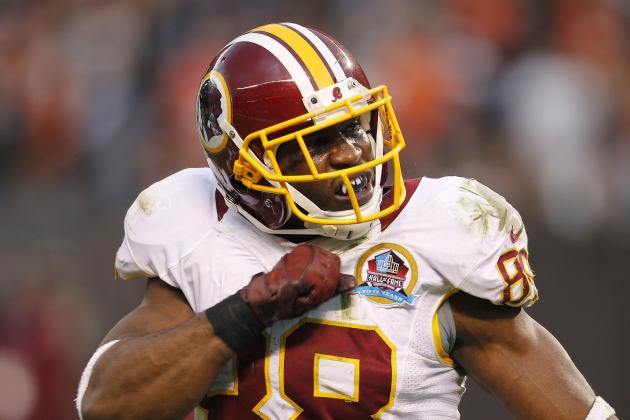 Ron Schwane-USA TODAY Sports

As previously mentioned, the Redskins wide receivers account for the most money per position than any other position. Led by Pierre Garcon, the team's highest-paid player in 2013, the receiving corps accounts for nearly one-fifth of the team's entire 2013 payroll.
Their total is with just five wide receivers salaries counting against the salary cap. Two wide receivers are receiving salaries that will not count this season, Aldrick Robinson and Darius Hanks.
Garcon's $8.2 million cap hit is nearly as much as all of the running backs, fullbacks and safeties cap hits combined. That's a total of 14 players.
Here is the breakdown of the wide receivers salaries that count against the salary cap:
Pierre Garcon: $8.2 million
Josh Morgan: $5.1 million
Santana Moss: $4.17 million
Leonard Hankerson: $732,000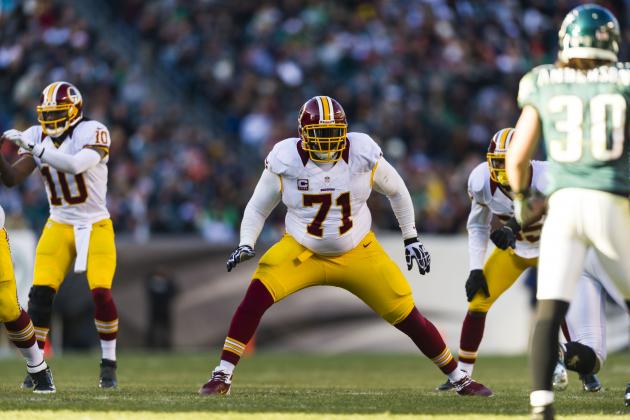 USA TODAY Sports
Tackle Trent Williams was selected by the Redskins in the first round (fourth overall) in the 2010 NFL draft.
In an effort to streamline this exhaustive list of players, the offensive linemen have been combined as a position. It includes centers, guards and tackles and leading the list is the team's second highest-paid player, tackle Trent Williams.
Williams enters his fourth year of a six-year/$60 million contract he signed in 2010. He is the eighth highest-paid tackle in the NFL in 2013.
When examining the group collectively, their top earners at each position combine for nearly $15 million.
Here are the top earners at each offensive line position:
Centers: $3.3 Million (3 Percent)
Will Montgomery: $2.65 million
Guards: $6.65 Million (6 Percent)
Chris Chester: $4.3 million
Kory Lichtensteiger: $1.8 million
Adam Gettis: $50,500 (signing bonus only)
Tackles: $10.35 Million (9.5 Percent)
Trent Williams: $7.985 million
Jeremy Trueblood: $620,000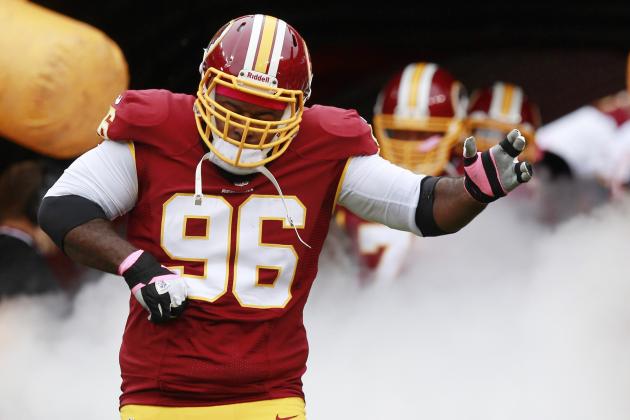 Geoff Burke-USA TODAY Sports
Defensive tackle Barry Cofield is the third highest-paid player on the Redskins' 2013 roster.
As with the O-Line, the defensive linemen have been grouped together as a position, although they will be listed individually. As the highest-paid group collectively, the group includes the third highest-paid team member, DT Barry Cofield, and the fifth highest-paid, DE Stephen Bowen.
Five defensive tackles are on the payroll, but only four count against this year's salary cap. There are eight defensive ends which receive 2013 salaries, but six are cap hits.
Defensive End: $11.8 Million (10.8 Percent)
Stephen Bowen: $5.5 million
Adam Carriker: $3.35 million
Jarvis Jenkins: $1.3 million
Phillip Merling: $715,000
Brandon Jenkins: $42,215 (signing bonus only)
Defensive Tackle: $8.9 million (8.1 Percent)
Barry Cofield: $6.3 million
Chris Baker: $1.3 million
With the Redskins approaching training camp, which begins July 25, the team will assemble and decisions will need to be made regarding which players are worth retaining. With the league mandating a 53-man roster, this list includes 63 players whose money is allocated toward the 2013 salary cap.
Hopefully, this list will allow fans to understand the complexities of the NFL salary cap, which is far easier to dissect and explain than other professional sports.
It is reassuring to know the Redskins have made it through the two-year, $36 million penalty levied by the NFL, and the team will have the same money available that other teams will have for the 2014 NFL season.
All Washington Redskins financial information provided by Spotrac.com.
Follow on Twitter @JohnBibb and view previous Bleacher Report articles that I have written on the Washington Redskins here.