Michigan Basketball: Best- and Worst-Case Scenarios for Wolverines in 2014
Use your ← → (arrow) keys to browse more stories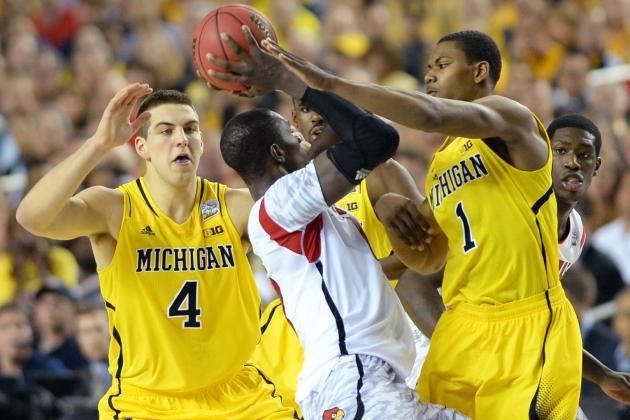 Robert Deutsch-USA TODAY Sports
Mitch McGary and Glenn Robinson III will need to become stars for Michigan to be a contender.
Following a national championship game appearance, the Michigan basketball program is looking to make a return trip to the Final Four in 2013-14. Such a feat would fall under the Wolverines' best-case scenario for the upcoming season.
Unexpected losses, much like the one against the struggling Penn State Nittany Lions in Happy Valley last year, will have the Maize and Blue trending toward their worst-case scenario.
Wins and losses are not the only thing relevant to these scenarios, though. Individual performances will determine whether the Wolverines underperform or overachieve. The incoming freshmen are not going to get a whole lot of leniency from the fans either. One in particular could be the difference between success or failure for Michigan this winter.
Derrick Walton will have a lot of pressure on him as a freshman.
It may not be fair to put that kind of pressure on a recent high school graduate, but such is the reality of college basketball nowadays. Young players are expected to perform at a high level early in their careers.
The return of two rising sophomores has also bolstered expectations in Ann Arbor. However, neither has proven he can be a star on a consistent basis.
All that being said, the worst-case scenario for the Wolverines this season is one in which a star fails to emerge. If Glenn Robinson III and Mitch McGary do not go from complementary pieces to All-Big Ten performers, Michigan will struggle.
Robinson is going to make the move to small forward. This is his natural position. Still, there will be a bit of a learning curve to conquer during the offseason. Head coach John Beilein's complex offense makes it difficult for any player to change positions. Plays were designed for Robinson to finish last season. Now, he will have to create more offense and shots by himself.
Same goes for McGary. Although the 6'10", 250-pounder will spend plenty of time at the 5, Beilein is going to play him at the 4 as well. Polishing an already adequate mid-range jumper and developing a post game is what McGary has to do to succeed at power forward.
Both McGary and Robinson failing to become the breakout stars they are expected to be would be disastrous.
Even if the two do make the necessary improvements, Michigan's success hinges on how well it can replace departing All-American Trey Burke. A most daunting task.
Highly touted frosh Derrick Walton appears to be the best candidate for the job. The 4-star prospect is quick and has the ability to drive the lane and create easy finishing opportunities for his teammates. Playing in transition is where Walton is most lethal.
Were Albrecht's 17 points an aberration, or a coming-out party?
Running the point as a freshman is no easy task, though. If Walton fails to handle the pressure and fails to take care of the basketball, the Wolverines will be in trouble. The only thing that could make matters worse is if Spike Albrecht's 17-point performance in the title game turns out to be an aberration.
Albrecht has a high basketball IQ and played very well in short spurts at the point last season. Beilein will need the rising sophomore to execute for longer periods of time.
The worst thing for the Wolverines would be if neither one emerged as a clear-cut starter. Problems with turnovers could spell doom for Michigan's Big Ten Conference and national title hopes as well.
Another concern heading into the upcoming campaign is how well the young group of Wolverines will play outside of the Crisler Center. Potentially treacherous trips to Duke, Iowa State, Ohio State, Michigan State and the Puerto Rico Tip-Off could all damage the group's psyche. Multiple poor performances on the road would be a worst-case scenario.
The best thing Michigan can hope for given the aforementioned circumstances is finishing in the top half of the Big Ten. Early exits in the conference and NCAA tournaments would be likely as well.
On the other hand, let's assume McGary and Robinson blossom into All-Americans, Walton plays like a Big Ten Freshman of the Year candidate, and the Maize and Blue play well away from home.
Those things, along with the emergence of rising sophomore shooting guard Caris LeVert make up a good portion of the team's best-case scenario.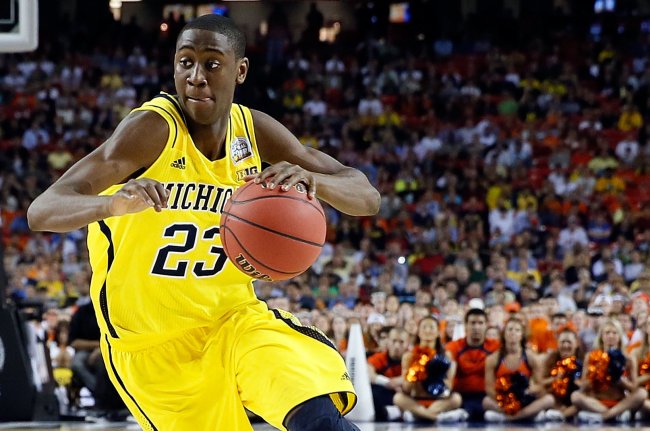 Kevin C. Cox/Getty Images
LeVert has the potential to become much more than a mere defensive specialist. As long as LeVert can develop a consistent jump shot, he could win the starting 2 spot. Getting more production out of the Ohioan at the offensive end will bolster Michigan's championship aspirations.
Keeping with the position of shooting guard, Nik Stauskas must improve defensively to keep his place in the starting lineup. Since Stauskas is the better shooter of the two, it would be best for the Wolverines if he can go from liability to average on defense.
Efficient shooting from incoming 5-star prospect Zak Irvin off the bench would be a great boost, too.
Finally, getting quality minutes out of forwards Jordan Morgan and Jon Horford is critical to the Wolverines' success.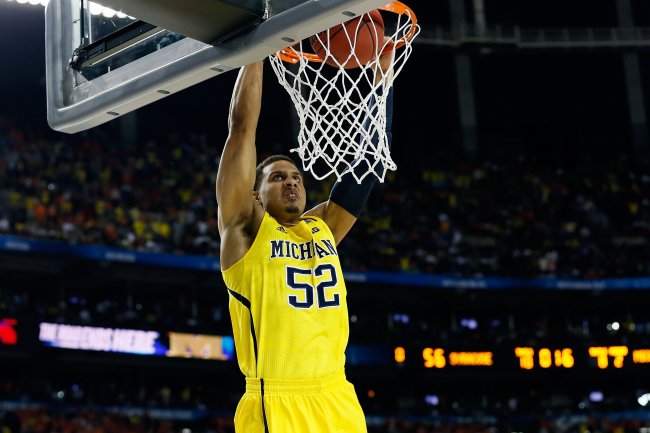 Kevin C. Cox/Getty Images
Morgan needs to be the same standout player he was prior to the Jan. 27 ankle injury. Playing outstanding defense and running the pick-and-roll effectively is all Michigan needs from the Detroit product. Similar production is needed from Horford.
So long as Beilein gets this out of his bigs, the Wolverines' larger starting five should be good enough to contend with the physical teams in the Big Ten.
If the best-case scenario comes to fruition, Michigan will be firmly in the mix for a second Big Ten title in three years. A second straight Final Four appearance should be on the horizon as well.
Follow me on Twitter: @Zach_Dirlam.