In the last installment of Raw before Payback, the WWE had a slew of topics to cover on Monday.
Coming into the night, there were only four matches officially confirmed for Sunday's pay-per-view, and one of them needed a replacement for Fandango, who suffered a concussion during SmackDown.
As such, Monday was jam-packed with terrific action and important storyline developments.
Let's take a full look at what went down from the Richmond Coliseum in Richmond, Va.
Quick Results
Curtis Axel defeats Triple H via disqualification
Curtis Axel defeats Triple H via forfeit
Kane defeats Dean Ambrose via disqualification
Vickie Guerrero announces Daniel Bryan and Randy Orton vs. The Shield in Tag Team Championship at Payback
She also announces Kane vs. Dean Ambrose in U.S. Championship at Payback
The Miz defeats Cody Rhodes
Curtis Axel is announced as Fandango's replacement in Intercontinental Championship at Payback
Mark Henry announced to be returning next week
Dolph Ziggler returns and announces World Heavyweight Championship against Alberto Del Rio at Payback
Chris Jericho defeats Big E Langston
Antonio Cesaro defeats Sin Cara. Zeb Colter praises Cesaro
Finally, the TRUTH emerges on #WWE and #RAW. Sin Cara got what he deserved. Michael Cole should learn to temper his tongue. #wethepeople

— Zeb Colter (@WWEZeb) June 11, 2013
Another vignette for Bray Wyatt and the Wyatt family
The only way to rebuild society, is to destroy it at its foundation. Follw me, I'll show you..... #RAW #FollowTheBuzzards

— Bray Wyatt (@WWEBrayWyatt) June 11, 2013
Randy Orton vs. Roman Reigns ends in no-contest
Daniel Bryan defeats Seth Rollins
Big E Langston revealed as Kaitlyn's secret admirer, but it turns out to be a joke by A.J. Lee
Damien Sandow defeats R-Truth.
John Cena and Ryback attack each other inside the ring—30 lumberjacks can barely separate them
This ending makes no sense. Why throw Ryback into the ring if you're trying to maintain order? Weak pull apart brawl. #WWE #Raw #Payback

— Beard of Mike Knox (@BeardofMikeKnox) June 11, 2013
Daniel Bryan Continues His Momentum
Bryan is undoubtedly the hottest star in the business right now. He consistently receives massive pops and always puts on scintillating matches.
Monday was no different, as his match with Seth Rollins was the best of the night:
Incredible or amazing!? @WWERollins vs @WWEDanielBryan WHAT A MATCH! @WWE #RAW

— Justin Roberts (@JustinRoberts) June 11, 2013
Once again, he received praise from a variety of individuals around the entire company:
Looking good bro @WWEDanielBryan #RAW @WWE

— Diamond Dallas Page (@RealDDP) June 11, 2013
Really nice match..a wrestling announcers dream between @WWEDanielBryan vs @WWERollins. Easy to get excited about bouts like this 1. @WWE

— Jim Ross (@JRsBBQ) June 11, 2013
DAMN! @WWEDanielBryan is freakin' phenomenal! Would I love to call Daniel Bryan vs @WWERollins? YES! YES! YES! @WWE #RAW

— Joey Styles (@JoeyStyles) June 11, 2013
The next step is giving him a push toward a major singles title, and that movement could begin at Payback.
What will happen at Payback?
But while that development has seemed inevitable over the past few weeks, he and Randy Orton, who will be taking on Reigns and Rollins for the tag team titles, enjoyed a nice moment after Bryan's win and had the crowd going bonkers.
Nevertheless, it's difficult to imagine the red-hot Shield losing its titles just a month after winning them. Despite Monday's events, it still wouldn't be surprising to see either Orton or Bryan undergo a heel turn and move to singles action.
No matter what happens, though, the Tag Team Championship should be a spectacular battle.
Curtis Axel Replaces Fandango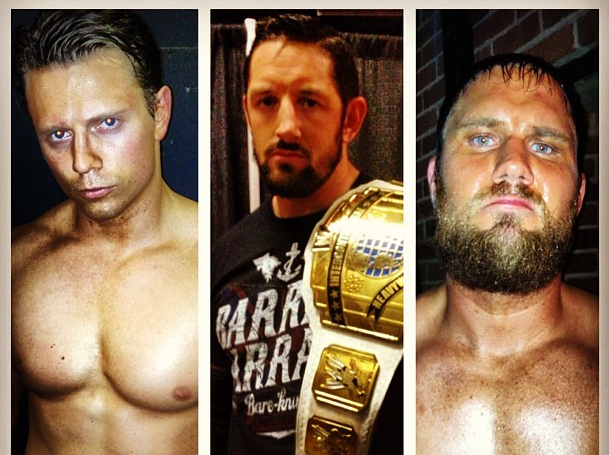 Many believed Fandango was set to defeat The Miz and Wade Barrett at Payback for the Intercontinental title, but a concussion put a hitch in those plans.
Instead of simply pitting Miz against Barrett, the WWE decided to insert up-and-comer Curtis Axel, who immediately becomes the favorite.
After all, when you have a finisher like this, how can you lose?
Currently "Vince McMahon" is listed as Curtis Axel's finishing move on his wikipedia page. #wrestlenerd #RAW

— Hybrid Dolphin (@bradcandoit) June 11, 2013
That joke, of course, became possible on Monday when Vince McMahon refused to let Triple H face Axel, personally ending two consecutive matches in favor of the latter.
While I don't think Axel gained much with the two victories, McMahon had a lot of heat on him, and it became apparent the crowd really wanted to see Axel vs. Helmsley.
As such, it's unfortunate we won't see them battle at Payback, but hopefully this means Axel begins to get more real matches instead of ones that end in disqualifications.