Power Ranking the Nationals Pitching Staff
Stephen Dunn/Getty Images

If there's one thing the Nationals are known and lauded for, it is their dominant pitching staff.
In their starting rotation alone, Stephen Strasburg, Gio Gonzalez and Dan Haren have six All-Star appearances between them, with Gonzalez being the 2012 NL win leader and a Cy Young Award nominee. In their bullpen, Tyler Clippard and Rafael Soriano are both one-time all-stars, and Soriano was the 2010 AL saves leader.
With the offense not where it needs to be, Washington is lucky to have such a phenomenal set of arms.
However, like the rest of the team, the Nats' pitchers have had a problem staying healthy early on. Strasburg, Ryan Mattheus and Ross Detwiler have all landed on the DL, causing Nats' skipper Davey Johnson to turn to his farm system to fill the gaps.
Based on performance so far this season, here are the power rankings for the Nationals pitching staff.
Note: Despite the fact that Fernando Abad, Xavier Cedeno, Erik Davis, Nathan Karns and Ian Krol are currently listed as active members of the pitching staff, they are not included on this list, as they have all pitched less than 15 innings and have only been very recently called up in the wake of other pitchers' injuries. The ranking is subjective to the opinion of the author.
Begin Slideshow

»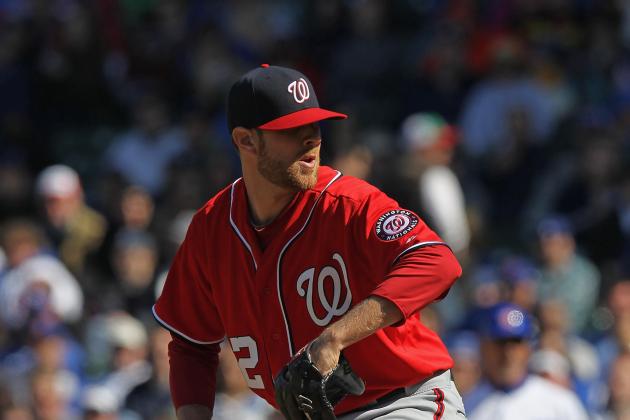 Jonathan Daniel/Getty Images

Position: Reliever
Record: 0-0
ERA: 4.96
WHIP: 1.53
IP: 16.1
Ryan Mattheus has been fairly consistent as a setup man for the Nationals in the past; when he takes the mound, fans don't necessarily have reason to worry that something might go wrong.
However, something did go horribly wrong this season when the Nats took on the Padres on May 19. In the seventh inning, Mattheus gave up five runs with his team already trailing 4-7. Frustrated with himself, he punched a locker and broke the pinky finger on his throwing hand. He won't require surgery, but he's expected to be out for two months.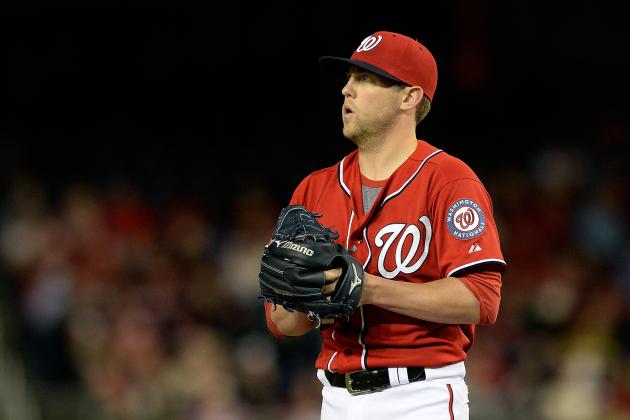 Patrick McDermott/Getty Images

Position: Reliever
Record: 0-1
ERA: 3.96
WHIP: 1.40
IP: 25.0
Now that Washington has brought on Rafael Soriano as a closer, and reliever duties are being divided amongst a plethora of pitchers, Drew Storen's role has unfortunately diminished since the 2012 season. This season, he hasn't pitched more than one inning per game, and he hasn't always been at his best.
However, every inning Storen has pitched in the month of June has been perfect. Hopefully he's turning a new page, and perhaps he'll be given more responsibility as the season progresses.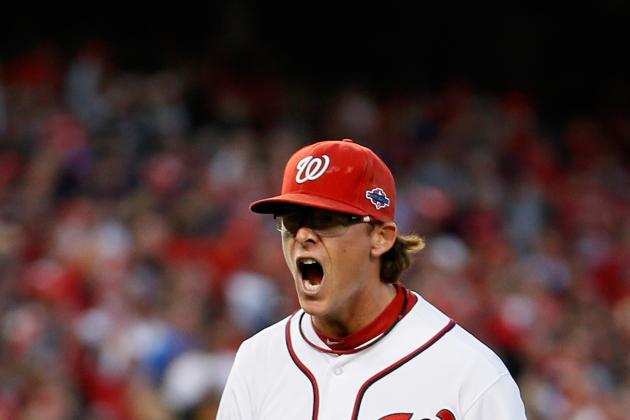 Rob Carr/Getty Images

Position: Reliever
Record: 5-1
ERA: 2.77
WHIP: 1.00
IP: 26.0
Like Storen, Tyler Clippard hasn't pitched more than a single inning per game this season. Even so, he's managed to record 28 Ks. His role is still being defined this year, but he's done a great job with the time he's been given.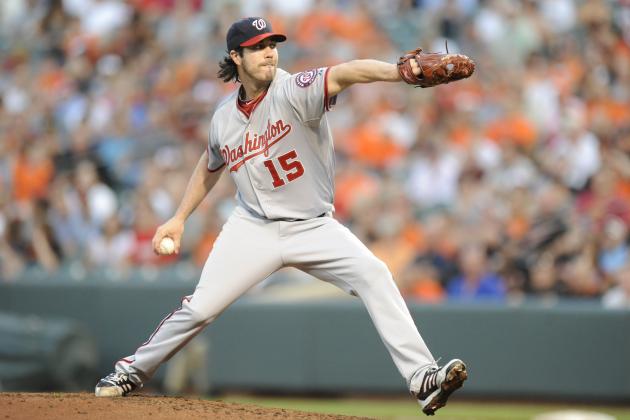 Mitchell Layton/Getty Images

Position: No. 4 starter
Record: 4-7
ERA: 5.45
WHIP: 1.36
IP: 67.2
Dan Haren's season has been an absolute roller coaster ride. A rough April landed him with an ERA of 6.29. He performed better in May, dropping his ERA to 4.35, but now it's back up to 5.45 after he gave up five runs on seven hits against the Mets on June 5.
Granted, there's still a lot of baseball left to play this season. Hopefully Haren will be able to hit his stride and pitch better for the sake of his team, which is having difficulty enough producing offense.
If there's a silver lining to Haren's stats, it's that he possesses the second highest batting average of the Nationals' starting rotation (.297), behind only—believe it or not—Ross Detwiler (.306).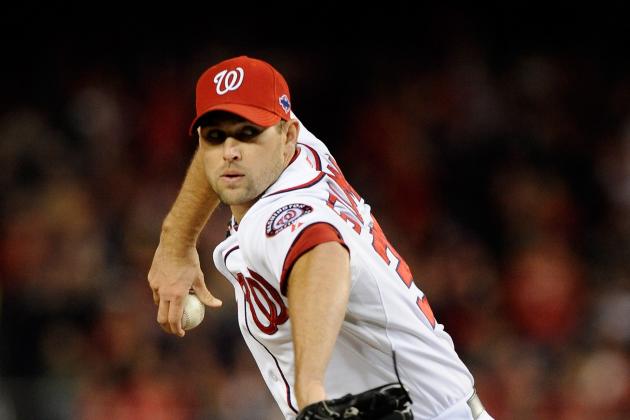 Patrick McDermott/Getty Images

Position: Reliever
Record: 3-2
ERA: 3.13
WHIP: 1.23
IP: 31.2
On several occasions this season, Craig Stammen has had to step in to save flailing starters—and he's done a fantastic job.
When Stephen Strasburg exited after just two innings with a strained right oblique in Atlanta on May 31, Stammen stepped in and pitched four perfect innings with three strikeouts, and the Nats went on to win 3-2. As a reliever, he has 10 more strikeouts (33) than the Nats' fifth starter, Ross Detwiler. Granted, Detwiler has been on the disabled list since May 26, but it's impressive nonetheless.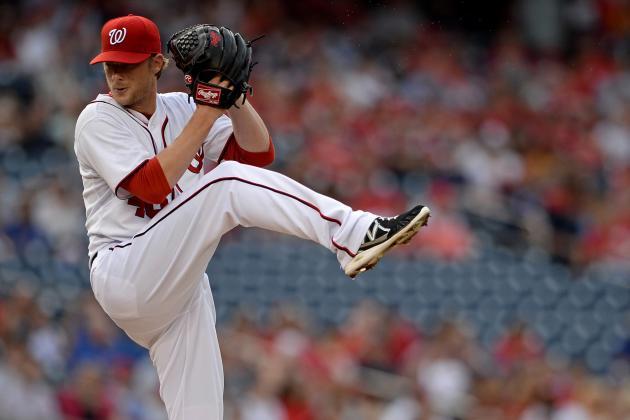 Patrick Smith/Getty Images

Position: No. 5 starter
Record: 2-4
ERA: 2.76
WHIP: 1.45
IP: 45.2
LHP Ross Detwiler has been impressive since the start of the season. In the month of April, he allowed only seven earned runs and six walks in 31 innings pitched—not typical numbers for a fifth starter.
Unfortunately, Detwiler has been on the disabled list since May 26 with a right oblique strain. He pitched a rehab start with Class A Potomac June 8 and is expected to return to Washington's rotation later this week. Hopefully his injury won't affect him any longer, and he'll continue to pitch as well as he had been.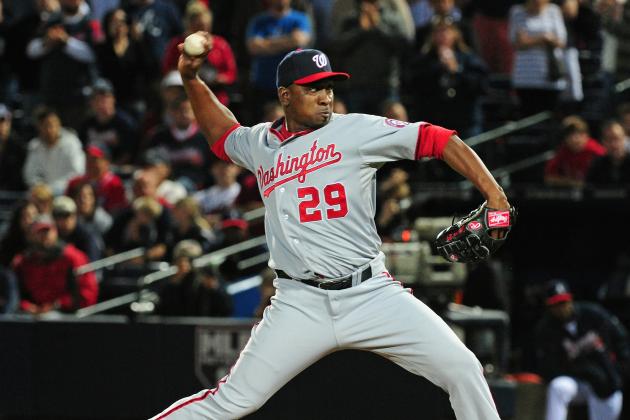 Scott Cunningham/Getty Images

Position: Closer
Record: 1-1
Saves/Save Opportunities: 16/19
ERA: 2.52
WHIP: 1.16
IP: 25.0
When Rafael Soriano takes the mound, it's expected that he'll close the door on the opposing team, and so far he's done just that. He's tied for eighth in saves in the league this season, and his two-year, $28 million contract has been a good investment for the Nationals.
Raffy may or may not need to work on his team chemistry, but it's safe to say he'll be giving his teammates reason to untuck for the rest of the season.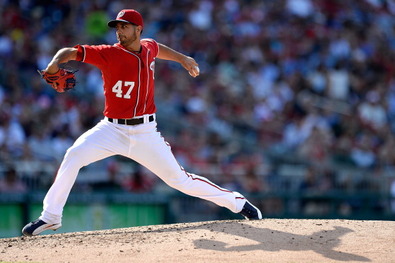 Patrick McDermott/Getty Images

Position: No. 2 starter
Record: 3-3
ERA: 3.59
WHIP: 1.21
IP: 77.2
At the start of the season, Gio Gonzalez wasn't exactly putting up the numbers that earned him a 2012 NL Cy Young Award nomination. His starts were inconsistent, and at the end of April, he had a 5.34 ERA.
However, he's definitely gotten back on track in May and June—and he's never had a problem racking up the Ks. Gio has the most strikeouts of Washington's staff at 74. On the season, he's struck out at least five batters in every single start except for two.
If he keeps on this track, his ERA will be back under three by the end of the month.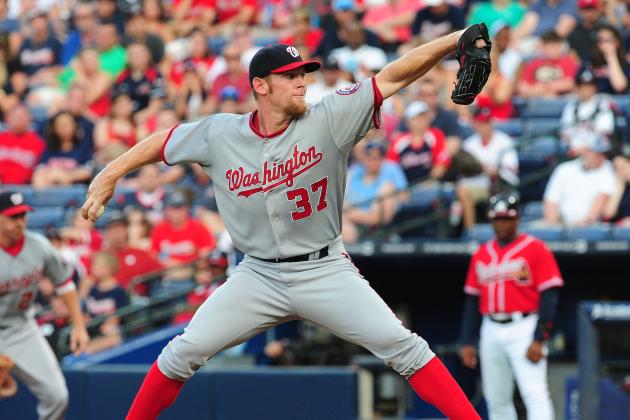 Scott Cunningham/Getty Images

Position: No. 1 starter
Record: 3-5
ERA: 2.54
WHIP: 1.06
IP: 74.1
The Nationals ace had a bit of a rocky start to his season, but he's more than gotten back on track. He's allowed just four earned runs over his last 30 innings pitched, with 29 strikeouts and six walks. In his May 26 start against the Phillies, he fanned nine in eight IP with just one earned run.
Strasburg was placed on the disabled list with a Grade 1 right lat muscle strain on June 5, but after throwing a successful bullpen session, he has been cleared to make his start on June 16. Hopefully he will be injury free for the rest of the season, and his team will boost its offense to help right his record.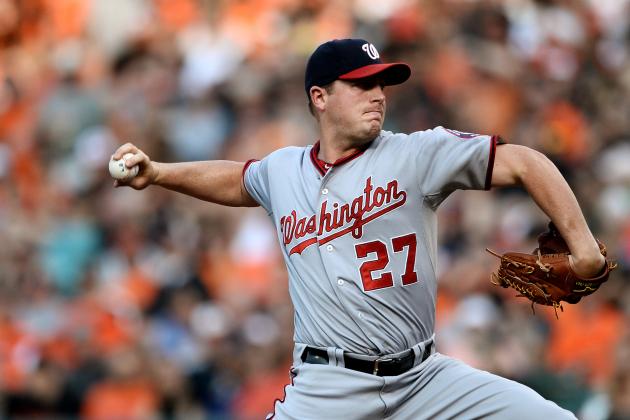 Patrick Smith/Getty Images

Position: No. 3 starter
Record: 9-3
ERA: 2.00
WHIP: 0.89
IP: 94.2
Not only is Jordan Zimmermann currently the best pitcher on the Nationals starting rotation, but he is also one of the best pitchers in all of baseball.
He is in a four-way tie for the most wins in the league, along with Clay Buchholz (BOS), Patrick Corbin (ARI) and Adam Wainwright (STL). He has the sixth-lowest ERA in the league and the second-lowest WHIP. On April 26, he pitched a complete-game one-hitter shutout against the Reds. In his following start, he struck out eight through eight innings pitched in a two-hitter shutout performance in Atlanta. In his most recent start against the Twins, he struck out eight more in seven innings pitched—another two-hitter shutout performance.
Come the end of the season, don't be surprised when Zimmermann's name is in the running for the NL Cy Young Award.