UFC 161: Who's on the Hot Seat Heading into the Evans vs. Henderson Fight Card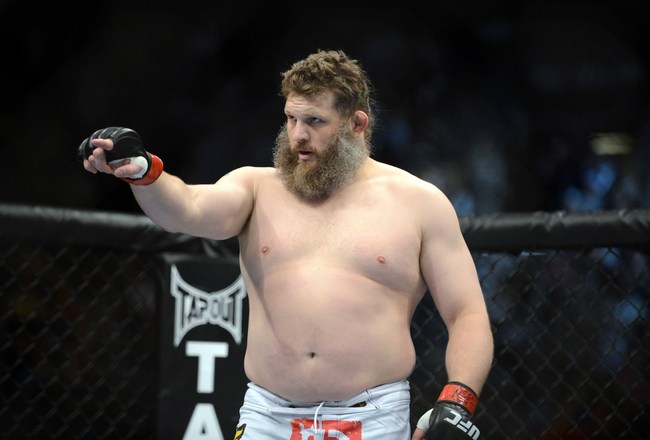 Ron Chenoy-USA TODAY Sports
The UFC will head to Winnipeg, Manitoba, Canada for the first time on Saturday, presenting UFC 161 from the MTS Centre, home to the NHL's Winnipeg Jets.
An injury forced the promotion to scrap the original main event between interim UFC bantamweight champion Renan Barao and Eddie Wineland. Now, the headlining bout will see former UFC champion Rashad Evans meet former Strikeforce/PRIDE champion Dan Henderson in a three-round light heavyweight contest.
A total of 22 fighters will compete on the card. Some will be fighting for their jobs, some will be fighting to move up in their division's rankings and at least one will be fighting to get some leverage when he negotiates a new contract.
Who are these fighters and who are the other fighters under the most pressure heading into Saturday's pay-per-view?
Yves Jabouin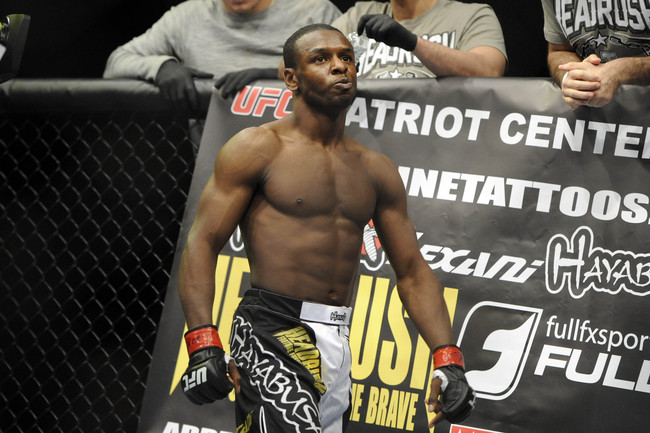 Rafael Suanes-USA TODAY Sports
Since joining the Zuffa family, Yves Jabouin has struggled to find traction. Early in his career, the fighter known as "Tiger" put together a six-fight winning streak and a five-fight winning streak, but when he joined the WEC he went 1-2 before that promotion was absorbed by the UFC.
The transfer to the UFC didn't go so well for Jabouin. Oh, the fight was memorable, but it definitely wasn't memorable for the reason Jabouin would have hoped. That bout ended when Jabouin tapped to a Pablo Garza flying triangle choke, which is not the most common submission hold.
After that defeat, Jabouin dropped to bantamweight and seemed to find his groove, rolling off three consecutive decision victories and climbing the divisional rankings.
At UFC on Fuel TV 5, he had the potential to make his move to "in the mix" status when he faced Brad Pickett. His momentum was halted 3:40 into the first round when Pickett lived up to his "One Punch" nickname, blasting Jabouin with an uppercut and putting him down and out.
Pickett has fought twice since that bout (1-1) and is currently ranked fifth in the division, according to the UFC rankings. Jabouin, looking at the Fight! Magazine rankings, comes in at No. 26.
At 34 years old, Jabouin is not all that old, but in a sport where one loss can set a fighter back a great deal, he's going to need to defeat Dustin Pague at UFC 161 or risk becoming an also-ran in the bantamweight division.
Dustin Pague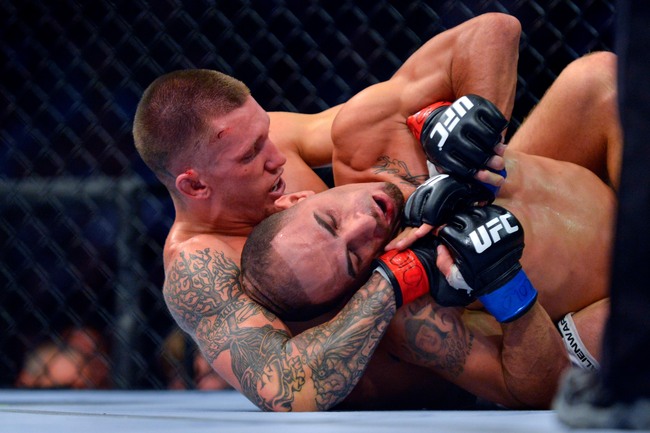 Ron Chenoy-USA TODAY Sports
It's doubtful that Yves Jabouin is in danger of being released with a loss at UFC 161, but the same cannot be assumed for his opponent, Dustin Pague.
Pague was 10-4 when he made his promotional debut in December 2011. He is now 11-7, with his single UFC victory coming via a first-round submission over the since released Jared Papazian.
Pague is currently on a two-fight losing streak, dropping decisions to Chico Camus and Ken Stone. If Pague's streak extends to three losses in a row, he could find himself looking for work with another fight promotion.
John Maguire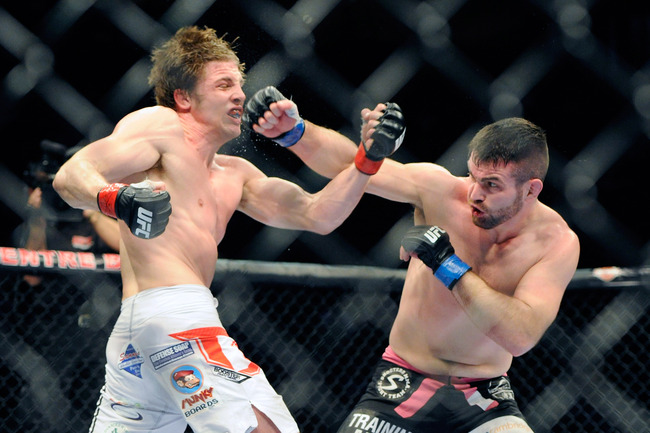 Eric Bolte-USA TODAY Sports
John Maguire is 0-2 heading into UFC 161, and he's either extremely confident or taking his fight against Mitch Clarke a little lightly.
He said via Twitter:
"If you aint heard yet guys if I hit 10k followers on twitter I will come out at #UFC161 like this https://www.youtube.com/watch?feature=player_embedded&v=ELsgXD9huxo … song,Jean shorts!"
I'm all for a fighter having fun and enjoying what he does, but when that fighter's job is potentially on the line, maybe, just maybe, he might want to buckle down and focus on winning his next fight instead of making goofy plans for the walkout.
This is stereotypical "bulletin board behavior." It sends the message, intentional or not, to Clarke and his camp that he's an afterthought, a sure win. It will be easy for Clarke's handlers to paint this as Maguire being so unconcerned about his fight that he's advertising his walkout as more important than the bout.
It's the kind of stunt that could provide Clarke with a lot of inspiration. It's the kind of stunt Maguire does not want to have backfire on him.
Sam Stout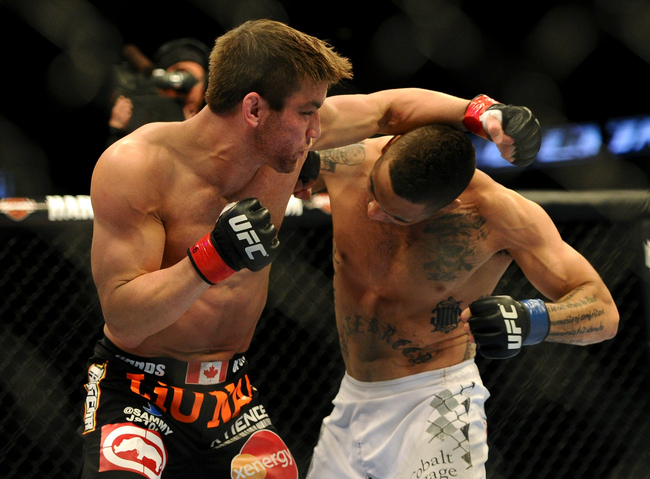 Jayne Kamin-Oncea-USA TODAY Sports
Sam Stout is only 29 years of age, but he has been with the UFC (continuously) since January 2008. He actually debuted with the promotion in 2006 but split time between the UFC and TKO between 2006 and 2007.
Overall, Stout is 8-7 in the UFC and has never put together more than two consecutive victories with the promotion. He enters his UFC 161 bout against James Krause 2-2 in his last four.
Stout's job is most likely safe if he does lose to Krause, but he's still under pressure. He made $52,000 in his last fight ($26,000 show, $26,000 win bonus), and that's a bit pricey for a fighter competing on the preliminary card. When you see that Fight! has him ranked at No. 41 in the lightweight division, that pay may seem even more onerous to the UFC personnel and accounting departments.
Stout needs to win to keep the bean counters from getting involved in his future.
Jake Shields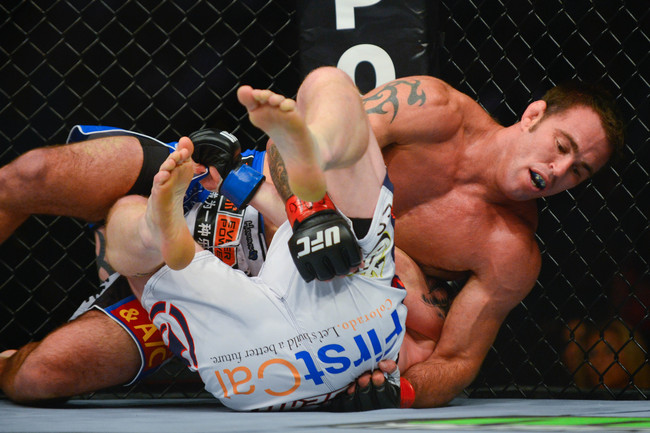 Ron Chenoy-USA TODAY Sports
If there is one stone cold lock for the UFC 161 hot seat, it has to be Jake Shields. In 2012, Shields entered the UFC with great fanfare. He joined the promotion after defeating Dan Henderson, defending his Strikeforce title in that bout. Shields looked like a fighter who could come in and immediately challenge for the UFC welterweight title, at least on paper.
His UFC debut was a controversial split-decision win over Martin Kampmann at UFC 121. He followed that victory with a unanimous-decision loss to welterweight kingpin Georges St-Pierre and has since gone 1-1-0-1.
Shields enters UFC 161 coming off a no-contest in his last bout. He was originally declared the winner in that contest, but that decision was overturned when Shields failed his post-fight drug test. His six-month suspension served, Shields will meet Tyron Woodley in Winnipeg.
Woodley has all the momentum coming into this fight. He's coming off a 36-second knockout win over Jay Hieron, and with that, Woodley is looking to make a jump in the UFC's welterweight rankings at the expense of Shields.
Shields needs this win. If he loses, he will fall to 1-3-0-1 in his last five UFC bouts, and let's not forget that Shields takes home a nice chunk of change for his efforts inside the Octagon.
In his last contest where pay was disclosed (UFC 121), Shields pulled down $150,000 ($75,000 show, $75,000 win), and that was four fights ago.
This is a particularly important fight for Mr. Shields. A win and he's looking at getting back in the mix; a loss and Shields is in that "super f**king expensive" territory that got Jon Fitch released.
Pat Barry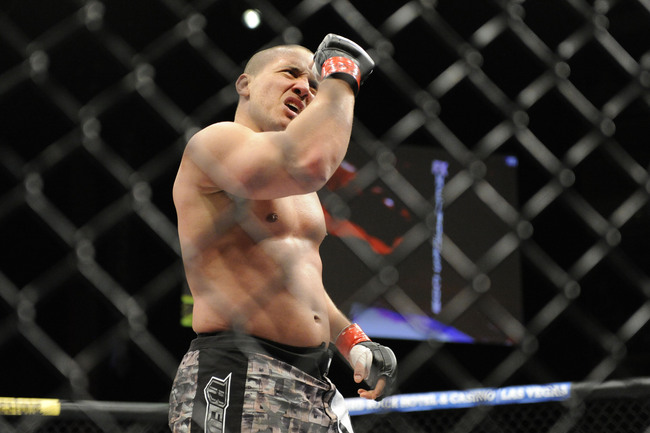 Josh Holmberg-USA TODAY Sports
Hang around the UFC long enough, and you'll learn that one way to stay employed with the promotion is to always "bring it." Bringing it seems to be defined as a willingness for the fighter to throw any concern for personal safety right out the window and just go out there and look to finish or be finished.
Pat Barry is one of the "bring it" poster boys.
Yet, there's always the worry that at some point, bringing it will not be enough. Barry is 5-5 in the UFC and coming off a win in his last bout, so he's not in danger of being released, but with his style he's always a second or two away from being knocked out or knocking out his opponent.
A win against Shawn Jordan will help Barry build a little bit of a buffer for when he does hit a rocky patch, like his two-fight losing streak in 2011. With a loss, Barry may start to feel the beginnings of a sweat.
Roy Nelson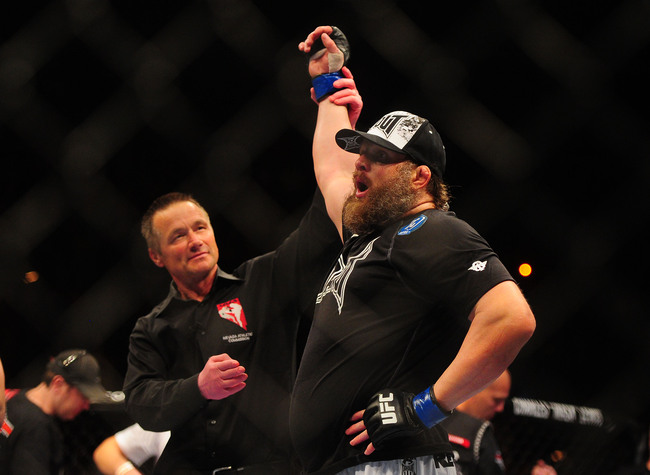 Mark J. Rebilas-USA TODAY Sports
When Roy Nelson leaves the Octagon after UFC 161, his contract with the UFC will be fulfilled, and that's when things will get interesting.
Nelson and UFC president Dana White have always had a contentious relationship, so when it comes time for them to sit down and hash out a new contract, I expect the sparks to fly.
Let's face it: The UFC holds most of the chips when it comes to bargaining, and if Nelson loses to Stipe Miocic, he will come to the table in an even weaker position.
Nelson must win against Miocic, and he must win by knockout if he wants to use a victory in Winnipeg as a bargaining chip in new contract negotiations.
Dan Henderson and Rashad Evans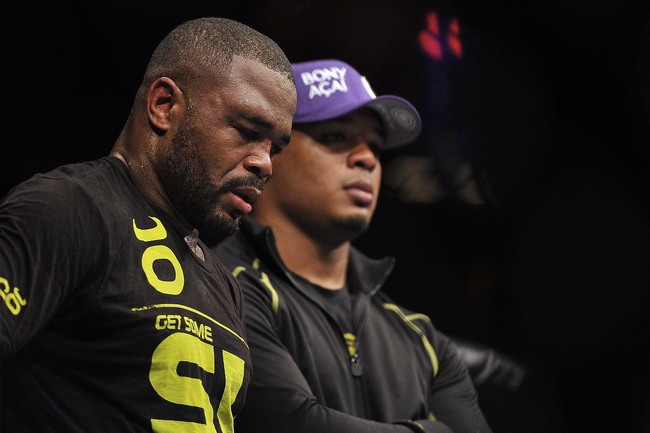 Paul Abell-USA TODAY Sports
The two main event fighters at UFC 161, Rashad Evans and Dan Henderson, are in about the same predicament heading into this bout. The winner will remain a viable contender, while the loser will have a long climb back to the mix.
One interesting thing about this fight is that if Evans loses, he will have three consecutive defeats on his record, which is the same number of consecutive losses that has decided (kind of, sort of) whether a fighter will remain under UFC contract.
I don't think the UFC would let Evans go, but if the release of Jon Fitch was a lesson to the troops, imagine the message the release of a former champion would send to the UFC roster.
What makes the cynic in me think the release of Evans could be possible is the recent interview that Evans gave to UFC Tonight, via MMAWeekly.com.
You do wear a little bit of pressure knowing the UFC; they've been getting rid of people like that (snapping his fingers). But at the same time, I'm not worried about getting cut if I lose my fight. I don't even like talking about this. I'm not going to lose my fight, but if I lose I'm not going to be like, I'm not going to worry about getting nixed.
The UFC could find inspiration in that type of hubris—inspiration to send the message that no fighter should ever be that confident in his job security.
Again, I'm not saying that will happen, but it's never safe to display what could be perceived as arrogance.
Keep Reading