Contender or Pretender for the UFC's Top 10 Flyweights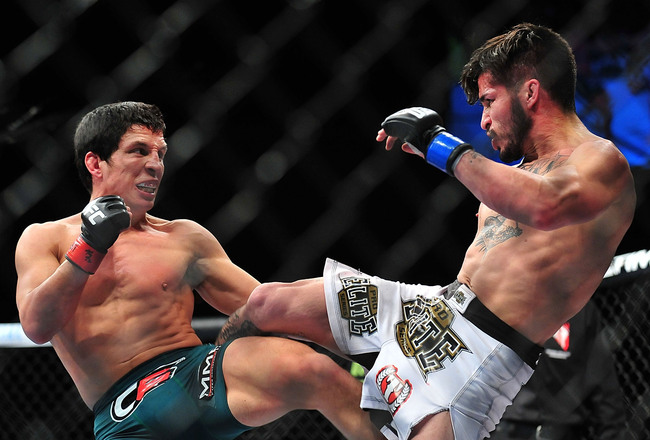 Gary A. Vasquez-USA TODAY Sports
With some of the division's top stars being buried in undercard matchups, the UFC's marketing team is doing an incredible job of neglecting the smallest members of the Zuffa roster.
Never fear! Bleacher Report MMA is here to give you a look at the flyweight fighters whom you need to know about.
Here is an analysis of the contendership credentials of the UFC's Top 10 flyweights.
Authors Note: All rankings associated with this list are based on the official UFC rankings.
10. Timothy Elliott: Contender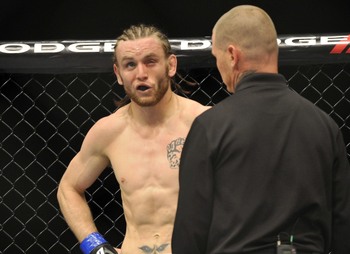 Joe Camporeale-USA TODAY Sports
Need to separate yourself from the rest of the pack in the flyweight division? Winning a decision with scores of 30-25, 30-25 and 30-26 are a good start to say the least. That is exactly what Tim Elliott did at the TUF 16 finale in December when he dominated Jared Papazian for three rounds.
The Kansas native made his mark on MMA when he knocked out brawling legend Jens Pulver in 2011.
Elliott has shown an ability to absorb incredible amounts of damage in his career, and he even won a round against UFC title contender John Dodson, although he lost a unanimous decision.
With solid wrestling and the ability to throw hands with any willing party, Elliott has what it takes to make a name for himself in the UFC flyweight division, and at 26-years-old, he will likely fight for gold one day.
9. Darren Uyenoyama: Pretender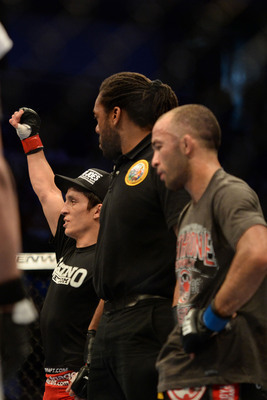 Kyle Terada-USA TODAY Sports
Anyone who saw Darren Uyenoyama manhandle Japanese legend Norifumi "KID" Yamamoto likely saw something special in "BC." After dropping down to flyweight and choking out Phil Harris, the future looked bright.
However, Uyenoyama got his chance to prove himself in April when he took on Team Alpha Male's Joseph Benavidez at UFC on Fox 7. Let's just say that the results weren't pretty.
Benavidez outclassed Uyenoyama from pillar to post before finishing the fight with a body kick in the second round. While anyone can learn from a loss and improve over time, in his current state, Uyenoyama is certainly not a contender.
8. Chris Cariaso: Pretender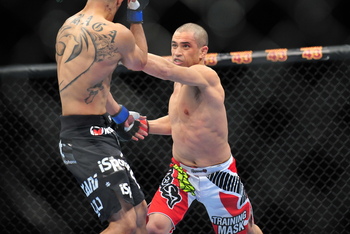 Gary A. Vasquez-USA TODAY Sports
Chris Cariaso being ranked as the No. 8 contender in the flyweight division is a farce. It goes to show you that a large percentage of those submitting rankings have no clue what they are talking about when it comes to 125-pound fighters.
Currently sporting a record of 1-2 as a flyweight, Cariaso's only divisional win came via decision against Josh Ferguson, a fighter who had lost thee of his last four heading into the bout.
In his last two appearances, Cariaso was defeated by Jussier Formiga and John Moraga—both fighters are legitimate members of the divisional top five.
7. John Lineker: Pretender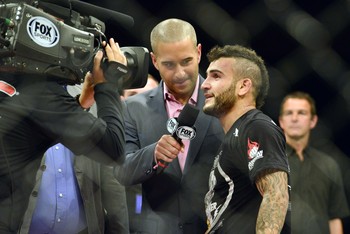 Jason da Silva-USA TODAY Sports
Having won 15 of his last 16 fights, Brazilian John Lineker is a name to watch in the UFC flyweight division. While his record may not include many notable names, the former Jungle FC champion was able to upset highly ranked Yasuhiro Urushitani last November.
With nine victories by way of knockout or TKO, Lineker is one of few flyweights with the stopping power needed to alter a bout's trajectory with a single blow.
Unfortunately, what Lineker seems to lack is the ability to defend takedowns. With stars like Joseph Benavidez and Demetrious Johnson sitting atop the division, it's hard to give Lineker "contender" status at this point. For that reason alone, he is branded a pretender with tremendous potential.
6. Louis Gaudinot: Undecided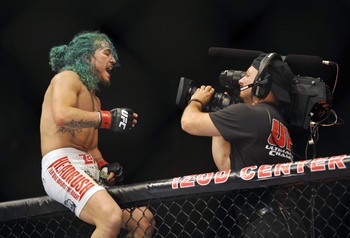 Joe Camporeale-USA TODAY Sports
Louis Gaudinot is a warrior whose big personality and brightly-colored hair made him an instant favorite on The Ultimate Fighter. Unfortunately, the show did not feature flyweights, and "Goodnight" was forced to compete with the bantamweights who had a considerable size advantage.
In his sole UFC appearance as a flyweight, Gaudinot was outstruck by John Lineker in a thrilling engagement before ultimately securing a guillotine choke and his first victory inside the Octagon.
Gaudinot hasn't competed in 13 months and currently does not have another fight on the books. While he is fun to watch, the New York native hasn't spent enough time competing against top competition to make a ruling on his future.
5. Jussier Formiga: Pretender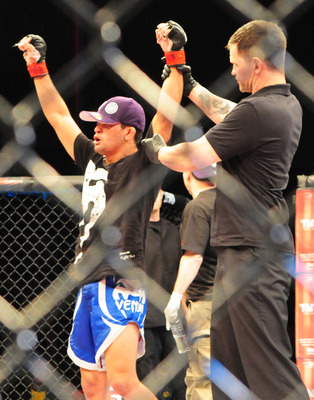 Jason da Silva-USA TODAY Sports
After making his name in the MMA world as Jussier da Silva, Brazilian submission ace Jussier Formiga signed with the UFC while still holding the Shooto 123-pound Championship.
In his promotional debut, Formiga found himself unable to hang with Ultimate Fighter winner John Dodson. Suffering a knockout late in the second round, the Nova Uniao fighter saw a five-fight winning streak snapped in the process.
Formiga is one of the best grapplers in the flyweight division. However, don't expect those skills to translate into any high-profile stoppages. Of the five men above him in the division, only Ian McCall has ever been submitted in his career, and that sole incident came nearly six years ago.
While Formiga has standout skills in one particular area, he is not a complete enough fighter to be a legitimate contender.
4. John Moraga: Contender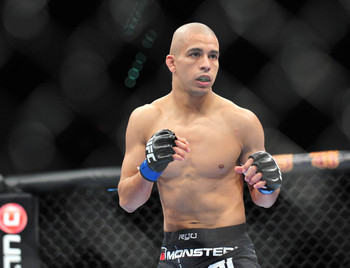 Gary A. Vasquez-USA TODAY Sports
John Moraga is currently slated to fight for the UFC flyweight championship this July. Immediately, that would lead most to the conclusion that he is a surefire contender.
Just because the UFC is willing to offer you a title shot does not mean that you are a worthy contender. If you disagree with that statement, take a look back at guys like Paul Buentello, Chael Sonnen and Gan McGee and think again.
Moraga shocked the flyweight division in his promotional debut when he knocked out Ulysses Gomez in less than four minutes. Gomez, of course, was a Tachi Palace champion in both the bantamweight and flyweight division shortly before the matchup.
Not only is he a contender, but with a background as a Division I wrestler, the Arizona native has potential to be the next UFC title holder.
3. Ian McCall: Contender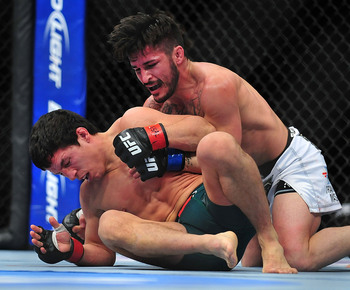 Gary A. Vasquez-USA TODAY Sports
With zero wins in the UFC, it might be easy to label Ian McCall as a pretender. In fact, I imagine that there will be considerable feedback in the comments sections agreeing with that notion. However, "Uncle Creepy" has proven time and time again that he can hang with the best fighters on the planet.
As a former Tachi Palace champion, "Uncle Creepy" was the world's top flyweight who was not contracted to the UFC prior to the division's creation.
Some feel that McCall won his promotional debut, a fight against now-champion Demetrious Johnson that was erroneously scored a draw.
In addition, McCall stayed competitive in a bout with perennial contender Joseph Benavidez, although he dropped a 29-28 decision across the board.
Contenders run into slumps every now and then, and not every loser is ruled a non-contender. Think what you want to about McCall and Zuffa record, but the guy is a proven member of the division's elite.
2. John Dodson: Contender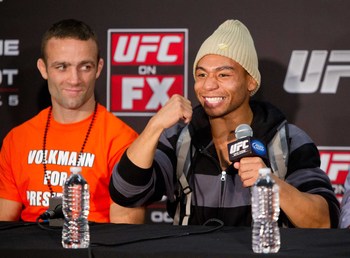 Bruce Kluckhohn-USA TODAY Sports
Had I written this article last year, John Dodson would have found himself with a "pretender" tag next to his name. After all, "The Magician" comes across as a speedy power puncher who lacks the sort of diversity needed to flourish in modern MMA.
Dodson used his impressive striking to knock out Jussier Formiga in late 2012. The win earned him a crack at the UFC flyweight championship, and "The Magician" nearly made it lights out for champion Demetrious Johnson in the second round of their January collision.
A title wasn't in the stars for Dodson in that fight, as Johnson picked up the pace and won the final three rounds to take home the victory.
Dodson's striking is a nightmare for most flyweights, and considering that Dodson was able to shut out nearly 70 percent of Mighty Mouse's takedown attempts, getting him on the ground is easier said than done.
1. Joseph Benavidez: Contender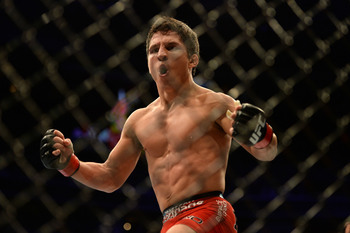 Kyle Terada-USA TODAY Sports
Joseph Benavidez came up short in title bids in both the bantamweight and flyweight divisions with losses to Dominick Cruz and Demetrious Johnson, respectively.
That being said, with elite striking, wrestling and submission skills, the Team Alpha Male fighter is arguably the most well-rounded fighter in the division.
Mark my words: Joseph Benavidez will one day wear gold in the UFC. As the true measuring stick at 125 pounds, Benavidez is the caliber of fighter who dominates anyone and everyone unworthy of contender status.
Keep Reading