5 WWE Superstars Who Could Still Be Repackaged to Find Success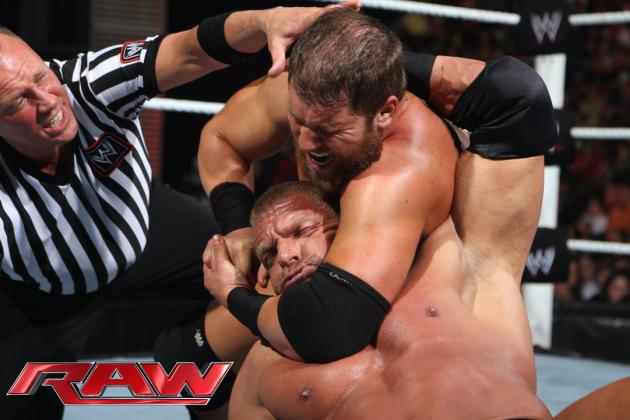 WWE.com
The WWE roster is filled with several Superstars who once had a bad gimmick, but found new life after being repackaged into someone completely different.
Damien Sandow was Idol Stevens, Kane was Isaac Yankem DDS, Dolph Ziggler was Nicky of The Spirit Squad, and we have the recent examples of Johnny Curtis becoming Fandango and Michael McGillicutty becoming Curtis Axel.
Sometimes all it takes is a tweak, but in many cases a complete overhaul is necessary in order to really take off.
The lower part of the card has plenty of wrestlers who are capable of great things, but might need a fresh character in order to meet their potential. This slideshow will look at five WWE Superstars with great potential who need a fresh start.
Begin Slideshow

»
Yoshi Tatsu debuted during the relaunched ECW under the WWE brand, and he was someone who seemed like a possible mid-card champion very quickly.
However, Tatsu was booked poorly and made to look like somewhat of a stereotype with his broken English during segments with Goldust.
Naofumi Yamamoto is actually a talented wrestler, having cut his teeth in New Japan Pro Wrestling before making his way to the US to work for WWE.
What Tatsu needs is a slight tweak to his character. Strip away the pop-techno music and goofy smile and replace it with the attitude of a tough Japanese wrestler.
The Japanese style is much stiffer than what we get in the US. By incorporating that into his character, he can seem much more intimidating than he looks now.
Even changing his ring name to just Yamamoto would help as it's a recognizable Japanese name among Americans, and it would distance him from his Yoshi Tatsu character.
There was a short period where he began wearing a mask to the ring and face-paint during his matches. Bring that part of his gimmick back, too. It was a great tribute to The Great Muta.
Tatsu is someone who could be very successful; he just needs a fresh start.
Ted DiBiase seemed like he was destined for great things when he first debuted and teamed up with Randy Orton and Cody Rhodes.
He is a solid wrestler who has been the victim of numerous injuries and a bad babyface run.
WWE tried using the Million Dollar Championship, Maryse as a valet and terrible entrance music to try and make DiBiase into a star, but none of it worked.
Perhaps returning to his heel roots would be the best thing upon his return to WWE television, maybe with a new tag team partner.
Whatever it is, something needs to be done because DiBiase has too much potential to let go to waste.
Ezekiel Jackson has been out for some time following an injury in 2012, but when he returns, he needs to be booked much stronger than how he was during his first run.
As Brian Kendrick's bodyguard, he stood out right away due to the his sheer size.
As a member of The Corre, Jackson seemed like the potential breakout star of the group. He physically dominated Big Show in ways we had never seen before, and he seemed to have a good grasp of the sport despite being signed by WWE with no experience in the ring.
Jackson is a powerhouse who can actually make John Cena and Ryback look small by comparison. Combine that with his quickness and you have a potential superstar.
Jackson would make a much bigger impact as a heel when he returns rather than returning to his babyface roots.
And changing his name might not be a bad idea either. His real name is Jacklon Stephens. Jacklon!
You can't come up with a cooler-sounding name than that. Why change it?
Hunico first showed up as the Sin Cara mimic, but eventually he shifted to a gimmick that had him riding a low-rider bike to the ring with Camacho.
Camacho, the son of Haku, is no better off in this gimmick, especially since he is a Tongan-American portraying a Mexican.
Both of these guys need to go in a different direction. They should use Camacho's real name, or something more Tongan sounding, and play up his heritage as Haku's son.
Hunico should be given the chance to go back to his original gimmick as Incognito, or something along those lines, if that is what he wanted to do.
Hunico and Camacho could possibly be brought back into the tag team division, but that seems unlikely given how much time has passed since Hunico has been off the injured list.
Hopefully something happens for one or both of them soon, because they have not found much success doing what they are doing right now.