Celebrate Kate Upton's 21st Birthday with Model's Best Sports Moments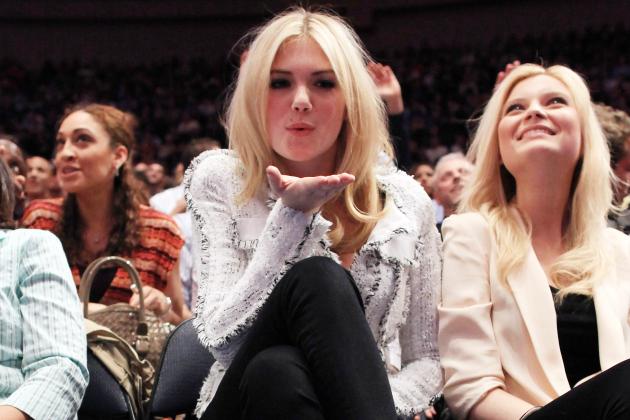 Chris Trotman/Getty Images

Supermodel Kate Upton can now drink that cocktail you always wanted to buy her as she turns 21. Join me in wishing her a very happy birthday with a breakdown of her best moments.
Seeing as how I bake the worst cakes, we have decided to celebrate the big day by cooking up some of the more memorable moments Upton has provided the sports world.
Of course, a model who has dominated Sports Illustrated covers and WAG dating rumors is bound to have an immense amount of sports ties. Please feel free to sound off on your favorite moment in the comments section below.
As for me, I would rather highlight all the moments that illustrate why Upton has been such a big part of the sports world.
Begin Slideshow

»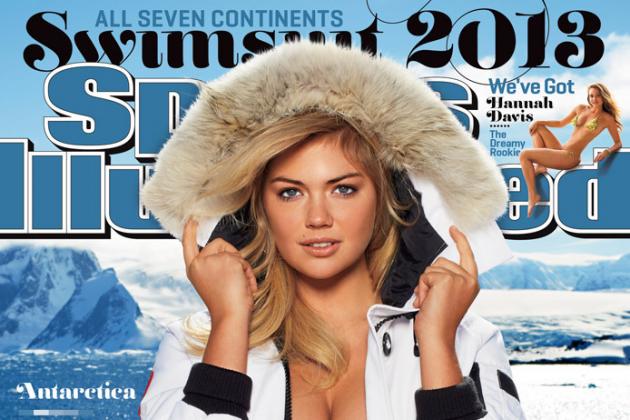 Photo Credit: Sports Illustrated
There aren't many feats better in sports than going back-to-back, and that sentiment is just as true for models adorning the famed Sports Illustrated Swimsuit Issue.
In 2013, Upton joined the likes of Kathy Ireland, Tyra Banks and Elle Macpherson as models who featured on the cover two or more times in their career.
Would fans be fine with her going for a hat trick? Yes, please.
Upton reigns supreme when it comes to viral videos. While her famous cat daddy dance took the interwebz by storm, it was her dougie at a 2011 Clippers game that really made her a viral video star.
She is bold, beautiful and damn good with the moves.
You might think bringing a supermodel to the workplace would be a fantastic idea no matter what kind of environment.
As former teammates James Harden and Kevin Durant found out, Upton can be quite the handful as they try to work out in a funny video from Skullcandy.
Skullcandy had gold with their "Take a Supermodel to Work" video with Harden and Durant, so they replicated it with an arguably funnier version featuring bills receiver Stevie Johnson.
Come for the hilarity of Johnson and Big Boi ignoring Upton while playing video games, but stay for the model attempting to lay down some phat tracks.
It just wouldn't be sports without a crazy controversy taking up vital moments of our day.
Back in July of 2012, Upton took some swigs from what looked to be a cup full of beer. While many questioned the 20-year-old on her decision, I was just relieved to hear models drink beer.
Unfortunately, Upton destroyed that thought, because she said there was no liquor in that cup. Well, she can fill her plastic cup to the brim now that she is on the right side of 21.
Not only did Kate Upton throw down her iconic cat daddy moves for Bleacher Report, she gave this very website a tremendous shout out.
The model has spoken, and you need to follow all your sports action here.
No, I am not talking about the rampant dating rumors hitting the model and the Detroit Tigers ace. Rather, Upton denies Verlander who tries to sneak into the MLB 2K Perfect Club dressed as Randy Johnson.
He would have pulled it off if it weren't for that meddling model.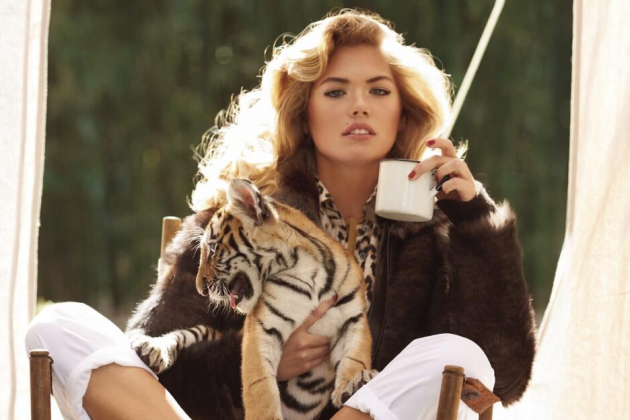 Photo Credit: Kate Upton Twitter
As long as we are talking about Verlander, let's cover the ongoing rumors that connected the supermodel and the Detroit Tigers pitcher.
Last July, It's Always Sunny in Detroit stated Upton was taking in Verlander from a Tigers suite, and in the same month CBS Detroit reported the two were "hanging all over" one another at a local bar.
This past Valentine's Day the model was happy to proclaim her single status, stopping the Verlander chatter for a couple of months.
And then she posted this image to her Twitter feed in April with the caption, "cuddling with my favorite tiger."
Of course, the sports world was ready to read between the lines.
Hit me up on Twitter: Follow @gabezal