Predicting the Minnesota Vikings Depth Chart, Post OTAs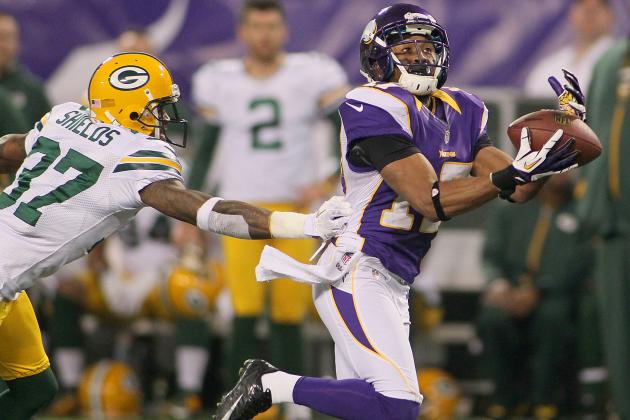 Andy King/Getty Images

The Minnesota Vikings come out of their first round of OTAs a confident bunch, coaches and players alike impressed that everything went according to plan and that the high hopes for the 2013 season are right on track.
Just like every other team in the NFL.
There are positive vibes all around at Winter Park, and why shouldn't there be? Coach Leslie Frazier did a remarkable job in his second season and seems to have gotten over the hump of proving himself as a head guy at the highest level.
The Vikings are healthy, rested and ready as they head toward minicamp next Tuesday morning.
Here we take a look at how the Vikings stack up on the depth chart after the OTAs.
Begin Slideshow

»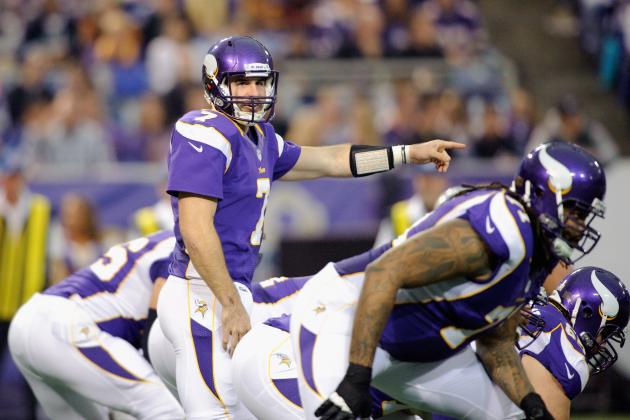 Hannah Foslien/Getty Images

1. Christian Ponder
OK, you've heard it ad nauseam at this point: Year three is the year for Christian Ponder to make the jump to the next level. There's no magic switch that will turn Ponder into a Pro Bowler, but the Vikings will be looking for him to take significant strides forward in his third season. It's time to take everything he's learned in his 26 starts and improve his game.
2. Matt Cassel
The veteran backup has enough NFL credibility under his belt that the Vikings offensive coaches can rest easy at night, knowing they're in good hands should Ponder get hurt. Cassel has thrown for more than 13,000 yards and 82 touchdowns while starting 62 games in the league. The Vikings have one of the better backup quarterbacks in the league.
3. McLeod Bethel-Thompson
He's the perfect third-string quarterback. We don't know a whole lot about him, but we've seen that he has a cannon for an arm, and that's a pretty good place to start. Bethel-Thompson is now learning under two veterans and will get a chance to show off that arm for the rest of the summer.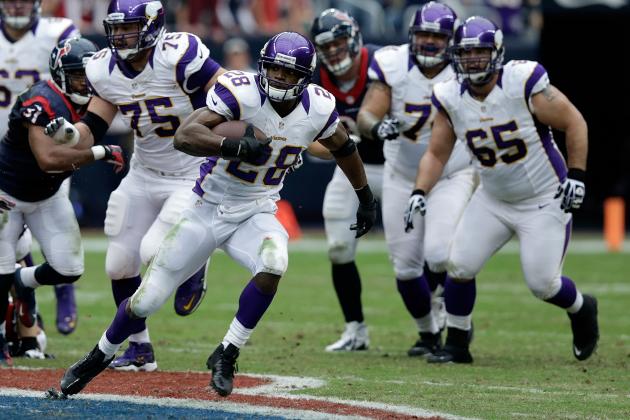 Scott Halleran/Getty Images

What can we possibly expect for an encore? The returning MVP of the league is fully recovered from all nagging injuries and has stated that 2,500 yards isn't out of the question. The hope is that Peterson finds some time to relax this summer and a way to rest that machine he calls a body for a bit. Then, come September, when the race that is the NFL season begins, Peterson will roar out to a huge lead and won't look back.
2. Toby Gerhart
Expect Gerhart to give Peterson a run for his money for the starting job. Wait, that wasn't me, that was the Mayans predicting that thousands of years ago. Wrong again, fellas. It'll be an interesting year for Gerhart, who'll be an unrestricted free agent at season's end. Gerhart will want to make the most of his exhibition reps to showcase his talent to other teams in the league. If he shows enough, the Vikings will have to think long and hard about keeping him around as the next guy in line.
3. Matt Asiata
Asiata proved himself in 2012 as an excellent special teams player who can do just enough as a running back to be kept on as the third man. Grit, hard work and a positive attitude are what keep special teams players in the league, and Asiata has all of those traits in spades.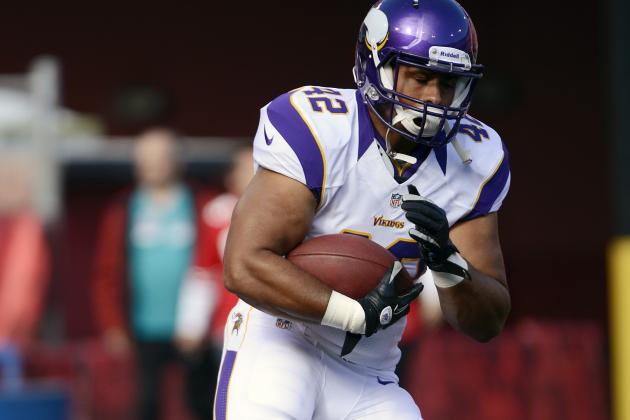 Thearon W. Henderson/Getty Images

1. Jerome Felton
If you're a fullback in the NFL, what does a spot in the Pro Bowl get you? For the Vikings' Jerome Felton, it was a new three-year, $7.5 million contract. The 6'0", 245-pound Felton did everything that was asked of him by the Vikings. His role is simple: lead the way for Adrian Peterson. Nothing will change in 2013.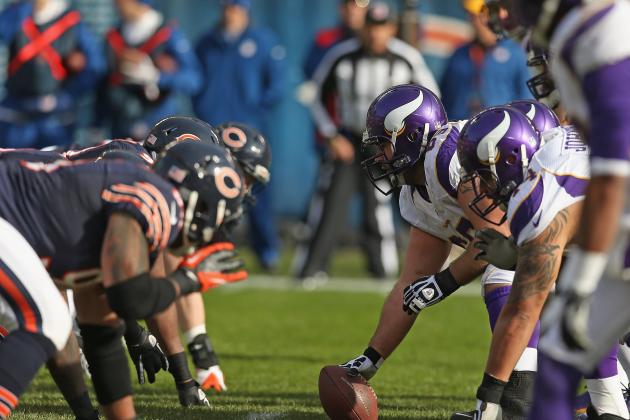 Jonathan Daniel/Getty Images

1. John Sullivan
Vikings center John Sullivan has firmly established himself as a top 4-7 center in the NFL. At 6'4", 300 pounds, Sullivan is slightly undersized for the interior of an NFL line of scrimmage, but he makes up for that with his intelligence and his aggressiveness. Sullivan is the line coach on the field for the Vikings, calling out all checks for his fellow linemen. The Vikings expect nothing but another solid year for Sullivan.
2. Joe Berger
The positional battle for roster spots on the Vikings offensive line will be as fierce as we've seen in years. One thing Joe Berger has going for him is his versatility. Berger can play both guard spots and is listed as the backup center to John Sullivan. Berger logged seven starts in 2011, and he has the smarts and grit the Vikings' coaches love. The guy graduated magna cum laude in mechanical engineering from Michigan Tech, for heaven's sake.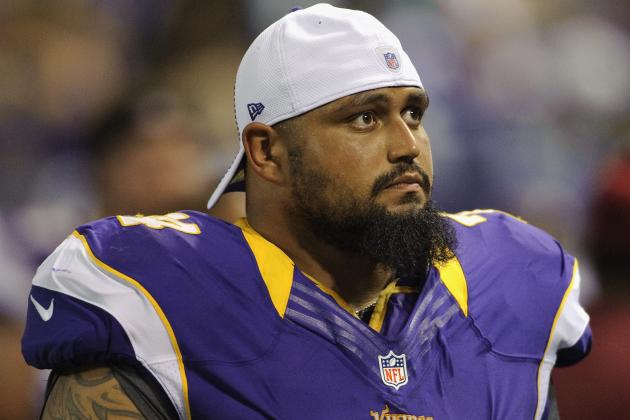 Hannah Foslien/Getty Images

1. Charlie Johnson
The returning starter at left guard, Johnson started every game for Minnesota last season after starting every game at left tackle in 2011. Johnson is much better suited for the guard spot and adjusted nicely as the year went along. His play was inconsistent but certainly not alarming. He had better come to camp raring to go, because the competition for the starting guard spots will be fierce.
2. Brandon Fusco
Fusco is the returning starter at right guard. He also had an inconsistent season, but once he started sharing reps with Joe Berger, he started to play better. The Vikings have brought in some capable rookies at guard, so nobody's spot is etched in stone.
3. Jeff Baca
4. Travis Bond
5. Tyler Holmes
6. Seth Olsen
That noise Johnson and Fusco hear behind them, breathing down their neck, is that of rookie draft picks Jeff Baca and Travis Bond and that of fourth-year man Seth Olsen. Baca and Bond are both highly regarded rookies who are coming off of stellar collegiate careers at UCLA and North Carolina, respectively. Holmes and Olsen have been through the ropes of the NFL grind and know what they have to bring to the table to succeed. Baca and Bond especially are exciting options for the Vikings, and this depth chart could see some movement by September. Nobody will keep their starting job without re-earning it.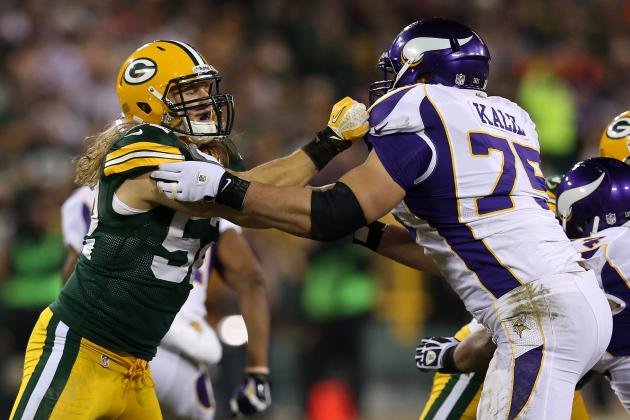 Jonathan Daniel/Getty Images

1. Matt Kalil
2. Phil Loadholt
Don't look for this to change anytime soon. Kalil will only be better his second time through the league; he now knows what to expect and can apply all of the lessons he learned as a rookie in what is expected to be a stellar second season. Loadholt earned the big money and knows he'll be a part of the Minnesota Vikings offensive line for years to come. The Vikings coaches will now have to make sure that Loadholt doesn't rest on his contract and that he continues to improve, as he certainly has done each year in the league.
3. DeMarcus Love
Love has spent most of his two years with the Vikings inactive, either because of injury or not being high enough on the depth chart. It's to his credit that the Vikings still have him around, as he has a high ceiling as a player who could start in this league. With the infusion of talent on the offensive line, Love will most certainly have to stay injury-free through training camp and also impress upon the coaches that he can reach his potential.
4. Tyler Holmes
5. Kevin Murphy
6. Brandon Keith
These guys aren't going to beat out Matt Kalil or Phil Loadholt, so they are battling to be depth guys on the roster. They were all excellent players in college and have showed enough talent to get this far. Staying healthy becomes crucial when there is such a fine line between who gets noticed and who doesn't.
Andy Lyons/Getty Images

1. Kyle Rudolph
Kyle Rudolph has looked good since his first day in a Vikings uniform. At 6'6", 260 pounds, with soft hands, Rudolph has prototypical NFL size for his position. He caught 26 balls as a rookie and 53 last season. The sky seems to be the limit in 2013. After winning MVP honors at the Pro Bowl (granted, it's a glorified touch football game), Rudolph now knows that he belongs among the elite players in the league.
2. John Carlson
Here's hoping that John Carlson and Jerome Simpson can wage quite a battle for the Vikings' comeback player of the year. Carlson was simply missing in action after signing a big free-agent deal with the team before the 2012 season. Injured out of the gate, Carlson never became a part of the Vikings' offense last year. One of the things that Christian Ponder will need to have happen to become a better quarterback is for his receivers to all play better. Carlson is right at the top of that list.
3. Rhett Ellison
If Carlson doesn't show up, it won't take long for Rhett Ellison to go zooming by him on the depth chart. Ellison did a little bit of everything for Minnesota in his rookie season, and now, with a year under his belt, Ellison will be more comfortable and more effective right out of the gate. Ellison only caught seven passes last year, but they all seemed to come at crucial times. Expect to see him on special teams and for his role in the offense to grow, both out of the backfield and as a tight end.
4. Colin Anderson
He's hoping for an opportunity to show off some skills to get another look somewhere else, because he won't make the Vikings.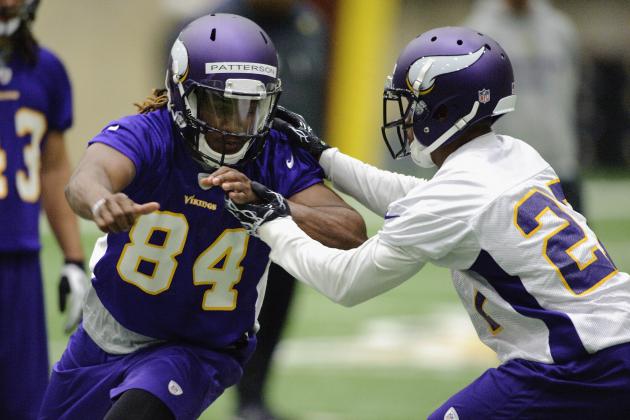 Hannah Foslien/Getty Images

1. Greg Jennings
The Vikings signed Jennings away from the Green Bay Packers to take over the No. 1 wide receiver spot vacated by Percy Harvin. A pro's pro, Jennings will be expected to lead the Vikings in receptions and teach the young Vikings receiving corps the tricks of the trade. Jennings isn't the football player that Percy Harvin is, but at this point, he might just be more valuable to them considering the growth needed from Christian Ponder and the rest of the receivers.
2. Jerome Simpson
Don't get too comfortable in this spot, Jerome, it could change at the drop of a hat (or football.) Simpson looked healthy and athletic at the OTAs, but he was a huge disappointment for the Vikings in 2012 after a series of injuries kept him from having any impact on the team. Simpson is as anxious as anybody to show his coaches, teammates and Vikings fans what he can do.
3. Cordarrelle Patterson
Yes, the rookie is raw. But he's raw like the biggest, best-looking steak you've ever seen. Patterson is a 6'2", 220-pound statue of athleticism. He'll return kickoffs right from the get-go, and his spot in the receiving rotation will simply come down to how quickly he can prove he belongs there. The Vikings are salivating at his potential, and he could become the team's No. 1 receiver for years to come.
4. Jarius Wright
Expected to take over the slot receiver position vacated by Percy Harvin, Wright looked more than capable once he got on the field in the Vikings' last seven games of 2012. Having said that, it's insane to think that the Vikings will expect Wright to take on Harvin's role, because they won't. Viking fans should think more along the lines of Leo Lewis or Hassan Jones than Percy Harvin.
5. Stephen Burton
Here's where things will get interesting among the Vikings receivers. Stephen Burton has showed enough in practice over his three years to ensure he's still around. He's in that precarious spot of getting very few game reps and not really doing anything great with them. He'll get more opportunities this summer, but his roster spot is certainly in jeopardy.
6. Joe Webb
He's 6'4", 220 pounds and has good hands. We've seen what he can do with the football in his hands (he can't throw it accurately, but he won't be asked to do that anymore.) The Joe Webb at wide receiver experiment is one of the most interesting that will happen this summer with the Vikings. He understands the offense. He's an athlete. That doesn't necessarily mean he can play wide receiver in the NFL. Stay tuned.
7. Greg Childs
Nobody knows. He's worked his butt off to rehabilitate his knees, and anyone who's been watching is pulling for the kid to make a complete recovery. The Vikings will more than likely ease him back into football activity. We'll know more on Childs come August.
8. Chris Summers
9. Rodney Smith
10. Adam Thielen
This is "the field" in a horse race. They won't get a ton of reps once training camp rolls around. It can be a frustrating, agonizing position to be in, trying to prove yourself without getting ample opportunity. What these players can do is bust their asses in every drill, catch every ball thrown their way and volunteer for every special team role. They can do all of that and still not get enough opportunity. It's a numbers game, and for these receivers, they simply have to make it so the Vikings coaches can't cut them.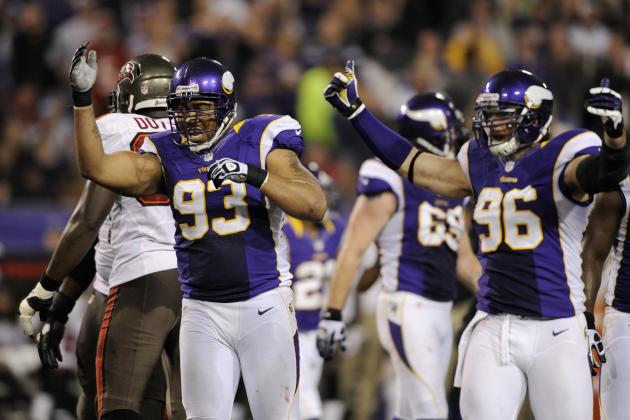 Hannah Foslien/Getty Images

1. Kevin Williams
This offseason, Kevin Williams took a pay cut and watched as the Vikings drafted his heir apparent. Don't expect Williams to go away any time this season. When the Vikings open the season, Williams will be where he's always been, in the under tackle spot. We don't know who might be next to him yet, or if Williams will be there beyond this season, but he'll be there in 2013.
2. Letroy Guion
Guion started 15 games at defensive tackle for the Vikings last season. He was inconsistent to say the least. The Vikings drafted a defensive tackle with their first pick in the draft. Guion occupies this spot on the depth chart for now, but his margin for error is minimal.
3. Shariff Floyd
When the 2012 college football season started, Shariff Floyd was expected to be a first-round pick; somewhere in the twenties is where most prognosticators had him. Floyd then had a dominating season at Florida and rose up draft boards to the point where he was in the top five on most boards. It's unlikely the Vikings thought Floyd would be around when they picked at No. 22, but Floyd kept falling and the Vikings didn't hesitate to take him; he filled a need and was their highest-rated player. Floyd is a raw talent, and his technique needs to improve at the highest level. At 6'3", 300 pounds, he's better suited to play the under tackle spot that Kevin Williams now occupies, but he'll certainly be thrown in to the rotation early and often.
4. Christian Ballard
At 6'4", 285 pounds, Christian Ballard is a tweener. He's a defensive tackle in a defensive end's body. Ballard is a good football player and did well in his limited opportunities in 2012. Ballard had a sack and 15 tackles when he got on the field. He probably is spending most of his offseason trying to gain strength and add bulk to his frame.
5. Fred Evans
At 6'5", 307 pounds, Evans is a bigger body in the middle than Ballard but not quite the player that Ballard is. Evans had two sacks in 2012 and will certainly compete for a roster spot and playing time in 2013.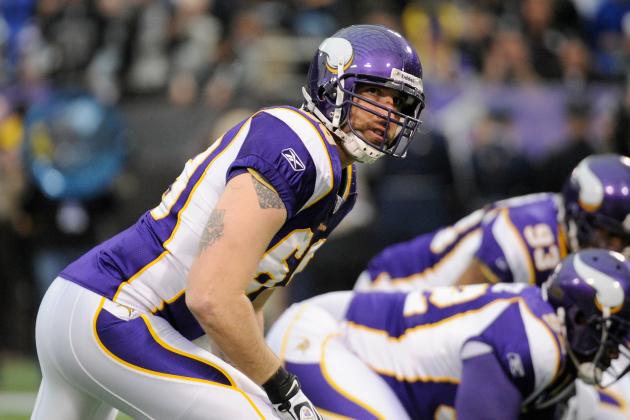 Hannah Foslien/Getty Images

1. Jared Allen
Jared Allen is a Hall of Famer in waiting, but as the 2013 season approaches, he finds himself facing another "prove it" season. That sounds absurd on the surface, because Allen has nothing to prove to anybody. Such is the the status of an over-30 NFL who is entering a contract year. Allen played hurt for most of 2012 and watched his sack total drop from 22 to 12. Fully healed and raring to go, the Vikings are hoping that Allen is dominant once again in 2013, which will force the team to think hard about giving him one final, big NFL contract.
2. Brian Robison
Robison played hurt for most of 2012 and didn't have the season many expected out of him. He did get 8.5 sacks, but he wasn't the impact player he'd been in previous seasons. Robison is fully healthy again and is hoping for a big year as, like Allen, he's in a contract season.
3. Everson Griffen
This could almost be labeled 2A. Griffen is one of the best athletes on the Vikings, and now, at 25 years old, he's entering into his prime years. Griffen came on like a storm at the end of 2012, finishing the year with eight sacks. Of all of the Vikings expected to have breakout years, Griffen is at the top of quite a few lists. If that happens, Griffen could be priority No. 1 next offseason when the Vikings have to re-sign their own free agents.
4. Lawrence Jackson
The Vikings made a nice depth addition when they signed Jackson, a five-year veteran out of Southern Cal. Though he's never lived up to his first-round status, Jackson has been decent, racking up 19.5 sacks in the league.
5. D'Aundre Reed
Reed has been stuck in limbo during his two seasons with the Vikings, more than anything because he's just a victim to being a bit undersized to play effectively in the NFL. At 6'4", 260 pounds, Reed lacks the strength to take on most NFL offensive linemen. He has talent, and the Vikings have kept him around because they like his potential. Reed is probably tired of being a part of the practice squad, and this is the year where he'll get a shot to get off of it.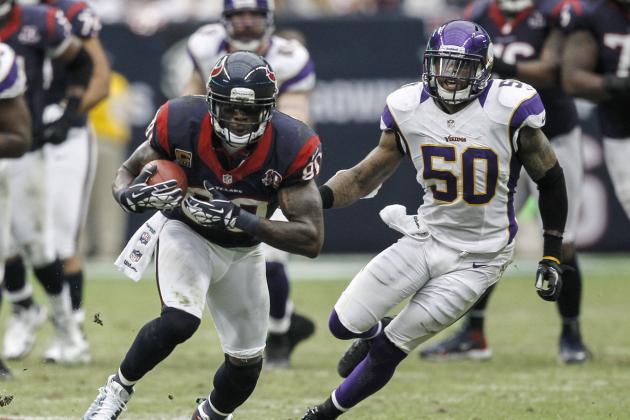 Bob Levey/Getty Images

1. Erin Henderson
Entering his sixth season with the Minnesota Vikings, Erin Henderson is making the switch to middle linebacker. Henderson has been a starter on the outside for the past two seasons but played in the middle in nickel packages. Henderson has been pretty steady for Minnesota; he hasn't been great, but he hasn't played himself out of a job, either. He'll be expected to ratchet up his number of tackles and to be more of an impact player than he's been in the past.
2. Audie Cole
The second-year man gets the nod over the rookie for the time being. Cole had a memorable two-interception, two-touchdown game in the preseason last year, and then nobody saw much of him during the regular season. The Vikings love his attitude and willingness to compete, so he'll be given every opportunity to make the team.
3. Michael Mauti
The rookie's medical chart is way longer than you would wish on anyone. He's coming off of knee surgery and won't participate in any contact drills until training camp at the earliest. Mauti is the wild card when it comes to the Vikings linebackers, because when healthy, he was a tackling machine at Penn State. He's a warrior in the classic middle linebacker sense, it's just a matter if he can stay on the field or not.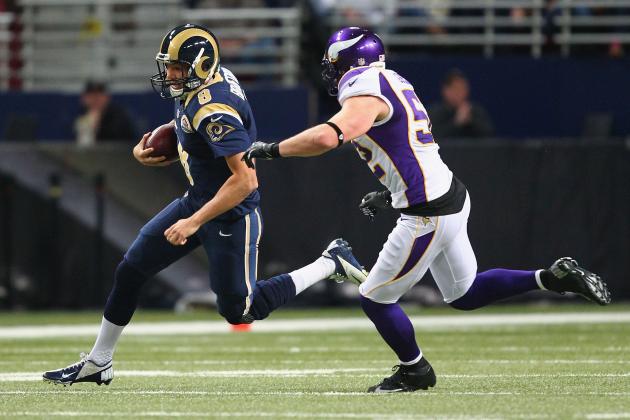 Dilip Vishwanat/Getty Images

1. Chad Greenway
The two-time Pro Bowler enters 2013 in the prime of his career. With six years now under his belt, Greenway has been everything the Vikings hoped he would be when they drafted him with their first pick in 2006. Greenway is a dependable leader on defense, having not missed a game since missing his rookie season with a torn ACL. Expect more of the same in 2013.
2. Marvin Mitchell
When the Vikings drafted Gerald Hodges in the fourth round of the 2013 draft, many fans penciled him in as an immediate starter at outside linebacker. He just might start eventually, but expect Mitchell to be given the first crack at it. At 6'3", 250 pounds, Mitchell is big, strong and fast. He has every characteristic you're looking for in an outside linebacker. Mitchell has been looking for an opportunity to make an impact in the league, and it just might be here in 2013.
3. Gerald Hodges
The rookie out of Penn State is everything the Vikings were looking for at the outside linebacker position. An aggressive strong tackler, Hodges is also athletic enough to more than hold his own in pass coverage. He'll need some time to adapt to the intricacies of the NFL, but he's a smart and willing learner. Hodges will almost certainly be a part of the Vikings linebacker rotation in 2013.
4. Tyrone McKenzie
The third-year man from South Florida has been a nice special teams player for the Vikings. With spots open at linebacker, McKenzie will have an opportunity to show what he can do in the summer of 2013. He'll have to battle to keep a spot on the roster.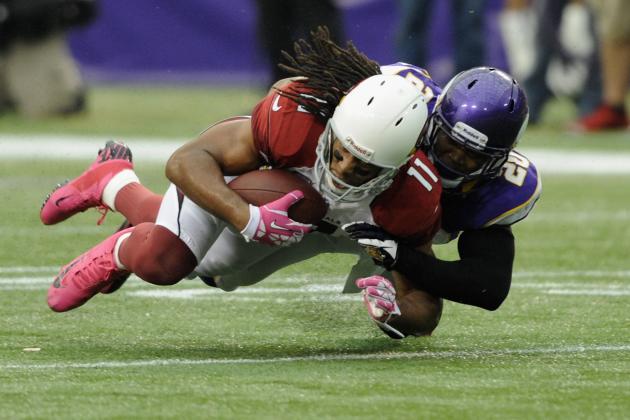 Hannah Foslien/Getty Images

1. Chris Cook
Cook enters his fourth season in the league still looking for his first interception. He was playing good football last season when he broke his arm in the 10th game of the year. He's had an up-and-down career, mostly down due to his legal troubles, but the Vikings expect him to assert himself in 2013 and become the strong cover corner he has the potential to be.
2. Josh Robinson
For the time being anyway. Robinson is expected to the the slot coverage corner, replacing Antoine Winfield, who signed with the Seattle Seahawks. Robinson had a solid rookie season, showing some flashes of great play, but tiring in the last month of the season.
3. Xavier Rhodes
The first-round pick will almost certainly be in the starting lineup come September, but right now it's early June. The Vikings were delighted to be able to land Rhodes with the 25th pick in April, as he projects to be a strong press corner who can take on the best receivers in the league.
4. Jacob Lacey
Lacey started nine games for the Lions in 2012, and the Vikings eagerly signed him away this offseason to add depth at cornerback. Lacey will be in a large battle for the remaining corner spots, and his four years in the league give him an edge in experience over the others.
5. A.J. Jefferson
The Vikings were intrigued by Jefferson's length on the edge but had to be disappointed in his play in 2012. Jefferson will certainly be in the mix for a roster spot at corner, but he'll have to show more than he did last season.
6. Brandon Burton
Burton is another third-year guy for the Vikings who's just dying to get an opportunity. At 5'11", 190 pounds, Burton is a physical player who has to prove he can keep up in the passing game to get a chance to see more reps for the Vikings.
7. Bobby Felder
The Vikings continue to be intrigued by the possibilities shown by Felder, the 6'1", 200-pounder out of Nicholls State. Felder spent 2012 on the practice squad and is hoping for a chance to make it on the active roster in 2013.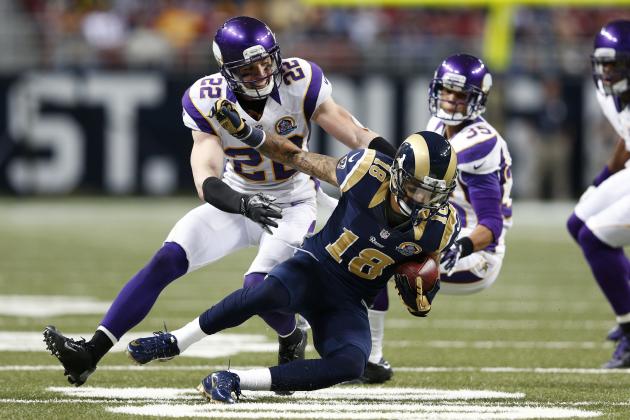 Joe Robbins/Getty Images

1. Harrison Smith
An impact player from day one of his rookie season, Harrison Smith will be one of the leaders of the Vikings defense for the next decade. A hard hitter with a nose for the football, Smith proved to be more than capable against the run and an effective pass defender.
2. Jamarca Sanford
3. Mistral Raymond
4. Robert Blanton
This is the order they'll head into training camp in, but it could change from week to week or even day to day. Raymond won the job out of camp in 2012 but lost it to Sanford after being out with an injury. Blanton played corner in college, so it was his first year at safety, but the Vikings coaches love his tenacity and smarts. This should be the closest position battle in all of training camp and it's anybody's ball game at this point.
5. Andrew Sendejo
6. Darius Eubanks
7. Brandon Bishop
Sandejo made the team last year based on his ability on special teams, so the other two players will have to prove they can do that better than him to beat him out. Eubanks and Bishop will probably be battling each other for a shot to make the practice squad.