Predicting Seattle Seahawks' Depth Chart, Post OTAs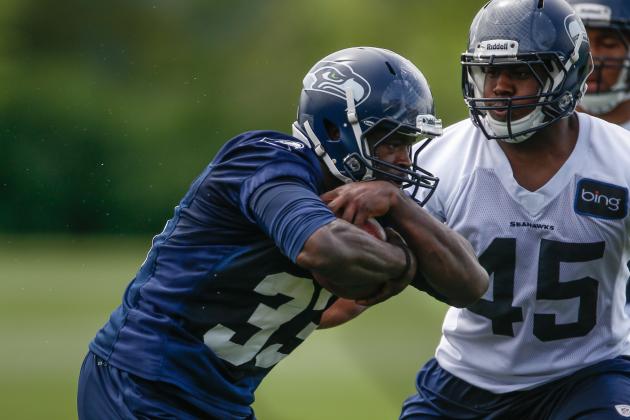 Otto Greule Jr/Getty Images

The Seattle Seahawks are through OTAs, and now we enter one of the quietest periods of the NFL experience before camp opens up and the grind begins again. There have been a few developments, and now the speculation can start as to which players are going to step up and grab spots on the roster.
One could argue that the roster of the Seahawks could be predicted right now with some amount of accuracy. However, football can be a shifting sport, as injuries and intriguing performances can change the depth chart as a team prepares for the season.
Pete Carroll loves a good position battle, as he seems to feel like it keeps everyone sharp and hungry to keep their jobs. Add this to some interesting rookies, and there will still be some key position battles for the 'Hawks later this summer.
Here is an update on the Seattle Seahawks' depth chart after OTAs and where the roster may go in the future.
Begin Slideshow

»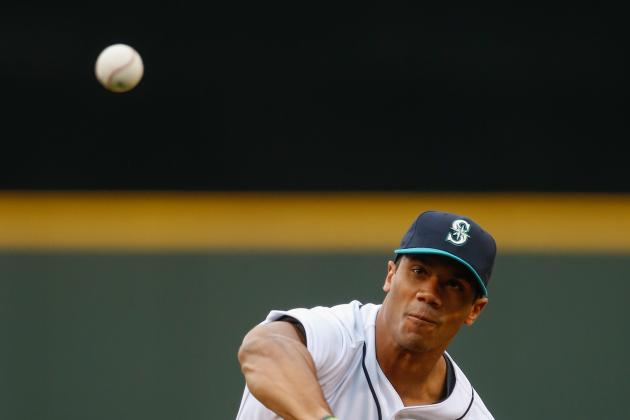 Otto Greule Jr/Getty Images

Starter: Russell Wilson
Backup: Brady Quinn
Backup: Jerrod Johnson
Despite suiting up for the Seattle Mariners, it seems unlikely that Russell Wilson will ditch his QB gig in favor of joining the starting rotation of the M's. Granted, the Mariners could probably use him.
Barring an injury, Wilson is your starter, both now and into the future. The only question is whether Pete Carroll goes with the "veteran" Brady Quinn or a "upside" guy in Jerrod Johnson.
Conventional wisdom says that Quinn wins the job based on his experience, though Carroll may be intrigued by another project.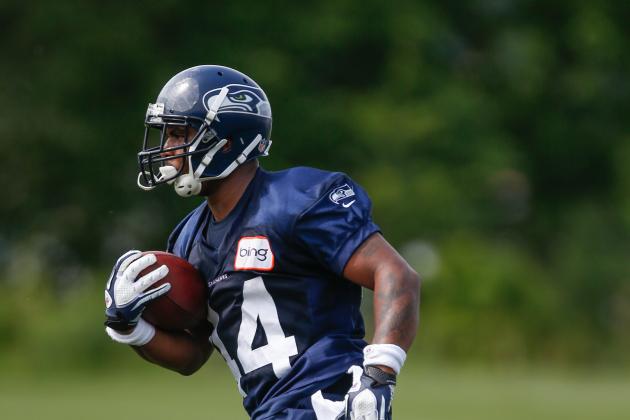 Otto Greule Jr/Getty Images

Starter: Marshawn Lynch
Backup: Robert Turbin
Backup: Christine Michael
Starter: Michael Robinson
Wild card: Spencer Ware
Again, your starting tailback for 2013 is Marshawn Lynch, unless back pain or legal trouble keep him off the field. That is where the certainty ends.
At the sake of being conservative, assume that Robert Turbin keeps his job as the first backup. Turbin played well as a rookie, and he did a very nice job catching the ball out of the backfield.
Christine Michael is an intriguing athlete and it will be interesting to see how he does in camp. It will also be interesting to see how the Seahawks choose to use him. He could move up the charts with a strong summer.
At fullback, you have a solid veteran in Michael Robinson, who has a nice relationship with Beast Mode. Do you maintain the chemistry of the veteran duo or do you let Spencer Ware take a shot at winning the job? For now, assume that Spencer Ware is on the outside looking in, but that could change.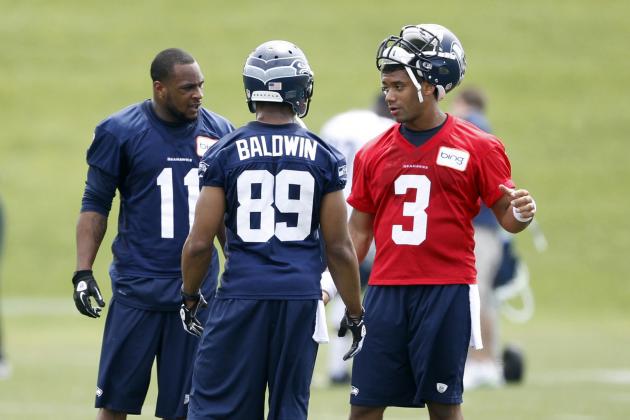 Joe Nicholson-USA TODAY Sports

Starter: Percy Harvin
Starter: Sidney Rice
Backup: Golden Tate
Backup: Doug Baldwin
Wild card: Chris Harper
Yet again, we have some relative certainly and we have some questions on the depth chart. Percy Harvin and Sidney Rice are in. Golden Tate is in. Doug Baldwin is not guaranteed to be in, but he probably fits into this depth chart.
Then there is physical rookie Chris Harper, who could find his way onto this roster and into the lineup if he can prove to be another outside threat for Russell Wilson. Still, Harper will be facing a fair amount of competition. Just the way Pete Carroll likes it.
Other players will be in the mix, including Jermaine Kearse, Charly Martin, Brett Swain, Bryan Walters and local rookie Justin Veltung.
As of June 10, the Seahawks had 14 wide receivers on their roster. Suffice it to say a few will have to go.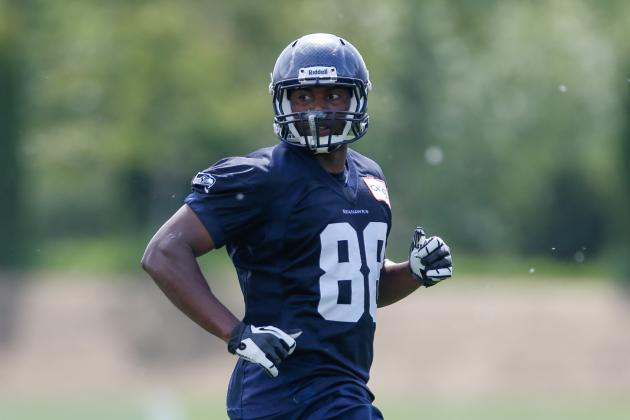 Otto Greule Jr/Getty Images

Starter: Zach Miller
Backup: Sean McGrath
Wild cards: Luke Willson, Darren Fells
Anthony McCoy showed how tough it is to maintain an NFL career. McCoy gets hurt, and gets cut. This is not a sentimental league by any stretch of the imagination.
Back to business. Zach Miller is your starter and could develop into a favorite target for Russell Wilson this season. After that, the competition begins.
The two-tight end set is becoming popular in the NFL, and with Russell Wilson's ability to run, the tight end could be an even more valuable weapon if Wilson wants to get outside and then complete short-yardage passes to a big body in the middle of the field.
So, who makes the roster? Sean McGrath is the most experienced, but not by much. Luke Willson could win the job with a strong camp. Then there is the former basketball player Darren Fells, who was signed, cut and re-signed. Will the determination pay off?
Finally, don't count out local tight end Victor Marshall. Carroll and John Schneider love to mine talent from unknown spots.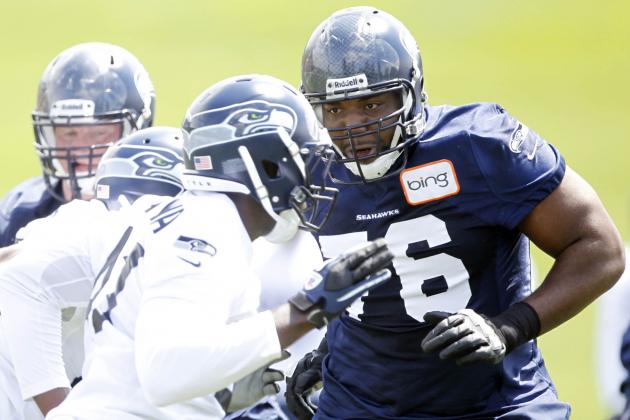 Joe Nicholson-USA TODAY Sports

Starter: Russell Okung
Starter: James Carpenter
Starter: Max Unger
Starter: Paul McQuistan
Starter: Breno Giacomini
Backup: Mike Person
Backup: John Moffitt
Backup: Lemuel Jeanpierre
Backup: J.R. Sweezy
Backup: Rishaw Johnson
Wild cards: Michael Bowie, Ryan Seymour
Coming up with the depth chart for the offensive line is a bit tough at this point, simply because there are several moving parts for the Seahawks. Obviously, Russell Okung and Max Unger are safe picks. Beyond that, there are questions of health and performances.
Will James Carpenter stay on the field? Will he finally live up to his original draft status? You can arguably pencil him as a desired starter, but time will tell whether he can remain healthy.
The same question of health applies to John Moffitt.
Can Breno Giacomini hold onto his job on the right side, or will he eventually give way to a rookie or a younger player? On paper, there are a number of different options, but rookies like Michael Bowie and Ryan Seymour may have a genuine shot at making this team.
Let the games begin.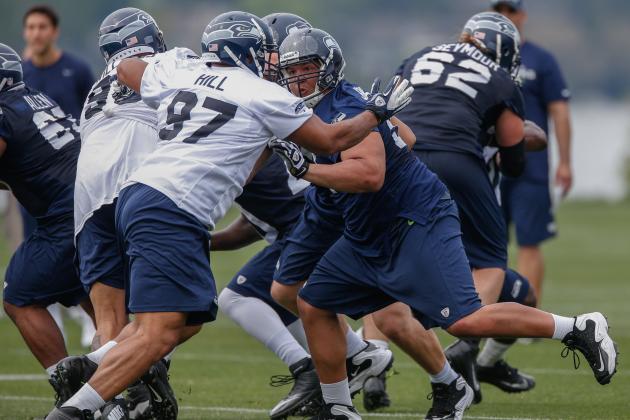 Otto Greule Jr/Getty Images

Starter: Red Bryant
Starter: Tony McDaniel
Starter: Brandon Mebane
Starter: Cliff Avril
Backup: Michael Bennett
Backup: Clint McDonald
Backup: Jaye Howard
Backup: Greg Scruggs
Backup: Jordan Hill
Backup: Jesse Williams
Wild cards: Bruce Irvin, Chris Clemons
The defensive line will be a fascinating study in talent combinations, as the Seahawks have a variety of different options in 2013. How all the players come together in order to form a unit will be interesting to observe.
On paper, your starters will be the veterans, but Seattle will likely look to get rookies like Jordan Hill and Jesse Williams into the mix. Then there are the questions surrounding Bruce Irvin and Chris Clemons.
When Bruce Irvin returns from his suspension, what will be his role? Is he big enough to be a consistent defensive end in this league?
It will also be interesting to see what Clemons looks like when he comes back from injury. Will he be the same player? Or will the Seahawks quickly find that he is unable to put pressure on opposing quarterbacks?
The defensive line is not necessarily a work in progress, but it does have a lot of different possibilities.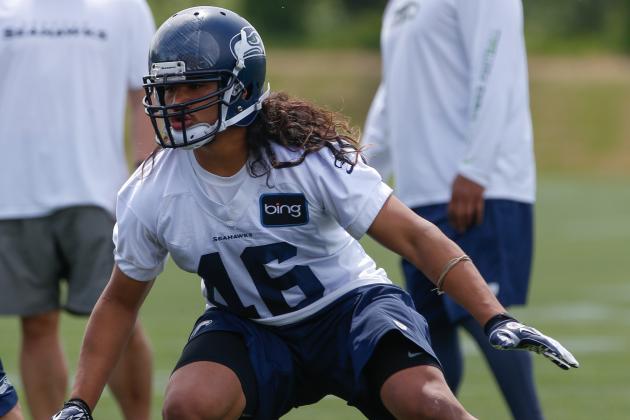 Otto Greule Jr/Getty Images

Starter: Heath Farwell
Starter: Bobby Wagner
Starter: K.J. Wright
Backup: Malcolm Smith
Backup: Mike Morgan
Backup: Allen Bradford
Wild cards: John Lotulelei and Ty Powell
It is fair to suggest the Bobby Wagner and K.J. Wright are comfortable picks at starting linebacker. Heath Farwell and Malcolm Smith may switch their spots depending on how camp unfolds.
For the Seahawks, the question will be the backup positions and whether rookies such as John Lotulelei and Ty Powell can make their presence felt on the defense. Pete Carroll likes an aggressive, active linebacking corps, and he is not afraid to give young players an opportunity to prove their worth.
Assume that this depth chart could see a bit of shuffling before the season gets started.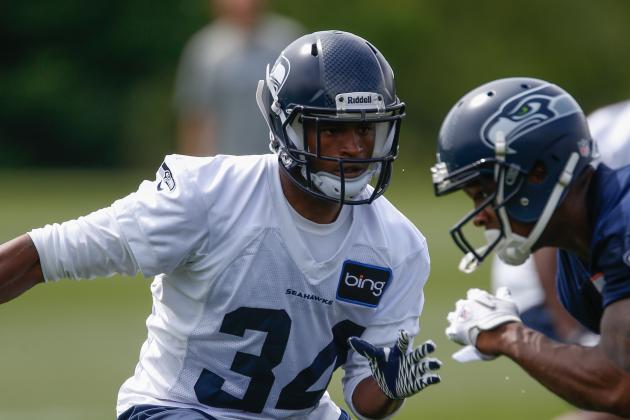 Otto Greule Jr/Getty Images

Starter: Richard Sherman
Starter: Brandon Browner
Starter: Kam Chancellor
Starter: Earl Thomas
Backup: Jeremy Lane
Backup: Byron Maxwell
Backup: Winston Guy
Backup: Jeron Johnson
Backup: Chris Maragos
Backup: Antoine Winfield
Backup: Walter Thurmond
Wild card: Tharold Simon
Lots of options here. Lots of questions.
You can pencil in the starters, as the combination of Sherman, Browner, Chancellor and Thomas should still be one of the best secondaries in the NFL. Beyond that, much will depend on health and certain performances.
How much does Antoine Winfield have left in the tank? Can rookie Tharold Simon make this team and beat out some veterans?
Yet again, Pete Carroll has some position battles and some opportunities to let the best athlete win. Get ready for some interesting fights on the field.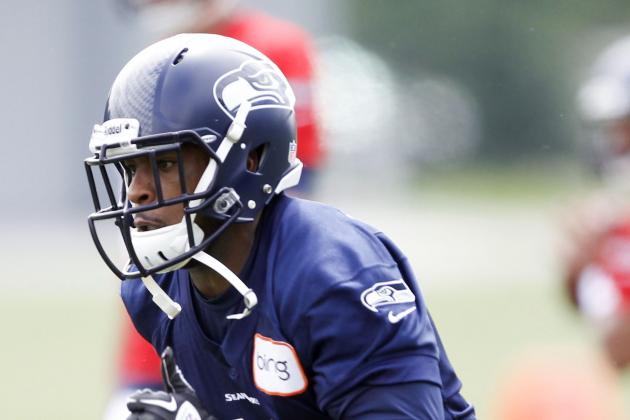 Joe Nicholson-USA TODAY Sports

Starter: Steven Hauschka
Starter: Jon Ryan
Starter: Clint Gresham
Starter: Percy Harvin (K/PR)
Not a lot of drama with special teams in terms of the kicking game. The Seahawks re-signed Steven Hauschka, mostly because he has been relatively reliable and there were few other options.
The only question will be how the 'Hawks handle Percy Harvin and kick returns. In theory, Harvin has the potential to be a truly electric return guy, which is saying something for Seattle fans who are used to the dynamic Leon Washington.