Predicting the Dallas Cowboys' Depth Chart, Post OTAs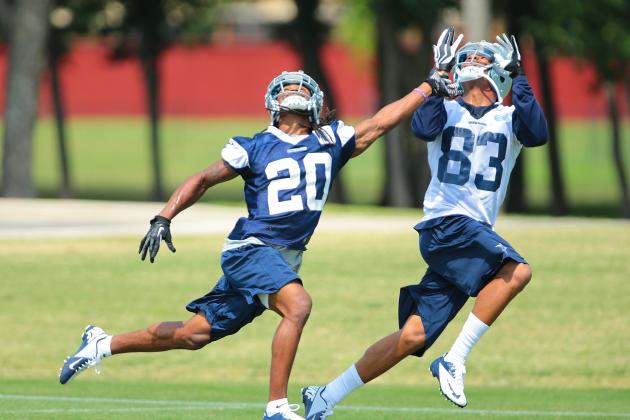 Rick Yeatts/Getty Images

Assembling an NFL roster is never an easy task for any franchise. While there will always be a significant number decisions that are no-brainers, there are also the same amount of decisions that are based on splitting hairs.
The bottom line is that even the most sophisticated personnel executives in the NFL don't operate with a crystal ball. The Dallas Cowboys are coming off of consecutive 8-8 seasons that were marked with inconsistencies, injuries, mistakes and the failure to live up to expectations.
The best way to overcome these disappointing seasons is by winning more games. That is easier said than done. For the Cowboys, 2013 represents yet another chance at inching closer to football's ultimate prize.
But what will it take to get there? Is it a lack of talent? Coaching? Management?
The Cowboys need improvement in all aspects of their organization, as football is the total team sport, but let's start with the roster and the product on the field. If the 2013 season marks a new beginning for this franchise then it needs to start with what everybody can see.
It's never too early to assess the depth chart. The completion of the OTAs is a great place to start.
Begin Slideshow

»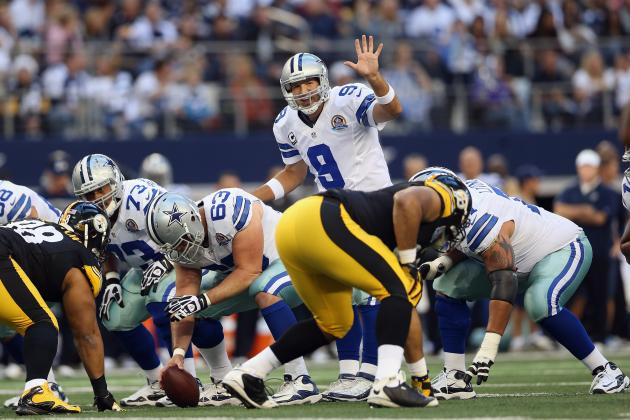 Ronald Martinez/Getty Images

The quarterback position should have zero surprises as to the depth chart. Barring any unforeseen circumstances, Tony Romo and Kyle Orton will be the two players to man this position. The Cowboys could go with a third quarterback, but it's more likely they will go with a developmental player on the practice squad like Dalton Williams or Nick Stephens.
Romo, the undisputed starter, is armed with a new contract and will be looking to silence his plethora of critics and haters. The Cowboys will continue to rely on his playmaking ability, his propensity for making plays when things break down, and his leadership.

Say what you will about Romo, but he still gives this franchise the best chance at winning as long as he's healthy. The Cowboys failed to address the position in the draft with a prospect. They may want to start taking a different mindset in the next few years. The pressure on Romo to win now is at an all-time high.
Orton is a suitable backup who is capable of performing at a high level for this team. He's a veteran who has started in the NFL. He has served as a backup and he brings experience to the Cowboys.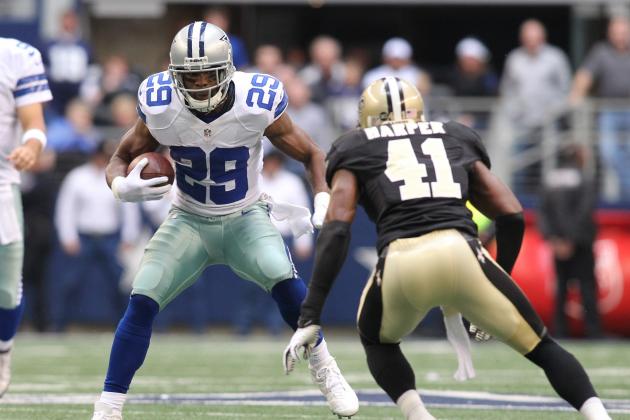 USA TODAY Sports

This position could turn into one of the more interesting storylines as the offseason progresses. DeMarco Murray returns as the incumbent starter, Joseph Randle, this year's fifth-round pick, will serve as the primary backup and Phillip Tanner and Lance Dunbar will round this group out.
Not long ago, it would be hard-pressed to consider keeping four running backs. However, that has since changed for a few reasons. The addition of Dante Rosario would be the biggest one, and keeping a fullback on this team might not be feasible, especially when Lawrence Vickers remains out after back surgery.
Rosario, James Hanna and even Gavin Escobar can serve as a fullback in certain formations and short-yardage situations. Don't rule out Kendial Lawrence giving both Tanner and Dunbar major competition in this position battle.
Going with four running backs will provide the Cowboys with a nice mix of players and styles as they try and improve from last year's 31st ranking in the rushing department.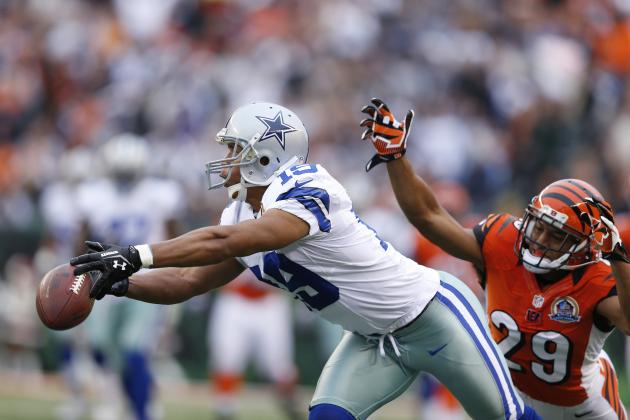 Joe Robbins/Getty Images

This will be another interesting group to keep your eye on. As it stands, the Cowboys will likely go with five receivers: Dez Bryant, Miles Austin, Dwayne Harris, Terrance Williams and Cole Beasley.
Jared Green and Eric Rogers, most likely to be practice squad candidates, could surprise people and give Beasley serious competition for the fifth receiver spot. It's still early in the offseason, but competition is what this team needs to improve. Competition is what we should expect to see at receiver.
The Cowboys will need Bryant to replicate his breakout performance in 2012. Getting Austin to perform at the level he is capable of will be as equally important for this team. He needs to stay healthy or risk playing time to the emerging Harris and Williams.
The Cowboys also need to find out if Beasley can be that dangerous slot receiver that this offense needs.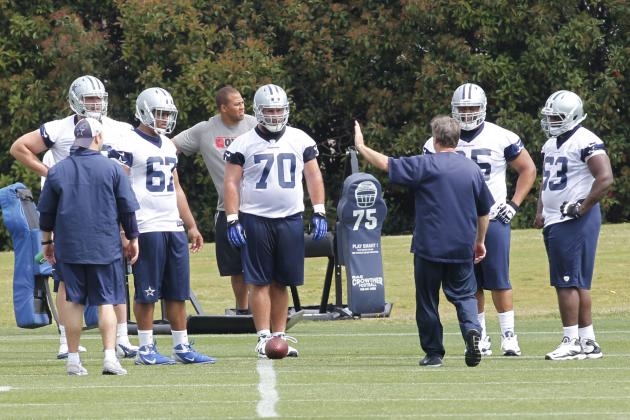 Tim Heitman-USA TODAY Sports

The offensive line will be under a microscope all season long and it's just that simple. The struggles and inconsistencies of last season must end if this team is going to improve.
So what did the Cowboys do to improve this unit? Enter first-round pick Travis Frederick to anchor the line at the center position. The pressure on him will be high, considering all the criticism that surrounded his draft status.
For purposes of depth, position flexibility and injury, the Cowboys need to go with 10 offensive linemen to be at a certain level of comfort. The unit should include Tyron Smith, Doug Free, Travis Frederick, Nate Livings, Mackenzy Bernadeau, Jeremy Parnell, Ron Leary, Phil Costa, David Arkin and Kevin Kowalski.
Smith is the standout of the group, but it's time for this entire unit to step up. Free is officially on notice and this could be his last season in Dallas if he fails to improve. My sixth sense is telling me that a veteran tackle could be inserted into this group.
Stay tuned.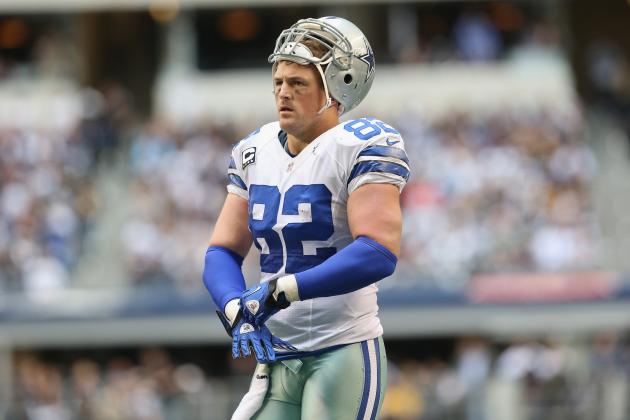 Ronald Martinez/Getty Images

Carrying four tight ends is something the Cowboys aren't too familiar with, but the renewed commitment to the position and the desire to run 12 personnel make this a reality. Jason Witten will be joined on the depth chart by James Hanna, Gavin Escobar and newcomer Dante Rosario.
Rosario was a surprise pickup last week by the Cowboys, but his special teams play and versatility as a blocker and receiver make this a nice signing. Escobar, a second-round pick, and Hanna will be nice compliments between the hashes and in the red-zone. Hopefully they will provide Witten with some relief.
The expectations and hype will be very high for this group.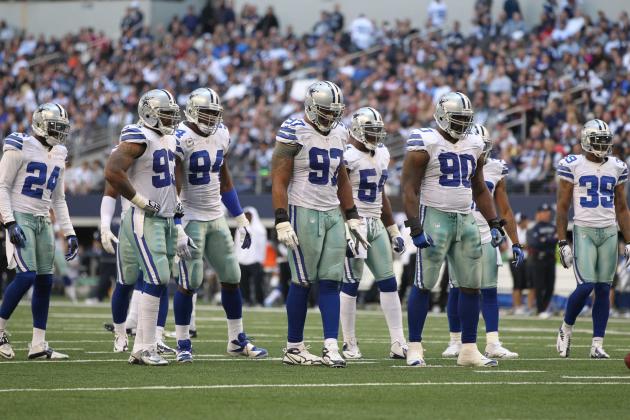 Tim Heitman-USA TODAY Sports

Monte Kiffin and Rod Marinelli will be expected to produce more turnovers in 2013. Is this the defensive line to get it done? It's going to have to be. The group will include DeMarcus Ware, Anthony Spencer, Kyle Wilber, and Anthony Hargrove as defensive ends.
The interior of the line will consist of Jay Ratliff, Sean Lissemore, Jason Hatcher and Tyrone Crawford. Spencer and Ware will be making the conversion from linebacker, and overall, there is a lot of position flexibility with this group.
The Cowboys could go with nine at this position, but other needs require the group to remain at eight. Keep an eye on players like Ben Bass and Nick Hayden as they make their cases to be Cowboys. But regardless, the Cowboys need this unit to be aggressive, to attack the gaps and to cause problems.
This was a position most people figured would be addressed on draft day, but that was not the case. The Cowboys do have some cap flexibility, but I wouldn't anticipate any major acquisitions at this point.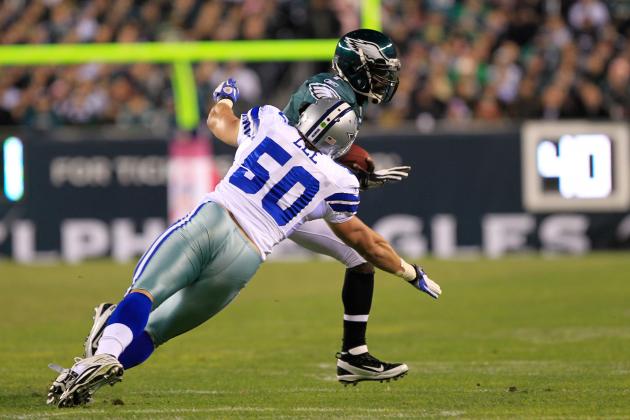 Chris Trotman/Getty Images

If Sean Lee and Bruce Carter remain healthy in 2013 then this will be an exciting unit to watch. They could also be ranked right at the top with any unit in the league. The linebackers in this new 4-3 alignment will be asked to do a lot, and Lee and Carter will headline the group.
Free agent addition Justin Durant, Alex Albright, Ernie Sims and rookies Brandon Magee and DeVonte Holloman comprise the rest of the group. Caleb McSurdy remains in the mix, but will have to prove he is fully recovered from an Achilles injury in 2012.
He could be an overall wildcard for this team with his ability to moonlight as a fullback. But the success of this unit will greatly depend on Lee and Carter for the most part. There could be some roster activity with this unit and training camp will also be an opportunity for players like Tank Reed to show they belong.
One player in particular, Alex Albright, could be on the verge of breaking out into an impact player. That could take this defense to a whole other level.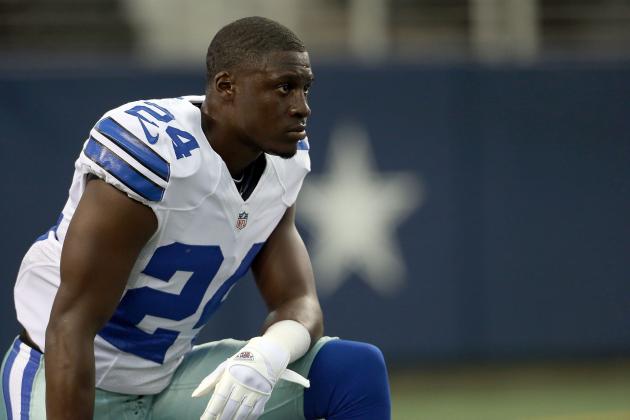 Ronald Martinez/Getty Images

You can never have enough cornerbacks in the NFL. With pass-happy offensive coordinators that statement is never more true than in today's game. This is arguably a position of strength for the Cowboys and the unit boasts Morris Claiborne and Brandon Carr as the starters.
The rest of the unit will consist of Orlando Scandrick, Sterling Moore and the intriguing rookie B.W. Webb. Claiborne is expected to improve from his rookie campaign, and Carr provides his steady, veteran presence.
But the need to have four corners on the field at times means that Scandrick needs to step up his game in a comeback year. The Cowboys will rely on Webb for weekly contributions. This defense needs to produce more takeaways and the secondary needs to provide them.
It's a must for this defense and this team.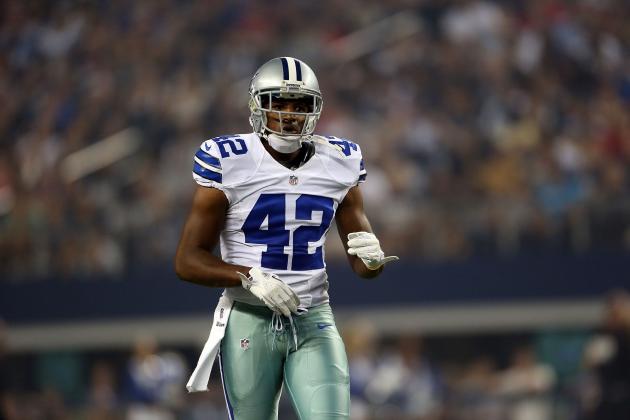 Ronald Martinez/Getty Images

The safety position will be a hot-button topic throughout the rest of the offseason and during the season as well. Barry Church and Will Allen make the most sense as the starting tandem, and the rest of the unit will consist of Matt Johnson, J.J. Wilcox and Danny McCray.
Jakar Hamilton is an intriguing rookie who could push both McCray and Allen if he outplays the veteran. This would also be consistent with the Cowboys' youth movement. I just can't see the Cowboys going any lighter at this position right now while there is a lot to sort out.
Church returns from a 2012 season-ending injury and Johnson finally gets the opportunity to prove his college prowess as a playmaker. The key for this group is to learn the scheme and not be the weak link of the defense.
Offenses will attack this unit and try to scheme up mismatches. Kiffin and this unit better be ready.
Ronald Martinez/Getty Images

This unit is pretty well set with Dan Bailey as the kicker, Chris Jones punting and L.P. Ladouceur as the long snapper. Bailey is the stud of this unit and has been phenomenal as the kicker. Jones is coming off an injury but should be able to fight off any camp competition.
Ladouceur remains a rock of consistency for this team and was rewarded with a five-year contract in the offseason. Overall this is a solid unit.