Dan Henderson and Rashad Evans have been in plenty of fights with serious implications.
Both are former champions with tremendous track records throughout their respective careers. Evans, a former light heavyweight titleholder, has remained one of the the premier 205-pound fighters in the sport for the past five years and has kept himself in check as a perennial contender.
As for Henderson, the former two-divisional Pride champion and former Strikeforce light heavyweight strap-holder has a career chock-full of credentials and has amassed one of the most prestigious resumes in mixed martial arts history.
While both fighters have been competing at the highest level of the sport for the past decade, surprisingly, their paths haven't crossed until now.
The two top light heavyweights will collide this weekend in a main event showdown at UFC 161 in Winnipeg, Manitoba, Canada. While there is no title waiting for the winner of this 205-pound tilt, the bout carries plenty of weight where their respective careers are concerned.
Both fighters are coming off losses. The 34-year-old Evans is in the midst of a rare two-fight skid whereas Henderson was defeated by another former champion, Lyoto Machida, in their bout at UFC 157 back in February.
With the light heavyweight title contention picture starting to heat up, neither Evans nor Henderson can afford another step back.
Both are shooting for championship gold and, when the smoke clears this weekend at UFC 161, only one of them will remain within striking distance of a UFC championship.
Where Rashad Evans Stands

When he is "on," there are few better fighters than Evans. The former Ultimate Fighter winner presents a dangerous mixture of power, speed and athleticism, and when those weapons are firing at full capacity, "Suga" is a difficult opponent to best.
But flipping that switch has seemingly been a problem as of late for the former Michigan State wrestling standout. He was simply overmatched in his loss to Jon Jones at UFC 145, then was seemingly absent when he was defeated by Antonio Rogerio Nogueira at UFC 156 back in February.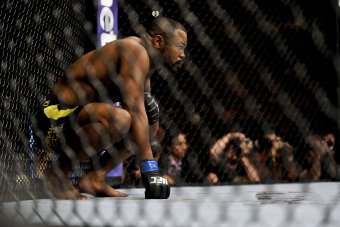 Paul Abell-USA TODAY Sports
Where the loss to "Bones"—who is one of the top two pound-for-pound fighters in the world—was understandable, coming up short to "Lil Nog" signaled there might be something deeper going on with Evans.
Questions arose surrounding his heart and desire to remain in the fight game and that is a major kink he will have to work out before stepping into the Octagon with a dangerous opponent like Henderson.
If Evans doesn't have the flames of motivation raging this weekend at UFC 161, it could very well be a painfully short night for the former titleholder.
On the other hand, if Evans has his mind clear and locked on the target ahead, he certainly has the skills to defeat the MMA legend. Should the Blackzilians staple find victory in Winnipeg, he will remain in the thick of the hunt for another shot at the light heavyweight title.
That being said, if Evans finds himself on the business end of his fight with Henderson and notches his third consecutive loss, the opportunity to compete for UFC gold could very well vanish for the foreseeable future.
Where Dan Henderson Stands

Few fighters move to the beat of their own drum the way Henderson does.
Where the majority of athletes under the UFC banner jump and move in an effort to make the organization happy, "Hendo" could seemingly not care less what the sport's most successful promotion thinks is best.
When he didn't like the contract offer on the table following his mega-knockout of Michael Bisping at UFC 100, Henderson took his "H-bombing" ways over to the Strikeforce promotion.
After he won the light heavyweight title and starched the other potential options at 205 pounds, the Temecula native jumped up a weight class and knocked out a fighter widely regarded as the greatest heavyweight of all time in Fedor Emelianenko.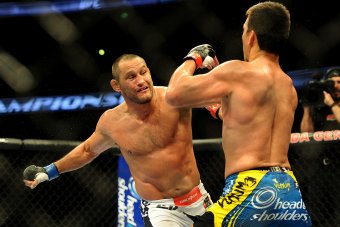 Jayne Kamin-Oncea-USA TODAY Sports
Following his victory over the former Pride great, Henderson made a triumphant return to the UFC fold by putting on a "Fight of the Year" and one of the greatest scraps of all time against former champion Mauricio "Shogun" Rua at UFC 139.
Henderson defeated Rua and earned an opportunity to face champion Jon Jones in the summer of 2012.
But this is where Henderson's journey jumped the tracks, so to speak. After an injury took him out of the fight with Jones at UFC 151, the 42-year-old Californian lost his place in the title picture and was given a bout with Lyoto Machida.
Henderson ultimately lost his bout with "The Dragon" at UFC 157 and was pushed further down the ladder in the 205-pound title picture.
This situation naturally puts a greater sense of emphasis on the upcoming bout with Evans. Henderson absolutely needs to win this fight if he hopes to keep his title dreams alive. Throughout his storied career, the UFC title is the only belt Henderson has never put his hands on.
Granted, he won the UFC 17 middleweight tournament, but he's never been a divisional champion.
Henderson has the ability to knock out anyone who steps into the cage with him. In the past, Evans has been touched on the chin and if Henderson puts that big shot where it counts, he could be well on his way to finally getting that title shot.
At the same time, should he come up short against Evans, it is hard to imagine the iron-chinned, heavy-handed slugger ever getting that opportunity.