10 Most Devastating Knockouts in UFC Title Fights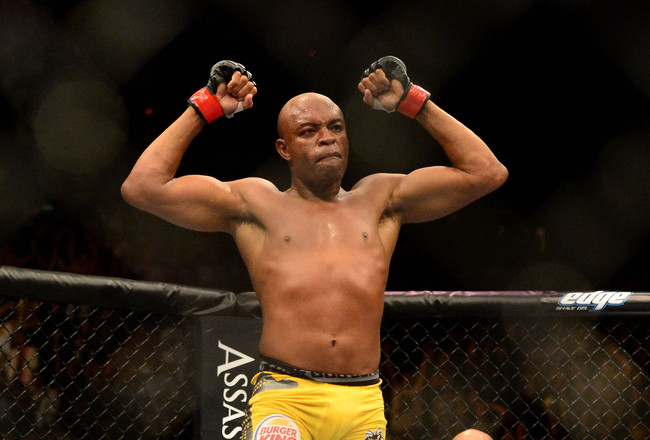 Mark J. Rebilas-USA TODAY Sports
Devastating knockouts happen on an almost weekly basis inside the Octagon, but it's much rarer for a spectacular finish to occur when a UFC title is on the line.
Championship bouts see two highly skilled and heavily trained athletes going at it, so a competitor making a mistake that would result in them being stopped is much less likely than it would be in a bout between two unproven prospects.
This is what makes knockouts in UFC title fights that much more exciting, as belts can change hands with a single punch.
Over the years, many great knockouts have taken place in UFC championship fights. Based on force of impact and rarity of knockout method, these are the 10 most devastating knockouts in UFC title fight history.
10. Junior dos Santos vs. Cain Velasquez
Donald Miralle/Zuffa LLC via Getty Images

A monumental deal between UFC and Fox was kicked off by a heavyweight title fight between Cain Velasquez and Junior dos Santos.
Although Velasquez had proven to be well-rounded, the title fight was pegged as a classic wrestler versus striker matchup that would be decided by the champion's ability to ground Dos Santos. As it turned out, Velasquez only attempted one takedown before being knocked down with a right overhand.
Dos Santos landed a few follow-up punches on his down opponent, and the heavyweight title was his.
9. Mauricio Rua vs. Lyoto Machida
Josh Hedges/Zuffa LLC via Getty Images

Following a controversial decision in their first meeting, elite light heavyweights Lyoto Machida and Mauricio Rua were paired in an immediate rematch for the 205-pound championship.
After falling just short on the scorecards in his first meeting with Machida, Rua came out looking to end things early the second time around. In the first round, Rua dropped Machida with a right hand and quickly finished the fight with punches from full-mount.
By beating Machida, Rua captured the UFC light heavyweight belt, but he lost it quickly when he ran into blossoming superstar Jon Jones in his next outing.
8. Jose Aldo vs. Chad Mendes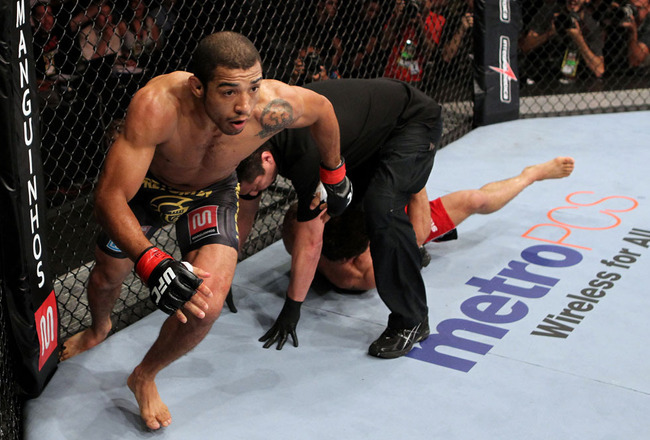 Josh Hedges/Zuffa LLC via Getty Images

In his third UFC title defense, Jose Aldo was to be tested by the wrestling of Chad Mendes. Aldo did not give up a single takedown, though, and actually ended up making Mendes pay for grappling with him at the end of the first round.
As Mendes was trying to drag the champion down with a body lock from behind, Aldo broke his opponent's grip and landed a powerful knee in the closing seconds of the opening stanza. The Brazilian followed Mendes to the ground and landed another punch before running into the crowd in celebration of his first UFC knockout win.
Aldo still owns the featherweight strap today and is preparing for defend it against Anthony Pettis in a bout that could set up the champion's move to the lightweight class.
7. B.J. Penn vs. Sean Sherk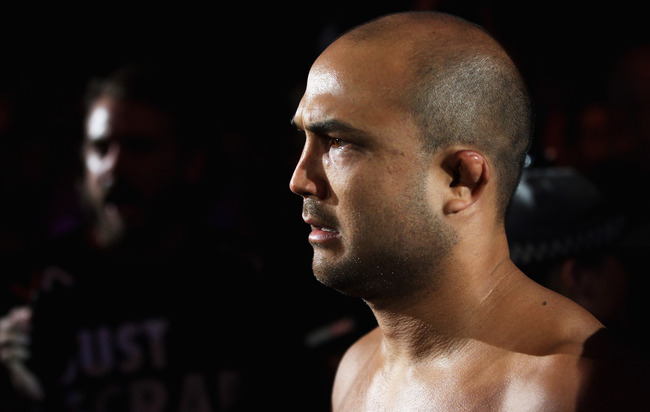 Mark Kolbe/Getty Images
After winning the 155-pound championship that had been stripped from Sean Sherk, B.J. Penn met the former champion in the first defense of his lightweight crown.
Repeatedly stuffing Sherk's takedown attempts, Penn broke his opponent down and ended his performance with an exclamation point. As the third round came to a close, Penn landed a flying knee and finished a downed Sherk off with a few more unforgiving punches.
It was one of Penn's best performances in a career that has arguably made him the best lightweight in UFC history.
6. Anderson Silva vs. Vitor Belfort
Scott Peterson/MMAWeekly.com

Anderson Silva nearly saw his title reign come to an end against Chael Sonnen in 2010, so he needed to make a statement in his return to the Octagon against Vitor Belfort in February 2011.
Though some expected Belfort's hands to cause some problems for Silva, the middleweight champion was never in danger. In the first round of the bout, Silva landed a front kick to Belfort's chin, which led to the champion's eighth consecutive title defense.
More than two years later, Silva still sits atop the 185-pound class. He's now preparing for a tough opponent in rising star Chris Weidman.
5. Lyoto Machida vs. Rashad Evans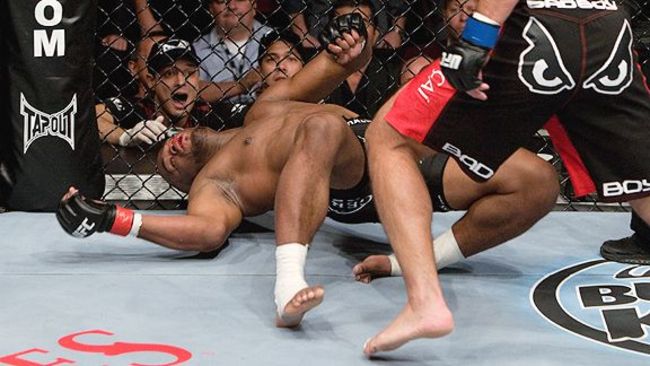 Josh Hedges/Zuffa LLC via Getty Images

At UFC 98, undefeated light heavyweights Rashad Evans and Lyoto Machida met in a 205-pound championship match.
Early on, Evans was having trouble finding his range against Machida. The Brazilian was patient and eventually found an opening to land a left hand that rocked Evans. The champion tried to recover, but Machida pushed forward and scored the knockout win with about one minute left in the second round.
Evans dropped to the canvas, his eyes rolled back and his left leg twisted underneath him. While MMA can be beautiful at times, Machida's knockout of Evans created one of the more brutal images in UFC history.
4. Rich Franklin vs. Nate Quarry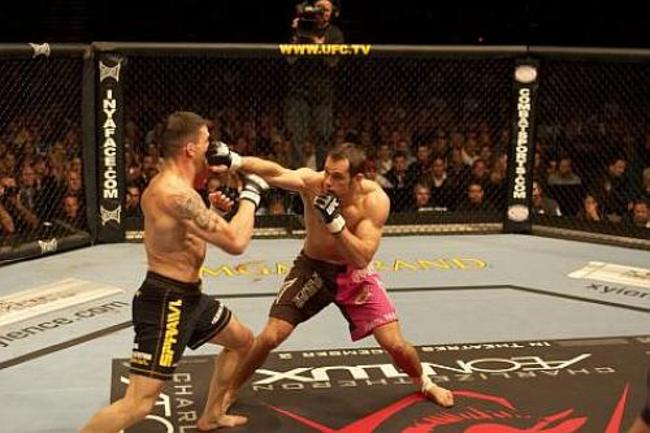 Josh Hedges/Zuffa LLC via Getty Images

After dethroning Evan Tanner to become middleweight champion, Rich Franklin was handed a bout with TUF veteran Nate Quarry.
It didn't take Franklin long to prove he was the better fighter.
Midway through the first round, Franklin blasted Quarry with a left hand. The challenger was launched backward and stiffened as he timbered to the canvas.
Franklin went on to defend his title again in a bout with David Loiseau before running into the greatest middleweight in UFC history, Anderson Silva.
3. Matt Hughes vs. Carlos Newton
When Carlos Newton submitted Pat Miletich to become the UFC welterweight titleholder, Matt Hughes was the first to challenge the new champion who dethroned his coach.
Hughes took Newton down four times before the champion locked up a triangle choke that could have changed the course of UFC welterweight history. Instead, Hughes lifted Newton over his head and dropped him to the ground as the triangle choke began to take its effect.
While there is controversy surrounding this bout due to the fact that Hughes seemed to momentarily lose consciousness, the result remains in his favor. His slam of Newton is still one of the more devastating knockouts to occur in a UFC title bout.
2. Frank Shamrock vs. Igor Zinoviev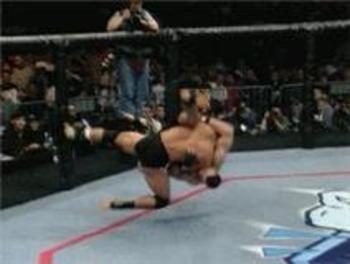 UFC.com
More than 15 years ago, Frank Shamrock defended what is now known as the light heavyweight championship with a knockout that still stands as one of the most impressive in UFC title fight history.
Only 22 seconds into his bout with Igor Zinoviev, Shamrock shot in for a double-leg takedown and slammed his challenger to the canvas with incredible force. Zinoviev was out on impact, but Shamrock landed a follow-up punch to complete his first successful title defense.
Shamrock remains one of the most dominant light heavyweight champions in UFC history, but his accomplishments have been largely forgotten due to his feuds with now-UFC president Dana White.
1. Tito Ortiz vs. Evan Tanner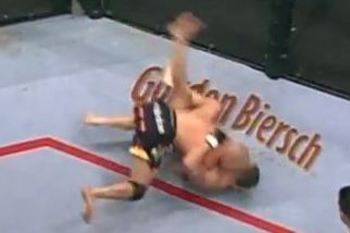 UFC.com
With Frank Shamrock and Wanderlei Silva gone from the UFC's light heavyweight division, Tito Ortiz was left to do as he pleased at 205 pounds. However, Ortiz did face a future champion in his second title defense against Evan Tanner.
Inside the first minute of the matchup, Ortiz lifted Tanner with a body lock and slammed him to the canvas. Tanner went limp as he hit the ground, but Ortiz unloaded a few punches to cement his second light heavyweight title defense.
Ortiz went on to beat three more challengers before being beaten by Randy Couture.
Keep Reading