Seattle Mariners: Stock Up, Stock Down for Top 10 Prospects for Week of June 3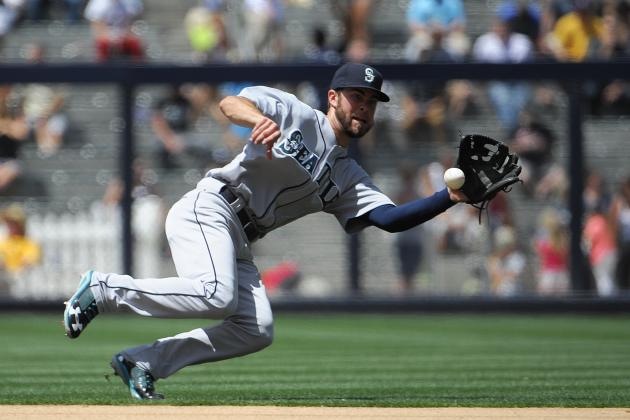 Denis Poroy/Getty Images

We've already seen some prospects called up to the big leagues this season in Seattle, and if the team continues to play the way they've been playing, we'll likely see many more young players get their first major league licks.
Highly touted prospect Nick Franklin got his first chance over Memorial Day weekend and has been impressive so far, establishing himself as the everyday second baseman for the time being.
Rookie Brandon Maurer looked phenomenal during spring training, but struggled to replicate his success at the big league level and now finds himself back in the minors.
More minor leaguers will be called up at some point, at the latest in September, when the roster expands to 40 men.
Here's a look at the performances of the Seattle Mariners' top 10 prospects* over the last week.
All statistics and injury information via milb.com.
*Top 10 prospects according to seattlemariners.com.
No. 2 prospect Danny Hultzen is currently on the 7-day DL
No. 4 prospect Nick Franklin is currently playing for the Seattle Mariners
No. 7 prospect Victor Sanchez is currently on the 7-day DL
No. 12 prospect Jordan Shipers is currently on the 7-day DL
No. 14 prospect Joseph DeCarlo has not played this season
No. 15 prospect Luiz Gohara has not played this season.
Begin Slideshow

»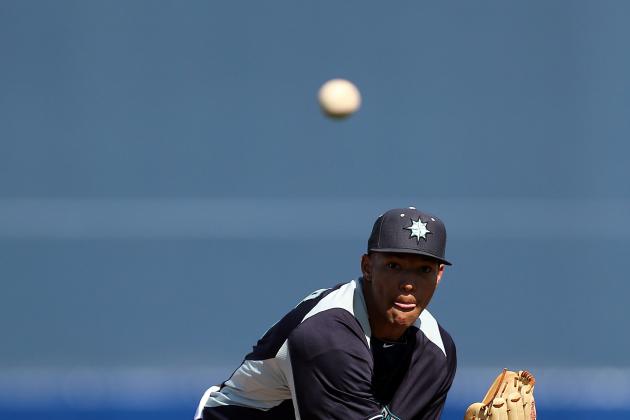 Christian Petersen/Getty Images

2013 stats:
3-6, 2.52 ERA, 77 K, 29 BB, .194 opponent average.
Top Mariners prospect Taijuan Walker made two starts this week, going 0-1 with a 2.19 ERA. Despite the winless record, Walker kept the Jackson Generals in both ballgames and struck out 14 batters while walking only two.
Walker has bounced back in June after a bit of a down month of May and is on the fast track to getting promoted to Triple-A Tacoma.
Opposing hitters have an average of .194 against Walker this season, perhaps his most impressive statistic.
Stock: Up
Christian Petersen/Getty Images

2013 stats:
.244/.310/.517, 11 HR, 43 RBI, 33 R
Former Golden Spikes award winner and 2012 first-round pick Mike Zunino has quickly made his way through the minor league ranks and could make an appearance in Seattle before the end of 2013.
In four games this week, Zunino hit .412 with four runs scored, and he's hitting .292/.346/.333 in June, his best month to date.
He continues to hit for power, his average is increasing and the 22-year-old catcher appears to be on track to debut as a Mariner sooner than expected.
Stock: Up
Christian Petersen/Getty Images

2013 stats:
2-5, 5.73 ERA, 59 K, 26 BB, .295 opponent average.
Lefty pitcher James Paxton only made one start this week and it didn't go well. He gave up nine runs (seven earned) on eight hits in four-plus innings.
Paxton's ERA for the season is currently 5.73 and batters are hitting .295 off him. His walks have also increased, and overall his numbers have gotten progressively worse at each level of the minors.
Paxton isn't a bust yet, but at this rate he might never make it to Seattle.
Stock: Down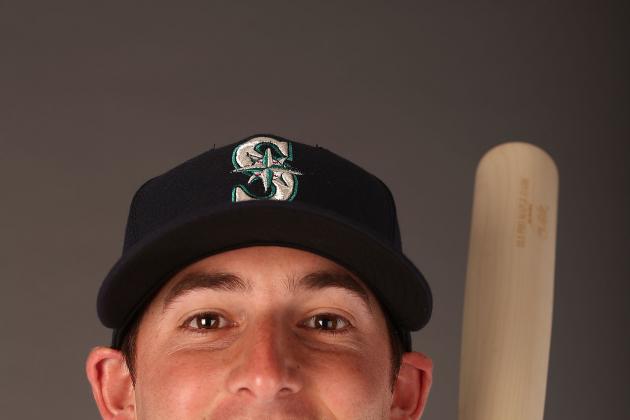 Christian Petersen/Getty Images

2013 stats:
.313/.388/.500, 9 HR, 42 RBI, 42 R.
Shortstop prospect Brad Miller is on fire. This past week he hit .423, including four straight multi-hit games. He also hit one home run and accumulated five RBI.
Miller's a rare breed of shortstop, one who can hit for average and for power. He's hitting better at Triple-A this year than he did at Double-A and has put up ridiculous numbers at every level so far.
Miller will likely get a taste of big league action before season's end, and he is a viable candidate to replace Brendan Ryan after his time in Seattle is done.
Stock: Up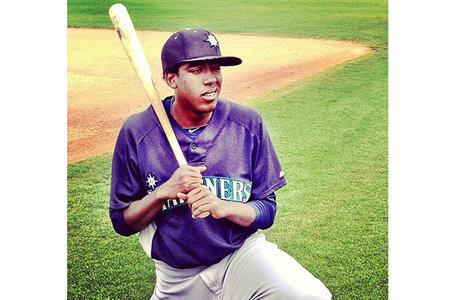 2013 stats:
.221/.255/.307
Nineteen-year-old outfielder Gabriel Guerrero—Vladimir Guerrero's nephew—understandably has some pretty high expectations placed upon him.
He tore up the Arizona League and Dominican Summer League, hitting a combined .349 with 15 homers, but he hasn't had the same success through 54 games in Single-A ball.
But he's only 19.
Over the past week, Guerrero collected three hits in 16 at-bats with two RBI and three walks.
If he can develop into anything close to his uncle, he'll be wildly successful at higher levels.
Stock: Even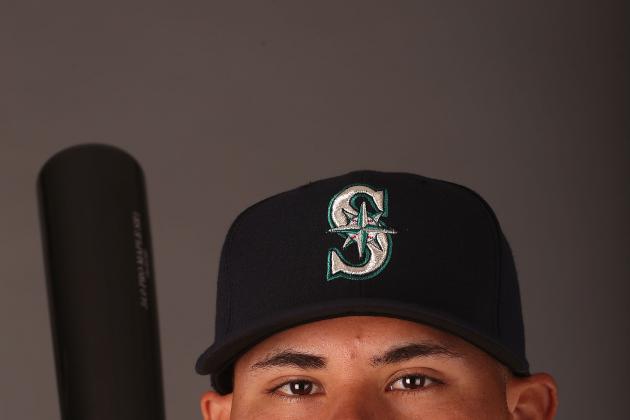 Christian Petersen/Getty Images

2013 stats:
.287/.353/.409, 3 HR, 30 RBI, 20 R
Oregon State product Stefen Romero hasn't found a permanent home in the field yet, but his bat will keep him in the lineup.
Romero played third base in college and has bounced around to second and now the outfield in Seattle's minor league system, but he seems to be fitting in well at every position.
He went 5-for-27 last week with four RBI—not his best week—but he maintains a more-than-respectable average of .287 for Triple-A Tacoma this season and is poised for big league action in the near future.
Stock: Even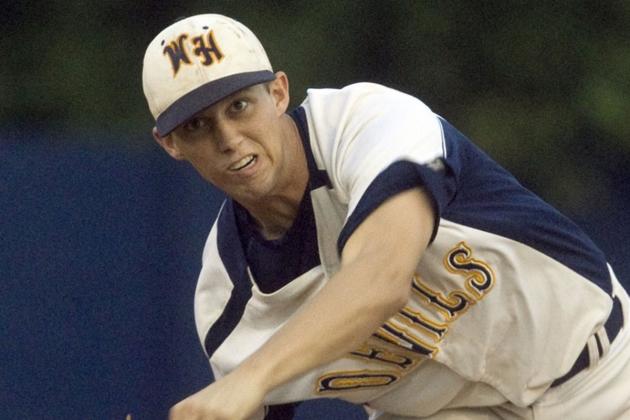 2013 stats:
4-3, 2.55 ERA, 48 K, 27 BB, .198 opponent average.
Nineteen-year-old left-handed pitcher Tyler Pike has been impressive both at Single-A Clinton and the Arizona league, holding opposing hitters to averages under .200 at both levels.
In one start last week, Pike earned a win while lasting five and two-thirds innings, allowing four runs, all unearned, on five hits.
Pike has pitched well but has a long way to go to reach the big leagues.
Stock: Even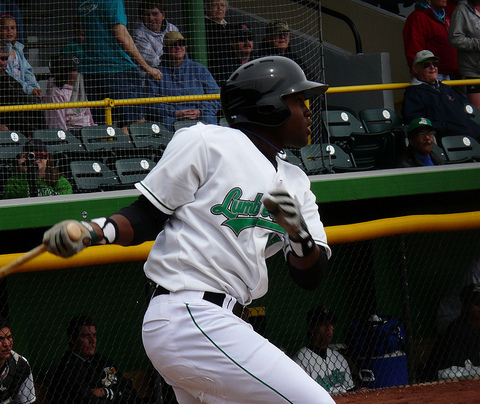 2013 stats:
.317/.361/.476, 3 HR, 18 RBI,
Julio Morban is another young outfielder who can hit and has some speed. He's on Seattle's 40-man roster, but currently plays for Double-A Jackson.
Last week, Morban struggled at the plate, going 5-for-23 with eight strikeouts. Despite the down week, Morban's average is consistently around .300, and he's gotten better at each stage of the minor leagues.
Stock: Even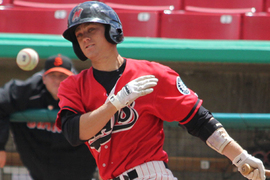 2013 stats:
.191/.276/.272, 1 HR, 9 RBI.
Oregon product and Calabasas, CA native Jack Marder has struggled mightily at the plate this season for the Double-A Generals, and is three for his last 16 with one RBI.
Marder excelled at the Single-A level and even displayed some power in 2012, but the second baseman is having a down season at the next level.
He can run a little, but if he doesn't get on base, his speed is a lost cause.
Stock: Down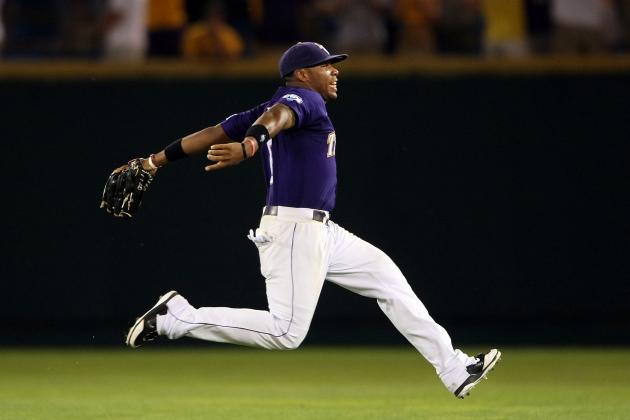 Elsa/Getty Images

2013 stats:
.223/.267/.352, 5 HR, 18 RBI, 21 R, 10 SB
Outfielder Leon Landry is a tremendous athlete who can be a very good big league ball player if he can hit more consistently.
He's hit as well as .349 over a full minor league season, but is down to .223 so far this year, though with improved power numbers.
Last week, Landry went 4-for-13 at the plate for Double-A Jackson and has hit safely in seven of his last 10 games.
Stock: Up