US Open Golf 2013: 10 Storylines to Watch at Merion Golf Club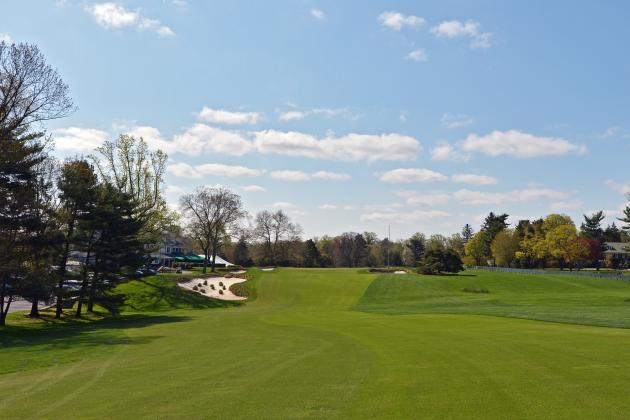 Drew Hallowell/Getty Images
One of the most iconic holes in golf, the 18th at Merion Golf Club.
The 113th U.S. Open might well be the most talked-about national championship in many years.
Discussing a course that hasn't hosted a U.S. Open for 32 years is certainly a nice starting place for conversation, but there are so many other talking points as we prepare to tee off.
Tiger Woods, the historic golf course with all of its idiosyncrasies, the logistics of maneuvering 25,000 people around the condensed golf course—it's all very buzzworthy.
Here's a list of 10 storylines at the beginning of U.S. Open week.
Begin Slideshow

»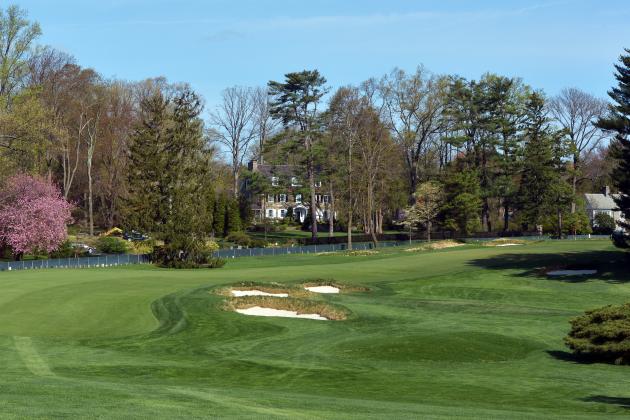 Drew Hallowell/Getty Images
Merion Golf Club is a beautiful place when the sun shines.
If Merion plays hard and fast, it will get difficult as well.
On the other hand, if the course is soft and damp, it will be target practice, and the boys will have their way with it.
The forecast, as of 8:45 a.m. Wednesday, is for a chance of rain Thursday and Friday, with the possibility of thunderstorms.
Webb Simpson is one of many to have voiced his frustration with the week's rain (via David Scott, NewsObserver.com):
Us golfers, we want to try to make every week seem normal, with every week being the same, staying in your same routine. With a major, you've got to prepare more. It's a balance of resting versus preparation.

I've already changed my schedule for Monday, Tuesday, Wednesday three different times.
Simpson is likely happy to hear that the rest of the week looks good, with sunny skies and temperatures in the high 70s and low 80s.
Sounds like the setup for a great championship.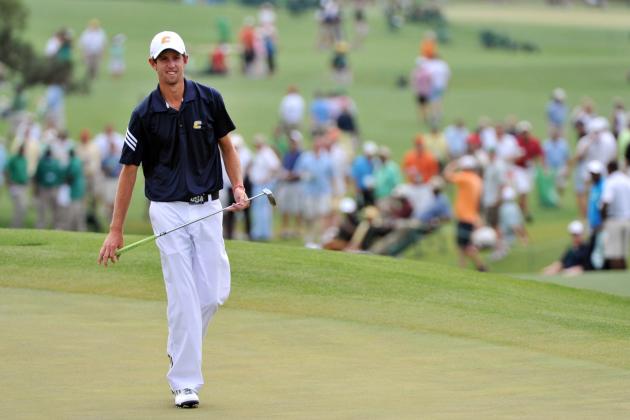 Michael Madrid-USA TODAY Sports
Steven Fox got a taste of the big time when he participated in the Masters in April.
In 1971, amateur Jim Simons, a suburban Pittsburgh native, was playing in the final group on Sunday. He was leading the U.S. Open at Merion with nine holes left.
He faltered on the back nine and missed the Monday playoff with Jack Nicklaus and Lee Trevino.
Is there an amateur in the field capable of doing something like that?
NCAA individual champion Max Homa is in the field, as is Steven Fox (last year's U.S. Amateur champion), Chris Williams and Michael Weaver.
All are very capable, but can they handle the pressure?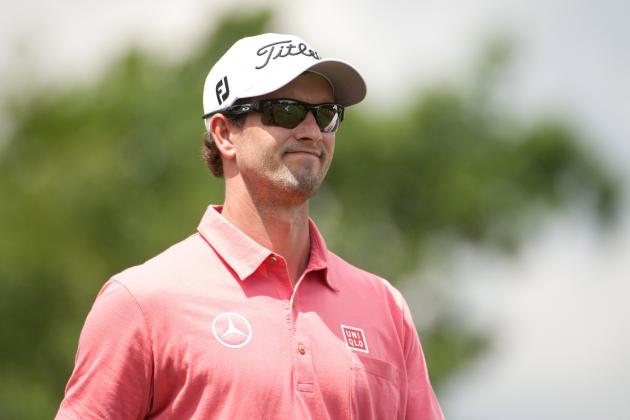 Tim Fuller-USA TODAY Sports
Adam Scott is the only player in the field with a chance to win the Grand Slam.
Only one player in the field has a chance to win the Grand Slam this year, and that is Adam Scott.
He posted his first major championship victory in April at the Masters but will need to find the magic in the long, anchored putter that fueled his victory at Augusta National.
"Every event is different and the challenges here [at Merion] are different," Scott said (via Corky Blake, The Express-Times), "but the experience I gained coming down the stretch [of a major], hopefully that holds up for me."
Scott's game can play very well at Merion, and if he gets it going, the Grand Slam dream could live for another month.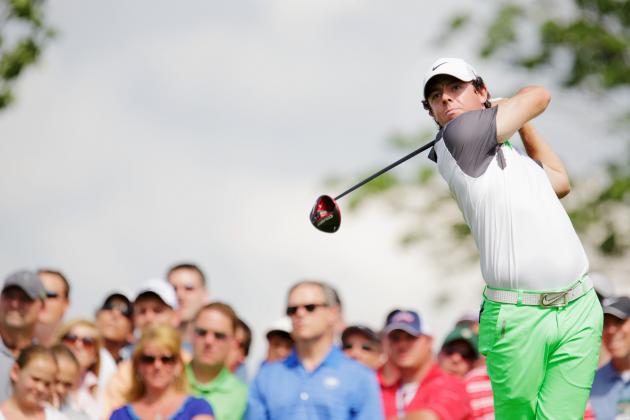 Allan Henry-USA TODAY Sports
Rory McIlroy doesn't figure to be a factor this week.
As the professional golf season reaches something of a halfway point, the biggest disappointment thus far has been the performance of Rory McIlroy.
Entering 2013 as the No. 1 player in the world, McIlroy has fallen far short of expectations.
Whether it's because of the pressure of being the best player in the world, the complete makeover in equipment after signing a mega-deal with Nike or whatever else, McIlroy has been put through the grinder at a very young age.
It would be great to see him and Woods go head-to-head late at Merion, but don't bet on it.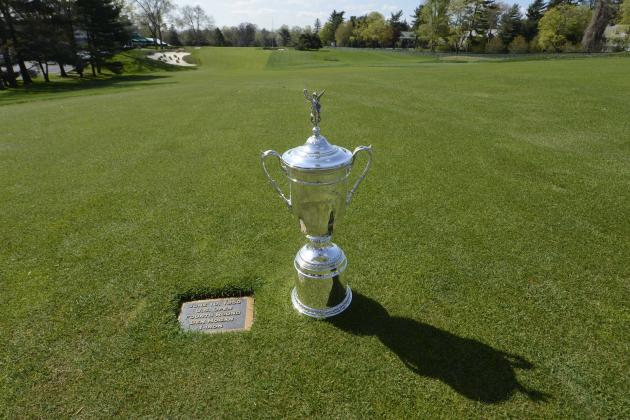 Eileen Blass-USA TODAY Sports
The U.S. Open trophy sitting alongside the plaque commemorating Ben Hogan's famous 1-iron shot in 1950.
Since 2000, only two U.S. Opens have had champions who finished double figures under par.
Tiger Woods shot a 12-under in 2000 at Pebble Beach, and Rory McIlroy took advantage of a Congressional Country Club rendered defenseless by rain to shoot 16 under in 2011.
They won't go that low this week, even with the short holes and the amount of holes that will be approached with wedges in the hands of elite players. There will be a lot of birdies made.
Just as important, however, are the number of bogeys that will be posted on the tough four-hole closing stretch at Merion.
Six- to eight-under par could be a very good possibility for the winner's score.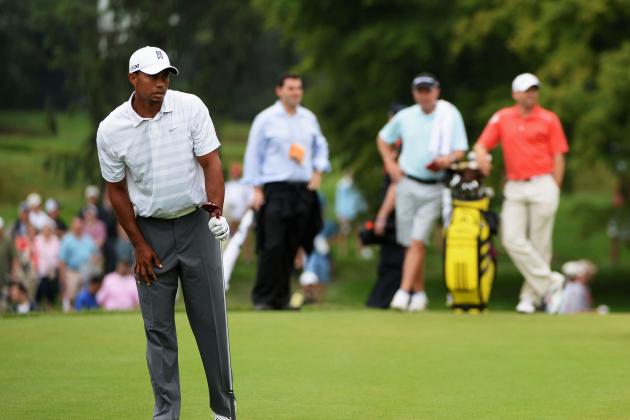 Ross Kinnaird/Getty Images
Tiger Woods watches a practice-round shot as Sergio Garcia looks on.
Sergio Garcia has been an easy target for golf fans in the United States for almost as long as he's been a world-class golfer.
He's whined about weather conditions and how Tiger Woods always got the benefit of the doubt when it came to tee times. He went through a stretch when his mind and body weren't connecting well, and he had a terrible habit of waggling the club before every swing.
But things went to a new level at the Players Championship when the two feuded openly. It got even worse when the sniping continued well after the tournament and Garcia issued his now-infamous "fried chicken" remark.
The two had a brief handshake and a few words on the practice range at Merion Monday morning, but it's a safe bet that the good fans of the Philadelphia area won't make it quite so easy for the Spaniard this week.
"I fear there will be a backlash," Justin Rose told the Daily Mail. "We're in Philadelphia where the fans have a reputation for being as noisy as those in New York. It's not going to be pretty."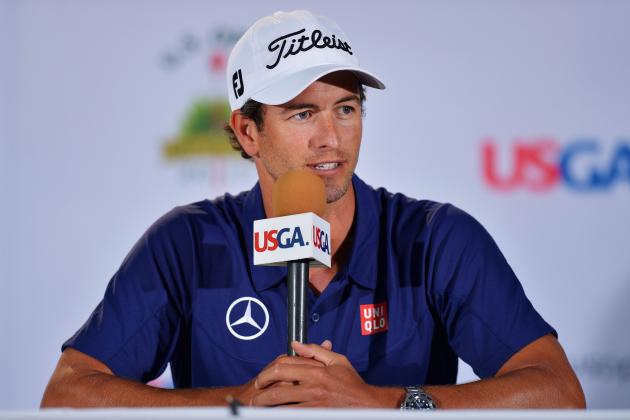 Drew Hallowell/Getty Images
Adam Scott faced the media Monday morning at Merion.
Everybody loves the stars, and golf fans will get their chance to see three of the sport's finest in one group in the first two rounds.
The trio of Tiger Woods, Rory McIlroy and Adam Scott will go off the first tee at 1:14 p.m. on Thursday and off the 11th tee at 7:44 a.m. Friday.
If you're looking for the star value of that pairing, Woods is the No. 1 player in the world, McIlroy second. The young Northern Irishman has slumped badly this season, but he still has a lead in the Official World Golf Rankings over Scott, who jumped to third with his win in the Masters.
Throw in the fact that Scott now employs Woods' former caddie, Stevie Williams, and there's plenty of excitement and anticipation.
At a press conference at Merion on Monday morning (h/t golfchannel.com), Scott said there's always a little extra something when playing with Tiger Woods.
It will be a fun week, absolutely, some energy and electricity – playing with him at any time, there always is. And given the hype around this grouping and being a major, it's going to be an intense couple of days.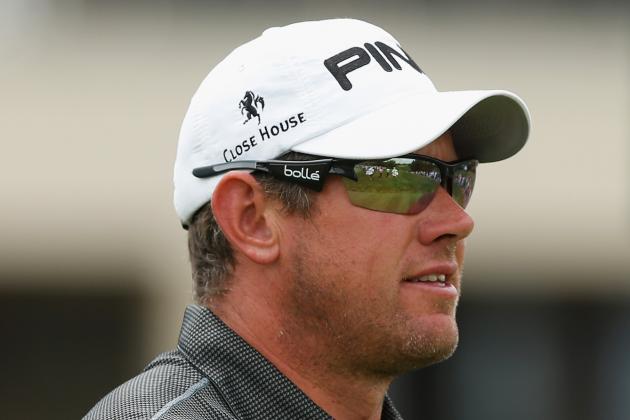 Scott Halleran/Getty Images
Lee Westwood is the poster child for U.S. Open disappointments among European players.
Yes, Graeme McDowell and Rory McIlroy have won two of the past three U.S. Opens, but neither figures to be a serious threat this year.
Luke Donald, Lee Westwood and Justin Rose are in the field, but for the most part, they haven't put up much of a fight in any recent majors.
These guys are the leading lights from Britain, but they've never been able to shine brightly on golf's biggest stages.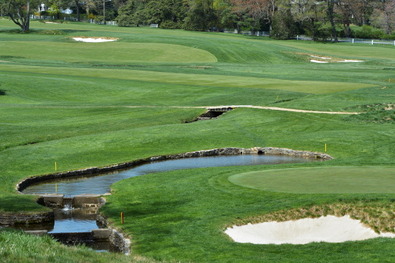 Drew Hallowell/Getty Images
There are challenges everywhere for the 156 players who will tee off starting Thursday in the U.S. Open.
This U.S. Open has created more buzz than normal because it hasn't been held at Merion in 32 years. Further fueling that buzz, the course will measure 6,996 yards, well short of what has become a normal Open setup.
There's enough mystery in that historic layout to keep this field on edge, and that will become evident as the week goes on.
The legendary Jack Nicklaus once called Merion "acre for acre maybe the best test of golf in the world."
Indeed, the last four holes will be as tough as any finishing quartet in the U.S. Open.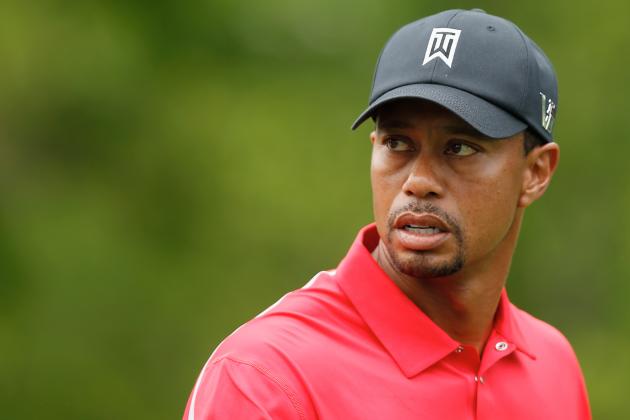 Scott Halleran/Getty Images
Tiger Woods could well be glaring from a position of control in the U.S. Open this week.
The U.S. Open is Tiger Woods' next chance in his attempt to create history.
Is this the week he'll win his 15th major to creep to within three of tying Jack Nicklaus' record of 18?
He's won four times already this year on the PGA Tour and has done so by playing a disciplined, small-ball game, staying away from his driver, the most wayward club in his bag.
Even with his third-round implosion at the Memorial Tournament, during which he shot a 79 on Saturday, including a back-nine 44 (the highest nine-hole score of his career), Woods is still an overwhelming favorite.
And he plans on clearing up his issues prior to Thursday's start.
"You want everything clicking on all cylinders, especially at the U.S. Open," he said, "because everything is tested in the U.S. Open."
We'll see how Woods passes that test.