Duke Basketball: 5 Biggest Takeaways from the Blue Devils' Offseason So Far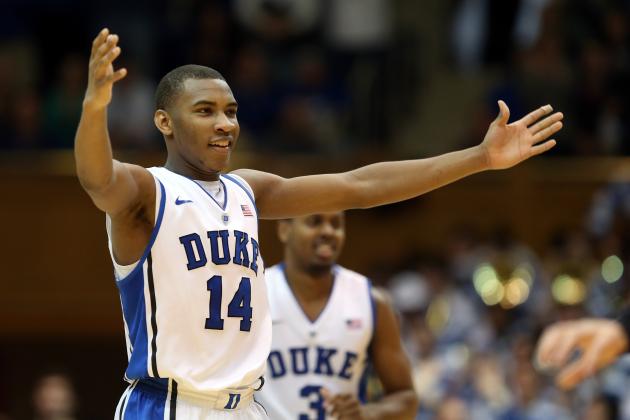 Streeter Lecka/Getty Images

They say champions are made in the offseason. Whether that old trope is true or not, there are some big storylines that have developed during the Blue Devils' offseason.
What can be said for certain is that these offseason narratives will bleed into the regular season. Expectations, question marks and projections all arise out of the stories that develop between the final whistle at the national championship and Midnight Madness.
These five offseason stories are the ones that will effectively create the narrative for Duke's upcoming season. Success or failure, these themes will define Duke's season.
Begin Slideshow

»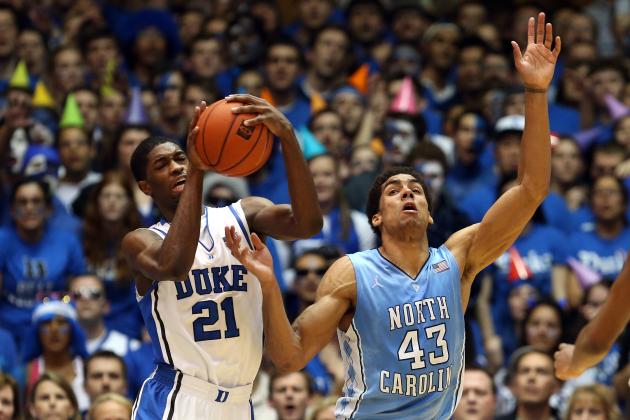 Streeter Lecka/Getty Images

When Tarik Black picked Kansas over Duke as his transfer destination, it all but guaranteed that the Blue Devils wouldn't have a typical lineup.
Black would have given Duke a traditional center to anchor a lineup replete with guards and wing players. Without the bulk of Black's 262-pound body, the Blue Devils' only true post players are Amile Jefferson and Marshall Plumlee.
There's been plenty of hype around Plumlee, but so far fans who aren't privy to practices have little evidence that he's anything more than just a big body. Furthermore, the track record of the other Plumlees suggests that he won't really develop until his junior or senior year. A pessimistic view could suggest that even that delayed development timeline is optimistic given Marshall Plumlee's injuries.
Plumlee missed the preseason last year due to injury and had surgery this offseason. That much time off the court certainly won't speed up his progress.
Amile Jefferson, meanwhile, has demonstrated his skills. While the Duke faithful has reason to be pleased with what Jefferson brings to the table, he isn't a typical center. Although he has added weight in the offseason, he still won't be a monstrous post player.
Instead, Duke will have to rely on Jefferson's mobility and 7'1" wingspan. Defensively those can be advantageous if the defensive system is set up for ball pressure that prevents passes into the post. A highly active defense can make up for a lack of size.
The same formula applies to rebounding. If players crash the boards from different spots on the floor, it won't matter that Duke doesn't have a guy who can set up camp under the rim. The effectiveness and commitment to this solution will determine the fate of Duke's season. For that reason, post play will be the ad nauseam talking point for the Blue Devils throughout 2013-14.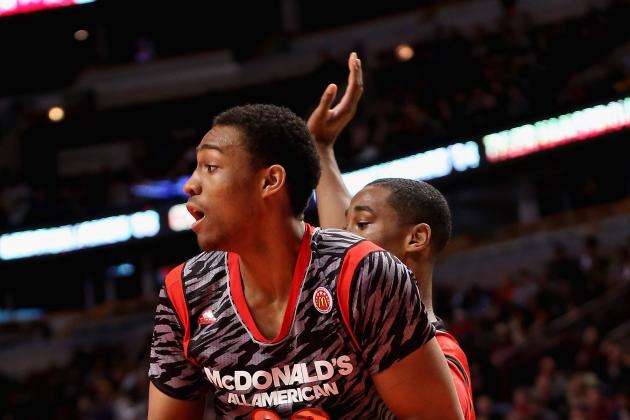 Jonathan Daniel/Getty Images

Following on the heels of Duke's problems in the post, the Blue Devils can compensate for that by being unconventional. Mike Krzyzewski is familiar with making an unconventional lineup work.
Team USA was loaded with guards and wings and stretch fours. Critics pointed out that the team had no real post players beyond Tyson Chandler. Yet Coach K made that lineup of disparate pieces fit together in a way that worked well enough to win a gold medal.
This season, Duke will need to find a similarly unorthodox solution. Coach K will put lineups on the floor that some people might find atypical. He's also said that he plans to use Jabari Parker the same way he used LeBron James on Team USA (via RealGM).
The result will be an outside-the-box type of team that doesn't necessarily look like the sort of squad you're used to seeing. But isn't that better than trying to fit a square peg in a round hole? While the compilation of players on the floor might break convention, they'll certainly be constructed to play to the roster's strengths.
Coach K's statements and missing out on Tarik Black make it clear that Duke will be anything but traditional. That will make for an unpredictable but exciting start to the season.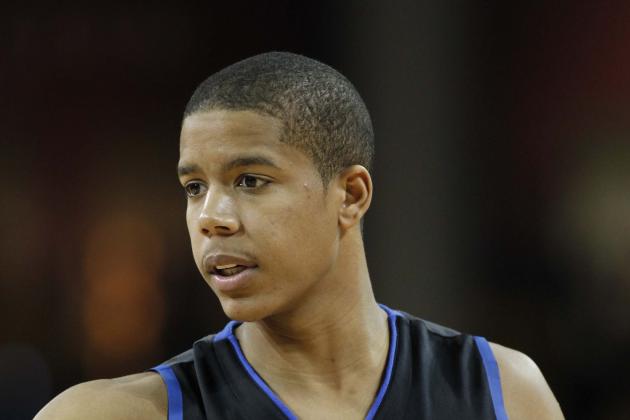 Greg M. Cooper-USA TODAY Sports

Dawkins, like Rodney Hood, has had an entire year off the court. While the expectations for Hood are higher than Dawkins', the return of Andre Dawkins is more intriguing.
If Dawkins comes back and adds a potent three-point threat, then Duke will be an extremely dangerous team. For all the scoring that the Blue Devils have from wing players and guards who can slash to the basket, there aren't a ton of three-point shooters.
Quinn Cook, Tyler Thornton and Rasheed Sulaimon are the best returning three-point shooters and none of them shot over 40 percent or hit from distance with reliable consistency. Dawkins could add that offensive element and make Duke's offense more of a complete juggernaut.
But it's hard to know what Dawkins will look like when he returns. The last season he played with Duke, he shot 39.2 percent and averaged only 8.4 points. The previous year, as a sophomore, Dawkins averaged just 8.1 points, but shot 42.7 percent from three-point range (via ESPN).
Duke won't need Dawkins to average a ton of points, but they will need him to present a three-point threat that defenses will be forced to account for. That will require some consistency from beyond the arch.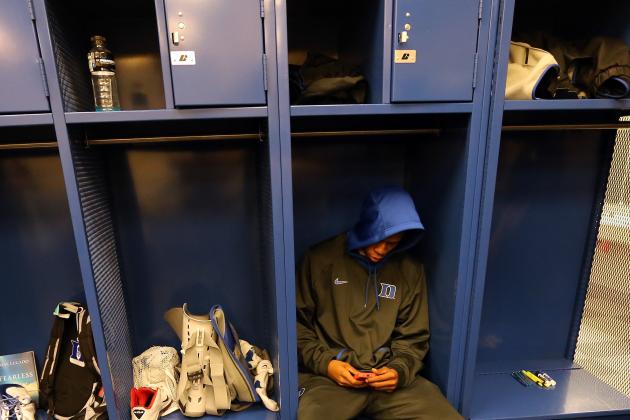 Streeter Lecka/Getty Images

Tales of Hood's exploits in practice have had Duke fans salivating for over a year. As he's had to sit out due to transferring from Mississippi State, expectations have risen. Hood is a 6'8" wing player who can shoot threes or drive to the hoop. The bottom line is that Hood is a scorer.
Even as a freshman in the SEC, Hood averaged 10.3 points and was an integral part of his team. At Duke, he won't necessarily need to be the primary scorer, but he will need to mesh with his Duke teammates.
The primary thing for Hood, Jabari Parker and Rasheed Sulaimon—Duke's best scoring options—will be working together. At varying points in a game, one will need to step up and take a shot while the other two step back. It will be an interesting dynamic and one that was helped by Hood being able to practice with Sulaimon and the rest of the team during his year of ineligibility.
After all the hype, it'll be interesting to see just how Hood fits into the Duke system. His ability to score from just about anywhere on the court ought to help the offense. His athleticism should aid the defensive effort. Just how much he contributes on each end of the floor will be exciting to see.
Hood has had effectively almost two years of offseason. How he affects Duke once he finally gets on the floor will go a long way to getting Duke in position for a championship run.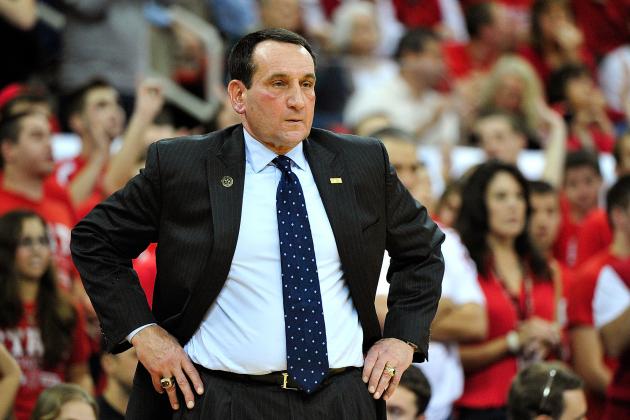 Grant Halverson/Getty Images

No matter how the season goes, there will be a kind of uncertainty that follows the Blue Devils. While Duke hasn't gone the same way as Kentucky, this team will be loaded with young talent primed for early entry into the NBA draft.
Jabari Parker is likely a one-and-done player. Having been forced to sit out a year, Rodney Hood will probably be looking to leave after one year on the court for Duke. And even though the Blue Devils will need Rasheed Sulaimon to have a monumental sophomore campaign, his great play will only increase his draft stock.
Combined with the graduation of Tyler Thornton and Josh Hairston, the Duke team that takes the floor in 2014-15 will look substantially different from the one that Coach K trots out this season.
Given that impending exodus, the key to sustained success will be a solid recruiting class. If Duke can gain the signature of Jones and Okafor, then the Blue Devils should have another year of high expectations. The two recruits have stated that they want to go to the same college, so landing one means having an inside track on landing the other.
The pairing of Okafor and Jones would be a huge recruiting coup and ensure that the success of this upcoming season can be sustained for another year at least.