Re-Drafting the Entire 1st Round with All Current MLB Players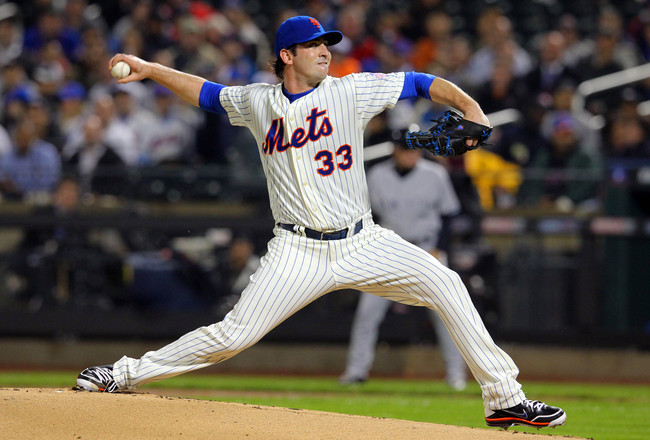 Brad Penner-USA TODAY Sports
The 2013 MLB draft is now a not-so-distant memory, and each team has filled up its farm system with players it hopes can be important parts of their new club's future.
But what if there were a draft that involved current major leaguers?
We're going to carry out that exercise right now. This will be a re-draft of the first round which includes the current stars in baseball. The same order of teams used for the 2013 MLB draft will be in play.
A couple of key points of clarification:
This will not solely be based on 2013 performance. Factors that include age, future projection and position will absolutely be considered.
This is not a draft conducted based on the best players in baseball right now—rather, a draft that takes into consideration the above elements.
Current team needs will be a factor, although it's also about building for the future—this will lean more toward drafting to start a team rather than drafting to supplement a team.
In addition, this draft does not replace the real draft that just took place. Think of it as a chance for each team to reset itself in terms of its current 25-man roster in addition to the draft which helps build its farm system.
And here we go.
Note: All statistics courtesy of MLB.com and Baseball-Reference.com unless otherwise noted. Prospects who have yet to make their major league debuts will not be included.
1. Houston Astros: Clayton Kershaw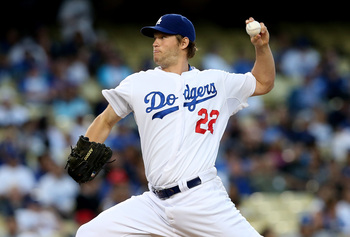 Stephen Dunn/Getty Images
For the Houston Astros, their biggest and most obvious need is a pitcher who can anchor the starting rotation.
Clayton Kershaw is absolutely the man who fits that description.
Kershaw is just 25 years of age, certainly young enough to continue being the team ace for upwards of a decade. He also brings the cache of a Cy Young Award along with the promise of more to come.
Right behind Kershaw the Astros could have a pretty formidable right-hander in the recently drafted Mark Appel.
According to Astros general manager Jeff Luhnow, the front office won't let business decisions dictate when Appel makes his major league debut:
Jeff Luhnow told us if Appel is ready in March that he & Porter will take best players to Houston & will not hold him back for biz reasons

— JIM BOWDEN (@JimBowdenESPNxm) June 9, 2013
It's clear that Luhnow opted for Appel knowing that he could be ready in short order. Adding him along with Kershaw certainly gives the Astros what could be a formidable one-two punch at the top of the starting rotation for years to come.
2. Chicago Cubs: Mike Trout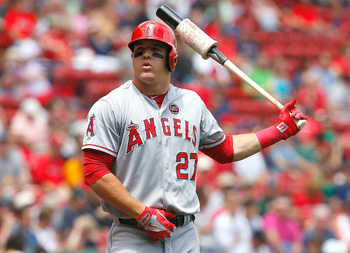 Jim Rogash/Getty Images
Strength up the middle is an important component for any team. For the Chicago Cubs, they have strength in the middle infield with Starlin Castro and Darwin Barney. But not so much in center field.
Drafting Mike Trout would easily take care of that need.
At just 21 years of age, Trout would instantly become the face of the franchise. Along with fellow youngsters Anthony Rizzo and Castro, Trout gives the Cubs a trio of players who would certainly act as players that Theo Epstein could build around.
In addition, Albert Almora—Chicago's top draft pick in 2012—could join Trout in the outfield in a few years' time, providing the Cubs with two youngsters who could help give them something they haven't achieved in over a century—a World Series title.
3. Colorado Rockies: Matt Harvey
Steve Mitchell/Getty Images
For the New York Mets over the past six weeks, young fireballer Matt Harvey has made nine starts and has walked away with just one win, all while posting a 2.66 ERA. He even flirted with a no-hitter and threw shutout ball over nine innings only to walk away with nothing to show for it.
With the offensive-minded Colorado Rockies, that would change.
It's clear that Harvey has become a dominant pitcher just 23 starts into his career. He would instantly give the Rockies a major weapon at the top of their starting rotation to go along with an offense that's still young and leads the National League in runs scored.
Troy Tulowitzki, Carlos Gonzalez, Nolan Arenado and Harvey—now that's some star power.
4. Minnesota Twins: Shelby Miller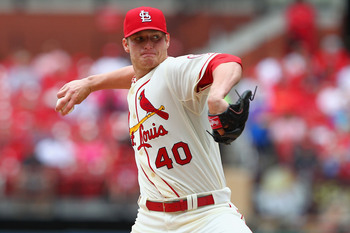 Dilip Vishwanat/Getty Images
Much like the Colorado Rockies, the Minnesota Twins don't have a stopper at the top of their rotation. The moves made during the offseason haven't panned out at all.
Vance Worley, acquired from the Philadelphia Phillies, is now toiling in the minors after posting an ugly 1-5 record and a 7.21 ERA in 10 starts.
Mike Pelfrey, returning quickly after Tommy John surgery, is 3-6 with a 6.40 ERA in 12 starts. Only Kevin Correia has pitched reasonably well, but no one is going to confuse him with an ace.
Drafting Shelby Miller gives the Twins exactly what they need—a shutdown starter who can be relied upon every fifth day. At just 22 years of age, Miller could lead the Twins back to more than just respectability.
In addition, he'll be joined in the near future by Alex Meyer and Trevor May, two more power arms, to give the Twins a trio of flamethrowers who could potentially lead them for at least a decade.
5. Cleveland Indians: Stephen Strasburg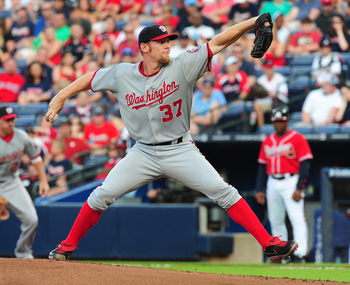 Scott Cunningham/Getty Images
The Cleveland Indians made strides in improving their offense this past winter with the additions of Michael Bourn, Nick Swisher, Mark Reynolds and Drew Stubbs. In addition, they added Trevor Bauer as a possible starter and anchor of the rotation for the future.
Still, they could use another quality young arm who could instantly help out a rotation that's struggling with a 4.56 ERA.
Stephen Strasburg would be the perfect option.
Strasburg's 2.54 ERA in 12 starts this season would be perfect for a team that would support him more than the Nationals currently have—Washington's averaged just 2.92 runs in his starts thus far.
A dominant Strasburg would be just the medicine the Indians need to get right back into the thick of the AL Central race, and he would shape their rotation for the future, too.
6. Miami Marlins: Miguel Cabrera
Leon Halip/Getty Images
Yes, the Miami Marlins already had Miguel Cabrera before. Yes, they dealt him to the Detroit Tigers rather than pay him.
But hey, we're talking in make-believe language here, and Cabrera is exactly what the struggling Marlins need.
The Marlins are currently averaging just a tad over three runs per game. Over an entire season, that averages out to approximately 488 runs scored. According to USAToday.com, no team has scored under 500 runs since the San Diego Padres in 1971.
Adding Cabrera along with the returns of Logan Morrison and Giancarlo Stanton at least gives the Marlins a base with which to work. Young arms like Jose Fernandez, Justin Nicolino and Andrew Heaney will undoubtedly help for the future.
Despite Cabrera's age (30), there isn't a team in baseball that wouldn't covet his services for both now and in the future.
7. Boston Red Sox: Aroldis Chapman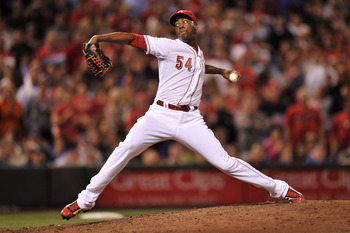 Jamie Sabau/Getty Images
The Boston Red Sox have had issues with the closer's role ever since Jonathan Papelbon left for greener pastures. Green as in money, that is.
They traded for Oakland A's closer Andrew Bailey before the start of last season, and the oft-injured Bailey once again followed through with his pattern, tearing a thumb ligament and not making his first appearance until mid-August.
Bailey missed close to a month earlier this season as well, with right-biceps inflammation.
The Red Sox have done well to add to their starting corps, with young arms like Matt Barnes, Rubby De La Rosa and Allen Webster that could help boost a starting rotation that already features Jon Lester and Clay Buchholz.
Adding someone like Aroldis Chapman would go a long way in stabilizing the bullpen as well.
Bailey may be healthy right now, but considering his history there's no guarantee that will last long. Chapman is the right fit for the Red Sox.
8. Kansas City Royals: Bryce Harper
Ezra Shaw/Getty Images
The Kansas City Royals have received solid pitching all season from at least three starters they made decisions on this past winter.
Adding James Shields and Ervin Santana has certainly helped, and Jeremy Guthrie has thus far lived up to the expectations the Royals placed on him by signing him to a three-year deal.
It's the offense that's been a letdown.
Enter Bryce Harper.
With right fielder Jeff Francoeur playing out his contract and not performing up to expectations, Harper is the perfect fit in right field for the foreseeable future.
The Royals gave up top hitting prospect Wil Myers in order to acquire Shields and Wade Davis. Drafting Harper instantly heals the wound of losing Myers while giving Kansas City a much-needed shot in the arm offensively.
9. Pittsburgh Pirates: Paul Goldschmidt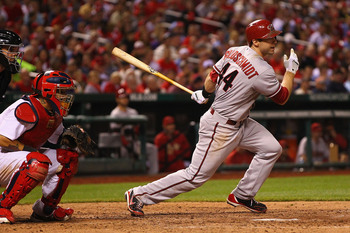 Dilip Vishwanat/Getty Images
The Pittsburgh Pirates now sit with a 37-26 record and appear primed not only to break their dubious record of 20 consecutive losing seasons but also to contend for a postseason berth.
Adding instant offense in the form of first baseman Paul Goldschmidt could help further that cause.
The offense they've received from the combination of Gaby Sanchez and Garrett Jones hasn't been terrible—a .262 average with nine home runs, 39 RBI and a .794 OPS.
However, Goldschmidt's .320 average, 15 home runs, 58 RBI and .987 OPS trump that by a pretty wide margin.
Adding Goldschmidt, moving Jones back to right field full time and using Sanchez as a bat off the bench give the Pirates a much better offense to support a pitching staff that has been stellar all season.
In addition, Goldschmidt is a year younger than current Pirates star Andrew McCutchen. Together the duo would be formidable for years to come.
10. Toronto Blue Jays: Chris Sale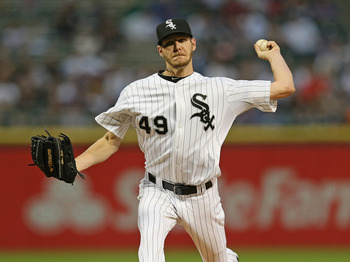 Jonathan Daniel/Getty Images
The Toronto Blue Jays starting rotation has thus far posted a 5.20 ERA. That's likely not quite what general manager Alex Anthopoulos had in mind when he acquired Josh Johnson, Mark Buehrle and R.A. Dickey.
Dickey and Beuhrle aren't getting any younger, and Johnson's injury concerns will likely always be in play. It's time for the Blue Jays staff to get younger and better—drafting Chris Sale ticks off both boxes in that regard.
Sale has continued to excel after a spectacular 2012 season in which he finished sixth in the American League Cy Young Award balloting. Sale's 2.68 ERA in 12 starts to this point is far better than what's been delivered by anyone on Toronto's current staff.
At just 24 years of age, Sale offers youth, ace potential and a pitcher whom Anthopoulos can build his rotation around for the future.
11. New York Mets: Manny Machado
J. Meric/Getty Images
The New York Mets are lacking offense up the middle. Daniel Murphy provides capable production at second base, but center field and shortstop are without question big-time areas of need.
At just 20 years of age, Manny Machado has already shown he can handle the bat at the major league level and supply a level of production that any team would desire.
Moving Machado back to shortstop certainly wouldn't be a problem—it's his natural position. Having a left-side infield combination of Machado and David Wright would help in solving part of the Mets' offensive deficiencies.
12. Seattle Mariners: Jean Segura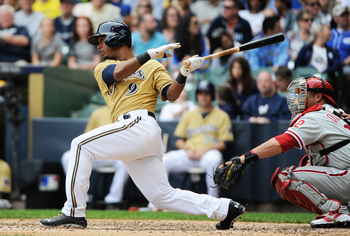 Benny Sieu-USA TODAY Sports
With youngster Nick Franklin starting to emerge as a viable second-base option for the Seattle Mariners, he needs a partner on the other side of the bag who can get after it with the bat.
Jean Segura has certainly proven thus far that he can be that partner.
The Mariners have climbed out of the cellar in terms of scoring runs after finishing in last place in the American League for the past four seasons. But they're still struggling in 14th place. Adding Segura at the top of the order would absolutely help in giving Seattle a huge boost offensively.
The Mariners have done a great job drafting and developing pitching prospects. But offensively there is still much work to be done.
Drafting Segura is a step in the right direction.
13. San Diego Padres: Carlos Gomez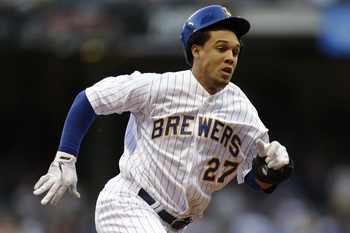 Mike McGinnis/Getty Images
The San Diego Padres have used four center fielders in the 2013 season—Cameron Maybin, Will Venable, Chris Denorfia and Alexi Amarista. None of them would be considered viable options for the long term.
The Padres signed Maybin long term with the hope that he would be the answer—but he's hit just .235 since signing that contract and missed six weeks this season already with a wrist injury.
When Carlos Gomez showed last year for the Milwaukee Brewers, he was ready to take on full-time duties in center field, hitting .260 with 19 home runs, 51 RBI and 37 stolen bases. He's stepped it up a notch this year already, hitting .316 with 11 home runs, 31 RBI and 12 thefts.
Gomez gives the Padres a stable option in a position of need and importance.
14. Pittsburgh Pirates: Troy Tulowitzki
Jamie Sabau/Getty Images
The Pittsburgh Pirates added an attractive offensive weapon by selecting first baseman Paul Goldschmidt with the eighth overall pick. They would hit an absolute home run by choosing shortstop Troy Tulowitzki with the 14th pick.
Pirates shortstops are currently hitting just .199 for the season. Tulowitzki nearly doubles that on his own with a .351 average, along with his 15 home runs and 51 RBI.
Adding Tulowitzki along with Goldschmidt instantly makes the Pirates a serious postseason contender this year. In addition, both are young enough to give Pittsburgh fans much hope for the future as well.
15. Arizona Diamondbacks: Chris Davis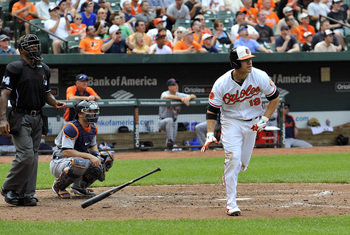 USA TODAY Sports
With Paul Goldschmidt being plucked from the Arizona Diamondbacks by the Pittsburgh Pirates with the eighth overall selection in our make-believe draft, Arizona will be looking to replace that lost offense.
Enter first baseman Chris Davis.
Davis is leading the majors in several major offensive categories, and at 27 years of age, he has clearly come into his own as a hitter.
Adding Davis keeps the Diamondbacks viable defensively while adding a weapon that can continue leading them offensively in the future as well.
16. Philadelphia Phillies: Carlos Gonzalez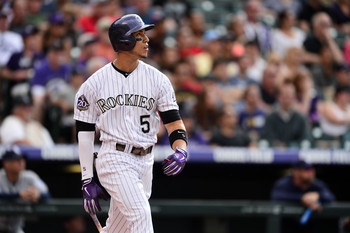 Ron Chenoy-USA TODAY Sports
The Philadelphia Phillies have a clear need to get younger and more athletic. With bodies that are aging and breaking down, the Phillies offense has sputtered as a result—Philadelphia is currently 10th in the National League in runs scored.
Drafting left fielder Carlos Gonzalez definitely takes care of both youth and athleticism and also adds a big-time bat.
The knock on Gonzalez prior to this season was fairly extreme home/road splits. However, this season Gonzalez has answered the call away from Coors Field, hitting .348 with 11 home runs and 21 RBI.
Gonzalez along with Ben Revere gives the Phillies a fresh quartet of legs in the outfield which won't be breaking down anytime soon.
17. Chicago White Sox: Yasiel Puig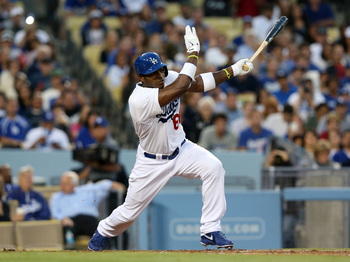 Stephen Dunn/Getty Images
For the Chicago White Sox, it has to be about offense and strengthening the team up the middle. Selecting Yasiel Puig with the 17th overall pick is definitely a start in the right direction.
Puig has already excelled in his very brief major league career, with a .464 average, four home runs and 10 RBI in his first seven games. He's shown off a cannon for an arm and excellent speed despite his 6'3", 245-pound frame.
If the White Sox want to turn around their offensive misfortunes quickly and add a player who has a chance to excel into the next decade, Puig is the right choice.
18. Los Angeles Dodgers: Madison Bumgarner
Scott Rovak-USA TODAY Sports
Thus far the Los Angeles Dodgers have already seen both Clayton Kershaw and Yasiel Puig plucked from their ranks—they're clearly needing to cover at least one of those losses.
Adding Madison Bumgarner could help fill part of that void.
At just 23 years of age, Bumgarner hasn't even reached his prime. He also has the experience of two World Series titles in his career, something the Dodgers could certainly use.
While they've acquired a wealth of talent in recent months with the additions of Adrian Gonzalez, Hanley Ramirez, Zack Greinke, Carl Crawford and others, the Dodgers don't have much playoff experience, and none of their new acquisitions has experienced a World Series championship.
Bumgarner gives Los Angeles that experience, plus a young arm that could complement right-hander Greinke for several years.
19. St. Louis Cardinals: Felix Hernandez
Steven Bisig-USA TODAY Sports
The St. Louis Cardinals lost Shelby Miller earlier in this draft, but they've still got Adam Wainwright, Lance Lynn and several young arms, including Michael Wacha.
Still, the Cardinals lost an arm that was looked upon as one that could anchor the rotation for the foreseeable future.
Replacing that arm with Felix Hernandez wouldn't make for a bad trade-off.
Hernandez continues to excel, posting a 7-4 record with a 2.49 ERA in 2013. While he's already thrown over 1,700 innings in his career, Fernandez has more than proven that he's durable. Adding him to replace Miller keeps the Cardinals rotation at the top of the National League.
20. Detroit Tigers: Adrian Beltre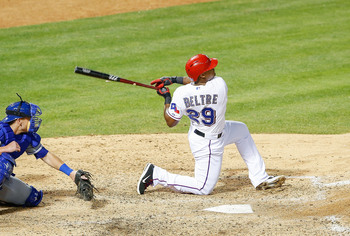 Kevin Jairaj-USA TODAY Sports
Losing Miguel Cabrera earlier in this draft puts a big hole in the Detroit Tigers offense. Adrian Beltre helps fill that void.
This is a selection that fills an obvious need right now—it's also a team built for the here and now. Owner Mike Ilitch has clearly given that impression with his approval of the contracts of Prince Fielder, Anibal Sanchez and Torii Hunter over the past two offseasons.
Beltre is clearly a tick below Cabrera in terms of offense, but no one matches Cabrera in that regard. Beltre would be the next-best thing.
21. Tampa Bay Rays: Yadier Molina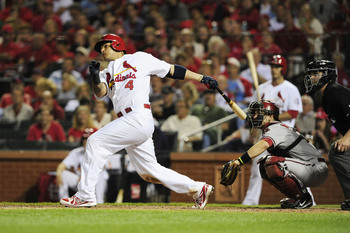 Jeff Curry-USA TODAY Sports
If there's one thing the Tampa Bay Rays have never really had in their existence, it's a catcher who can hit. That's exactly why selecting Yadier Molina with the 21st overall pick makes perfect sense.
A five-time Gold Glove Award winner who hits above .300 and has some pop is the right choice here for the Rays.
Adding his defense behind the plate along with a bat that instantly boosts the Rays offense will go a long way toward aiding Tampa Bay's postseason chase this season.
22. Baltimore Orioles: Patrick Corbin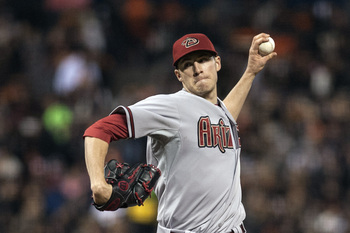 Ed Szczepanski-USA TODAY Sports
If there is one thing the Baltimore Orioles currently need, it's a true stopper at the top of their rotation.
Patrick Corbin gives them that.
Corbin went from a pitcher fighting for a rotation spot during spring training to the hottest pitcher in the National League. With his 9-0 record and 1.98 ERA, Corbin has clearly arrived.
At just 23 years of age, Corbin will also be a viable top-shelf starter for years to come. With the number of injuries suffered by Orioles starters, manager Buck Showalter would breathe a lot easier knowing he has Corbin to turn to every fifth day.
23. Texas Rangers: Matt Moore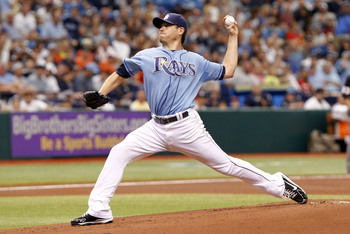 Kim Klement-USA TODAY Sports
While Yu Darvish has taken over as the ace of the Texas Rangers pitching staff, it's never a bad thing to complement an ace with a No. 1-A, so to speak.
Matt Moore could be the choice here for the Rangers.
Moore has faltered in his recent outings, after getting out to an 8-0 start with a 2.21 ERA. But I'm betting he'll be able to make whatever adjustments are necessary to put him back on track.
At just 23 years of age, Moore absolutely gives the Rangers a solid one-two punch atop the rotation, along with Darvish.
24. Oakland Athletics: Justin Verlander
Rick Osentoski-USA TODAY Sports
At 30 years of age, Justin Verlander is far from over the hill. He's likely not looking at regression anytime soon.
For that reason, he's the perfect choice for an Oakland A's team attempting to win its second straight AL West title and a chance to go further into the postseason.
The A's rotation hasn't been quite as effective this season, with a 4.13 ERA. It also doesn't have a true ace. Verlander instantly makes the A's a much scarier team heading into the second half.
He wouldn't be too bad to have around for the next few years, either.
25. San Francisco Giants: Jose Fernandez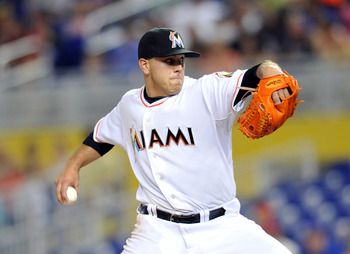 Steve Mitchell/Getty Images
The San Francisco Giants have taken some hits with their starting rotation this season. A broken hand suffered by Ryan Vogelsong, inconsistent performances by Tim Lincecum and a shaky start by Matt Cain have been major issues that have led to the Giants facing challenges in the NL West.
In addition, San Francisco lost starter Madison Bumgarner earlier in our make-believe draft.
Selecting 20-year-old Jose Fernandez helps in stabilizing the rotation for both now and in the future.
Fernandez has shined early on, posting a 3.17 ERA in 12 starts. Despite not having pitched above the advanced Single-A level before this season, Fernandez has shown he's not overmatched in any way.
The Giants aren't loaded with pitching prospects ready to help in the near future. Fernandez helps in giving them a young arm who's already prepared and ready.
26. New York Yankees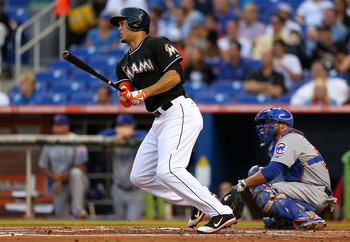 Mike Ehrmann/Getty Images
For the New York Yankees, it should be all about getting younger. Adding Giancarlo Stanton is a good beginning toward that goal.
The Miami Marlins will take a serious hit, even after adding Miguel Cabrera earlier in our make-believe draft to help lift their sagging offense. But the Marlins' loss will absolutely be the Yankees' gain.
The only issue with Stanton is his injury history. He missed time last year with a knee issue and over a month this season with a hamstring injury. Still, the chance to add a potent offensive bat who's only 23 years of age simply can't be passed up by a team desperate to get younger.
27. Cincinnati Reds: Craig Kimbrel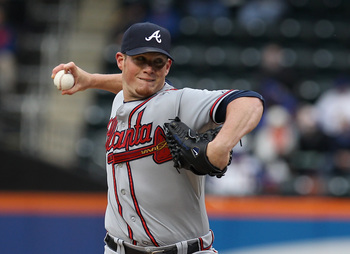 Mike Stobe/Getty Images
With the Cincinnati Reds losing closer Aroldis Chapman to the Boston Red Sox with the seventh overall pick, who better to replace him than with 25-year-old ninth-inning stopper Craig Kimbrel?
With 18 saves, a 1.85 ERA and a 12.6 K/9 rate, Kimbrel is the perfect replacement for Chapman. The Reds could keep their bullpen rotation in order by adding Kimbrel and also keep their postseason hopes alive.
Kimbrel is still under team control for three more seasons, as well, giving the Reds cost certainty in addition to a long-term option for the front end of the bullpen.
28. St. Louis Cardinals: Buster Posey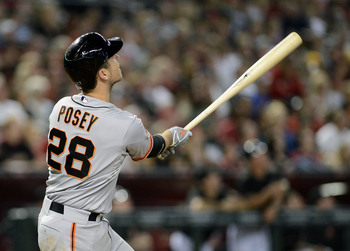 Jennifer Stewart/Getty Images
After losing Yadier Molina earlier to the Tampa Bay Rays, the St. Louis Cardinals have the perfect opportunity to get younger behind the plate with an elite catcher—Buster Posey.
Four years younger than Molina, Posey is perfect for the Cardinals with the 28th pick. His postseason experience certainly matches and even surpasses that of Molina, and his offense would be helped by leaving expansive AT&T Park, as well.
Replacing one great catcher with another is the right play here for the Cardinals, especially one who's younger and who earns praise from teammates for his handling of the pitching staff.
29. Tampa Bay Rays: Jordan Zimmermann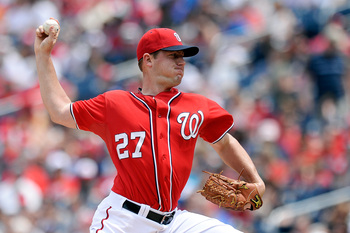 Patrick McDermott/Getty Images
The Tampa Bay Rays got lucky in landing catcher Yadier Molina with the 21st overall pick. Now, they need to add a pitcher to replace Matt Moore.
My choice for the Rays would be Jordan Zimmermann.
With a 9-3 record and a 2.00 ERA along with three complete games, Zimmermann is clearly completely recovered from his Tommy John surgery, performed three years ago. For a rotation that lost James Shields over the offseason and Cy Young Award winner David Price to injury, Zimmermann is a big-time addition who can help both now and for several years to come.
30. Texas Rangers: Evan Longoria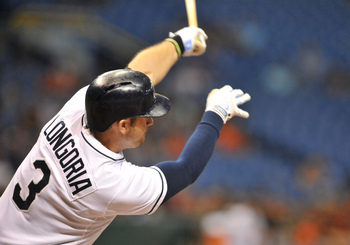 Al Messerschmidt/Getty Images
With the loss of Adrian Beltre earlier in the draft, the Texas Rangers will need to replace his offense. In picking up Evan Longoria with the 30th pick, they kill two birds with one stone.
First, Longoria's offense—a .306 batting average, 10 home runs and 36 RBI—is almost even with that of Beltre. They also gain seven years, as well, with Longoria at 27 years of age replacing Beltre at 34.
In building a team for the future, the Rangers couldn't do much worse than raiding the Tampa Bay Rays with their selections of Moore and Longoria.
31. Atlanta Braves: Addison Reed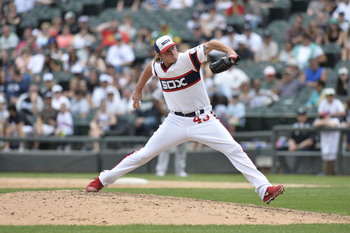 Brian Kersey/Getty Images
Thus far in our draft, the Atlanta Braves have been fortunate in that they only lost closer Craig Kimbrel. It certainly wouldn't hurt to replace him with Addison Reed.
At 24 years of age, Reed is the same age as Kimbrel. He's posted 19 saves thus far with a 3.41 ERA, as well.
While not as explosive as Kimbrel, Reed gives the Braves a much-needed arm for a bullpen that's already lost Jonny Venters and Eric O'Flaherty to season-ending elbow injuries.
32. New York Yankees: Tom Wilhelmsen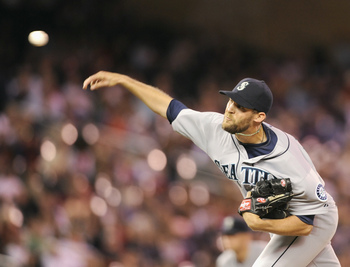 Hannah Foslien/Getty Images
In adding Giancarlo Stanton with the 26th overall pick, the New York Yankees took a step in getting younger. Now, with the 32nd selection in our make-believe draft, they'll look to do the same with their pitching staff.
With Mariano Rivera retiring at the end of the season, a replacement will be needed.
At 29 years of age, Tom Wilhemsen is 14 years younger than Rivera. He's shown he's capable of handling ninth-inning duties with the Seattle Mariners for the past one-plus seasons, posting a 1.98 ERA with 15 saves thus far this year.
Wilhelmsen comes at a much cheaper price, as well, giving the Yankees both cost-saving and age-saving opportunities.
33. New York Yankees: Elvis Andrus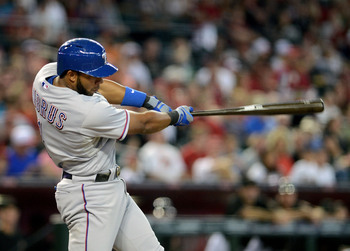 Jennifer Stewart/Getty Images
The day is eventually going to come when the New York Yankees have to replace Derek Jeter. At the same time, it would be nice to have a shortstop they can plug in now while Jeter continues to recover from a fractured ankle.
Shortstop Elvis Andrus would be an excellent choice.
While it would hurt the Texas Rangers, Jurickson Profar would then have the opportunity to play full time. At just 24 years of age, Andrus continues the Yankees' goal of getting younger and allows them to add a player who has averaged 90 runs scored and 30 stolen bases over the past three seasons. He's also driven in at least 60 runs in each of the last two seasons.
No one can replace Derek Jeter. But Andrus has already fashioned a fine career, and the Yankees will be buoyed as a result.
Doug Mead is a featured columnist with Bleacher Report. His work has been featured in the Seattle Post-Intelligencer, SF Gate, CBS Sports, the Los Angeles Times and the Houston Chronicle.
Feel free to talk baseball with Doug anytime on Twitter.
Keep Reading