Rating the Brazil Players Against France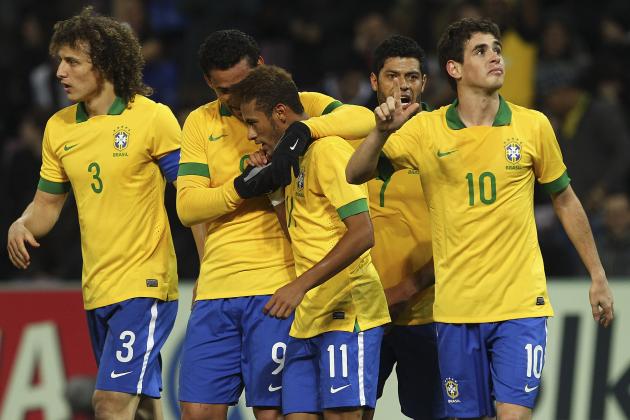 Marco Luzzani/Getty Images

Brazil finished their Confederations Cup preparations on a high note Sunday night, beating France 3-0 in Porto Alegre for a much-needed confidence boost ahead of upcoming tests.
While two late goals put a particularly positive spin on what had been a decent but not outstanding performance, the knowledge that they can comprehensively beat a good footballing side will give the squad a positive outlook.
The following ratings, though, will take into account performance rather than the end result, which was influenced much by a late French collapse.
So, without further ado, let's attempt to rate Brazil's players from their victory over France.
Begin Slideshow

»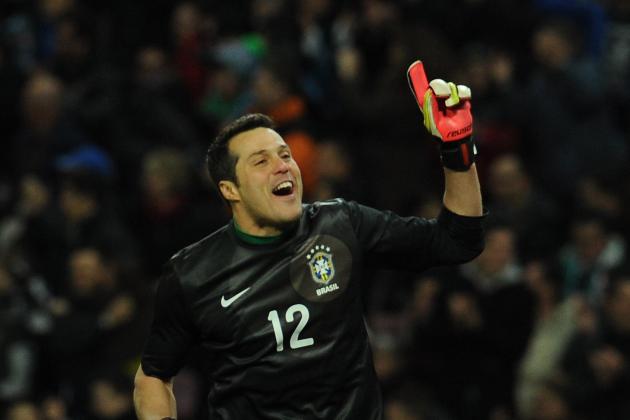 Valerio Pennicino/Getty Images

It would prove to be a relatively easy night's work for QPR goalkeeper Julio Cesar in Porto Alegre, needing to make just two saves over the entire 90 minutes.
However, when called upon, he was quick to react to make a fine save as teammate David Luiz almost turned a cross into his own net.
After a season of over-activity for club and country, Julio Cesar must have enjoyed having such a peaceful time between the posts for a change.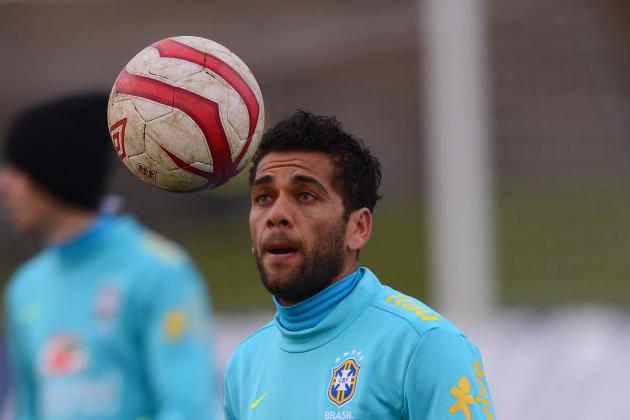 Mike Hewitt/Getty Images

It's always difficult to rate Dani Alves' performances in a Brazil shirt, as you inevitably start to draw comparisons to his showings at club level for Barcelona. Given the difference in the two sides, though, that is somewhat of an unfair comparison.
The full-back did nothing wrong on Sunday evening and was generally solid in defence up against Dimitri Payet. But he failed to offer the same attacking outlet that he does at club level.
Brazil will be glad to see the right-back taking his defensive responsibilities seriously, but he must offer more of a threat in attack for the side in future games.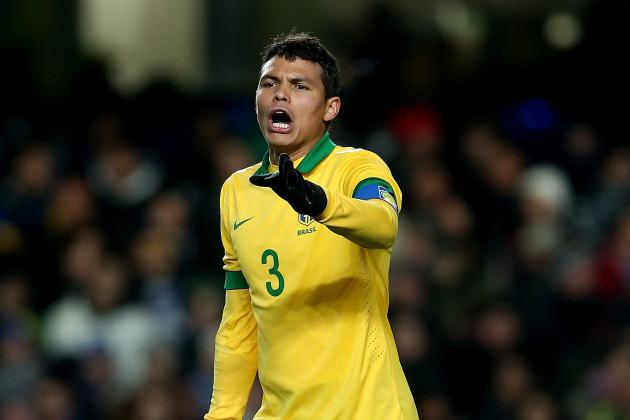 Scott Heavey/Getty Images

Another fine performance from Paris Saint-Germain defender Thiago Silva demonstrated exactly why he so important to this Brazil side, both as a defender and as a leader.
Defensively, he was excellent in helping to keep opposition striker Karim Benzema quiet throughout the match, as well as in defending set-piece opportunities.
However, it was the composure of the centre-back in helping his side play out of defence that was invaluable. Thiago was always willing to receive the ball and looked ever comfortable in possession.
It was a relatively casual evening for the defender, but it also served as an example of just why he is so highly rated as a player.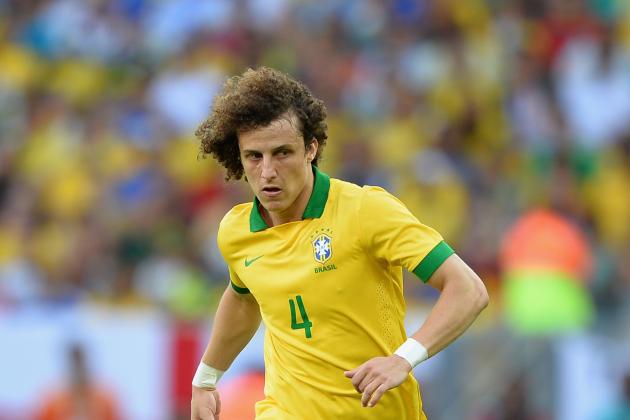 Laurence Griffiths/Getty Images

Chelsea defender David Luiz had a mixed game on Sunday night, showing both the best and worst of his game yet again.
While there were moments of defensive excellence, with good headers to clear crosses and interceptions to deny service to the French forward line, there were also moments to cause worry.
Luiz has the ability to be one of the very best centre-backs in the world when he is focused, but he must learn to control his natural desire to challenge for every ball.
The tackle on Dimitri Payet that earned him a yellow card after 30 minutes, for example, was an unnecessary show of aggression that could cost him at major tournaments.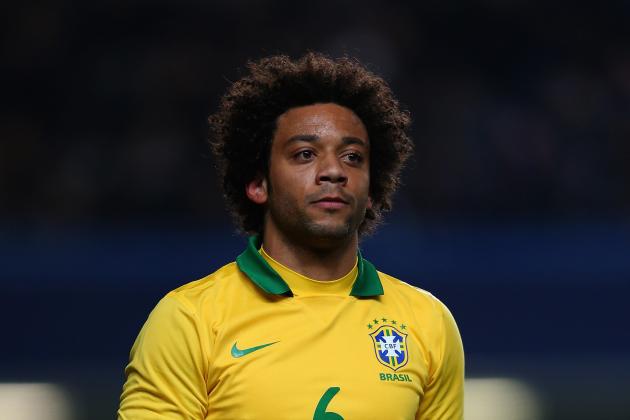 Julian Finney/Getty Images

The better of Brazil's two full-backs on the night, Marcelo was his usual self on the left flank, as he pushed forward regularly in support of Neymar in attack.
While he was rarely tested defensively by Mathieu Valbuena, there was little to suggest that he was anything but exemplary in his work in this area on the night.
His biggest contribution to the win, though, would come in the game's closing moments, as a surge forward drew a clumsy foul from defender Mathieu Debuchy and a penalty for his side.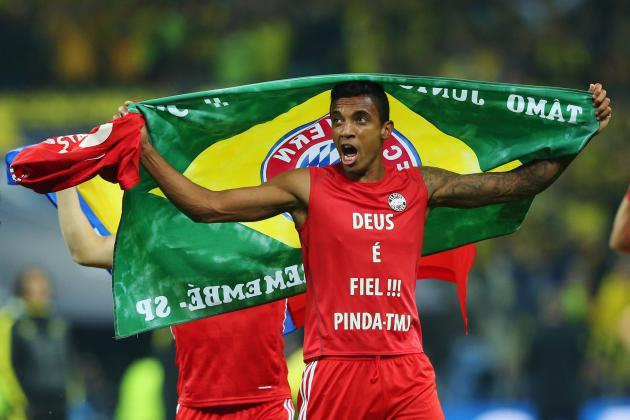 Alex Livesey/Getty Images

Defensive midfielder Luiz Gustavo was calm and collected about his work at the base of the midfield on Sunday night, justifying his selection in the side.
The Bayern player's major contribution came in helping his side break the deadlock with a crunching tackle in the midfield, setting up his side for a quick counterattack that Oscar would convert.
There is a lot of conjecture about who should be picked for midfield roles for coming tournaments, but Luiz Gustavo has done nothing but show he is a good option to have for the No. 5 position.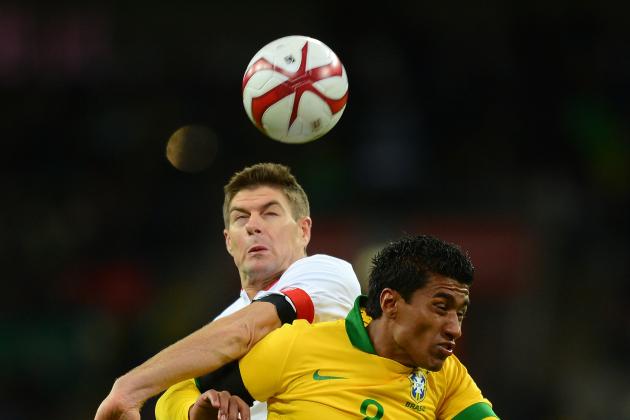 Mike Hewitt/Getty Images

While stated in the last slide that Luiz Gustavo did exactly the job expected of him as the team's holding midfielder, it should be added that the midfield combination between him and Paulinho is still not performing as would be hoped.
With neither player particularly comfortable setting the side's tempo from deep, or playing out from the back, Brazil can look a little underwhelming in midfield areas. For Paulinho, whose better work is done closer to goal, it can also be a bit restrictive.
Paulinho made no major errors on Sunday, but he failed to exert himself on the game. Should his partnership with Luiz Gustavo continue to bring such average results, it will no doubt be the Corinthians man who misses out.
As an aside, his terrible pass to Lucas Moura in the buildup to Hernanes' goal in the final minutes threatened to waste a five-on-two opportunity. Such sloppiness will be costly against more motivated sides.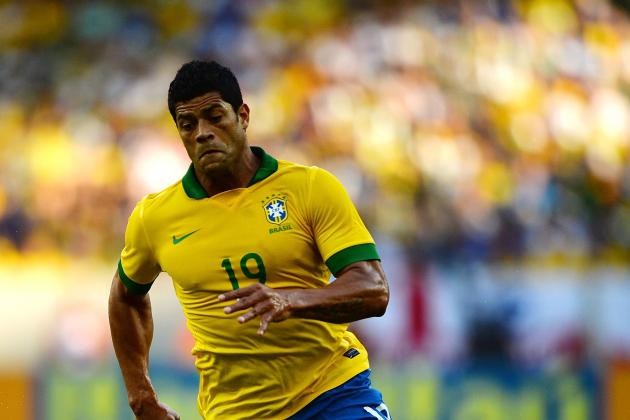 Laurence Griffiths/Getty Images

Despite contributing very little, it was actually one of Hulk's better recent performances for Brazil, and it offered glimpses of just how he could be useful to the side in coming games.
Moved to the right flank as Brazil reverted to a 4-2-3-1 formation, the Zenit forward showed examples of how his pace and power could be used in a wide role. Nothing, though, quite came off as he would have hoped.
While Hulk will likely retain his place for the opening fixture of the Confederations Cup next week, he will come under pressure from youngsters Lucas Moura and Bernard if his poor returns continue.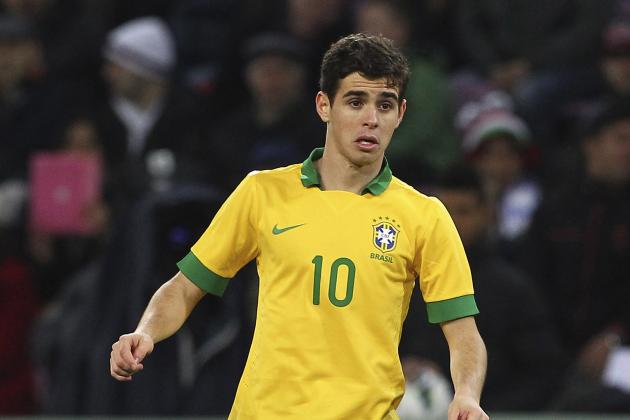 Marco Luzzani/Getty Images

Once more, Chelsea attacking midfielder Oscar was Brazil's player on the night, giving yet another clear indication of just how important he has become to the Selecao over the past year.
Although on the ball relatively little compared to previous games, it was the little playmaker who contributed to all Brazil's best attacking moves until his substitution. His restoration to a central role, of course, was capped by the scoring of his side's opening goal.
Oscar has enough quality to play anywhere in the midfield and do a more than reasonable job, as he has shown thus far in Scolari's reign.
The encounter with France, though, once more proved that he is best used in a central attacking midfield role.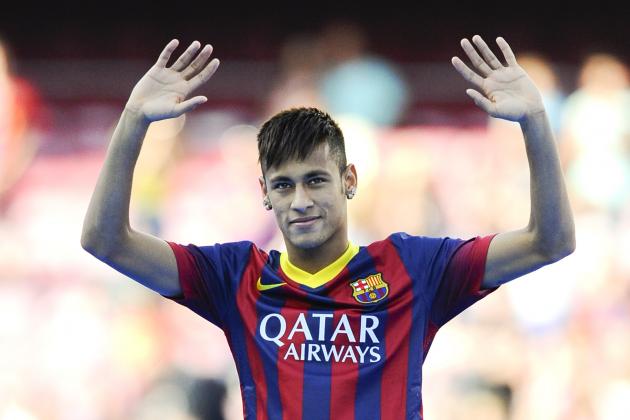 David Ramos/Getty Images

I have no doubt that, by the time of the World Cup next summer, the doubts surrounding Neymar's ability from those in Europe will already be well on their way to being silenced. However, the young star is hopelessly out of form at present.
His lacklustre 2013 season continued against France, as he reverted to trying too much by himself. It is a tactic that has helped him recover confidence in the past but rarely works against top-level opponents.
He was unable to quite stretch far enough to get on the end of a good cross in the first half that would have no doubt done his self-confidence much good. However, he did, at least, contribute a fine assist for Hernanes' late goal.
Neymar needs to revert to basics at the Confederations Cup and allow his talent to shine without being forced.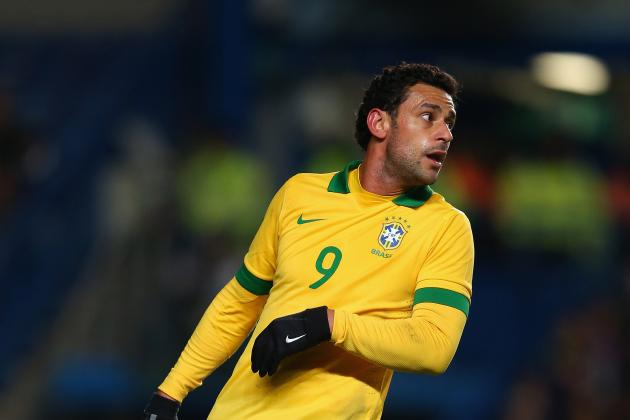 Julian Finney/Getty Images

Despite five goals in six appearances for Brazil in 2013, there are still doubts as to whether Fred is the right man to lead the line for his country. The fixture with France did little to silence those criticisms.
Fred was a static presence throughout the encounter and was, with the odd exception, fairly easily managed by the Les Bleus defence.
He is, though, an excellent finisher, placing ahead of what is fairly uninspiring competition for the shirt. He also provided what was a well-worked assist for Oscar's opening goal in the clash.
The Fluminense striker will never be universally accepted as the Selecao's No. 9, but there is a lack of a viable alternative at present.