Georgia Football: 5 Biggest Challenges for Mike Bobo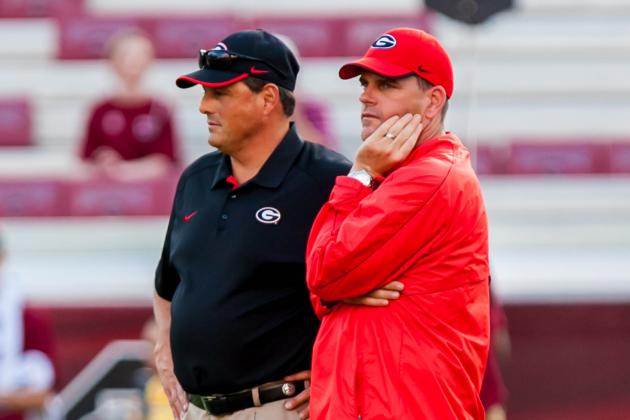 Jeff Blake-USA TODAY Sports

Georgia offensive coordinator Mike Bobo must feel like a kid in a toy store.
For the 2013 season, he has so many weapons to play with, there should be no reason the Bulldogs can't average close to 40 points per game.
When a coordinator has a lineup that features Aaron Murray, Todd Gurley, Keith Marshall, Malcolm Mitchell and Michael Bennett, he has to have a smile on his face every time he comes into work.
But it's not always that easy, and Bobo knows there will be challenges along the way, just like there is every season.
Here are the five biggest challenges Bobo must deal with this season.
Begin Slideshow

»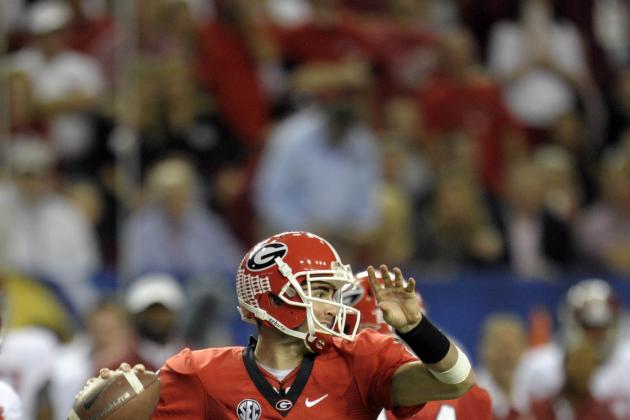 USA TODAY Sports

Murray is a veteran signal-caller who doesn't and shouldn't need the guidance of Bobo for each play.
With that said, Bobo has to make sure he puts Murray in the best position to make plays.
He has to make sure Murray is kept upright and doesn't turn the ball over consistently.
The one thing that could be added into this year's offense is more running plays for Murray.
That would not be a bad idea, but it's risky because Murray is the most important piece to the offense, so putting him in a position where he could get hurt is not something Bobo will do.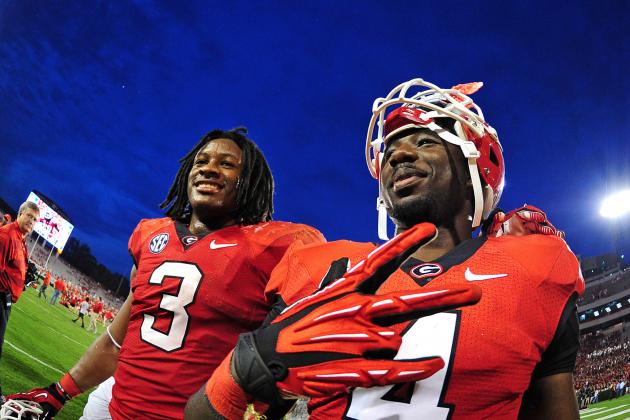 Scott Cunningham/Getty Images

Why would anyone want to have a quarterback running the ball when a team has running backs like Marshall and Gurley?
Both players are as talented as they come and should make even more of an impact this season.
The thing is Bobo has to make sure both players get their fair amount of snaps.
Gurley will get the bulk of the carries just like last season, but it's fair to say that Marshall deserves to be on the field more because of his speed and quickness.
Don't be surprised if you see Marshall and Gurley in the backfield at the same time just to add another wrinkle to the offense.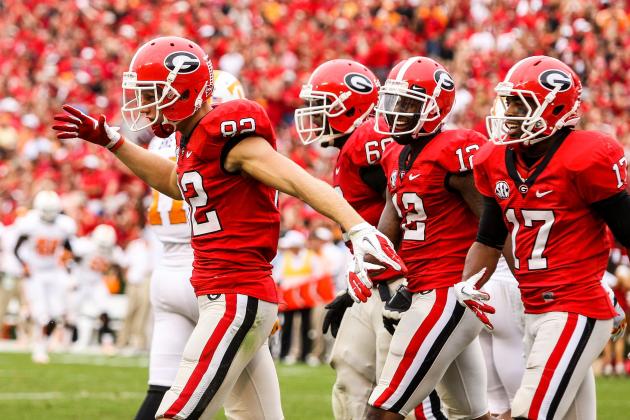 Daniel Shirey-USA TODAY Sports

The Bulldogs have a talented duo at wide receiver in Mitchell and Bennett.
However, we can't forget about the third wide receiver, Chris Conley, and tight ends Arthur Lynch and Jay Rome.
It will be a hard thing to do, but Bobo (as well as Murray) have to find a way to spread the wealth when it comes to the aerial attack.
Mitchell and Bennett are the best receivers the Bulldogs have, but Conley, Lynch and Rome can't be left in the cold.
The good thing about this is Murray has been good at spreading the football around the last two seasons. That can't change this year, and Bobo has to make sure it doesn't.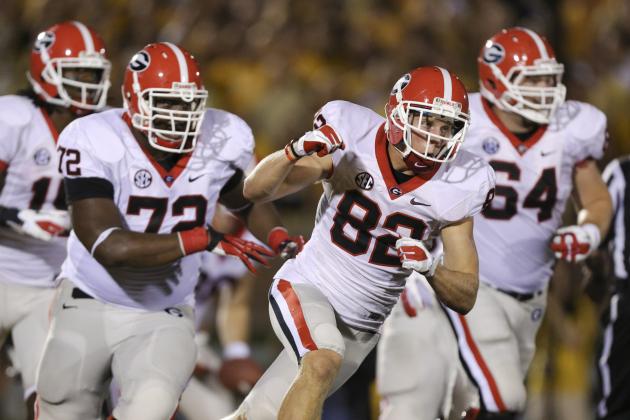 Ed Zurga/Getty Images

An interesting aspect to the offense this season is the personnel of the offensive line.
All five starters from last year return this season. But with two starters missing the majority or all of spring practices, Bobo got a chance to look at some of the younger offensive linemen such as Xavier Ward, Greg Pyke and Mark Beard, who saw some playing time toward the end of last season.
Odds are there won't be many changes to the offensive line because it was able to come together toward the end of the year. But if it struggles to start the season just like it did in 2012, don't be surprised if Bobo and offensive line coach Will Friend make some adjustments.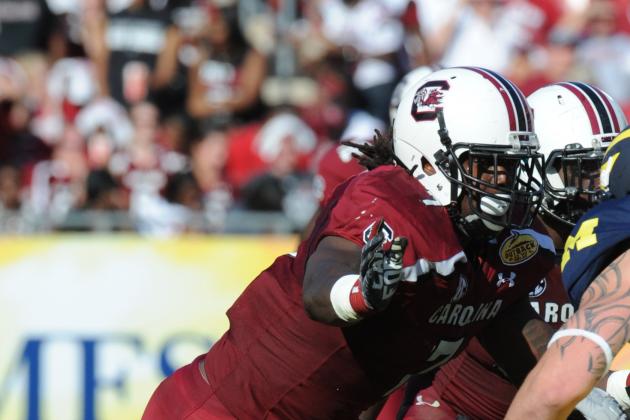 Al Messerschmidt/Getty Images

Speaking of early struggles, one of the teams that gave the Bulldogs those struggles last season was South Carolina.
Bobo's biggest challenge this year is to find a way to score on not only the Gamecocks but also LSU and Florida.
The Bulldogs scored only seven points against the Gamecocks last year, and the reason was the offensive line could not stop Jadeveon Clowney.
Georgia did not face LSU last season, but it knows what type of defense the Tigers bring. Despite only bringing back three starters and the inexperience of the defensive line, the Bulldogs know the Tigers will play great team defense under coordinator John Chavis.
The Florida game last year was an ugly one to say the least, but the Bulldogs found a way to win at the end. However, Bobo has to find a way to crack the Gators defense.
Like LSU, Florida has only three starters returning. But defensive lineman Dominique Easley and linebacker Antonio Morrison will help the Gators be a very aggressive front seven.