Pros and Cons of Jason Kidd Potentially Coaching Brooklyn Nets in 2013-14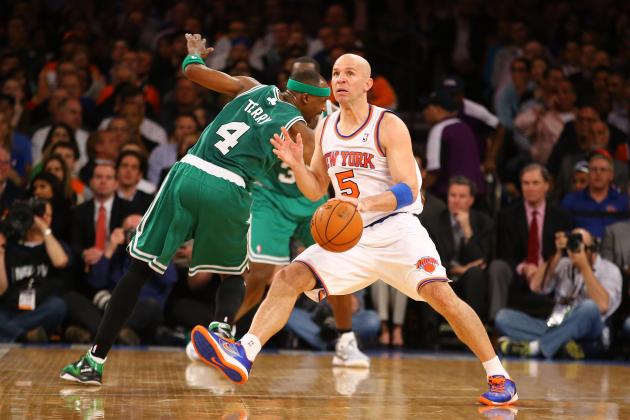 Al Bello/Getty Images

Jason Kidd is wasting no time getting back into the NBA. After announcing his retirement in early June, he's already looking to land the head coaching gig with the Brooklyn Nets.
Kidd, who spent six-and-a-half years as the point guard for the Nets back when they were in New Jersey, is looking to skip all of that pesky assistant coaching business and jump straight to the head chair on the sidelines.
Per a report from Yahoo! Sports' Adrian Wojnarowski, Kidd is already looking to put together a team of assistants to help him adjust quickly, and his candidacy is being discussed by Brooklyn's bigwigs.
According to ESPN, Kidd will meet with Nets general manager Billy King this week to discuss the possibility of taking the job.
There would obviously be many concerns surrounding Kidd, especially because he just retired from playing the game a few days prior to throwing his hat into the ring.
However, is it possible that he would work out well for the Nets, possibly giving them a leg up on their crosstown rivals, the New York Knicks, and the rest of the Eastern Conference?
Kidd's positives may just outweigh the negatives, but we'll have to look at each before we can really decide whether or not he would be right for the Nets job.
Begin Slideshow

»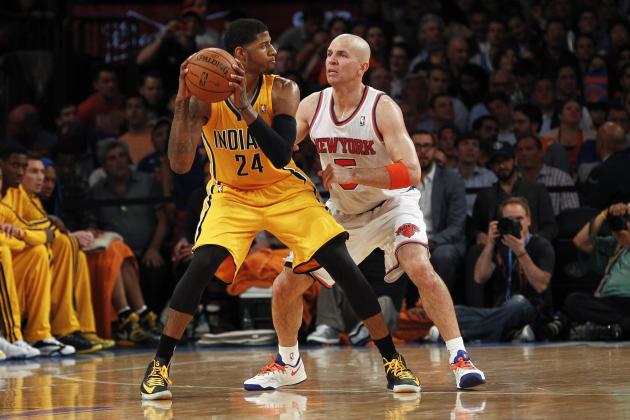 Jeff Zelevansky/Getty Images

It's one thing to step into the NBA as a rookie and contribute a bit here and there for your new team. However, going into a head coaching job without experience beforehand is like being expected to score 25 points per game as a rookie.
Not only is there immense pressure to succeed, but it's also a completely different scenario than playing the game.
It's almost unheard of for a guy to go straight from playing the game to being a head coach the next season; there's generally an in-between step.
Working as an assistant is almost like being an apprentice, acting as an understudy to a guy who knows what he's doing, or can at least pretend that he does.
It might be too big of a leap to make and too steep of a learning curve to handle for Kidd going straight into a head coaching gig.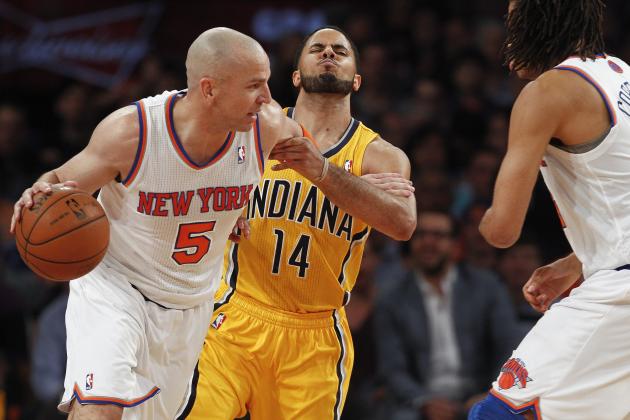 Jeff Zelevansky/Getty Images

While he is about as inexperienced regarding head coaching as you can get in a legitimate candidate, there is a reason why he's being seriously considered by the Brooklyn front office. Simply put, Kidd is one of the best basketball minds of his generation.
There's a reason why a moderately athletic point guard was able to hang around the league for 19 years. Kidd was simply brilliant.
He retired with the second-most assists of any player in the history of the game, along with the second-most steals and the third-most three-pointers.
What makes that last accomplishment so amazing is that he wasn't a solid threat from the three-point line until about 2005.
Kidd has shown not only a unique understanding for the game, but also the ability to adapt, learn and change into something he once wasn't.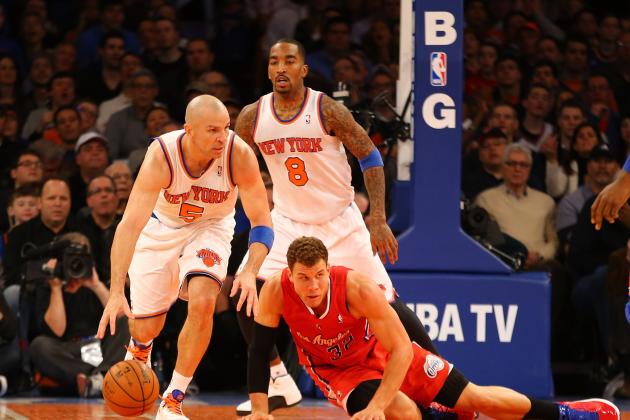 Al Bello/Getty Images

The Brooklyn job is one of the most sought after in the NBA, although it might be the one that ends up being the least admirable in the end.
Brooklyn's first season was a success simply because the team made the playoffs and won a bunch of games, but improvement is expected from here on out.
With pressure from the fans, media and front office to put an improved product on the court immediately, it might be a bad situation for Kidd to step into.
It would likely be the perfect scenario for him as an assistant coach. However, being the lightning rod for every bit of criticism could not only derail his first season as a head coach, but also his entire career.
Sam Greenwood/Getty Images

I'm not sure if you guys know this, but the Brooklyn Nets have a point guard who is supposed to be a franchise player. It just so happens that the guy who wants to take the team over was not only a point guard himself, but also one of the best in the history of the game.
Perhaps Kidd mentoring Deron Williams is exactly what the young fellow needs, especially considering his stumbles as of late.
Williams was once considered in line with Chris Paul as one of the best two point guards in the league, and this season, he failed to even make the All-Star Game.
He's found himself on the wrong track, so perhaps some guidance from Kidd would be perfect for him.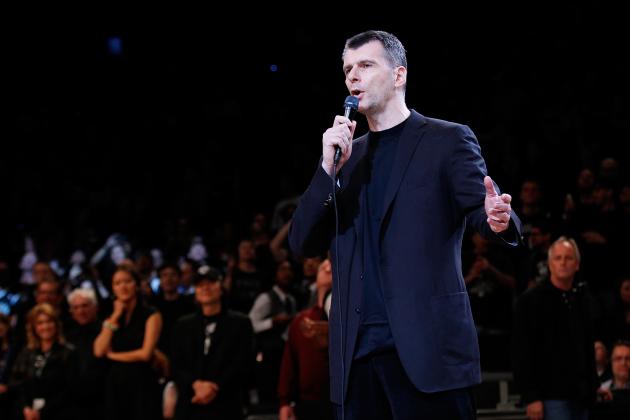 Mike Stobe/Getty Images

Brooklyn's head coach will be under fan and media scrutiny, but the biggest pressure might just be from the front office.
Whomever they hire will be the team's third head coach since moving to Brooklyn, as the Nets have been constantly looking for the perfect coach to fit their system. The only problem is that they don't really have a specific system, so there's no particular coach to look for.
Beyond that, the team has an extremely dire salary-cap situation, inundated with bad contracts, which has left it with very little room for change.
It's not an ideal situation for any head coach, let alone one who would be taking on his first coaching job at any level.
Elsa/Getty Images

There's something of a youth movement going on in the NBA these days, as younger coaches have become the trend and only the most respected older coaches have hung around.
Whether it's because of the changing style of play in today's league, or just the fact that they can get along with the players better, teams seem to be clamoring for young head coaches.
In fact, at 40, Kidd would be just the third-youngest coach in the NBA, ahead of Indiana Pacers head coach Frank Vogel and Orlando Magic head coach Jacque Vaughn.
It's a bit odd to talk about Kidd as a young guy, especially after making fun of the Knicks all year long for relying on old dudes so much, but he's definitely not the age you would think of when on the topic of head coaches.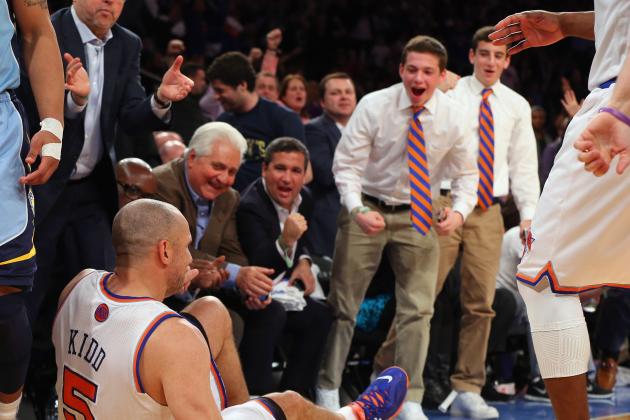 Bruce Bennett/Getty Images

The Brooklyn Nets have an image problem of sorts. It's not that they're viewed in a particularly negative light, but rather that they seem quite image-obsessed.
Last offseason, they did everything possible to put together a team full of recognizable players and ended up killing whatever cap space they had in the process.
The problem is that they're trying to make a splash in a city where the Knicks are the first basketball show in town, and anything else would be viewed as their little brother.
If Brooklyn is looking to hire Kidd simply to bring in fans and appease the guys who loved him when he was in New Jersey, then it's definitely the wrong decision to make.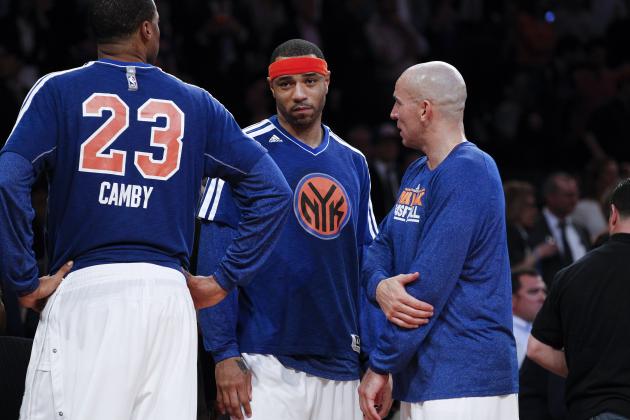 Jeff Zelevansky/Getty Images

If there is one player in the NBA you could have pointed to this season and thought, "This guy is going to be a great head coach one day," Jason Kidd is that guy.
His speed, athleticism, strength and skill had all nearly left his body, yet he was still able to register a decent season with the Knicks.
Kidd saw the floor like few players in NBA history ever have, leading to his huge assist numbers, and he understood the game from a defensive perspective that allowed him to be effective for most of his career.
In essence, Kidd spent his past three seasons (at least) as a coach on the court, calling plays, mentoring players and leading his team into battle.
Throughout his career, every team Kidd was traded to or signed with saw a marked improvement: The Dallas Mavericks ratcheted up by 23 wins in his rookie season, while the Phoenix Suns went 23-10 down the stretch after trading for Kidd.
New Jersey was 26-56 the season before signing him but ended up going to the NBA Finals the next year. Dallas still contended for championships, and the Knicks won their division for the first time since 1994.
He's an extremely smart man when it comes to basketball; there's got to be some coaching success to come that coincides with his on-court success.