Predicting the Carolina Panthers Depth Chart, Post OTAs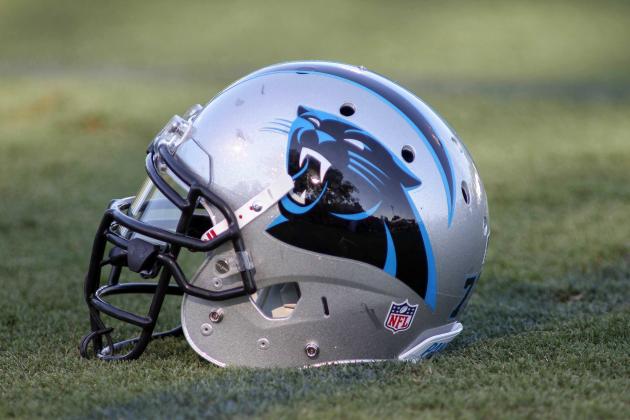 Jeremy Brevard-USA TODAY Sports

The Carolina Panthers have the OTAs behind them and their were many things learned during the three sessions. While some transactions have been made, the roster will not begin to take shape until later in the summer during training camp and the four weeks of preseason games.
Some positions, like quarterback and linebacker, look to be easy in terms of who will start and who will be backing them up. Others, like safety, are not so clear and will present interesting position battles from the start of camp until the final cut is made.
This time of the offseason is very challenging for players, especially those who were signed via free agency as a rookie or a journeyman veteran. Nothing in this league is guaranteed, and over the next three months players on both sides of the ball will be fighting for a spot on the final depth chart.
Two different sites were used in determining the projected depth chart. Those sites are ESPN.com and OurLads.com. Additionally, an earlier article predicting the final 53-man roster for the Panthers was used as well. Keep in mind this is a predicted depth chart for the Panthers and not absolute.
Begin Slideshow

»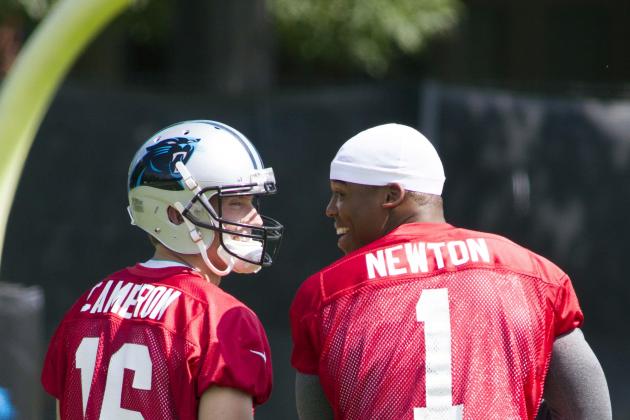 Jeremy Brevard-USA TODAY Sports

Starter: Cam Newton
Backup: Derek Anderson
3rd String/Inactive: Colby Cameron
This one is a no-brainer. Newton will be the starter and Anderson figures to back him up for a third consecutive season. The real question mark here is who will "win" the third quarterback slot on the depth chart and spend most of the season on the inactive roster?
Clausen hasn't done much to improve his stock and OTAs are not an effective measuring stick to gauge his progress. The only thing he has going for him is his experience, but if Cameron shows poise in the pocket and the ability to make good throws, Clausen could very well find his way out of a job.
It's Clausen's job to lose, but the Panthers need to know they have someone they can depend on in a pinch. Anderson won't be around forever and one of these two guys will most likely be the heir to back up Newton on Sundays.
The prediction here is Colby Cameron has a better preseason and beats out Jimmy Clausen in the final round of cuts.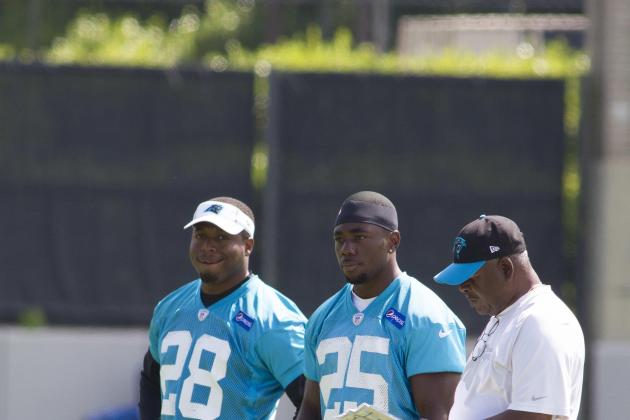 Jeremy Brevard-USA TODAY Sports

Starter: DeAngelo Williams
Backup: Jonathan Stewart
3rd String: Kenjon Barner
Although Williams and Stewart have been splitting carries since the latter was drafted in 2008, Williams has started 59 games out of 67 since the duo teamed up. There is no reason to think that strategy will change in 2013. Double Trouble will make up the majority of the Carolina rushing game, but the guys behind them could provide some interesting competition during camp.
Armond Smith figures to have a leg up on the competition having appeared in a few games toward the end of last season. However, Tauren Poole looked good in last year's camp and during the preseason games in which he appeared.
The position battle could ultimately come down to a three-man race between the young running backs. Poole could be the odd man out as Smith and Barner each possess the ability to play special teams.
Barner impressed at Oregon and the Panthers will hope the rookie brings his explosiveness to their kick-return team. If he impresses early on, Barner could see his career start primarily as a return specialist.
All three of these young running backs have a lot of talent, but Barner will most likely land on the final roster with Smith and possibly Poole headed to the scout team.
Jeremy Brevard-USA TODAY Sports

Starter: Mike Tolbert
Backup: Richie Brockel
This is really quite obvious, as Tolbert will return as the starter in 2013. He will be counted on to have a big season and if he can score the way he did at the end of last season, he will make the Carolina red zone offense a little more dangerous.
The big question: Who will back him up on the depth chart?
Brockel has an edge, as he is familiar with the team and the offense. His only real competition comes in the form of Michael Zordich. The fullback from Penn State was signed as an undrafted free agent and will be entering camp trying to secure a spot on the roster.
While there won't be too many paying attention to this particular position battle, it should. The guys at this position will be tasked with blocking for the running backs and making plays of their own when called upon.
Brockel has proven what he is capable of doing, but a strong showing by Zordich could make the Carolina coaching staff's decision more difficult.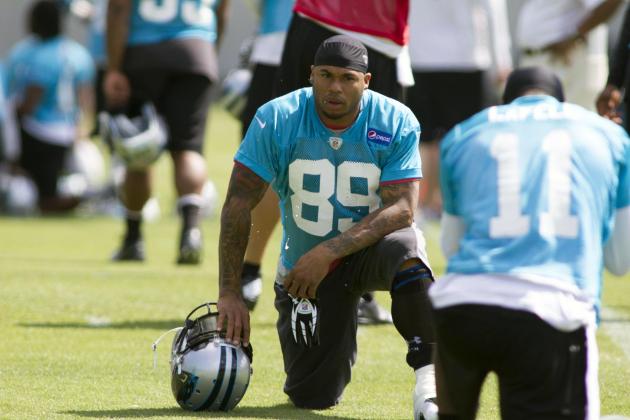 Jeremy Brevard-USA TODAY Sports

Starters: Steve Smith and Brandon LaFell
Backups: Domenik Hixon, Ted Ginn, Jr., David Gettis, & Joe Adams
The starters at wide receiver look to be set, although LaFell could be challenged in camp by Hixon. The Panthers will most likely carry six receivers, making the battles to make the roster all that more important and competitive.
Smith will need a lot of help from his fellow receivers if he is to have a great year and help move the offense forward. LaFell has shown flashes and Hixon looks to be promising. However, there is a lot of work to be done by Ginn, Gettis and Adams.
Ginn has never really factored into an offense's plans and could spend more time on special teams. Gettis had a promising rookie season and then dealt with injuries over the past two years. Adams is still trying to find a foothold on special teams, but could edge out Armanti Edwards and Kealoha Pilares for the sixth and final receiver slot.
However, Edwards has shown marked improvement during OTAs and could push for one of the remaining receiver spots on the roster. It's still early, so it would be unwise to put too much stock into the successes or failures of the OTA workouts.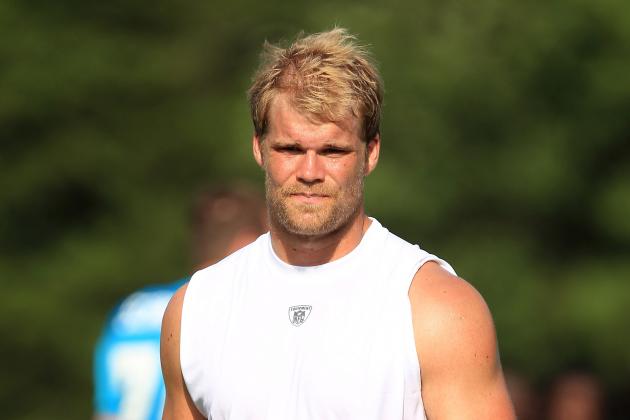 Streeter Lecka/Getty Images

Starter: Greg Olsen
Backup: Ben Hartsock
Olsen had a great season in 2012 by setting career highs in receptions and receiving yards. He has been a good bet for at least five touchdowns since 2008. While he has proven himself as a capable receiving tight end, it would be comforting for the Panthers to know he has a solid backup behind him.
Hartsock should beat out a field that includes Nelson Rosario and Brandon Williams.
According to Carolina beat writer Joe Person's Twitter page, Hartsock has been doing some good things during OTAs.
@gregolsen82 I saw @ben_hartsock get some YACs the other day.

— Joe Person (@josephperson) June 8, 2013
Hartsock has been around the league over a the past decade and he will enter his second season with the Panthers. Rosario has one year of experience but he has yet to appear in any games. The one thing going for him will be his youth. Williams may already be behind the eight ball as he had his knee scoped last week.
Agent for #Panthers TE Brandon Williams says Williams underwent minor knee scope last week; will be out about 3 wks. Back for training camp.
— Joe Person (@josephperson) June 3, 2013
There is no doubt he will be ready for training camp but one has to look at any preseason surgery with a little skepticism. He may not be at 100 percent when the preseason begins, and while the procedure is minor, it could be a setback.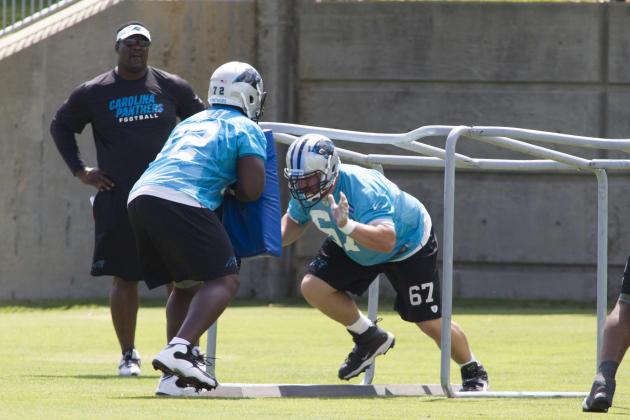 Jeremy Brevard-USA TODAY Sports

Starter: Ryan Kalil
Backup: Jeff Byers
The competition doesn't seem to be that deep at center with Kalil returning from last year's injury to start at center. Byers will be competing with Brian Folkerts for the backup job, but considering the edge Byers has over the offseason acquisition, the battle should be a no-contest.
While the Panthers will most likely carry two centers on the roster, they will have depth in the form of Geoff Hangartner, who has experience starting at center. Hopefully it won't come down to that, but if the injury bug rears its ugly head this year, that scenario could very well play out.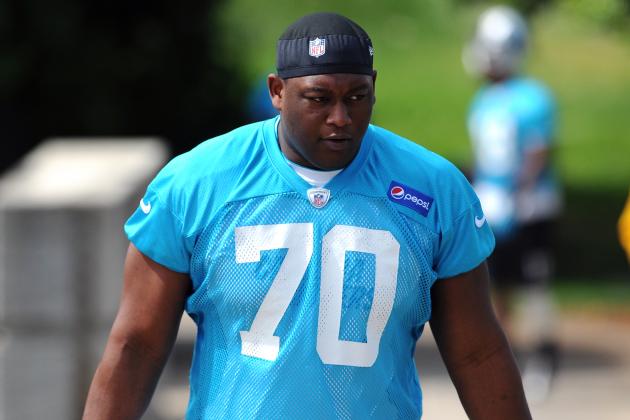 Lance King/Getty Images

Starters: Geoff Hangartner & Amini Silatolu
Backups: Edmund Kugbila & Garry Williams
If the offense's backfield is to get anything accomplished this year, it will be due to having quality guards protecting the quarterback and opening up running lanes. There is no reason to believe Hangartner or Silatolu are in danger of losing their status as starters, but some healthy competition during camp could change the face of the offensive line.
Williams returns this season and looks to be a decent backup, but could benefit from some additional coaching. Kugbila was a surprise pick in this year's draft based on the round he was selected in, but he left quite an impression on the coaching staff.
Aiding in the rookie's development has been veteran center Ryan Kalil, who has told Kugbila to continue working hard and take in as many mental reps as possible. For the time being the big lineman from Valdosta State is working with the second string offense, but that could change if he has a good camp.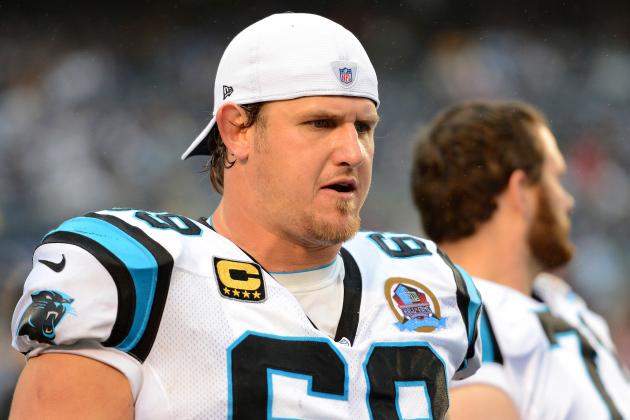 Jake Roth-USA TODAY Sports

Starters: Jordan Gross & Byron Bell
Backups: Bruce Campbell & Thomas Austin
The Carolina Panthers may be a young team overall, but they have the benefit of two veteran leaders on the offensive line. Center Ryan Kalil is one of them and the other is tackle Jordan Gross. While age and injuries may be catching up with them, they are still valuable pieces to an offense that looks to be explosive in 2013.
Gross will be depended on to hold down the left side and protect Cam Newton's blind side. The goal for the Carolina coaching staff is to make sure Newton doesn't have to scramble as much in his third year, and a lot of that will be determined by the effectiveness of the tackles.
Bell could be thrust into a position battle as he seemed a bit overwhelmed last year. He is still capable of holding down the right tackle position, but could face opposition from Campbell and Austin. Another candidate to watch out for could be Edmund Kugbila. The rookie is versatile enough to play the tackle position and could improve his chances of starting if he shows enough in camp.
Needless to say, there will be some interesting storylines to watch during camp and the August preseason games. There could be some new blood mixed in with the old on the offensive line.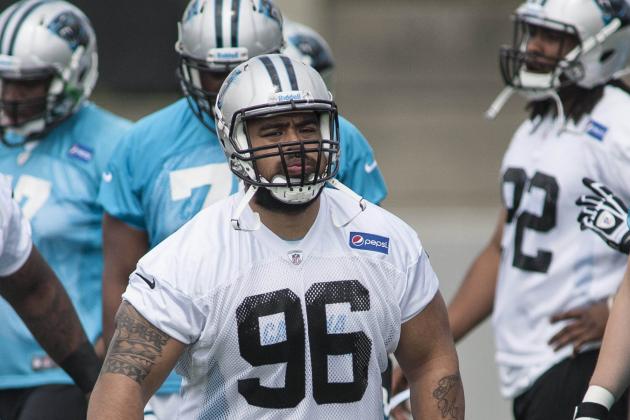 Jeremy Brevard-USA TODAY Sports

Starters: Star Lotulelei & Dwan Edwards/Kawann Short (rotation)
Backups: Colin Cole, Sione Fua & Nate Chandler
The D-line should be the reason the Panthers field one of the best defenses in 2013. While Lotulelei may have been the best defensive tackle taken in the draft, Short has enough upside to have warranted a first-round selection himself. Both will be counted on to not only pressure the quarterback but to stop opposing running games.
Dwan Edwards will look to build upon last year's breakout season. Having him in a rotation with Short could give the Panthers an effective interior that is not only talented, but fresh every series.
The Panthers will have a good veteran presence in Cole, who came over from the Seattle Seahawks. Chandler will also enter his second season following a rookie campaign that saw him appear in 10 games. Fua is experienced and has shown flashes of his potential during his first three years in the league.
Carolina will have a deep pool of players at defensive tackle and the defense as a whole should be dramatically improved because of it.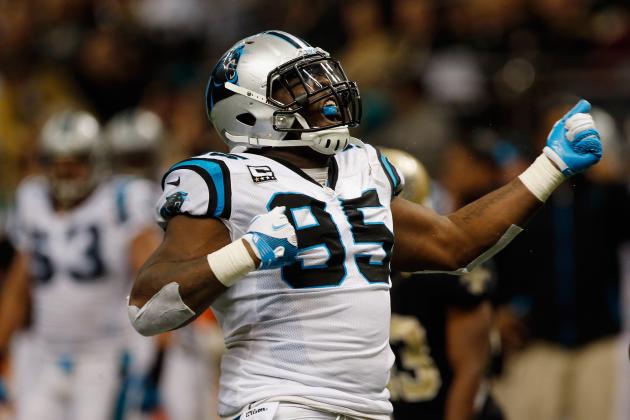 Chris Graythen/Getty Images

Starters: Charles Johnson & Greg Hardy
Backups: Frank Alexander & Mario Addison
If the defensive tackles are to be the strength of the defensive line, the pass-rushers off the edge are the bread and butter of Sean McDermott's defense. Both Johnson and Hardy proved to be cogs in the Carolina defense last year. With the vast upgrades up front they should continue to build upon their recent dominance.
Behind this duo will be Alexander, who has a lot of big-play potential himself and could possibly see a few more reps during games. Addison is with his third team in as many years and will look to stick with the Panthers. He hasn't done too much while on the field, but did record his first career sack as a member of the Panthers.
Johnson and Hardy both have locks on the starting jobs, but the position battle behind Alexander should be interesting to watch. While Addison is projected to move forward, he could face stiff competition from Michigan's Craig Roh. The rookie was signed as an undrafted free agent and could push Addison, and perhaps Alexander, to play at a higher level.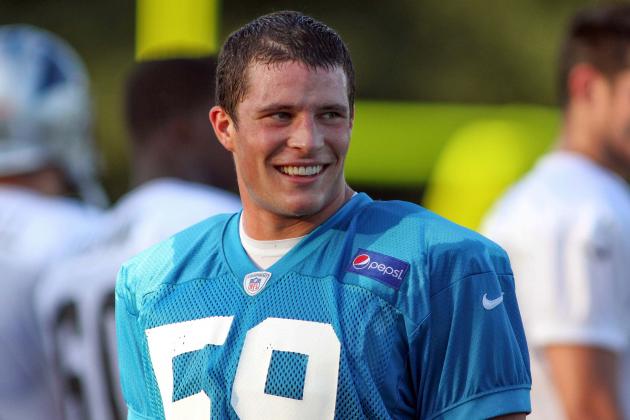 Jeremy Brevard-USA TODAY Sports

Starter: Luke Kuechly
Backup: Chase Blackburn
If all goes well, Kuechly will have another great year after earning Defensive Rookie of the Year honors last season. He will receive a boost from the linebackers playing next to him. However, his nose for the ball and his motor will be needed if the defense is going to be as dangerous as they are predicted to be.
Backing him up will be Chase Blackburn, who was brought over from the New York Giants. Blackburn is an exceptional linebacker and can even play the outside. He has 113 games under his belt and 2012 was probably his best; he recorded 98 tackles.
Last year, middle linebacker was a strength. Despite a couple of setbacks, it remained as such and became stronger this offseason.
Jeremy Brevard-USA TODAY Sports

Starters: Jon Beason (WLB) & Thomas Davis (SLB)
Backups: A.J. Klein & Jordan Senn
Anyone who has followed the Carolina Panthers over the past few years knows just how good Jon Beason and Thomas Davis can be when on the field. Those same people also know that they both have a bit of an injury history.
Beason has appeared in five games over the last two seasons and Davis finally appeared in a full season after missing a number of games between 2009-11. However, Davis not only played a full season, he turned in a big year.
He made a case for Comeback Player of the Year after logging 105 tackles and laying down some jarring hits on anyone with the ball.
It is scary to think that if these two are called upon to blitz the quarterback, Beason will be on the heels of Greg Hardy while Davis will be making Charles Johnson look even more ominous.
The guys on second string aren't slouches either.
Klein has a lot of attributes that are similar to Luke Kuechly. He has a never-ending motor and a great work ethic. He even has a leadership quality about him as well and has proven to be an outstanding linebacker.
Jordan Senn is more of a special teams player but he has been known to make a play or two on defense. He experienced a down year last season from 2011, but the potential to repeat that success is still very much alive.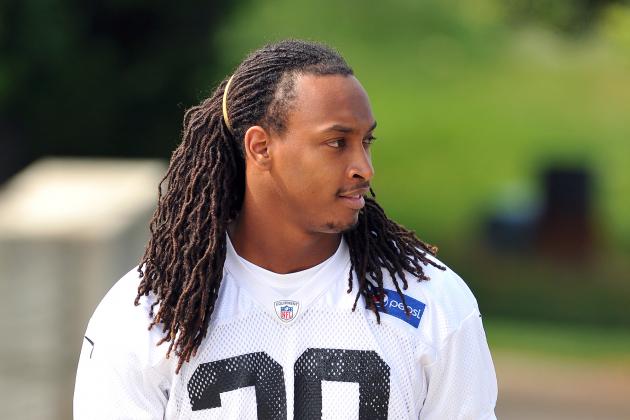 Lance King/Getty Images

Starters: Robert Lester (SS) & Charles Godfrey (FS)
Backups: Mike Mitchell & Colin Jones
As far as bold predictions go, this is by far the boldest. Robert Lester will surprise and be a starter on the defense. At the worst, he is a backup but will be groomed into a starter over the course of the next couple of years. It seems a bit irrational to predict someone who was signed as an undrafted rookie to make such an immediate impact but Lester is as good as anyone on the roster.
Unfortunately, he was overshadowed by a ridiculously deep secondary while at Alabama.
Starting opposite of him will be Charles Godfrey. The six year veteran experienced a regression of sorts as he only had 69 tackles but, was able to pick off two passes. He returned one of them for a touchdown.
Offseason acquisitions Mike Mitchell and Colin Jones will be backing them up but will have be doing so after a close position battle. Mitchell, Jones and Lester should push each other and all of them look to create one epic competition in camp.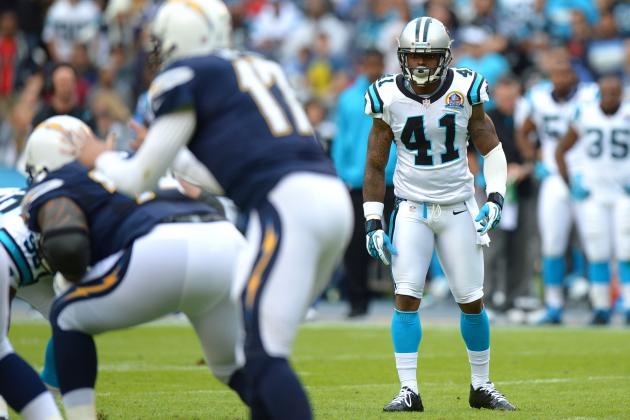 Jake Roth-USA TODAY Sports

Starters: Captain Munnerlyn & Josh Norman
Backups: Josh Thomas, Drayton Florence & D.J. Moore
The cornerbacks who started the majority of last year's games will return in 2013. However, the competition will be fierce on both sides. Captain Munnerlyn may be wrapping up his time in Carolina and will hope for a great year before entering the free agent market once again. Josh Norman showed some promise last season and should continue to grow as one of the team's cornerbacks of the future.
Josh Thomas, Drayton Florence and D.J. Moore will have narrowly beat the likes of Melvin White and James Dockery for the back up positions. However, Melvin has looked good so far and could be assigned to the scout team if he clears waivers.
While the entire secondary will need to step up, the cornerbacks will need to keep their assignments in check and not get beat deep. If the pass rush is as good as advertised, that shouldn't be a problem.
USA TODAY Sports

Starter: Graham Gano
Gano will only have to worry about beating Morgan Lineberry during camp this summer. Lineberry has a strong leg but, Gano has the edge as far as experience goes. However, Gano needs to keep in mind that a streak of inconsistent kicks could result in him being shown the door.
It has happened once and Ron Rivera has shown that he is not afraid to go that down that road.
Carolina needs a strong kicking game as having a clutch kicker on their team will most likely keep them in a lot of games. The Panthers have struggled at this position the past couple of seasons so it would be a nice change of pace to see a Carolina kicker enjoy more successes than endure a multitude of failures.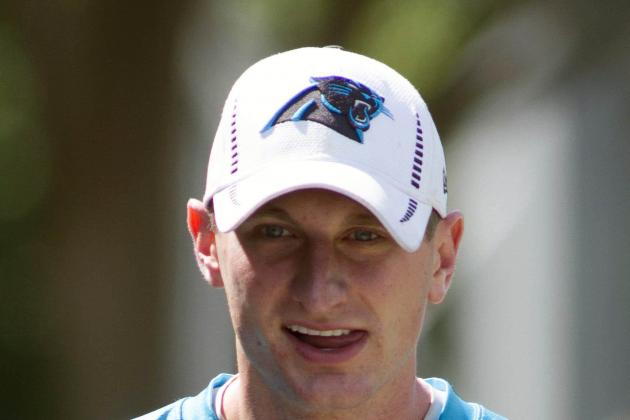 Jeremy Brevard-USA TODAY Sports

Starter: Brad Nortman
Much like Graham Gano, Nortman will not have to worry about too much competition during camp. That is not to say he is off the hook. The Panthers will bring two kickers and two punters into camp with them this year and Nortman will be squaring off against Jordan Gay.
If all goes well, Nortman should lock up the punter gig relatively fast. He will need to improve upon last year's numbers though. He wasn't bad but there were a few punts that many would like to see him take back as they failed to go far.
Nortman will be needed to pin opposing offenses deep inside their own territory and create a lot of space between their starting point and the end zone.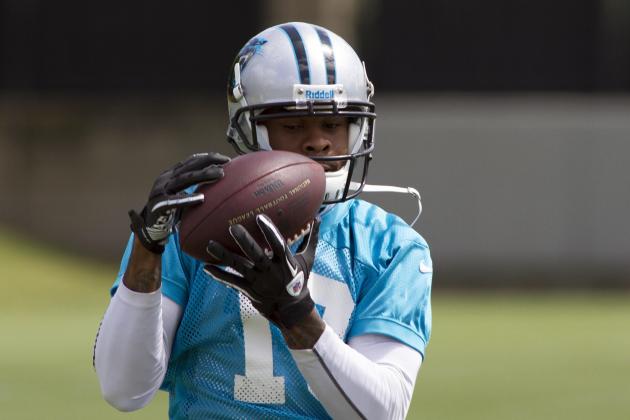 Jeremy Brevard-USA TODAY Sports

Kick Returners: Ted Ginn, Jr. & Kenjon Barner
Punt Returner: Ted Ginn, Jr.
As noted in the wide receiver slide, Ginn should see a lot of action in the return game. It is not unrealistic to think he wins both return jobs over Joe Adams. So far, Ginn has been impressive in OTAs and has shown a lot of good things to the Carolina coaching staff.
Adams has been dealing with a little bit of the same things that cost him the return duties last year. It was reported by the Charlotte Observers Joe Person that Adams had fumbled the ball twice during punt return drills. As of now, it appears that Ginn has the inside track.
Joe Adams drops 2 punts in a row. Caromed off his chest.

— Joe Person (@josephperson) June 6, 2013
Kenjon Barner should be joining Ginn on the kick return team and could give the Panthers a dangerous duo on that particular unit. Barner put together some impressive returns while at Oregon and seems to be adjusting to the quick pace of the NFL game.
Carolina needs a boost in the return game and Ginn and Barner could be the proverbial shots in the arm the team needs to get moving in the right direction.