Predicting San Diego Chargers' Depth Chart, Post OTAs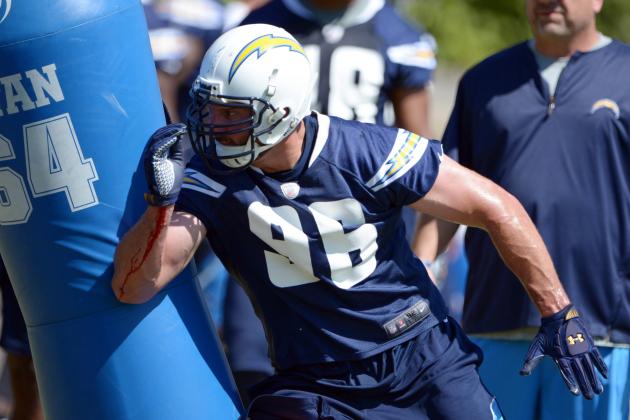 USA TODAY Sports

OTAs have come and gone for the San Diego Chargers, and the team prepares to enter mandatory minicamp on Wednesday. The roster has undergone some changes with news of several free-agent acquisitions and a possible season-ending injury, so here are some predictions for the post-OTAs depth chart.
OTAs also brought new storylines to the Chargers' roster, and those have been included as well.
Begin Slideshow

»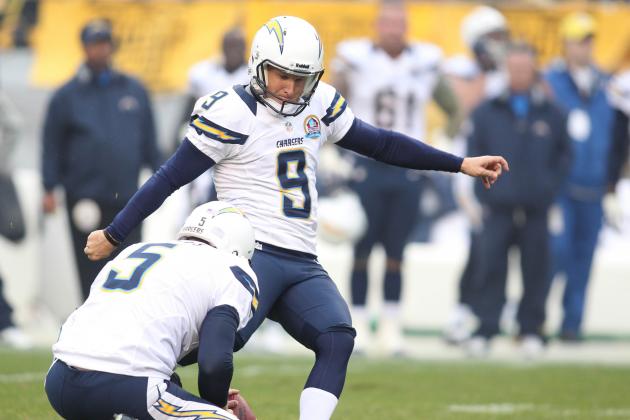 USA TODAY Sports

Kicker
1. Nick Novak
Punter
1. Mike Scifres
Long Snapper
1. Mike Windt
Post-OTAs Analysis: The Chargers will return a fairly strong special teams unit in 2013. Both Mike Scifres and Nick Novak are capable of getting the job done at their respective positions. Novak will have to make good on that brand new contract.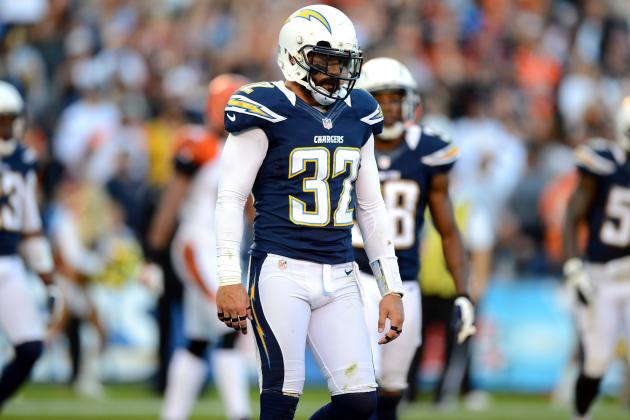 Jake Roth-USA TODAY Sports

Starter
1. Eric Weddle
Reserves
2. Darrell Stuckey
Post-OTAs Analysis: Eric Weddle has been forced to adapt to a new secondary right out of the gate. During OTAs, Weddle was joined with a combination of Marcus Gilchrist and Darrell Stuckey in the defensive backfield.
Brandon Taylor will likely join that group as well, meaning Weddle will have to play coach on the field this season—a role he doesn't mind playing, according to Gilchrist.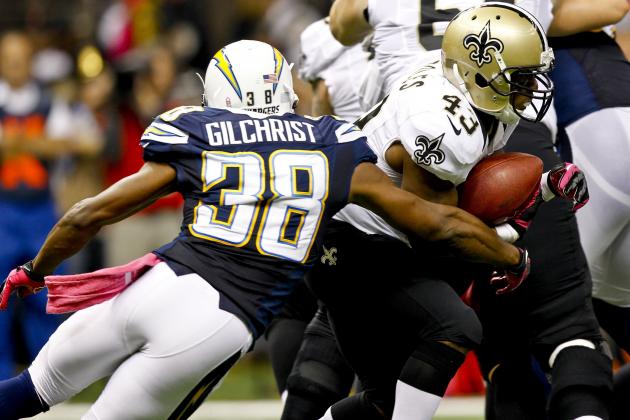 Derick E. Hingle-USA TODAY Sports

Starter
1. Marcus Gilchrist
Reserves
2. Brandon Taylor
Post-OTAs Analysis: One of the more competitive position battles that should take place in training camp is at strong safety.
Marcus Gilchrist took reps alongside Eric Weddle in OTAs, but it's not confirmed yet if he'll be the starter moving forward. Chargers.com managing editor Ricky Henne reported that Gilchrist worked both at strong safety and in the slot corner during drills. Henne also noted that Darrell Stuckey got in some time at strong safety.
If healthy, Brandon Taylor should be the competition to Gilchrist during training camp. The former third-round pick of the Chargers in 2012 has been working to recover from his ACL injury last season.
Christopher Hanewinckel-US PRESS

Starters
1. Derek Cox
2. Shareece Wright
Reserves
3. Steve Williams
4. Johnny Patrick
Post-OTAs Analysis: The Chargers lost both of their starting corners to free agency in the offseason but managed to replace one of the openings with former Jacksonville Jaguar Derek Cox. Finding the second starter appeared to be the more difficult task for the team, but the coaching staff is entrusting that open spot to third-year man Shareece Wright.
It's a possibility that Marcus Gilchrist could return to the slot corner in the nickel, but the team's fifth-round draft choice of Steve Williams is a candidate to work that position as well.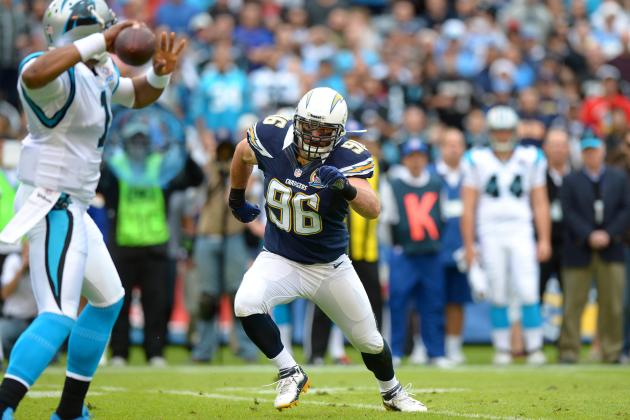 Jake Roth-USA TODAY Sports

Starters
1. Dwight Freeney
2. Jarret Johnson
Reserves
3. Larry English
4. Thomas Keiser
Post-OTAs Analysis: OTAs were not kind to San Diego's defense, as Melvin Ingram fell victim to an ACL injury. The consensus is that Ingram will miss the 2013 season, but there's a slight chance he could return late in the year.
The Chargers' front office, however, made absolutely sure the defense had a sufficient replacement for Ingram with the signing of former Indianapolis Colt Dwight Freeney.
Chargers.com's Ryan Schuler reported that Freeney admitted his first day of OTAs with the Chargers was "like the first day of kindergarten," but the 12-year veteran will eventually feel at home with his new team.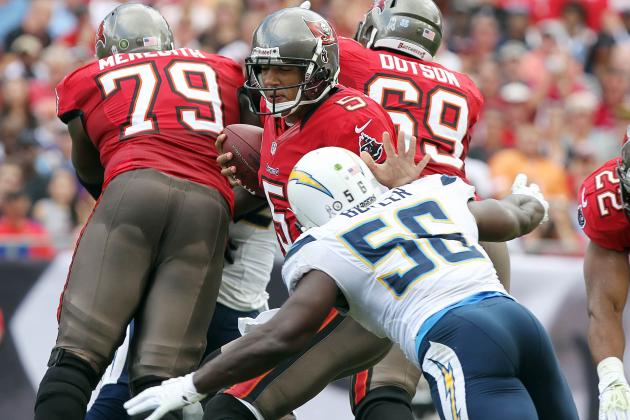 Kim Klement-USA TODAY Sports

Starters
1. Donald Butler
2. Manti Te'o
Reserves
3. D.J. Smith
4. Jonas Mouton
Post-OTAs Analysis: Even though Manti Te'o has been off-limits to the media for a good chunk of OTAs, that doesn't mean he hasn't been working his butt off. Te'o's work ethic has been received positively by teammates as well, which may indicate his past isn't an issue in the Chargers' locker room.
San Diego already has a stud in Donald Butler at middle linebacker. Now, they just need Te'o to follow suit.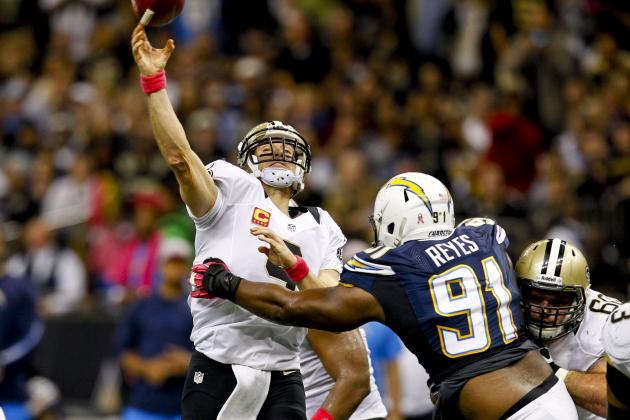 Derick E. Hingle-USA TODAY Sports

Starters
1. Corey Liuget
2. Kendall Reyes
Reserves
3. Jarius Wynn
4. Damik Scafe
Post-OTAs Analysis: U-T San Diego's Michael Gehlken witnessed an added explosiveness to Corey Liuget's game during OTAs. He and Kendall Reyes are both expected to have breakout years on the defensive line, but Liuget could be the X-factor in San Diego's pass rush this season after a vast improvement in his second year last season.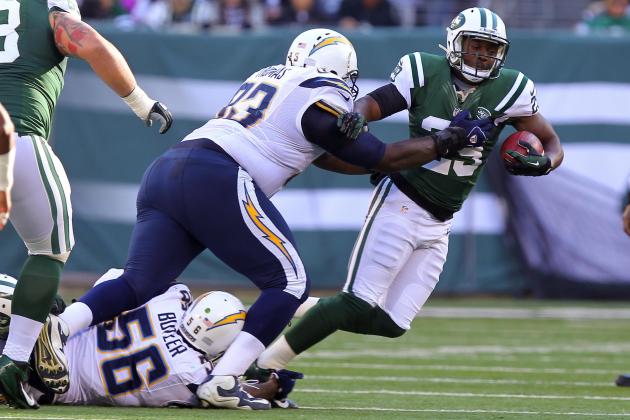 Ed Mulholland-USA TODAY Sports

Starter
1. Cam Thomas
Reserves
2. Kwame Geathers
3. Byron Jerideau
Post-OTAs Analysis: Cam Thomas is ready to assume a leadership role, according to Ricky Henne of Chargers.com.
After losing both veteran defensive tackles in the offseason, the Chargers plan to give Thomas the starting job in his fourth year. Behind Thomas, the team will have to add depth, possibly by keeping undrafted free-agent rookies Kwame Geathers and Byron Jerideau.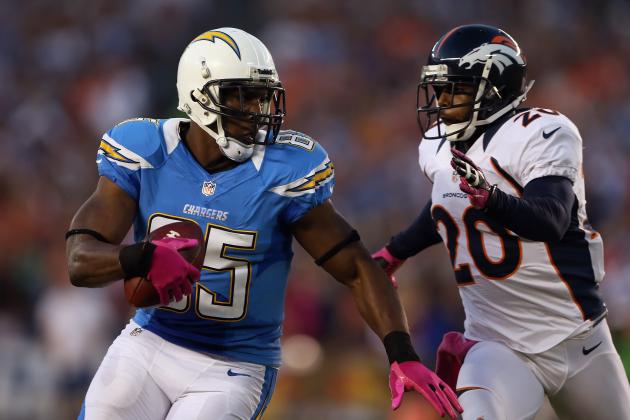 Jeff Gross/Getty Images

Starter
1. Antonio Gates
Reserves
2. John Phillips
3. Ladarius Green
Post-OTAs Analysis: Antonio Gates will, without a doubt, be the team's starting tight end in 2013, but the roles of John Phillips and Ladarius Green are still a bit hazy.
Phillips will likely fill the role of a blocking tight end, but where does that leave Green?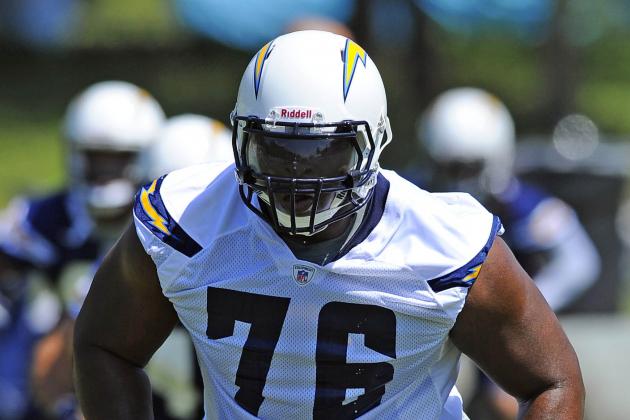 Christopher Hanewinckel-USA TODAY Sports

Starter
1. D.J. Fluker
Reserve
2. Michael Harris
Post-OTAs Analysis: D.J. Fluker has been pretty tough on himself, givingg himself a C-plus during OTAs, but he's getting there.
The 2013 first-round pick, however, is no slouch in being a vocal leader on the field. At this point, there's really no reason to panic, as Fluker is still adjusting to a new environment.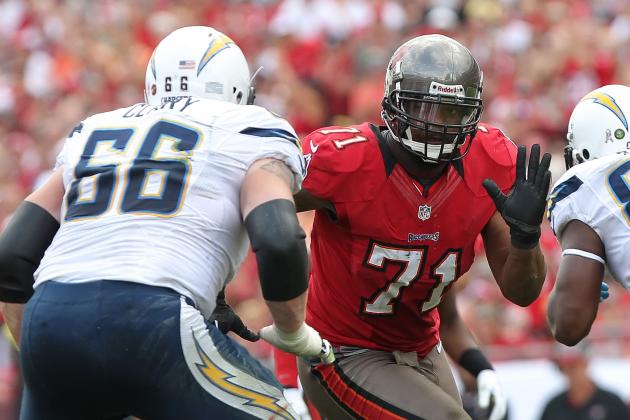 Kim Klement-USA TODAY Sports

Starter
1. Jeromey Clary
Reserve
2. Johnnie Troutman
Post-OTAs Analysis: The move to guard seems to be going swimmingly for Jeromey Clary, according to Kevin Acee of U-T San Diego.
What Clary lacks in experience at the guard position he makes up for in experience in San Diego's O-line. This move may be a blessing in disguise for the former troubled right tackle.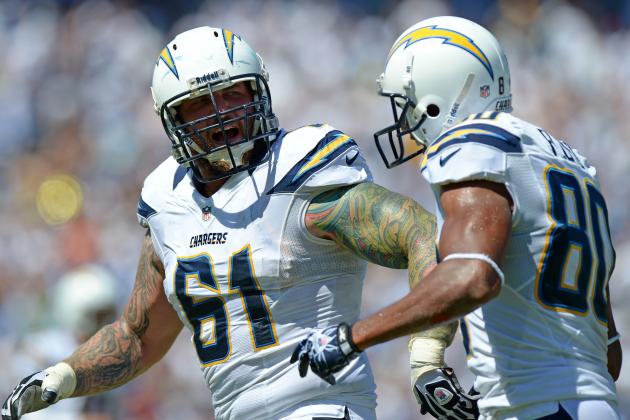 Jake Roth-USA TODAY Sports

Starter
1. Nick Hardwick
Reserve
2. Colin Baxter
3. David Molk
Post-OTAs Analysis: ESPN blogger Bill Williamson believes Nick Hardwick is among the top 10 offensive lineman in the AFC West. Hardwick will be the glue that holds this line together, and he'll also be the guy giving advice to his new teammates on either side of him at left and right guard.
Hardwick will be especially vital to the development of Jeromey Clary as he fits into his new position.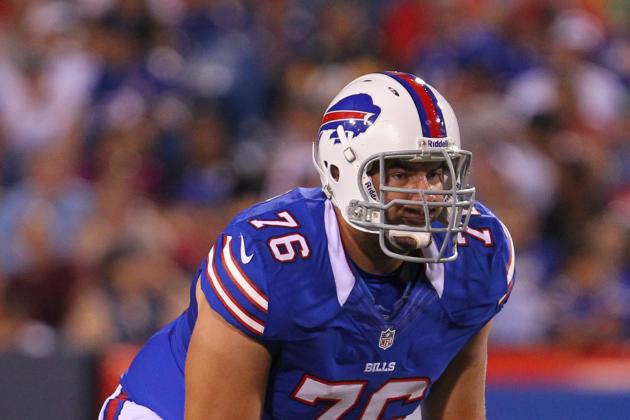 Timothy T. Ludwig-USA TODAY Sports

Starter
1. Chad Rinehart
Reserve
2. Rich Ohrnberger
Post-OTAs Analysis: The Chargers upgraded the left guard position in the offseason with the additions of Chad Rinehart and Rich Ohrnberger. Both veterans are a step up from Tyronne Green last season.
In case the Jeromey Clary experiment fails at right guard, the Chargers have a second option in either Rinehart or Ohrnberger.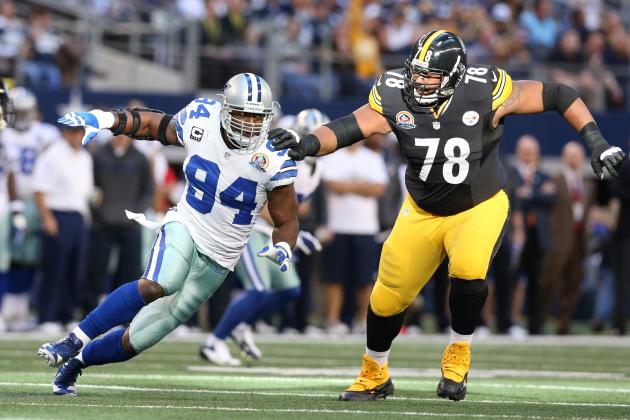 USA TODAY Sports

Starter
1. Max Starks
Reserve
2. King Dunlap
Post-OTAs Analysis: Philip Rivers is excited about the arrival of Max Starks, and as Lindsay H. Jones of USA Today reported, there's some familiarity between the two.
Protecting Rivers has been priority No. 1 since the offseason began, and the front office delivered with the signing of Starks despite a tight salary cap.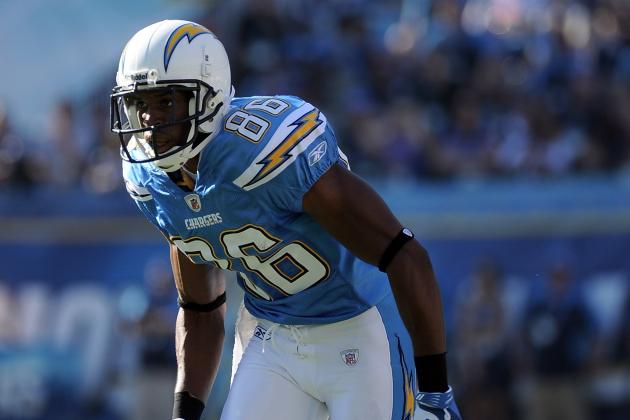 Harry How/Getty Images

Starters
1. Danario Alexander
2. Malcom Floyd
Reserves
3. Eddie Royal (slot)
4. Vincent Brown
5. Keenan Allen
6. Robert Meachem
Post-OTAs Analysis: The Chargers' receivers unit is an exceptional one this season. There seems to be the perfect balance of veteran experience and youth among this group.
Probably the most anticipated player to watch this season will be Vincent Brown as he makes his return after missing the entire 2012 season. So far in OTAs, Brown is already getting work in with the starters.
There is, however, some hot-seat buzz going around with Eddie Royal and Robert Meachem. Both players had bust seasons last year, and that could be a problem for the new regime in San Diego.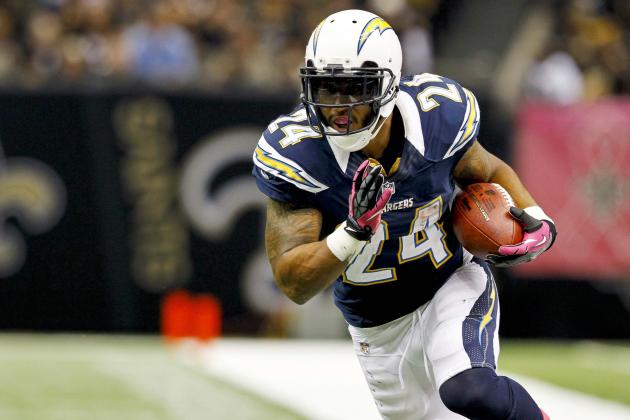 Derick E. Hingle-USA TODAY Sports

Starters
1. Ryan Mathews
1. Le'Ron McClain (fullback)
Reserves
2. Danny Woodhead
3. Ronnie Brown
4. Edwin Baker
Post-OTAs Analysis: The pressure to deliver in 2013 has become ever so critical for Ryan Mathews in his fourth year. Last week, Mathews was named one of 10 players who need to step up next season by NFL.com analyst Bucky Brooks.
Mathews will have every opportunity to prove himself as a featured back, but the presence of Danny Woodhead allows the offense to go in other directions if need be.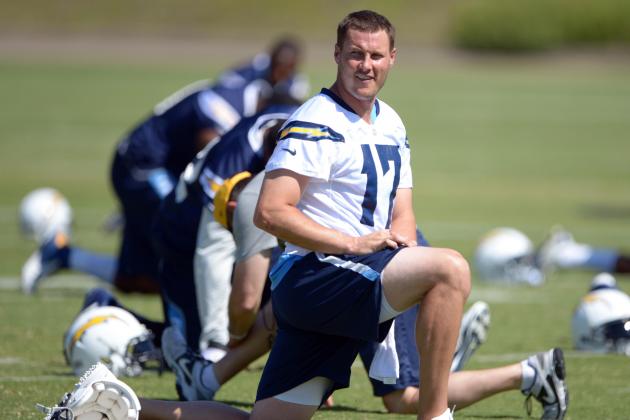 USA TODAY Sports

Starter
1. Philip Rivers
Reserve
2. Charlie Whitehurst
Post-OTAs Analysis: The Chargers' offensive coordinator Ken Wisenhunt told NFL.com's Ian Rapoport that he believes Philip Rivers can return to Pro-Bowl form. The word from OTAs is that Rivers has been adjusting accordingly to the new offense, drawing positive reviews from coaches, as reported by Rapoport.
Wisenhunt went so far as to compare Rivers' accuracy to that of Kurt Warner in his prime.
With such lofty compliments so early, it's hard not to believe that Rivers will get his groove back.