Biggest Factors Determining San Antonio Spurs-Miami Heat 2013 Finals
The San Antonio Spurs have adopted an "Anyone but LeBron" strategy throughout the 2013 NBA Finals.
Pool/Getty Images
If you're to believe Miami Heat coach Erik Spoelstra, the 2013 NBA Finals will be determined by all the small things.
What does that mean, exactly? Whichever team dives after more loose balls, generates more turnovers and pays more heed to defensive rotations is likely to emerge as NBA champion.
In other words, the Heat and the San Antonio Spurs are two evenly matched teams. Neither team will overwhelm the other based on talent alone, despite what the blowouts in Games 2 and 3 might otherwise suggest.
In a series like the 2013 Finals, game-to-game adjustments take on that much more importance. It's an ongoing battle to find an advantage that's exploitable across the series.
Through three games, a few trends have bubbled to the surface more so than any other. And it all begins with the league's reigning MVP, LeBron James.
Note: All statistics are current through Game 3 of the Finals. All advanced statistics come from either Basketball-Reference or NBA.com/stats, unless otherwise noted.
The Spurs' "Anyone but LeBron" Strategy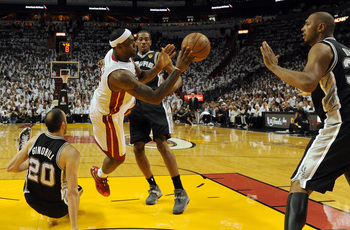 Pool/Getty Images
The San Antonio Spurs showed their defensive hand early in Game 1 of the 2013 NBA Finals and haven't changed their modus operandi since.
If they're letting anyone score in the paint, it's not going to be LeBron James. When James begins heading to the rim, the Spurs immediately form a wall between he and the basket, double, triple or quadruple-teaming him with reckless abandon.
The Spurs know that it's James' instinct to pass to an open teammate upon seeing double or triple-coverage, and they're using that to their advantage. They'd much rather see a perimeter jumper from one of the many Miami Heat shooters instead of a high-percentage look in the paint for the league's MVP.
James and his teammates made the Spurs pay for that strategy in Game 2, exploding on a game-clinching 33-5 run in the third and fourth quarters. San Antonio got its revenge in Game 3, however, recording a 36-point blowout while holding James to only 15 points on 7-of-21 shooting.
The Spurs can live with Mike Miller going 5-of-5 from three-point range (like he did in Game 3) so long as they hold James to yet another sub-20-point game. With questions about James' aggressiveness running rampant after his Game 3 no-show, the question of which LeBron James shows up for the rest of the series is the most pressing issue for Miami's chances of winning a championship.
The Spurs' Role Players Stepping Up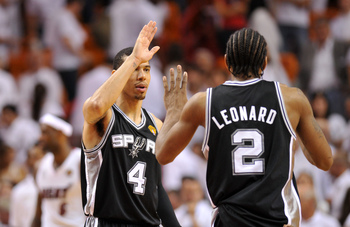 Steve Mitchell-USA TODAY Sports
Through three games, one statistic says it all about the 2013 NBA Finals: The trio of Kawhi Leonard, Danny Green and Gary Neal has scored exactly as many points as LeBron James, Dwyane Wade and Chris Bosh combined.
If the San Antonio Spurs continue to get that type of production from their role players, the Miami Heat will need a miracle to take home the championship.
In Games 1-3, the first three Finals games of his career, Green set an NBA record by knocking down 16 three-pointers, including an otherworldly 7-of-9 performance from downtown in Game 3. He's also serving as the team's designated LeBron stopper when Leonard heads to the bench for a quick rest.
Leonard isn't lighting up the scoreboard like Green, but he's making his impact felt in other ways. Of any Spurs player, he's been most responsible for holding James in check defensively, and he's also grabbed 13 offensive rebounds and 23 defensive rebounds through the first three games of the Finals.
While Green and Leonard showed flashes of their potential throughout the regular season, Neal was little more than an afterthought, playing just over 20 minutes per game. His 6-of-10 three-point shooting barrage in Game 3 likely earned him an increase in minutes moving forward however, no matter what happens with Tony Parker's strained hamstring.
Miami's Big Three on the Perimeter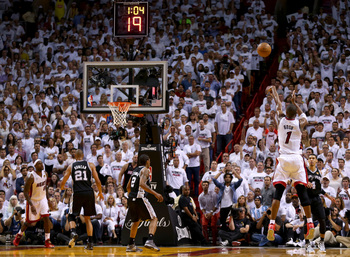 Mike Ehrmann/Getty Images
The San Antonio Spurs know that the Miami Heat are at their most dangerous with LeBron James, Dwyane Wade or Chris Bosh penetrating into the paint.
That's why they're stopping at all costs to protect the rim and force the Heat's Big Three into launching open, typically makeable jumpers.
For instance, San Antonio goaded Chris Bosh into taking four three-pointers in Game 1, including one in the final minute that would have cut the Spurs' lead to one point. Bosh missed all four shot attempts and still hasn't made a three-pointer through the first three Finals games.
LeBron James, meanwhile, appears legitimately flummoxed by the Spurs' strategy to go under screens and let him take open perimeter jumpers. Through Game 3, James has only converted 7-of-29 shot attempts from outside the paint, including a paltry 4-of-17 from mid-range.
If the Heat have any hope of taking home the 2013 championship, they need to make San Antonio pay for leaving them open on the perimeter. That effort must start with the Big Three, despite their struggles from that range through the first few games of the series.
The Passing Wizardry of Tony Parker and Manu Ginobili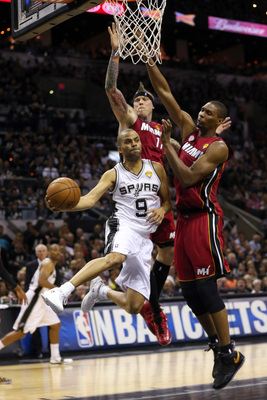 Mike Ehrmann/Getty Images
The 2013 playoffs have been one giant reminder of how the San Antonio Spurs have not one, but two insanely talented passers on their roster.
If the Spurs weren't so renowned for being unselfish, I'd swear that Tony Parker and Manu Ginobili are trying to one-up each other with some of the brilliant dimes they dish to teammates.
In Game 1 of the 2013 Finals, for instance, Ginobili threw a pass through the legs of an in-stride Norris Cole to feed Parker in the paint. He also seemed to defy physics with a second-quarter pass to Matt Bonner in Game 1 that somehow avoided the outstretched arms of Dwyane Wade and Chris Bosh.
Parker, not one to be one-upped, had his drive-and-kick proficiency on full display throughout the first three games of the Finals. He's able to drive into the paint, draw defenders' attention away from the man they're supposed to be marking and hit his teammates with pinpoint passes for open shots.
The Frenchman suffered a strained hamstring during Game 3, raising questions about how effective he'll be in Games 4 and beyond. Even if Parker can't go at full strength, the passing wizardry of Ginobili should help the Spurs stay afloat against the Miami Heat.
Miami's Hot-and-Cold Three-Point Shooting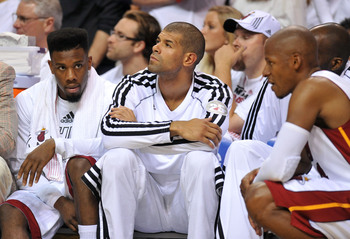 Steve Mitchell-USA TODAY Sports
After riding their pace-and-space offense straight into the NBA Finals, the Miami Heat's three-point shooters have cooled off at the worst possible time.
During the regular season, Miami ranked second in three-point field-goal percentage (.396) and sixth in three-pointers attempted per game (22.1). Through the first three games of the NBA Finals, their three-point shooting has vacillated between hot and cold on a game-by-game and quarter-by-quarter basis.
The Heat started off Game 1 by drilling five of their first 10 three-point attempts, but then only converted three of their final 15 shot attempts from deep in the four-point loss. They bounced back in Game 2, finishing 10-of-19 from deep, led by Mike Miller (3-of-3), Ray Allen (3-of-5) and Mario Chalmers (2-of-4).
While Miller stayed white hot in Game 3, drilling all five of his three-point attempts, a 1-of-5 performance by LeBron James from downtown certainly didn't help Miami establish an offensive rhythm. Meanwhile, Allen didn't even attempt a single three-pointer in the 36-point loss.
The Heat are at their best with James and Dwyane Wade driving into the paint and kicking to open three-point shooters on the wings. If the Miami shooters can't start drilling those shots with the same regularity they demonstrated throughout the regular season, they could be headed straight for their second disappointing NBA Finals finish in three years.
Kawhi Leonard's Defense Against LeBron James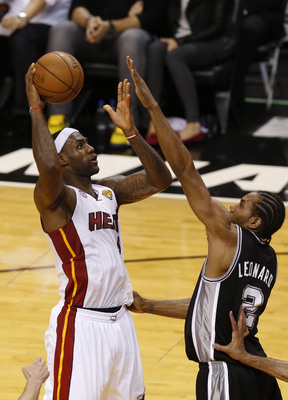 Derick E. Hingle-USA TODAY Sport
It's easy to forget now, but San Antonio Spurs coach Gregg Popovich predicted that Kawhi Leonard eventually would be the "face of the Spurs" in an NBA.com Q&A before the start of the 2012-13 season.
Based on Leonard's defense against LeBron James in the 2013 Finals, his ascendance to "star" status may be moving quicker than expected.
You'll hear plenty throughout the Finals about how Leonard's huge hands help turn him into a steadfast defender, but his defensive instincts are second to none, too. He's been a complete headache for the Miami Heat in passing lanes, clogging up the Heat's half-court offense repeatedly.
Leonard's finest defensive work in the Finals has been reserved for King James, though, who he's harassed into three straight sub-20-point games. He's held his own in the post against the reigning MVP, allowing the Spurs to send help defenders before James can inflict too much damage.
And yet, following Game 3, Leonard told ESPN.com's Ramona Shelburne that he "didn't think [he was] doing that good of a job on him" defensively. If there's truly another defensive notch that Leonard can reach against James, the Spurs' chances of winning the 2013 championship will only shoot up exponentially.
Dwyane Wade's Health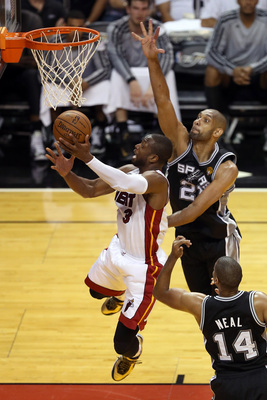 Christian Petersen/Getty Images
Dwyane Wade isn't making any bones about it: He's hurt, but he's not going to use that as an excuse.
Wade's been battling a knee bruise throughout the 2013 playoffs, occasionally having to return to the locker room to get his knee re-taped during games.
The injury is robbing Wade of some explosiveness, which plays right into the San Antonio Spurs' hands. Knowing that he's already a poor jump-shooter, the Spurs can play off Wade defensively and pack the paint, daring him to beat them on the perimeter.
It's having an adverse effect on LeBron James, too. As noted by ESPN.com's Tom Haberstroh (subscription required), James' postseason numbers are better across the board with Wade on the bench compared to when the two play together.
It's gotten to the point where one can make a logical argument for moving Wade to the bench in favor of sticking another floor-spacer in the starting lineup. Until the Miami Heat start consistently beating the Spurs from deep, San Antonio will happily allow open perimeter jump shots at the expense of extra paint protection.
Tim Duncan's Continued Resurgence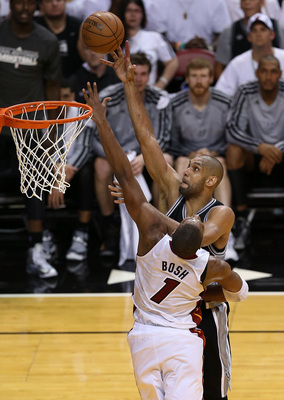 Christian Petersen/Getty Images
By the time an NBA player hits his mid to late 30s, he's supposed to be clearly on the decline.
Apparently, someone forgot to pass that message along to Tim Duncan.
With his biological clock ticking ever more loudly, the 37-year-old Duncan doesn't appear to be interested in wasting this opportunity at winning a fifth championship ring. If the San Antonio Spurs fall to the Miami Heat in the 2013 Finals, it won't be because Duncan pulled a disappearing act.
The Big Fundamental came out firing in Game 1 of the Finals, finishing with 20 points on 8-of-19 shooting, 14 rebounds, four assists in three blocks. Miami held Duncan in check the next game, however, as he only scored nine points on 3-of-13 shooting in the Spurs' blowout loss.
The aggressive Duncan came right back in Game 3, dropping 12 points, 14 rebounds, two blocks and an assist while making a concerted effort to get himself going early. If Miami can't figure out a way to start limiting Duncan's opportunities on both ends of the floor, the Spurs should start preparing their championship parade ASAP.
The Turnover Battle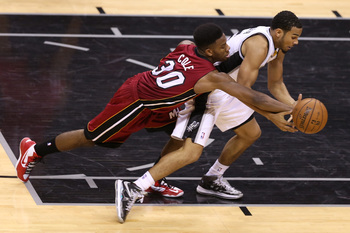 Christian Petersen/Getty Images
When going up against a fast-paced, transition-oriented offense like the Miami Heat, the last thing you can afford as an opponent is a bevy of turnovers.
The San Antonio Spurs, in full recognition of that, understand that turning the ball over 15 times or more against Miami spells almost certain doom.
In Game 1, which the Spurs won by four points, San Antonio only recorded four turnovers. After the game, coach Gregg Popovich told reporters that he had "no idea" how the Spurs accomplished such a feat, but he certainly wasn't complaining either.
The Heat got back to their turnover-forcing ways in Game 2, using the Spurs' second-half miscues to spark a game-clinching 33-5 run. It served as a stark reminder to San Antonio the type of lethal offensive potency that turnovers can fuel for Miami.
In the first three games of the series, whichever team recorded fewer turnovers emerged victorious. That's hardly a coincidence, and it's something that both teams need to remain mindful of as they advance deeper into the series.
Keep Reading

Miami Heat: Like this team?