Updated Odds for Every First-Round NFL Rookie to Start in 2013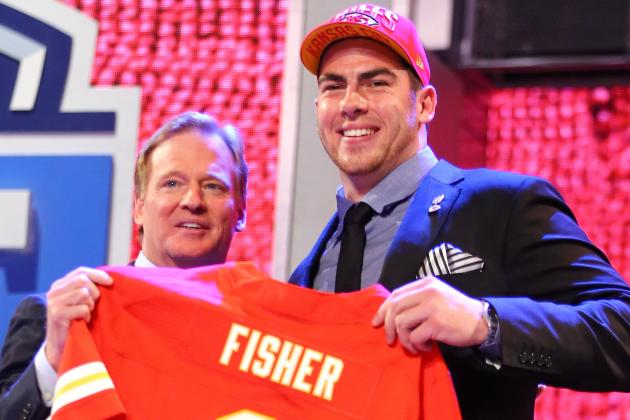 Al Bello/Getty Images

We're still a couple months away from training camp, but it's never too early to start dissecting the NFL depth charts.
The following slideshow ranks the 2013 NFL draft's first-round selections from least to most likely to start for their teams at the beginning of the season.
All odds are based off the assumption that health is not an issue, either for the rookie or his competition. In the few situations where health is already a concern, those injuries were taken into account.
Begin Slideshow

»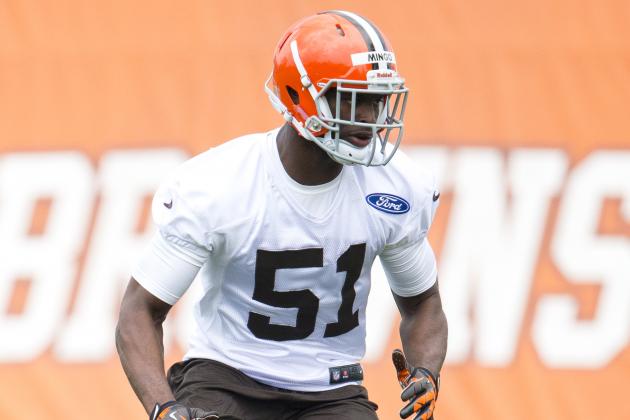 Jason Miller/Getty Images

Barkevious Mingo has the tools to be an impact rookie for the Browns, but a crowded depth chart will likely limit him to a reserve role.
Third-year pro Jabaal Sheard and free-agent addition Paul Kruger are the heavy favorites to open the season as the starting linebackers in defensive coordinator Ray Horton's new 3-4 scheme.
Mingo will likely be utilized as a pass-rush specialist, much in the same way the Seahawks used Bruce Irvin in 2012.
Odds of starting: 5 percent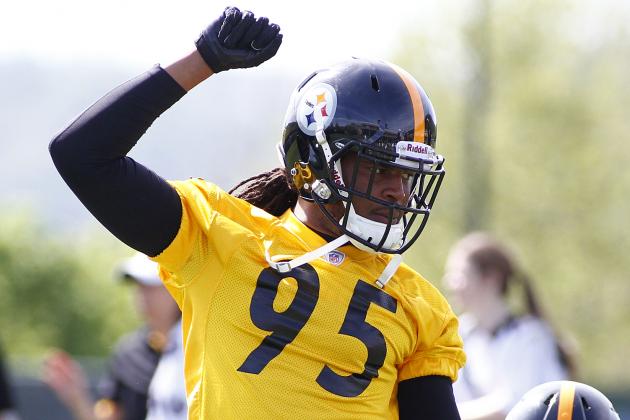 Justin K. Aller/Getty Images

LaMarr Woodley has one of the starting outside linebacker jobs locked down in Pittsburgh, and the other job will likely go to Jason Worilds.
Worilds is entering his fourth year in Pittsburgh and the final year of his rookie contract, and the Steelers will likely give him every opportunity to seize the starting job and earn a contract extension.
The Steelers selected Jarvis Jones based on value and the potential long-term need if Worilds departs as a free agent or doesn't excel in the starting role.
Jones will certainly be used as part of the rotation at linebacker, but is unlikely to earn a starting job unless he's forced into duty due to injuries.
Odds of starting: 5 percent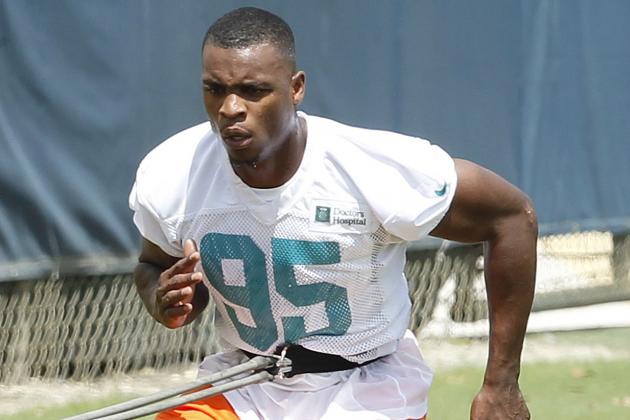 Joel Auerbach/Getty Images

Dion Jordan's extremely versatile skill set will allow the Dolphins to be creative in how they use him, but he's unlikely to earn a starting role during his rookie year.
According to Ben Volin of the Palm Beach Post, the Dolphins plan to use Jordan primarily as a third-down pass-rusher early in his career.
Further complicating things for Jordan is the fact that he is still recovering from offseason shoulder surgery, which has limited his participation in the Dolphins' minicamps.
Odds of starting: 5 percent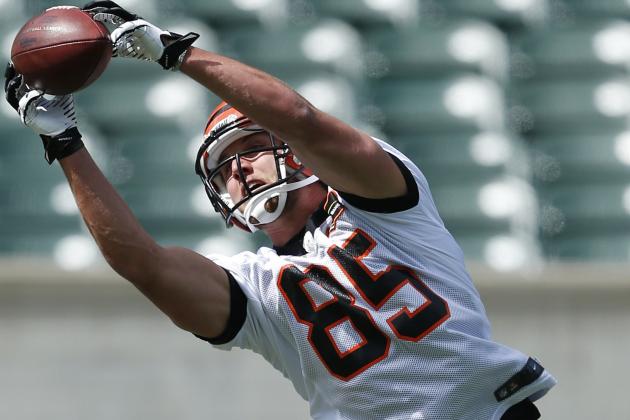 Joe Robbins/Getty Images

If Jermaine Gresham is unable to rebound from a sub-par 2012 season, Tyler Eifert may eventually step into a starting role. But the Bengals are unlikely to boot Gresham from the starting lineup prior to the start of the season.
Gresham remains under contract through the 2014 season, so the Bengals are in no rush to force him out of his starting role.
While Eifert likely won't be listed as the top tight end on the depth chart, the Bengals certainly didn't spend a first-round pick on another offensive weapon just to let him ride the pine. Expect to see a number of two tight end sets in Cincinnati this year.
Odds of starting: 5 percent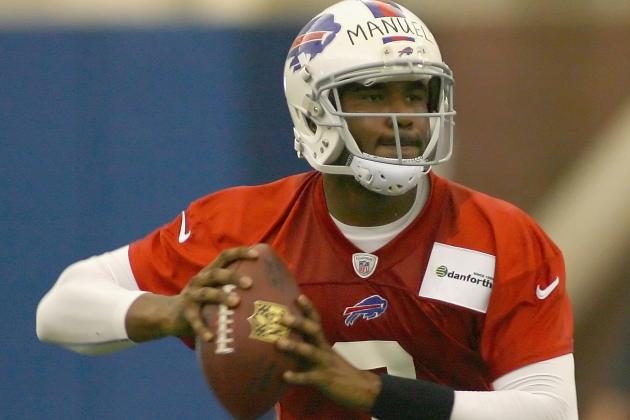 Rick Stewart/Getty Images

"NFL ready" wasn't a term used by many to describe E.J. Manuel prior to the NFL draft, which is partially why his first-round selection came as such a surprise.
However, the Bills aren't ruling out the possibility that he earns the starting job during training camp.
According to the Bills official website, general manager Doug Whaley is open to the possibility that Manuel could emerge as their starter.
That said, nothing about Manuel's collegiate performance indicates that he's ready for the job. He will likely see the field at some point in 2013, but the starting job in Buffalo is clearly Kevin Kolb's to lose.
Odds of starting: 10 percent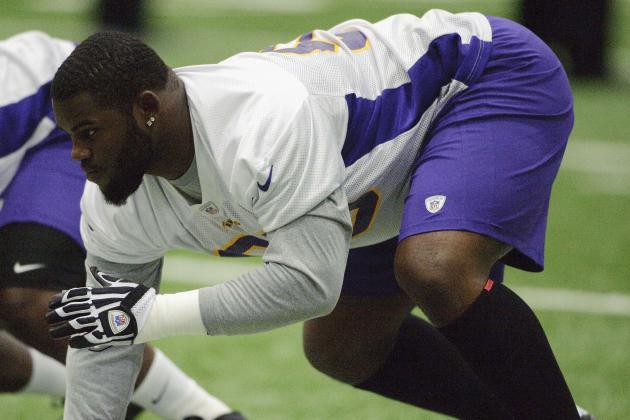 Hannah Foslien/Getty Images

The Vikings selection of Sharrif Floyd was based more on value and future need than anything else. As a result, he may only play a reserve role behind veteran Kevin Williams in 2013.
Given the fact that Williams, who will turn 33 in August, has lost a step in recent years, it would be logical for the Vikings to use Williams and Floyd as part of a rotation at tackle.
Williams is better suited to play the run at this stage of his career, but Floyd could step onto the field in passing situations to get after the quarterback. Such a rotation would keep Williams fresh, while allowing Floyd to develop gradually behind the veteran.
Odds of starting: 30 percent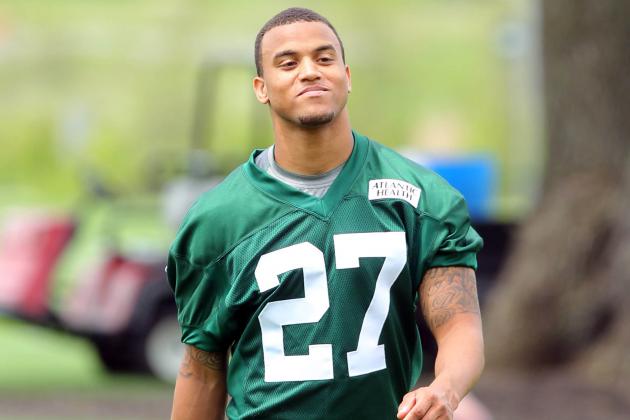 Brad Penner-USA TODAY Sports

Given the number of three- and four-receiver sets used in today's NFL, Milliner is guaranteed to see significant playing time for the Jets. However, he will have to battle Antonio Cromartie and Kyle Wilson for a true starting job.
Cromartie's starting role is likely safe, meaning the battle comes down to Milliner and Wilson.
Wilson has two years remaining on his rookie contract and the Jets will likely give him every opportunity to win the starting job. In 2012, Wilson earned his first regular starting experience while filling in for the injured Darrelle Revis and will be expected to take the next step this season.
Milliner may start the season as the nickel corner, but he will have an opportunity to step into a larger role should Wilson falter.
Odds of starting: 40 percent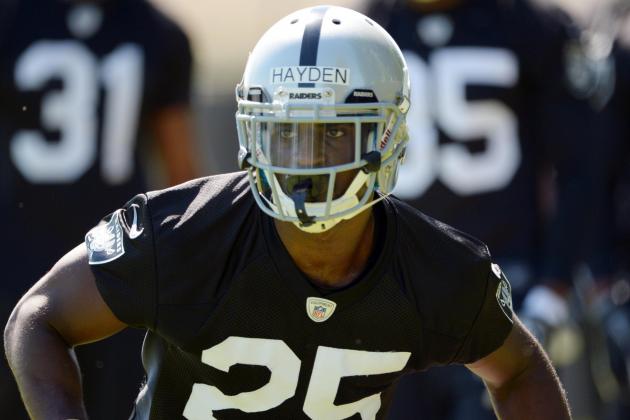 USA TODAY Sports

If healthy, there is a good chance that D.J. Hayden will be starting opposite Mike Jenkins at cornerback. However, considering the severity of the injury to Hayden's heart last fall and his recent hospitalization, the Raiders will likely proceed with caution.
The Raiders have a viable option in Tracy Porter, and should feel comfortable bringing Hayden along slowly if his health situations warrant such treatment.
Eventually Hayden will join the first-team defense, but until more is known about his health, it is difficult to project him as an opening-weekend starter.
Odds of starting: 50 percent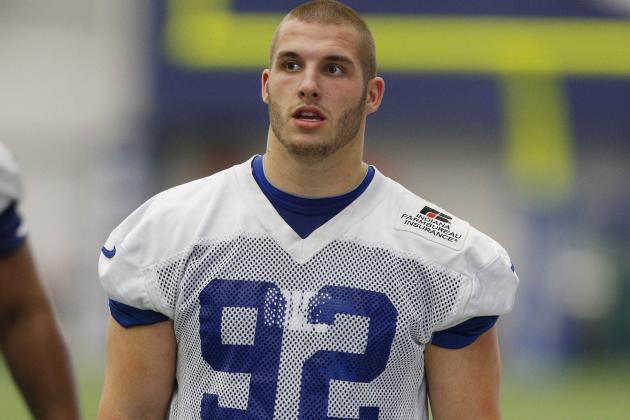 Brian Spurlock-USA TODAY Sports

Bjoern Werner is the ideal hybrid linebacker/defensive end for Chuck Pagano's defense, but he will have a tough battle for a starting job in 2013.
Werner and recent free-agent addition Erik Walden will be competing for a starting job opposite veteran Robert Mathis.
Given the way Pagano runs his hybrid scheme, it may be difficult to discern who is truly tops on the depth chart. Pagano's scheme requires multiple alterations in personnel and alignments, which should lead to significant playing time for both Werner and Walden in various situations.
Odds of starting: 50 percent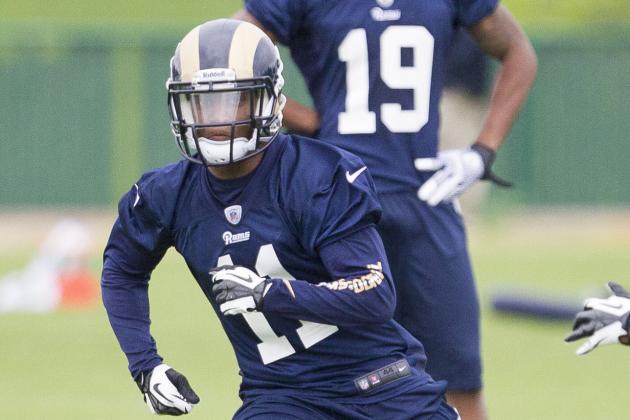 David Welker/Getty Images

Placing odds on Tavon Austin is difficult due to the fact that he doesn't necessarily play a traditional role in the NFL.
The Rams will use Austin early and often in 2013, and he may even emerge as Sam Bradford's go-to weapon in the passing game. However, Austin will likely be used primarily in the slot or as a receiver out of the backfield.
Unless the Rams routinely open the game in three-receiver sets—which is certainly a possibility—Austin's starts may be misleading.
Green Bay's Randall Cobb may be the best comparison for the role Austin is likely to play in St. Louis. Despite hauling in 80 receptions, Cobb only started eight games in 2012.
Odds of starting: 50 percent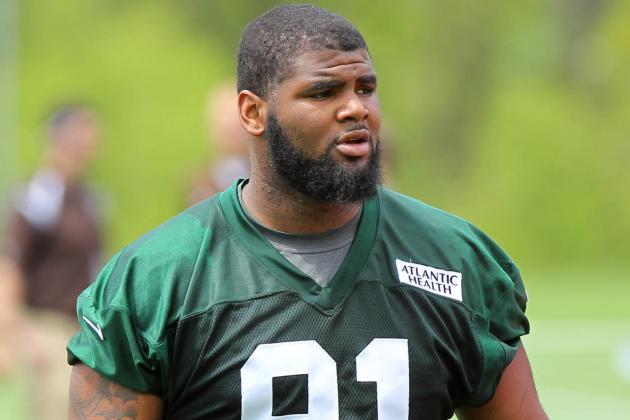 Brad Penner-USA TODAY Sports

To make room for Sheldon Richardson, the Jets have moved 2012 first-round selection Quinton Coples to linebacker.
In the short term, this gives Richardson a clear path to a starting job. However, it remains to be seen if Coples is up to the challenge of playing with his hand off the ground.
Coples has spent the majority of his career as a defensive end or tackle, and the move to linebacker came as a surprise. Coples will need to prove he can handle the role before Richardson can feel comfortable in the fact that he has a starting job wrapped up.
Odds of starting: 60 percent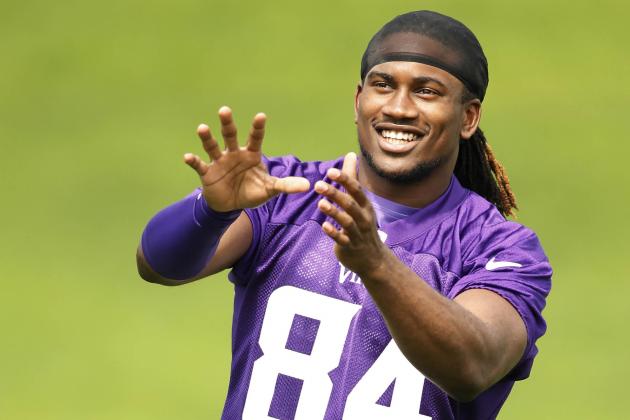 Bruce Kluckhohn-USA TODAY Sports

Based purely on the lack of competition, Cordarrelle Patterson should be considered the favorite to land the starting job opposite Greg Jennings.
Patterson is still raw, however, and only had one year of experience at the D-I level before jumping to the pros. His inconsistent technique and route running could lead to some early frustrations for the coaching staff, which may lead to veteran Jerome Simpson seeing increased playing time until Patterson is ready.
The Vikings clearly believe Patterson will be a significant part of their future, but there will likely be growing pains early in his career.
Odds of starting: 60 percent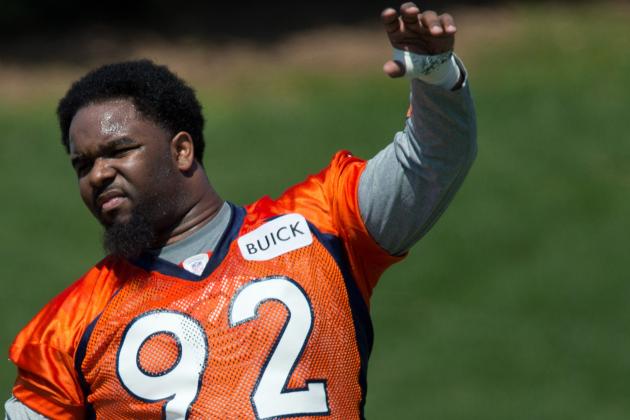 Justin Edmonds/Getty Images

Sylvester Williams has the size and athleticism to be a productive three-down player from the time he sets foot on the field and should start from day one for the Broncos.
He will need to hold off veteran Kevin Vickerson for a starting role, but Williams should be considered the favorite for the position.
Williams and free-agent acquisition Terrance Knighton will likely team up to give the Broncos a brand new interior defensive line. That should immediately improve their run defense, which already ranked among the best in the league in 2012.
Odds of starting: 75 percent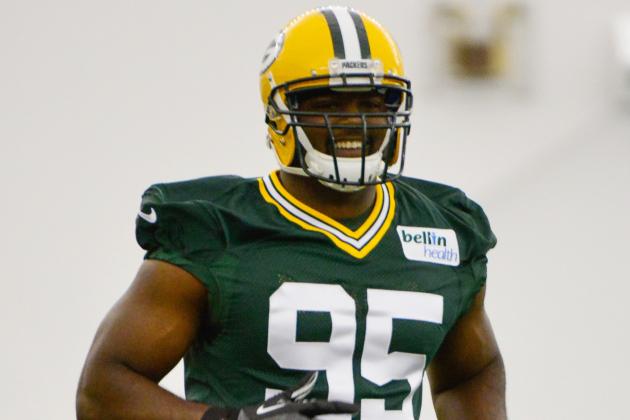 Benny Sieu-USA TODAY Sports

Datone Jones is an ideal fit at defensive end in Dom Capers' 3-4 defense, but he will need to beat out a few challengers for the job.
C.J. Wilson, who started eight games for the Packers in 2012, will be Jones' stiffest competition. He will also be challenged by Mike Neal, who played well in a reserve role last season.
Jones' versatility makes him a great fit for the Packers defense and it should allow him to see plenty of playing time early in his career even if he loses out on a starting gig.
Odds of starting: 75 percent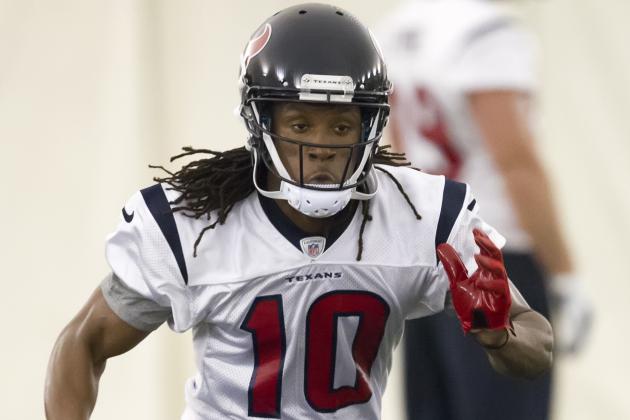 Bob Levey/Getty Images

The Texans drafted DeAndre Hopkins with the intention of plugging him into a starting role, but he does need to hold off a few competitors in training camp.
2012 third-round pick DeVier Posey closed out the year on a high note, catching nine passes in his final five games, including three in the Texans loss to the Patriots in the playoffs.
However, Hopkins was arguably the most NFL-ready receiver in this year's class and should have no trouble making an immediate impact. Hopkins' hands rank among the most reliable in this year's rookie class and his route-running skills are already at an NFL level.
Odds of starting: 80 percent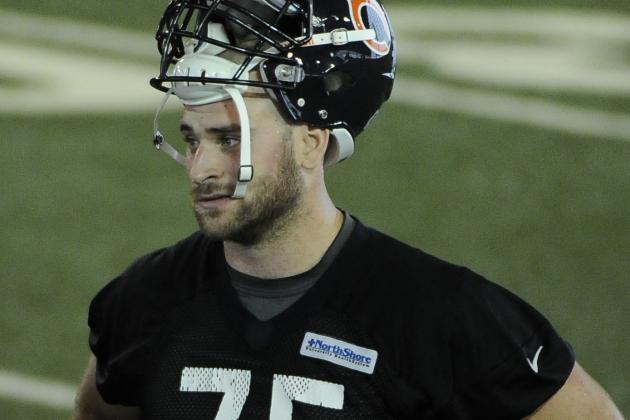 David Banks/Getty Images

Despite limited experience at the D-I level, Kyle Long is likely to step into an immediate starting role for the Bears.
Long started just 12 games during his career at Oregon, but the recent trade of Gabe Carimi gives the Bears limited options at guard.
Unless the Bears make another midsummer move to bring in some competition, it appears as though the job is Long's to lose. Veteran Eben Britton, who spent the previous four years in Jacksonville, may be Long's closest competition.
Odds of starting: 80 percent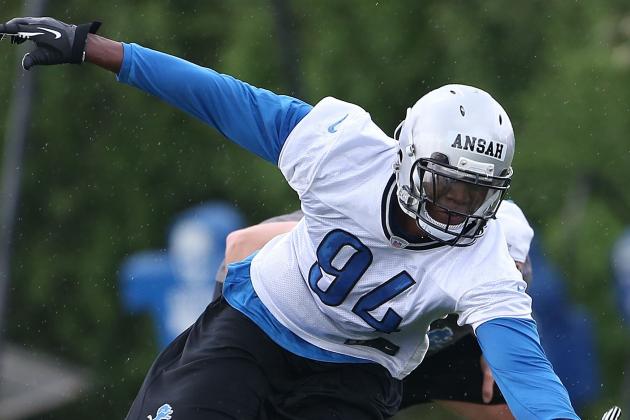 Leon Halip/Getty Images

Ziggy Ansah may lack experience, but the Lions didn't draft him fifth overall to let him ride the bench.
Veteran Willie Young may provide Ansah some competition in training camp, but the job is Ansah's to lose.
The Lions needed to add a physical presence on the defensive line this offseason and Ansah was the perfect fit. He lacks an array of pass-rush moves, but his bull rush is already at an elite level and he possesses the athleticism to quickly develop under the tutelage of Jim Schwartz and his staff.
Odds of starting: 85 percent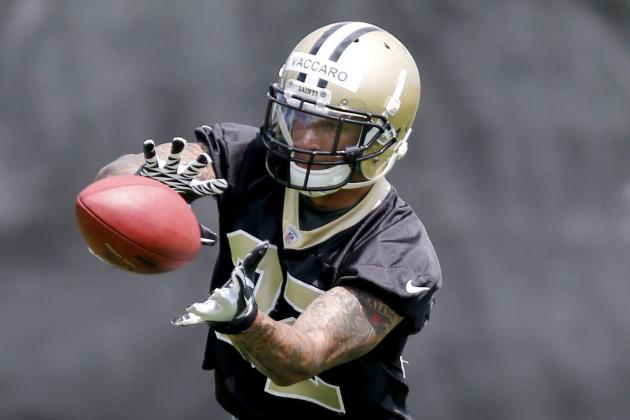 Derick Hingle-USA TODAY Sports

With 2012 starters Roman Harper and Malcolm Jenkins both returning, the Saints have a crowded secondary.
That being said, the Saints secondary was porous last season and needs new blood. Enter Vaccaro, who should inject needed energy into the defensive backfield.
Odds of starting: 85 percent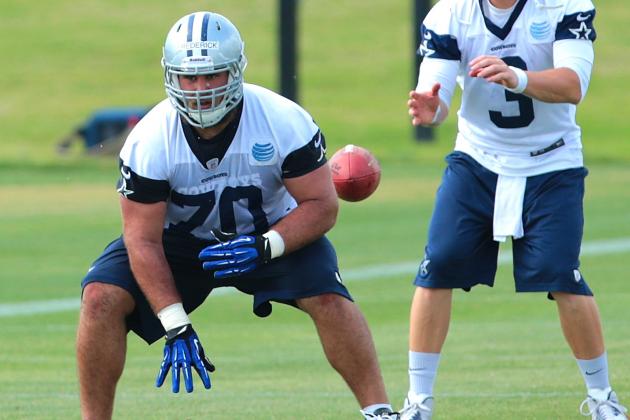 Rick Yeatts/Getty Images

The Cowboys re-signed center Phil Costa to a two-year contract this offseason, which means Travis Frederick likely isn't guaranteed a starting job. However, interior offensive linemen rarely come off the board in the first round if their team doesn't view them as an immediate starter.
Understanding that the job likely belongs to Frederick, Costa recently told the Dallas Morning News that he would be willing to shift to guard.
With a solid training camp, it's a fairly safe assumption that Frederick will be snapping the ball to Tony Romo this season.
Odds of starting: 90 percent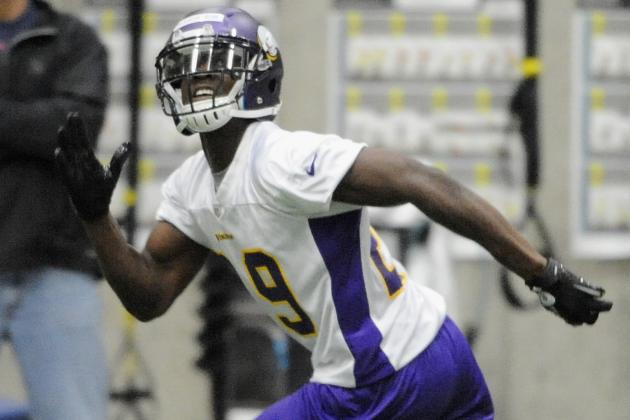 Hannah Foslien/Getty Images

In the NFC North, the Vikings need a physical corner who can match up with the likes of Calvin Johnson and Brandon Marshall.
In 2012, Chris Cook often drew the tough assignments but, despite possessing the size to match up with the elite receivers, struggled at times.
Xavier Rhodes will likely be given an opportunity to emerge as the Vikings shutdown corner, starting next to Cook and bumping Josh Robinson to the nickel position.
Odds of starting: 90 percent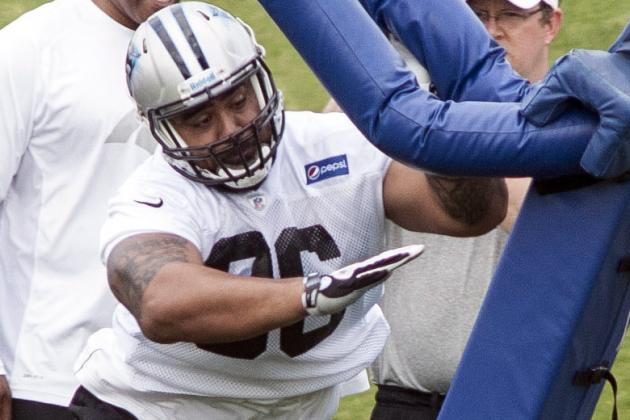 Jeremy Brevard-USA TODAY Sports

The Panthers selected Star Lotulelei to bolster a struggling interior defensive line but he will still need to hold off a few competitors to lock up a starting job.
Lotulelei and Sione Fua will likely compete for the starting nose tackle job. But after two disappointing years, the Panthers are likely looking forward to moving on from Fua.
Kawann Short and Dwan Edwards will also factor into the competition for playing time at defensive tackle.
Odds of starting: 90 percent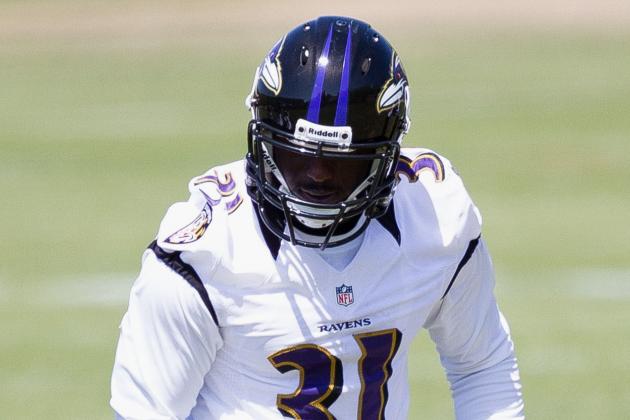 Paul Frederiksen-USA TODAY Sports

According to the Baltimore Sun, Matt Elam will compete with James Ihedigbo for a starting job. However, Elam's versatility should give him a significant edge for the role.
In Elam and veteran Michael Huff, the Ravens would have two safeties capable of playing either the free or strong safety role. That type of versatility will allow defensive coordinator Dean Pees to be creative in disguising his coverage.
Odds of starting: 95 percent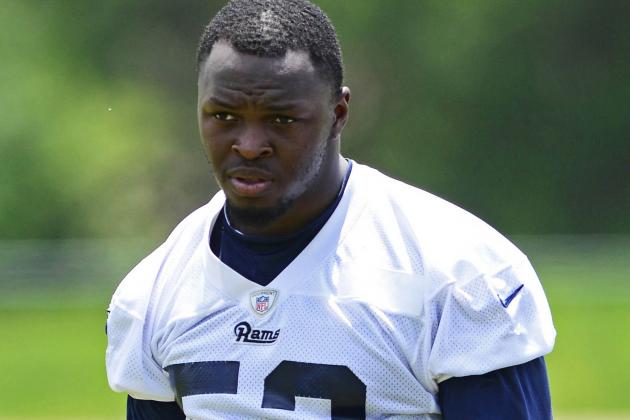 Jeff Curry-USA TODAY Sports

The Rams were desperate to add an athletic coverage linebacker this offseason and they landed arguably the best prospect at the position in the draft in Alec Ogletree.
His ability to cover athletic tight ends and even some receivers will make him an invaluable addition to the Rams defense and should ensure him an immediate starting role.
According to the Rams website, Ogletree made his presence felt immediately in minicamp, intercepting a pass in his first snap in coverage.
Odds of starting: 95 percent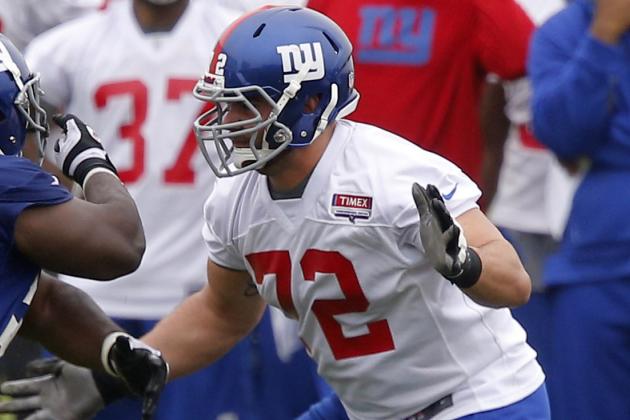 Jim O'Connor-USA TODAY Sports

Justin Pugh may be one of the most versatile rookie linemen, but the Giants appear to have him plugged in as the starting right tackle.
According to ESPN, the Giants played Pugh exclusively on the right side during during minicamp in May.
Pugh will have to compete with David Diehl and James Brewer for the job, but the first-round pick likely has a leg up on the competition.
Odds of starting: 95 percent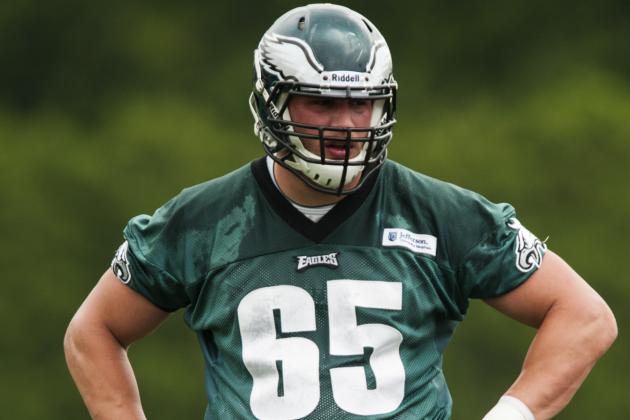 USA TODAY Sports

According to the Philadelphia Enquirer, Dennis Kelly was still taking snaps at right tackle with the first team offense in late May.
However, it is extremely early in the process and it would be a surprise if Johnson isn't plugged into the starting role by the time the season kicks off.
Todd Herremans, who started eight games at right tackle prior to an injury, has been shifted back to guard. Such a move indicates that the Eagles believe they have found a right tackle, and it's unlikely to be Kelly, who allowed a team-high 50 sacks, hits or hurries in 2012, according to Pro Football Focus (subscription required).
Odds of starting: 95 percent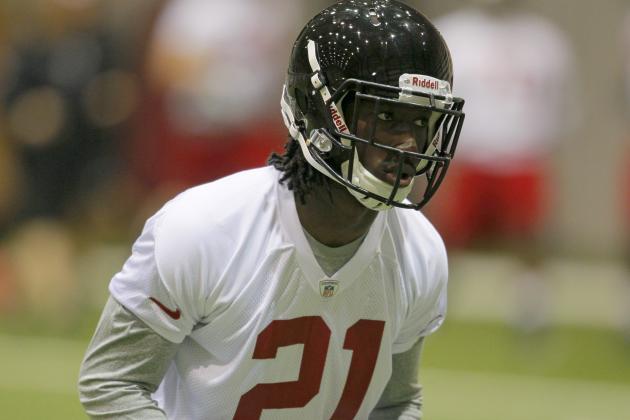 Todd Kirkland/Getty Images

With Brent Grimes and Dunta Robinson gone, Desmond Trufant will be expected to step into an immediate starting role in Atlanta.
Asanta Samuel will hold down one of the two starting positions, with Trufant and fellow rookie Robert Alford competing for the other job.
Robert McClain is also coming off a strong season for the Falcons, but excelled in the nickel role last year and will likely remain in the position due to his limited size.
Odds of starting: 95 percent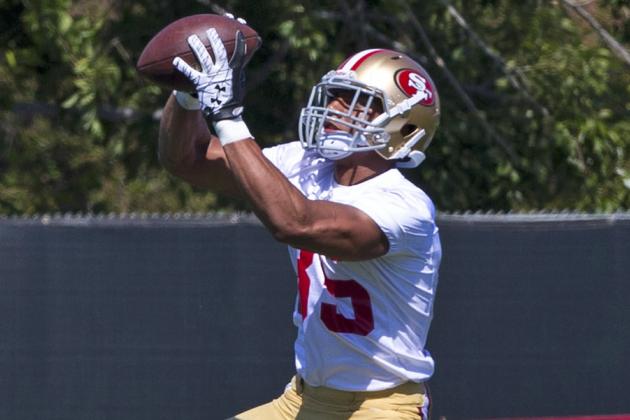 Jason O. Watson/Getty Images

Due to the departure of Dashon Goldson, the 49ers targeted Eric Reid in the draft in order to plug him into an immediate starting role at free safety.
Reid is a prototypical ball-hawking safety, and will be an ideal complement to Donte Whitner at strong safety.
According to the 49ers website, Reid has been receiving first-team repetitions at both free and strong safety due to Whitner's recent injury, which further demonstrates how the coaching staff feels about his potential to make an immediate impact.
Odds of starting: 100 percent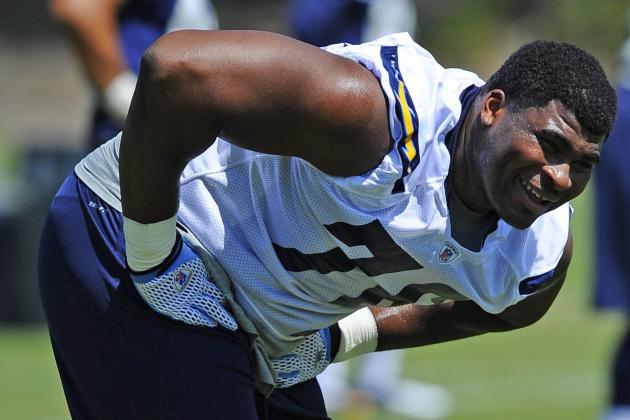 Christopher Hanewinckel-USA TODAY Sports

Philip Rivers was sacked 50 times in 2012, so the Chargers certainly didn't draft D.J. Fluker just to let him sit on the sidelines.
According to USA Today, the Chargers have already plugged Fluker in as the starter at right tackle, moving former starter Jeromy Clary to guard to make room for their first-round selection.
The Chargers have limited options behind Fluker, making it unlikely that anyone could step up and steal his job in training camp.
Odds of starting: 100 percent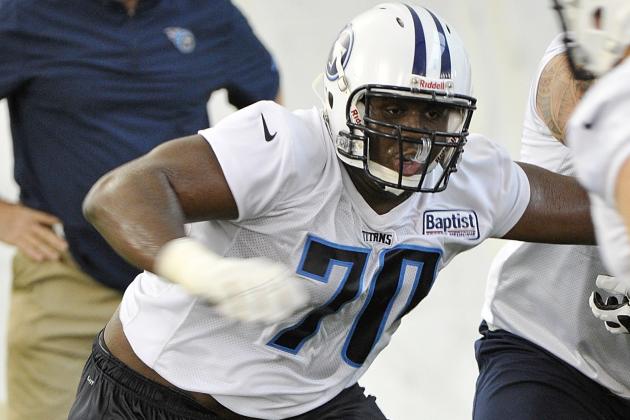 Frederick Breedon/Getty Images

The Titans' offseason efforts focused primarily on the offensive line, and Chance Warmack will be expected to take over a starting job immediately.
The additions of Warmack and free agent Andy Levitre give the Titans a revamped offensive line, which should allow Chris Johnson to revive his career.
It remains to be seen where Warmack and Levitre will line up, but both will be in starting roles if healthy.
Odds of starting: 100 percent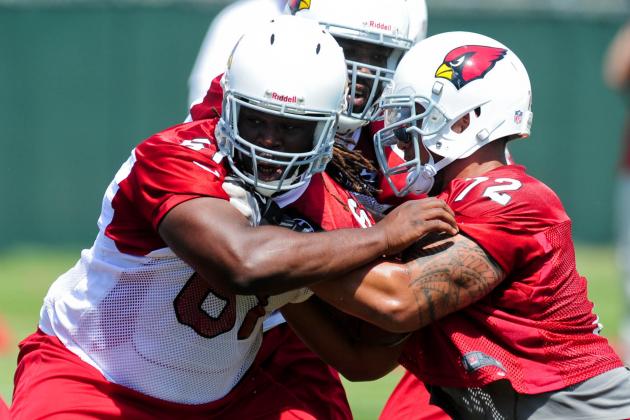 Matt Kartozian-USA TODAY Sports

The Cardinals porous offensive line needs upgrades all around and Jonathan Cooper will be expected to immediately plug one of the holes.
According to ESPN, Jonathan Cooper has already been penciled in as the starter at left guard.
With Cooper holding down the left side, either Daryn Colledge or Earl Watford will likely take over the duties on the right side of the line.
Odds of starting: 100 percent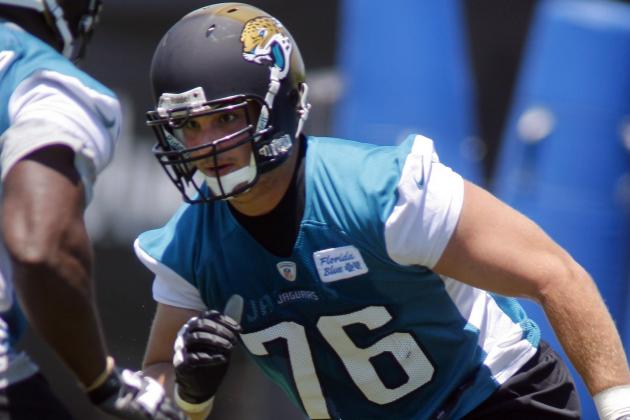 Phil Sears-USA TODAY Sports

Despite being viewed as a future star at left tackle, Luke Joeckel will be plugged into a starting role at right tackle in Jacksonville.
Eugene Monroe will hold down the left side in 2013, before potentially giving way to Joeckel if the Jaguars are unable to re-sign him following the season.
Joeckel has no legitimate competition for the right tackle job. He will likely be backed up by Cameron Bradfield, who struggled in 12 starts a season ago.
Odds of starting: 100 percent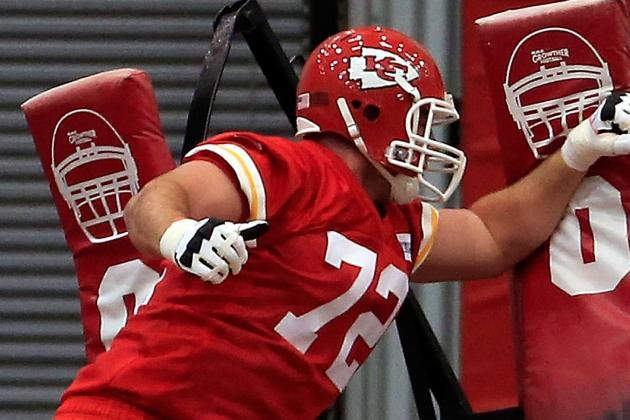 Jamie Squire/Getty Images

No. 1 picks, especially non-quarterbacks, don't start the season on the bench.
The Chiefs drafted Fisher to immediately improve their offensive line. He will be expected to help protect Alex Smith from the right tackle position from day one.
Few right tackles in the league possess Fisher's raw talent. He should immediately rank as one of the most dominant players at his position in the league.
Odds of starting: 100 percent