5 Fighters the UFC Needs to Sign ASAP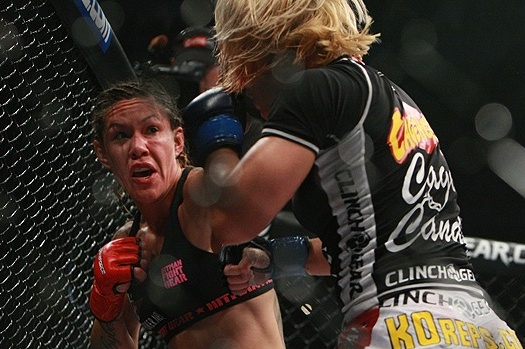 photo courtesy of sherdog.com
The UFC is the largest mixed martial arts organization in the world, which means that the majority of the sport's best fighters already compete inside the Octagon.
However, the UFC is still always on the lookout for new fighters to fill the ranks or to help build the recently added flyweight and women's bantamweight divisions.
This is a list comprised of fighters the UFC can actually sign. None of these fighters are currently locked into exclusive deals with other promotions, so guys like Shinya Aoki or Bellator's heavyweight champ, Alexander Volkov, are off the table.
With that in mind, these are the five fighters the UFC needs to sign. They would all be welcome additions to weight classes that are in dire need of fresh and exciting talent.
As is customary with lists like these, there are always fighters who don't make the cut. Please feel free to exhaust the comments section below and include other fighters you think the UFC ought to sign.
Begin Slideshow

»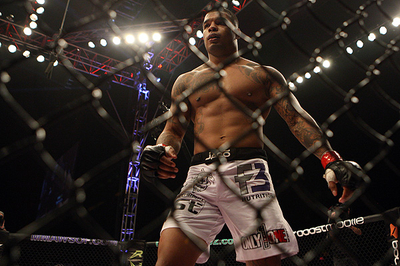 Chris McGrath/Getty Images

Tyrone Spong has only one MMA victory to his credit—a first-round knockout of pro-boxer-turned-tomato-can Travis Bartlett at the first World Series of Fighting event in 2012.
While a win over a lackluster opponent is not grounds enough to warrant him a spot among the UFC's ranks, it is Spong's history as a high-level kickboxer that would make him a welcome addition to the light heavyweight division.
As a kickboxer, he has 74 career wins with 45 coming by way of knockout.
Most recently, Spong competed at Glory 9, a kickboxing competition where he won three consecutive bouts in one night. Spong also holds notable victories over the hard-hitting Melvin Manhoef, Ray Sefo and Remy Bonjasky.
He is currently scheduled to take on another no-named opponent in the form of Angel DeAnda at WSOF 4 in August. It seems unlikely he'd lose that bout and will probably win via a spectacular knockout.
It remains unclear where Spong would fit in at 205 or how he would handle a fighter well-versed in wrestling or grappling.
Even though Spong may experience a harsh period of adjustment when making the jump to the bright lights of the Octagon, his dynamic striking and boisterous personality make him a natural fit for MMA's biggest stage.
First UFC fight: Rafael "Feijao" Cavalcante
Scott Petersen/mmaweekly.com
Cristiane "Cyborg" Justino was the undisputed queen of WMMA. In 2009, she made mincemeat out of Gina Carano to win the inaugural Strikeforce women's featherweight belt.
Cyborg defended the strap three times. However, her knockout win over Hiroko Yamanaka was changed to a no-contest when she tested positive for the anabolic steroid stanozolol.
Consequently, Justino's fight license was suspended for a year and she was fined $2,500.
During her suspension, Strikeforce folded and the WMMA landscape totally changed. Cyborg was widely regarded as the No. 1 pound-for-pound female fighter in the world, but upon her return, she found herself in the shadow of Ronda Rousey.
The bad blood began brewing almost immediately between the two women. They started trading vicious barbs back and forth via Twitter.
The UFC made a big play for Cyborg after her yearlong suspension was up. Both Justino and the UFC wanted to make the Rousey fight a reality but just couldn't come to terms on a number of issues.
Justino didn't sign with the UFC. Instead, she opted to take her talents to the all-female fight organization Invicta FC.
Even still, a superfight between Cyborg and Rousey is too important to ignore given the matchup's potential to grow not only WMMA but also the UFC's bottom line.
First UFC fight: Ronda Rousey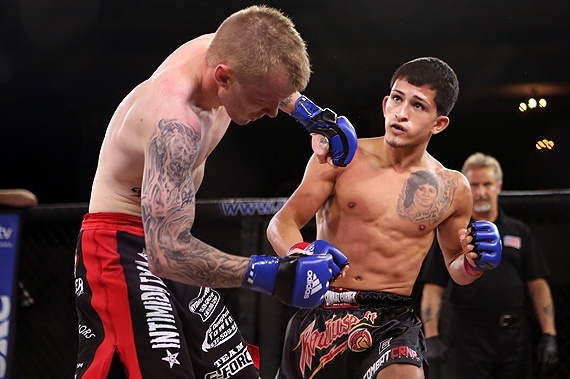 photo courtesy of sherdog.com
Sergio Pettis is the younger brother of multidivisional contender Anthony "Showtime" Pettis. While it is impossible to know if Pettis—who is just 19—will be as successful as his older bro, it is hard to deny his potential.
Recently, Pettis made short work of Dillard Pegg to capture the inaugural Resurrection Fighting Alliance flyweight title.
Pettis knocked out "Smokin' Joe" with some crisp, well-timed punches less than a minute into the opening round. While the finish was quick, it loses a little bit of its luster given that Pegg was a late replacement for Pettis' original opponent, Jeff Curran.
Curran is a veteran of almost every major MMA promotion, including the UFC, and has 33 wins to his credit. A win over "Big Frog" would have really helped to bolster Pettis' paltry resume.
"The Phenom" has yet to fight any truly dangerous competition but remains undefeated in both his amateur and professional careers. He's racked up 12 consecutive victories with the majority coming by way of knockout (5) or submission (4).
Even though Pettis is greener than most currently competing inside the Octagon, his name value and natural God-given abilities alone will make him an immediate challenger in the UFC's newly formed flyweight division.
First UFC fight: Chris Cariaso
photo courtesy of bleacherreport.com
Marloes Coenen is the former Strikeforce women's bantamweight champ and is currently the No. 1 female fighter at 145 pounds, according to the Unified Women's MMA rankings.
In 2011, Coenen lost her belt to Miesha Tate via a fourth-round arm-triangle choke and then was subsequently released from her contract.
This was due largely to Zuffa's strained relationship with Golden Glory, a mixed martial arts camp and management team. Ultimately, Coenen was caught in the middle of this dispute and became collateral damage.
Since her release, Coenen has chalked up two wins while fighting for Dream and Invicta FC. She is currently set to take on Cyborg at Invicta FC 6 in a rematch of their Strikeforce featherweight tilt.
Coenen fights at 145 but can easily make the cut to bantamweight. She is a high-level Brazilian jiu-jitsu practitioner with over 15 submission victories to her credit. Coenen is such a wizard on the ground that she has been referred to as the "Female Rickson."
This skill set would make Coenen a hard night out for any of the female fighters currently on the women's bantamweight roster.
First UFC fight: Alexis Davis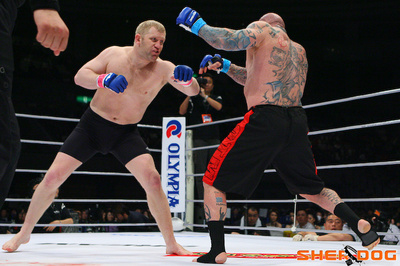 photo courtesy of sherdog.com
When Strikeforce closed its doors in early 2013, most of the fighters were absorbed into the UFC ranks. No division benefited more from this acquisition than heavyweight.
While Fedor Emelianenko did not make the jump to the UFC, a number of high-level heavyweights did.
Currently, half of the top 10 heavyweights in the UFC are Strikeforce imports: Alistair Overeem, Antonio "Bigfoot" Silva, Daniel Cormier, Fabricio Werdum and Josh Barnett.
However, one name is conspicuously absent from the roster—Sergei Kharitonov.
"The Russian Mercenary" has knocked out Overeem, Andrei Arlovski, Pedro Rizzo, Murilo Rua and three-time K-1 World Grand Prix champ Semmy Schilt.
Like Coenen, Kharitonov is managed by Golden Glory, and the UFC is blackballing him for this association. If Zuffa can bury the hatchet with Barnett, then why not Golden Glory?
Still, it is mind-boggling to think that the UFC would pass over any quality heavyweight, considering that the division is esstentially on life support. There are only 30 fighters competing at 265 with five of them still waiting to make their promotional debuts.
Even worse, the belt has become little more than a hot potato passed back-and-forth between Cain Velasquez and Junior dos Santos.
The UFC needs to actually make a concerted effort at replenishing the heavyweight ranks...and signing Kharitonov would be a pretty good start.
First UFC fight: Stipe Miocic