Moments from Raw Top 100 That Were Actually Awful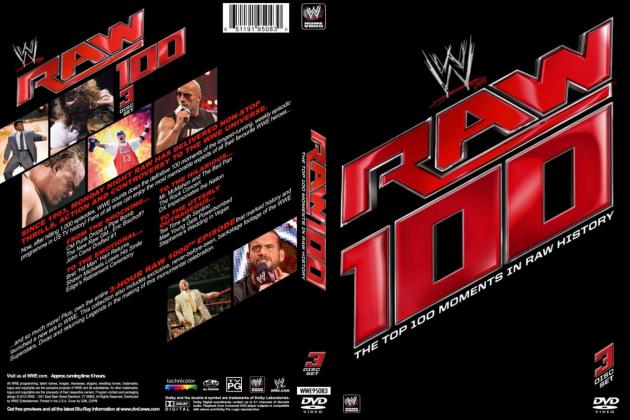 photo via dvd-covers.org
Monday Night Raw has been the flagship show of WWE for over 20 years.
With over 1,000 episodes and counting, the company has had many great moments. A few months ago, WWE decided to capitalize on this historic accomplishment, and compiled a list of the top 100 moments in the show's history.
A lot of the usual suspects were presented there: Steve Austin's beer bash, Rock and Mankind's "This is Your Life" segment and John Cena being drafted to Raw.
However, there were a few moments that in hindsight were actually not so great. They were moments that were lame, idiotic and worst of all, cost the show a lot of money.
Here are 10 moments from WWE's top 100 that were actually bad for business.
Begin Slideshow

»
What Happened:
In Evolution, Triple H was the boss. He was the focal point of Raw, and held the Heavyweight Title for months before dropping it to Chris Benoit at WrestleMania XX. He wanted his title back desperately.
At SummerSlam though, it was Randy Orton who captured the gold from Benoit, becoming the youngest World Heavyweight Champion in history.
Triple H was none too pleased with him. The next night he had Batista drop Orton from his shoulders after he gave him the infamous thumbs down. Orton was effectively and decisively kicked out of the group.
Why it Wasn't Great:
It was way too soon for Orton to turn face. It also was a bad way to do it. He wasn't in Evolution anymore because he saw the error of his ways, he was out because they got rid of him. This didn't really endear him to fans.
Orton then held the title for less than a month before abruptly dropping it to Hunter.
After this, Benoit's shot as a top star in the company was over, and it took Orton a long time to recover. His babyface run fell flat, and it took a feud with Undertaker far down the road to reinvigorate him again.
What Happened:
The newly reformed DX went to war with two guys who weren't professional fighters, as well as a group of cheerleaders. One night on Raw, Triple H and Shawn Michaels decided to dress up like Vince and Shane McMahon and make fun of them.
Why it Wasn't Great:
Every now and then, WWE stumbles on something legitimately funny.
This was not one of those moments. The boss, the boss's son, the boss's son-in-law and the boss's son-in-law's best friend decided to try and be funny.
DX used to play dress up in the late 90s to the delight of fans, but this was nearly a decade later and now it just looked sad. The announcers of course had the time of their lives. If your bosses were trying to attempt humor while you were on a headset in front of a national audience, you'd probably force some laughter too.
Watching two guys around the 40-year-old mark act like teenagers with a terrible sense of humor was embarrassing for everyone involved. Overall, this was just an example of how far DX had fallen from their cool, edgy days.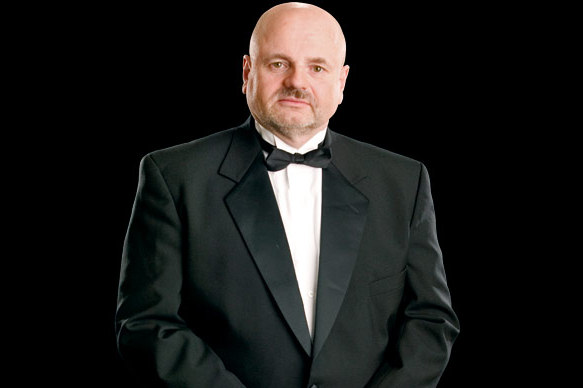 photo via screened.com
What Happened:
In the early years of Raw, someone had the bright idea to have Howard Finkel and Harvey Wippleman compete in a match. As terrible of an idea as that was, it became much worse when the match consisted of the two men trying to strip each other down to their underwear.
Why it Wasn't Great:
Longtime fans may recall WWE having bra and panties and evening gown matches. This is the same concept, except for instead of two beautiful and athletic women tearing each other's clothes off, we had two out-of-shape, middle-aged men.
It probably goes without saying that this was a Vince McMahon idea. You can only imagine him laughing hysterically backstage over this. Having out-of-shape men, that he employs, strip each other down must be one of his greatest joys in his life.
For the rest of us, not so much.
What Happened:
We found out that Mr. McMahon had fathered an illegitimate son years ago. The only thing we knew though, was that he was an active member of the WWE roster.
After months of TV devoted to the angle, we found out who the future superstar was… it was Hornswoggle.
Why it Wasn't Great:
The reveal was an insult to anyone who paid attention to WWE programming. It was kind of a slap in the face to all of humanity as well.
Among other angles that fizzled, this taught fans not to invest in WWE mysteries. The conclusion won't make sense, and WWE will just pull the rug out from underneath you whenever it feels like it.
Originally, it was going to be Mr. Kennedy who was revealed as his son, but due to a wellness policy violation, that was changed. Still, that's no excuse as to why WWE had to make the entire angle one big unfunny joke.
If you have the stomach to re-watch the video, keep your eyes on Triple H who is laughing way, way too hard on this reveal.
In the end, WWE literally could not have made a worse choice on the entire roster than Hornswoggle.
What Happened:
Chris Jericho and Triple H had a fantastic match on Raw that ended with Jericho winning, and momentarily appearing to become the new WWF Champion.
However, after the match, Hunter got Earl Hebner back to the ring and accused him of a fast count. Hebner then stated he would reverse the decision if Hunter agreed to never harm him again. Hunter gladly accepted the offer.
Why it Wasn't Great:
WWE could have had an immediate new star with Jericho. The crowd absolutely exploded with the title change. Instead, it was all about The Game. The reversal was idiotic in that WWE had no prior history of reversing a match like that.
At the very least, it seemed that a rematch was in order, except for at Backlash Jericho took on, and lost to, Chris Benoit while The Rock took the title from Hunter. Jericho then failed again to win the European Title from Eddie Guerrero at Insurrextion and then failed to capture the Intercontinental Title again at Judgment Day.
Jericho didn't get his big return match until Fully Loaded, which Hunter won. The two had one more go of it at WrestleMania 18… which Hunter again won.
What Happened:
In an homage to Steve Austin's beer truck attack on The McMahons and The Rock, Kurt Angle attacked with a lethal vehicle of his own.
One hot summer night, Angle drove a milk truck to a WWE ring. He pelted the Alliance with tiny milk cartons and then sprayed them down with the cold white beverage.
Why it Wasn't Great:
It made for a fun visual, but the Alliance was already having a tough time getting over. Austin originally only took out three people with his truck, Angle took out over 20. The group could have just got out of the ring and easily overwhelmed him.
Instead, they just sat there. Like idiots.
It only helped solidify more than ever that everyone in The Alliance was a jobber.
The storyline continued for another three months, but no one could possibly take the group seriously after this. A few laughs were hopefully worth the giant amounts of cash the company threw away.
What Happened:
The tension had been building between Triple H and Batista for some time. Hunter knew he could no longer contain The Animal and wanted him shipped off to SmackDown to wrestle for their title after Batista had won the Royal Rumble.
Batista then listened in on a conversation between Ric Flair and Hunter where he found out all about their devious plan.
Why it Wasn't Great:
No one realized there was a cameraman right in front of them!
WWE does this from time to time without any consistency, but this was a huge angle that didn't need such an obvious plot hole.
WWE had done a good job of being subtle and slowly building toward Hunter turning on Batista. Then the company blew it, and hit the audience over the head with it. The segment started with us listening in on an inexplicably open-door meeting between Flair and Hunter. It ended with the cameraman slowly backpedaling to reveal Batista right outside the door.
Not only was all logic thrown out the window, but it completely took away the surprise of Batista choosing to fight for Hunter's title later in the show.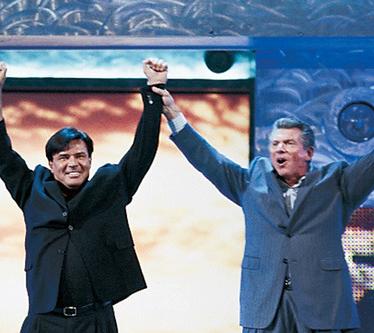 photo via droptoehold.com
What Happened:
The war with WCW ended the year before. Eric Bischoff, the man who led the charge against the WWE, shocked the wrestling world and joined his former foes.
Vince McMahon then greeted him, gave him a big hug, and appointed him the General Manager of Raw.
Why it Wasn't Great:
The moment that Bischoff and McMahon hugged, you could almost hear the sound of giant piles of money being flushed down the toilet. A McMahon vs. Bischoff feud should have been one of the biggest in wrestling history. There was so much real life drama between the two, that a feud would have written itself.
WWE didn't try though. It didn't want to go the obvious route, so instead it deprived fans of what could have been a classic showdown. It seemed the company tricked the fans just for the sake of tricking them. It was straight from a Vince Russo playbook even though he had long left the company.
McMahon and Bischoff wouldn't have had to battle in the ring, but that night felt like the final chapter in the WCW vs. WWE war, and it completely fell flat.
What Happened:
Due to knee injuries and a lack of desire for competing in the sport anymore, Shawn Michaels decided to forfeit the WWF title on TV and go home to "find his smile" again.
Why it Wasn't Great:
It's kind of surprising that this one made the list at all, as Michaels left the company high and dry. He was notorious for being a headache backstage, so his excuse of knee problems was hard for anyone to believe.
The knee injuries must not have been as serious as believed, as Michaels ended up competing for years afterwards.
At the very least, HBK should have done the right thing and dropped the title to Bret Hart like he was supposed to on the way out.
What Happened:
Kane took on Triple H in the main event of Raw with some big stipulations at play. Hunter's World Heavyweight Title was on the line, and Kane had to put his mask up.
After some interference from Evolution, Kane lost, and finally exposed his face to the WWE universe. He was so enraged that he quickly beat up his tag team partner Rob Van Dam.
Why it Wasn't Great:
Again, WWE left a lot of money on the table with this match. Kane debuted in 1997 (not counting his incarnations as Isaac Yankem and the fake Diesel), and fans always wondered what he really looked like.
With just one week notice, WWE threw the match out on TV. It could easily have been a pay-per-view match with weeks or months of hype, but it was all given up for the chance to pop a rating for one night.