According to Nick Piecoro of AZCentral.com, Arizona Diamondbacks starting pitcher Brandon McCarthy is recovering from a seizure he suffered while eating dinner with his wife in Phoenix Monday night.
Piecoro also reported the news on Twitter:
Brandon McCarthy suffered a seizure on Monday, but says he's fine & hopes it doesn't push back his shoulder rehab: http://t.co/qB3ucxs3hv

— Nick Piecoro (@nickpiecoro) June 9, 2013
The seizure was believed to be a result of a Sept. 5 incident in which a line drive struck McCarthy in the head, forcing him to have emergency surgery. While McCarthy claims he's fine following the seizure, he hopes it won't push back his recovery time as he fights his way back from the disabled list from shoulder inflammation.
As quoted in the report, McCarthy isn't concerned with the effect of the seizure and expects to go about life as usual following the incident:
Once you have (the seizure), you resume life and I'll take medication to hopefully avoid them going forward. We'll play with that dosage for a while and see what comes of it. When I was in the hospital, they did a CT scan to make sure everything was all right and where it was supposed to be. Beyond that, there's not a whole lot else we can do.
McCarthy's wife responded quickly when her husband "slumped over" in the booth.
As Piecoro reported, Amanda McCarthy pushed the table aside and called for help, at which point he was taken to the Mayo Clinic in nearby Scottsdale for treatment. A CT scan was administered to determine if there had been additional head trauma since the line drive that sidelined him last season.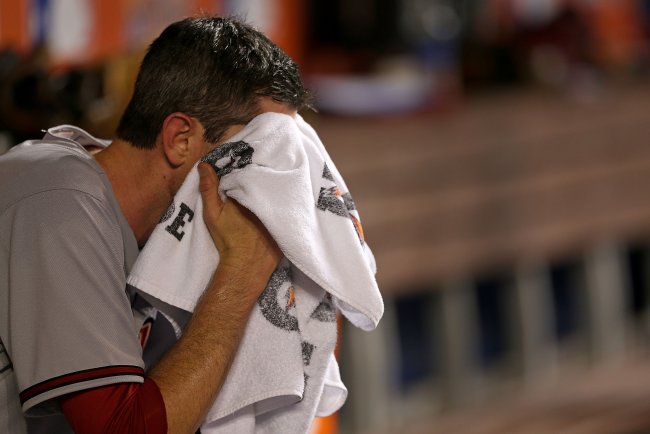 Mike Ehrmann/Getty Images
The 29-year-old claims to have never suffered from seizures before, though he knew prior to Monday that he could be prone to seizures as a result of his injury.
McCarthy and his wife were told he might require more surgery after doctors spotted what looked like "another spot of blood" on his brain. Following observation and further consultation, the medical staff decided surgery wouldn't be necessary.
Brandon and Amanda McCarthy took to Twitter on Monday, June 10 to thank the individuals who helped them through the situation and to thank fans for their support:
I also want to take a moment to give thanks to the two guys that helped me in the restaurant, the paramedics that took great care of him..

— Amanda McCarthy (@Mrs_McCarthy32) June 9, 2013
And the doctors and nurses at Mayo for being so kind and helpful. Everyone has made a scary situation a little less scary.. Thank you.

— Amanda McCarthy (@Mrs_McCarthy32) June 9, 2013
I can't thank everyone enough for all the positive messages and thoughts today, it means so much to my family and I.

— Brandon McCarthy (@BMcCarthy32) June 10, 2013
I'll be just fine and I'm happy to get back to mentally preparing for the Man Of Steel premier this week (OMG IT'S SO CLOSE)

— Brandon McCarthy (@BMcCarthy32) June 10, 2013
The right-hander landed on the DL last week with shoulder inflammation and was initially expected to miss four to five weeks as a result. In 11 starts this year, McCarthy is 2-4 with a 5.00 ERA.