For the eighth time in his career, Rafael Nadal is the French Open champion.
The Spanish star once again proved why he is called the "King of Clay" with a 6-3, 6-2, 6-3 victory over compatriot David Ferrer in the men's final at Roland Garros. SportsCenter points out that this is the most dominant run at any Grand Slam event:
KING OF ROLAND GARROS! Rafael Nadal takes 8th French Open championship. Rafa is 1st man EVER to win 8 titles at same Grand Slam event.

— SportsCenter (@SportsCenter) June 9, 2013
While it was an incredible performance on the court, an unfortunate moment during the second set stole a bit of the spotlight, as described by Live Tennis:
Outrageous scenes on Chatrier. Some naked loon just jumped on court with a flare. Got nowhere near Nadal. Great work from the security guys.

— Live Tennis (@livetennis) June 9, 2013
Michael David Smith of Pro Football Talk captured a look at how close the spectator actually got to Nadal:
Guy with a torch ran on the court, got very close to Rafael Nadal: pic.twitter.com/A61SW7VSI0

— Michael David Smith (@MichaelDavSmith) June 9, 2013
Here is a look at the entire event, courtesy of NBC Programming via Bleacher Report: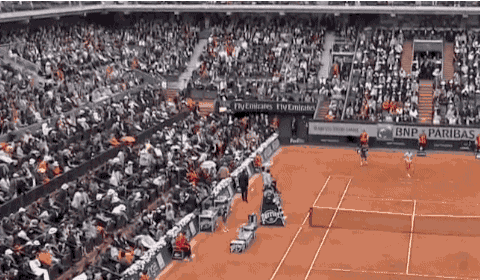 However, the positive story remains that Nadal thrived in the tournament to win at Roland Garros for the eighth time in nine years.
Also taking place on Day 15 was the women's doubles final, where Ekaterina Makarova and Elena Vesnina won in an impressive upset over Sara Errani and Roberta Vinci.
The day was a great cap to a fantastic tournament. Here is a deeper look at the biggest stories from Sunday.
Day 15 Scores (via RolandGarros.com)
Women's Doubles Final
Score

No. 4 Ekaterina Makarova/Elena Vesnina

def. No. 1

Sara Errani/

Roberta Vinci

7-5, 6-2
Men's Final
Score
No. 3 Rafael Nadal def. No. 4 David Ferrer
6-3, 6-2, 6-3

Rafael Nadal Once Again Wins the French Open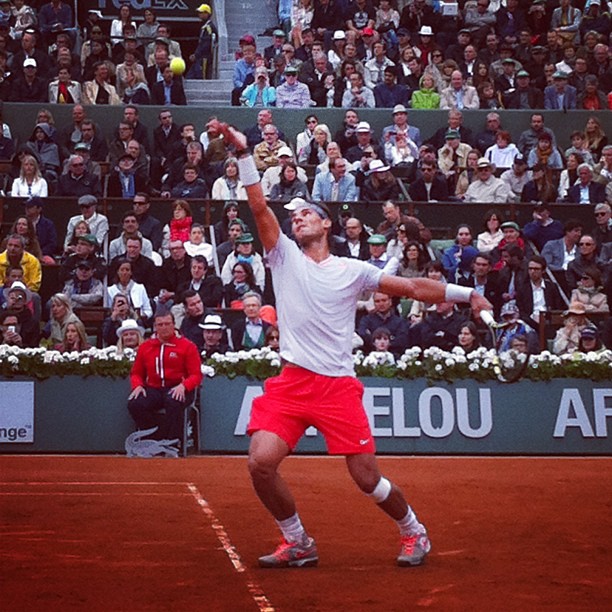 After surviving a grueling five-set match against Novak Djokovic in the semifinals, Nadal had a much easier time against Ferrer in the finals.
The first set started close as both competitors were able to break each other in the early going, leading to a 2-2 start through four games, according to Joe Fleming of USA Today:
Sloppy service game from Nadal. Good fight from Ferrer. 2-2 (AFP) pic.twitter.com/Kbr5QyHytO

— Joe Fleming (@ByJoeFleming) June 9, 2013
However, Nadal then took over the match by winning the first set by a score of 6-3. He not only utilized his usual tough defense, but his serve was as strong as ever.
While the second set certainly had a different focus with the rushing spectator rattling both players, Adam Zagoria of SNY.tv recaps the second set well:
So despite a FIRE on the court, #Nadal jumps out to a 2 sets to love lead. One set from 8th @rolandgarros title.

— Adam Zagoria (@AdamZagoria) June 9, 2013
Although Ferrer still fought hard in the third set, it did not help much as Nadal remained strong enough to earn the win, claiming his eighth championship at Roland Garros. ESPN Tennis provides a look at the incredible run the superstar is on both this year and over his career:
Nadal defeats Ferrer 6-3 6-2 6-3 to win 8th French Open title (with 59-1 career record there) and his 7th title of 2013. #ESPNTennis #RG13

— ESPNTennis (@ESPNTennis) June 9, 2013
Ferrer does deserve a lot of credit for simply reaching this point in impressive fashion. After struggling to get past the fourth round in Grand Slams for much of his career, he reached the quarterfinals for the sixth major in a row at this event. But he clearly did not stop there.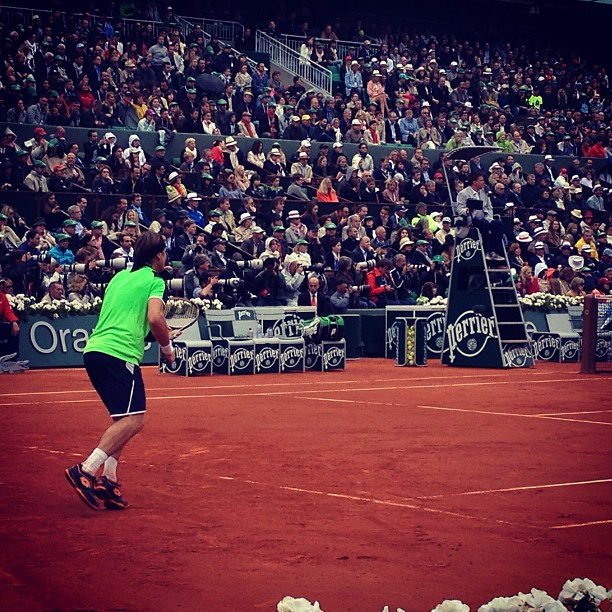 This even featured the first finals appearance for the veteran in a Grand Slam, and he reached this point without losing a single set in six matches. He easily defeated two players who had done very well at Roland Garros in Tommy Robredo and Jo-Wilfried Tsonga.
Roland Garros on Twitter provided a look at how dominant Ferrer's run to the finals truly was, even compared to his opponent:
Surprised? Nadal has spent 16hrs,58min on court compared to Ferrer's 10hrs,53min. Ferrer hasn't dropped a set compared to RN's 4 lost #RG13

— Roland Garros (@rolandgarros) June 9, 2013
Still, even he knew coming in that he was overmatched when he spoke at his press conference (via Roland Garros):
Ferrer: "Rafa is the best player in the world on clay. He's the favorite in the final." #RG13 pic.twitter.com/dlNDwDd5Xu

— Roland Garros (@rolandgarros) June 7, 2013
In the end, it was a great effort, but Nadal was clearly the better player on the day and proved that he is one of the best ever to play the sport.
Russian Duo Completes Dominant Run to Win Doubles Title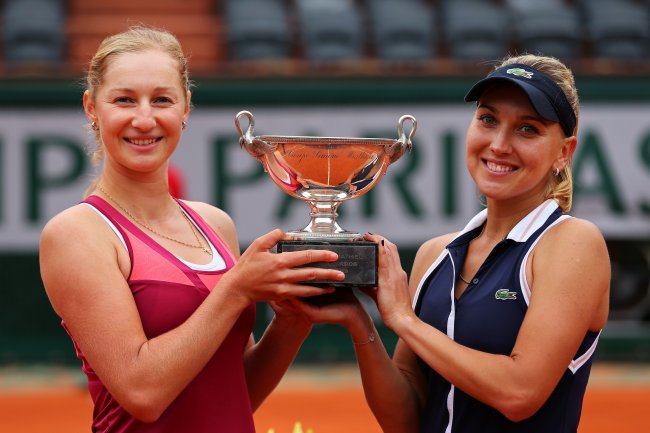 Julian Finney/Getty Images
While the main event of the day was the men's final, the undercard featured quite the match as Ekaterina Makarova and Elena Vesnina won their first Grand Slam title together.
As the Roland Garros Twitter account noted, the Russian pair had a pretty easy time reaching the finals:
Makarova/Vesnina break for 4-3 in the 1st. They've blazed thru the draw without dropping a set in 5 matches. Errani/Vinci 10-2 in sets #RG13

— Roland Garros (@rolandgarros) June 9, 2013
That streak continued in the finals as the duo once again won in straight sets over Sara Errani and Roberta Vinci by a score of 7-5, 6-2. Not only was this an upset of the top seeds in the bracket, but it was also a win over the defending champs at Roland Garros, according to Erik Gudris of ATN:
Quite the upset in women's doubles finals. Makarova & Vesnina beat No.1's & def. champs Errani & Vinci 75,62 to take RG title. #RG13

— Erik Gudris (@ATNtennis) June 9, 2013
Still, it was clear which side was better in the final. There were long rallies, but Makarova and Vesnina were usually the ones who got the important points. Here is a look at the team setting up halfway through the first set (via Roland Garros):
A looooooooong sixth game goes to Makarova/Vesnina as they hold for 3-3 in the first. Important game there #RG13 pic.twitter.com/6y7RR4PcIX

— Roland Garros (@rolandgarros) June 9, 2013
The Russian pair finally won the first set in 65 minutes, and then took over in the second for an easy victory.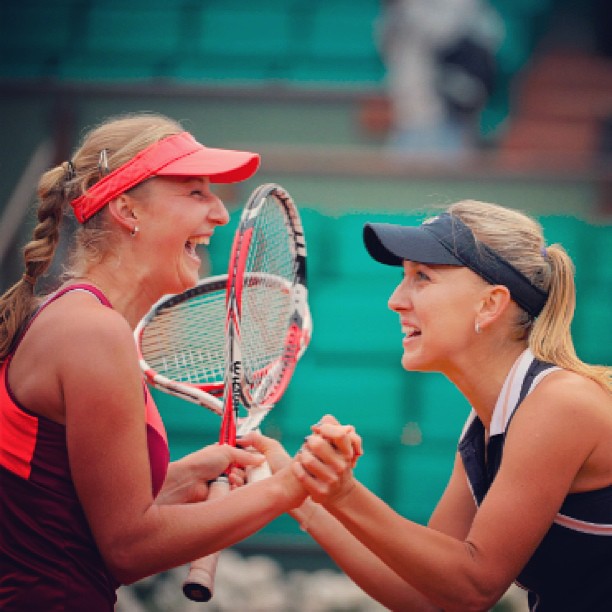 When they won, there was simply pure joy on behalf of both players as they captured their first major championship as a team.
Although this victory does not come with the publicity of a singles title, Makarova and Vesnina deserve their time in the spotlight for an excellent run through this difficult event.
Rob Goldberg is a member of Bleacher Report's Breaking News Team. Follow him on Twitter for the latest updates.