After jockey Joel Rosario piloted Orb to an authoritative victory in the Kentucky Derby five weeks ago, horseplayers could feel the changing of the guard.
Currently leading all jockeys with 156 winners, the 28-year-old Rosario became the most highly regarded jockey in racing after his Derby victory. Meanwhile, 25-year-old Rosie Napravnik had the best finish for a female jockey in the history of the Derby with her fifth-place finish aboard Mylute. Rosario and Napravnik were the two jockeys in the Triple Crown spotlight heading to Baltimore for the Preakness Stakes.
However, it was a couple of old fellas—one coming back from a seven-year retirement and another who will soon be getting mail from AARP—who stole the spotlight from the youngsters by grabbing the final two jewels of the Triple Crown.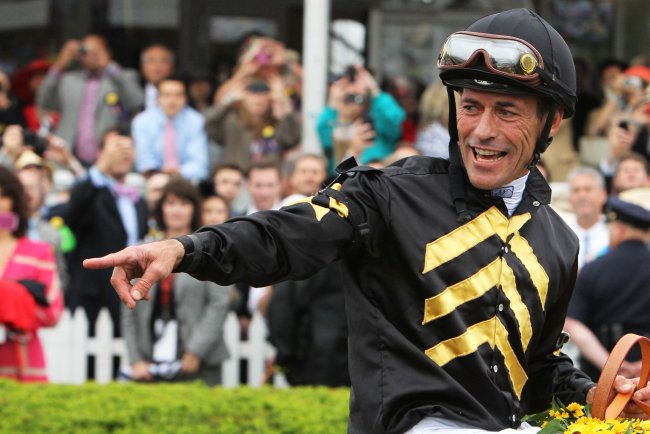 Mitch Stringer-USA TODAY Sports
Gary Stevens retired from the saddle in 2005 and headed to the television booth, but he recently caught the racing bug. After seven years on the sidelines, he decided to get back in shape and back in the saddle in January.
At 50 years old, Stevens is a bit choosier about which horses to ride and has only booted home 21 winners this year, but he has shown he can still hang with jockeys half his age.
His win aboard Oxbow was one of the best rides of this year. He jumped the D. Wayne Lukas colt out to a fairly easy lead in the Preakness Stakes, and the Hall of Fame jockey literally stole the race.
"I was thinking, 'Are you kidding me?'" Stevens told Jay Privman of the Daily Racing Form. "The race was over. I just walked the dog. This is the reason I came back, to win races like this, the classics."
Stevens now has nine Triple Crown wins, three in each leg.
Things did not go quite as well on Saturday in the Belmont Stakes, where the Preakness winner checked in second.
"There were suicidal fractions for a mile and a half, that's why I say he (Oxbow) is one of the bravest thoroughbreds I have ever ridden," Stevens told a national television audience on NBC Sports Network. "At the five-sixteenths I said well maybe I had a chance. I knew he was going to weaken and I looked over and saw Mike (Smith aboard Palace Malice) and he put a neck on me and I said 'Go get him Mike'."
And that is exactly what Mike Smith did.
Mike Smith on NBC": I was full of run turning for home." #BelmontStakes #GetIntheGame

— Americas Best Racing (@ABRLive) June 8, 2013
Fellow Hall of Fame rider Mike Smith is just four years younger than Stevens. After pulling off the upset in the Belmont Stakes aboard Palace Malice, he continues to show he has no plans on slowing down.
Like Stevens, Smith also does not ride as many horses or boot home as many winners as he did in his younger days, but he continues to be a big money rider. His win aboard Palace Malice was just his 25th in 2013.
Smith rode Palace Malice to 12th place in the Kentucky Derby. Trainer Todd Pletcher had added blinkers on the colt, which generally puts more speed into a horse. Smith could barely control the colt in the early going in Louisville, and after setting sharp early fractions, the colt ran out of steam and faded in the stretch.
The colt skipped the Preakness, and Smith got the mount on Will Take Charge, who checked in at seventh. The jockey made the right choice by getting the mount back on Palace Malice for the Belmont Stakes, as Will Take Charge finished 10th.
For Smith, it was his fourth Triple Crown win and his second Belmont Stakes victory. He won in 2010 aboard Drosselmeyer.
For these two old fellas, age is just a number. They are approaching a century in age combined and have now ridden nearly 10,000 winners, but don't expect them to retire anytime soon.
And that is bad news for the youngsters like Rosario and Napravnik.