After a combined total of 11 hours, 53 minutes, 38 innings, 268 at-bats, 1,089 pitches and 65 different batters who came to the plate, the marathon games between both the Miami Marlins/NY Mets and Toronto Blue Jays/Texas Rangers, finally came to an end, hours after the first pitch was thrown.
To see a marathon game, one that's literally the equivalent of two or two-plus nine-inning games, is quite rare, but to see two in one day, well that is a feat that you may not see again for quite a long time. In fact, this is only the second time in MLB history in which two 18-plus-inning games occurred in the same day. The other was in 2006.
Of course while these games are fun to watch, marathon baseball games often equal just two words for hitters: average killers.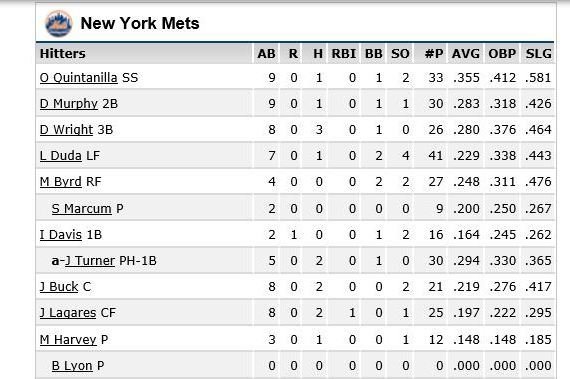 Between the two games, 17 players recorded at least seven at-bats. If you combined and analyzed the at-bats between these players, you would have 164 at-bats and in those 164 at-bats just 36 hits. And here's the not-so-fun stat for the hitters. That would mean the combined average for these players would be...
.219.

Ouch!

So let's take a look at some of these players who won't exactly maintain their averages as a result of this game.

(TEX) Jurickson Profar: 1-for-7
(TEX) Adrian Beltre: 1-for-8
(TEX) Nelson Cruz: 0-for-6

(TOR) Jose Bautista: 1-for-8
(TOR) Maicer Izturis: 0-for-7

(MIA) Ed Lucas: 1-for-8
(MIA) Derek Dietrich: 1-for-8
(MIA) Placido Polanco: 1-for-8

(NYM) Omar Quintanilla: 1-for-9
(NYM) Daniel Murphy: 1-for-9
(NYM) Lucas Duda: 1-for-7

And those were just the guys with one hit or less. If you take a look at the rest of the players' averages, only three walked away with decent averages from the game. Blue Jays DH Adam Lind went 4-for-7 and Marlins SS Adeiny Hechavarria was 3-for-7. But the big winner would have to be Marlins catcher Rob Brantly. He was 4-for-8.
Just to get an idea of the damage, Daniel Murphy (1-for-9), the guy who almost ended the Mets/Marlins game in the 12th, began the game with a .290 average. It now sits at just .283.
But more than just the hitters' averages, this game is going to have an impact on how each of these four teams go in terms of their pitchers.
As mentioned, over 1,000 pitches were thrown in the two games distributed between 31 different pitchers.
In the 20-inning super game, the Mets and Marlins both technically used two starters.
For New York, Matt Harvey started the game and lasted seven innings and then Shawn Marcum, who ultimately got the loss, pitched the final eight innings of the game. For Miami, it was Jose Fernandez who started the game and went six innings, only to be outdone by eventual winner Kevin Slowey, who lasted seven scoreless innings.
1st game in pitch-count era where 4 threw 90-plus RT @hurricanelydiaa: @jaysonst last time 4 pitchers threw 95 + pitches each in a game?

— Jayson Stark (@jaysonst) June 9, 2013
Unsurprisingly, it was probably the first-place Texas Rangers that handled their situation the best. After Yu Darvish pitched the first seven innings, Texas only used three pitchers, each who went no more than 1.2 innings, before they decided to put in Ross Wolf, who pitched the final 6.2 innings and was the losing pitcher of record.
So the Rangers look to be set while the other three teams meanwhile will definitely be hoping their starters can go the distance in their games tomorrow. That is the only way these beleaguered bullpens will get any rest.
Just Some History from the Marathons
Beyond the impact this game will have on the four teams tomorrow and for the rest of the season, the fun part when something so historic like this happens is to look at that very history. So for all of you baseball nerds out there, myself included, this is the kind of stuff you'll live for.
The last time the Toronto Blue Jays played an 18-inning game was in 2005. It was the first time they played a game that long in franchise history. Pete Walker, now Jays pitching coach, earned the win and is the only guy who can say he was a part of both games.
This is the first 20-inning game in Major League Baseball since the Mets defeated the St. Louis Cardinals in 2010. It was the longest home game for the Mets since 1974, which went 25 innings, and once again, was played against the Cardinals.
The last time two relief pitchers from opposite teams both lasted 6+ innings: 1991
This is the first time in history(!) that two baseball games combined to last at least 38 innings. It is also the first time that an 18-inning game and 20-inning game were played on the same day.

But perhaps, the most interesting note from today's game is the fact that, for the Mets and Marlins, this is kind of deja vu.
Folks at @EliasSports have a doozy of a "Did You Know" on the Marlins/Mets game ... takes us back to 1884! pic.twitter.com/6XbvSNIvzh

— ESPN Stats & Info (@ESPNStatsInfo) June 8, 2013
If you flash back to this season, April 29 to be exact, the Mets and Marlins engaged in a 15-inning contest that was won by Miami by a score of 4-3. Fascinatingly enough, it was Harvey and Fernandez, the same two pitchers on the mound in the 20-inning game, who pitched in that contest.

When looking at the slightly shorter, Rangers/Blue Jays game, it is important to note that Toronto had a two-run lead entering the ninth inning. Texas came back to score two runs in the frame, which was only the second inning of the game they scored in. The Rangers finished the game by going 1-for-19 with RISP (although to be fair, the Mets finished their game 0-for-19 with RISP)...
Of course as marathons go, this one was probably one of the most exciting we will ever see. Both games could have ended a lot sooner than they did. Lance Berkman (TEX) was thrown out at home in the 10th, and Daniel Murphy (NYM) in the 12th. Ironically enough, both of these teams later lost.
But of course, those games didn't end in the 10th and 12th, respectively. They lasted a total of 16 more innings. Then again, what else could you expect from a game that saw Rajai Davis (TOR) come in as a defensive replacement in the eighth and end up playing another 10 innings before getting the walk-off victory?
The internet is one thing, but I, for one, would love to see each of the manager's lineup cards from these two incredibly long pieces of baseball history!