The 2013 NBA Finals are in full swing, as the San Antonio Spurs have defeated the Miami Heat by a score of 92-88 to take a 1-0 series lead. This was one of the rare games in which the statistics favored the team that lost, which has some questioning the value of the numbers altogether.
Fortunately for the skeptics, there are statistics you need to know—numbers that will decide Game 2 of the NBA Finals.
During Game 1, the Heat topped the Spurs in field-goal percentage, three-point field-goal percentage, three-point field goals made, rebounds and assists. Even still, the Spurs managed to walk away victorious.
Shooting 83.3 percent from the free-throw line and committing just four turnovers is a great way to make that happen.
Fans may love the big plays, but winners capitalize on the small things.
It was a game of impressive proportions, as LeBron James tallied a triple-double and Tony Parker scored 20 points and committed zero turnovers. According to ESPN Stats & Info, Parker became the fifth player to accumulate those numbers during an NBA Finals game in the past 20 years.
The question is, which numbers actually matter when we're evaluating Game 2?
Home-Court Advantage or Road Warriors?
When a team plays in front of their home crowd, it's no coincidence that we use the phrase, "home-court advantage." After all, they have the luxury of fans cheering for them and quieting down during free throws instead of distracting them.
The Miami Heat have taken that to another level.
According to Basketball-Reference.com, the Heat haven't lose consecutive home games since June 12, 2011. That's a span of just under two calendar years, with their last two-game drought coming when they lost to the Dallas Mavericks in the 2011 NBA Finals.
The numbers suggest the Spurs could be the second Texas franchise to send the Heat packing.
Spurs: NBA-best 13-2 this postseason, 7-1 on road

— ESPN Stats & Info (@ESPNStatsInfo) June 7, 2013
Whom do you trust?
The Spurs may be playing well on the road, but the Heat simply do not lose consecutive games in Miami. While anything is possible when we're talking about Gregg Popovich's team, the odds are in the Heat's favor.
It doesn't get much better than a two-year streak.
Game 1's Impact
The San Antonio Spurs have been here before. In fact, they own four NBA championships under Gregg Popovich and three with the core of Tim Duncan, Manu Ginobili and Tony Parker.
Game 1 marked the fifth consecutive time that the Spurs have won the opening contest of an NBA Finals series.
Spurs are 5-0 all-time in NBA Finals Game 1s. They are only team with more than 1 win and a perfect record.

— ESPN Stats & Info (@ESPNStatsInfo) June 7, 2013
The Spurs won all four of the previous series.
Fortunately for Heat fans that are fearing the end, there is reason to believe that Miami will bounce back. In fact, the Big Three has been so strong in the postseason that a loss in Game 1 can be viewed as a good thing.
Just check the numbers.
Heat have won 10 straight games following a loss

— ESPN Stats & Info (@ESPNStatsInfo) June 7, 2013
So which number matters most?
The Heat have been able to sweep Eastern Conference foes after losing Game 1 and take down a—how don't we mention this?—young Oklahoma City Thunder team. What they haven't done, however, is play a series against a team as decorated as the Spurs.
Ever.
This isn't to say that the Heat can't win, as they remain the favorites and are led by the best player in the world. What this is an acknowledgement of, however, is that the Spurs have played imposing forces—Shaquille O'Neal and the Los Angeles Lakers, Steve Nash and the Phoenix Suns—before.
They've gone 4-0 during NBA Finals appearances, thus far—don't think a three-year streak by Miami will discredit more than a decade of dominance. In that same breath, don't fool yourself into thinking Miami is helpless.
The Heat have the numbers on their side entering Game 2.
Struggling Stars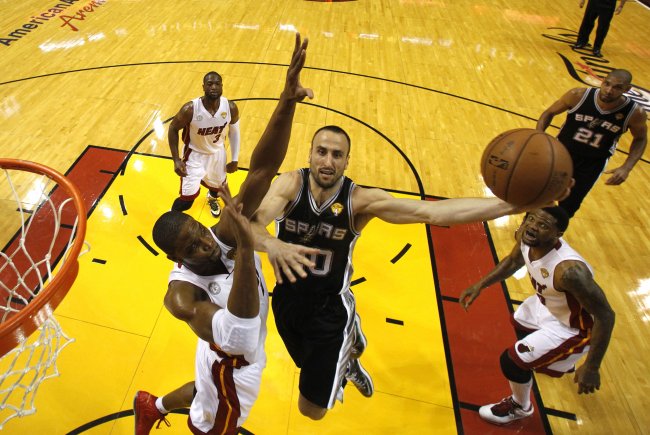 Pool Photo-USA TODAY Sports
Over the past two rounds, the story of the 2013 NBA playoffs has been the lack of production from the Miami Heat's Big Three. While LeBron James is dominating games and Dwyane Wade battles a debilitating knee injury, Chris Bosh has no excuse for his woes.
None that we know of, that is.
With that being said, Bosh went four games without scoring in double digits before dropping 13 in Game 1 of the NBA Finals. During that game, he was 6-of-12 on two-point field goals and 0-for-4 from beyond the arc.
Who is more important to team success?
In other words, his eventual turnaround would mean that the Heat are unstoppable, right? Not so fast.
For the San Antonio Spurs, Manu Ginobili has yet to discover his scoring touch. He's shooting 38.2 percent from the field during the playoffs and shot just 4-of-11 during Game 1.
The difference between him and Bosh? Ginobili is finding ways to contribute in other areas.
Thus far, Ginobili is averaging 11.6 points, 5.2 assists, 4.2 rebounds and 1.4 steals in 26.0 minutes. Bosh, meanwhile, has posted averages of 12.3 points, 6.5 rebounds, 1.2 assists and 1.5 blocks in 32.1 minutes.
At some point, one of these stars will turn it around. The question is: Whose impact will matter most?
Thus far in the 2013 NBA playoffs, the Heat are 10-2 when Bosh scores in double figures and 3-3 when he doesn't. The Spurs are 7-2 when Ginobili scores in double figures, 6-0 when he fails to top 10 points and 7-0 when he has five assists.
Will Ginobili step up as a facilitator? Or will it be Bosh that discovers his shooting touch?
When that question is answered, the game will be decided.