WWE Payback: Predictions for the Inaugural Event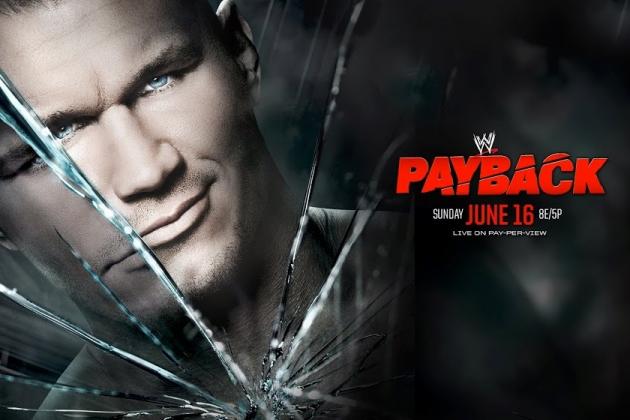 WWE.com
This is WWE's first pay-per-view under the Payback name, replacing No Way Out in the list of PPV names. Other than WWE Superstars saying their matches are based on vengeance, or Payback as they would like you to say, this PPV has no theme to it.
No Way Out is just another PPV name added to the growing list of former events. Not having a theme doesn't hurt the show, but these days the B-Level PPVs all seem to have one.
Elimination Chamber, Money in the Bank, TLC, Hell in a Cell, Extreme Rules and Night of Champions all have some kind of theme, with Over the Limit being the only other non-Big 4 event without some kind of gimmick to it.
WWE Payback might have a few matches we have already seen recently, but the build-up to the show has made this pay-per-view stand out.
Every single title is on the line on this card, but the match that might end up getting the most attention from the crowd has no title at all.
CM Punk's return has not only been saved until the PPV, but it is happening in his hometown of Chicago, somewhere he tends to be treated well as a heel or a babyface.
There are eight matches, counting the pre-show, which is now called The Kick-Off for some reason. In this slideshow I will offer you some predictions that will hopefully pan out.
Begin Slideshow

»
Sheamus and Damien Sandow have had numerous encounters in the past year, but this is the first time where it feels like Sandow poses a real threat.
Sandow is one of the most entertaining people when he has a mic in his hands, and he is able to keep up with just about anyone in WWE inside the ring.
This match could be the first step in Sandow's journey to the top; that is, if he wins.
The pre-show matches typically feature a babyface getting the victory, but this time feels different. Sheamus was one step ahead of Sandow for weeks, but Sandow finally got the upper hand last week.
Hopefully that is a sign of his impending victory, because I am predicting Damien Sandow as the winner of the pre-show match.
The possible future break up of Team Hell No has been seeming more likely in recent weeks after Bryan developed an inferiority complex about being the weakest link.
Bryan has proven week after week that he is not in fact the weakest link, but that is not enough.
Now, the former champs find themselves back in title matches, but not as partners. This match does not seem designed to give Kane a title. It seems designed to advance a storyline.
I see Bryan, with the best of intentions, accidentally costing Kane the match somehow, or The Shield cause the DQ and Bryan does not come to help Kane.
Either way, Ambrose will keep his title this time.
This match seems even less likely to end in a title change than the US title match.
There are three outcomes that seem likely in this match: Bryan accidentally costs them the match, Orton turns heel and leaves Bryan to lose or Kane costs them the match.
The possibility of The Shield using Ambrose is also there, but WWE has started moving away from the constant sneak attacks and have started putting The Shield in a more standard role.
It doesn't matter how it happens. The Shield will walk away as defending champions on Sunday.
This match is a little harder to predict since the participants were changed at the last minute due to Fandango's concussion.
Wade Barrett has held the title since the night after WrestleMania, and it has done little to raise his status in WWE.
Miz doesn't need another mid-card title at this point, which is why I am going out on a limb and predicting Curtis Axel as walking away the new IC champion.
Paul Heyman is not someone you have manage a Superstar if you do not plan on pushing that Superstar, so what better way to push him than to throw a mid-card title on him and see what happens.
A title his father held with great pride seems like the perfect thing to use to get Axel over.
Let's get the prediction out of the way. AJ is going to win the Divas title on Sunday.
The more important prediction I am going to make is that this will be the best Divas title match in a few years, at least.
AJ and Kaitlyn have great chemistry in the ring, and given enough time, they could put on a match that will be a candidate for Women's Wrestling Match of the Year.
I have not been this excited about a Divas match in WWE since Mickie James was around.
Would WWE bring back CM Punk at a PPV, with no TV appearances ahead of time, in his hometown, just to have him lose?
It seems pretty unlikely when you look at it that way, and that is why Chris Jericho will be walking away on Sunday with a loss, just like he did 14 months ago at Extreme Rules in Chicago during their Street Fight, and just like he did when he lost to Punk at WrestleMania 28.
CM Punk's return will not only be the most anticipated matches of the night, but it will also answer the questions people have had on their minds recently.
Will CM Punk still be a heel? Will he or Paul Heyman turn on each other? Will Curtis Axel or Brock Lesnar play into anything? Will CM Punk be happy because The Blackhawks got to 2-0 over the Bruins, or will he be trying to forget a loss that ties up Chicago with Boston?
Hopefully we leave WWE Payback knowing the answers to all these questions.
On an unrelated note, Go Blackhawks!
If WWE were not going to keep the title on Ziggler, they would have just stripped him of it when he was diagnosed with a concussion.
Having him hold the title, only to lose it upon his return seems highly unlikely, especially given how hard Ziggler has worked to get to where he is.
Not only do I see Ziggler retaining the title, but I see him and AJ walking out as WWE's newest power couple after she wins the Divas title.
Where Big E Langston will play into all of this will be interesting to watch, as well.
Three Stages of Hell is one of those matches where you don't expect to see either Superstar able to hold themselves up when it's done, but this time we will actually see someone leave in an ambulance.
There have only been three of these matches in the past, all involving Triple H, and all going to the third fall. This match will be no different.
The hard part is predicting the order of the falls, not the winner. John Cena is going to win the match, but how he will win is the question.
Obviously he has to win the ambulance portion of the match, but will he lose the first or second fall?
The first fall is a lumberjack match, and the second fall is a tables match. Since Ryback has been using tables a lot lately, I will peg him as the winner of the second fall.
So, there you have it. AJ and possibly Axel will walk out as new champions, but everyone else will retain their titles.
Sandow and Punk will win their respective matches, and someone, I am not sure who, but someone will turn heel or babyface by the end of Payback or Raw the following night. It just feels like the right time for a big turn.
What do you think will happen at Payback on Sunday?
Thanks for reading and feel free to leave your thoughts below. Follow me on Twitter @BR_Doctor.