The 2013 NBA Finals will resume on Sunday, June 9, as the Miami Heat host the San Antonio Spurs in Game 2. With the Spurs owning a 1-0 series lead, the nature of this victory would be momentous.
The question is, when and where can you watch the action when the Spurs and Heat clash in Game 2?
Game 1 was one of memorable proportions, as the Spurs took down the Heat in Miami by a score of 92-88. The Heat appeared to be in full control through three quarters, but simply could not put their foe away, thus opening the door for Tony Parker to put on yet another clutch masterpiece.
With the Spurs' defense clamping down, the Heat were unable to respond and San Antonio took the Game 1 upset.
What was most surprising about this game was how well the Heat played in contrast to the poor quality of the Spurs' play. Miami had shot 48.3 percent from the field through three quarters in comparison to San Antonio sitting below 42.0 percent throughout the duration of the game.
Even still, the Heat were up by just three points entering the fourth quarter.
LeBron James finished with a triple-double at 18 points, 18 rebounds and 10 assists, but it simply wasn't enough. With the Spurs struggling to make anything from the field, they used their defense when it mattered and let Tony Parker lead them to victory.
Can they do it again in Game 2?
San Antonio Spurs at Miami Heat, Game 2
Time: Sunday, June 9 at 8:00 p.m. ET
TV: ABC
Series Record: San Antonio Spurs 1, Miami Heat 0
Key Numbers
When it comes down to it, statistics simply do not tell the entire story of an NBA game, specifically in the postseason. With that being said, the numbers tell one tale of Game 1, and that's the story of Miami blowing San Antonio out of the water.
Somehow, the Spurs managed to win.
For the game, the Spurs posted a slash line of .417/.304/.833. The Heat, meanwhile, had been shooting 48.3 percent from the floor prior to the final period of play.
And then the Spurs forced them into 5-of-18 shooting during the fourth quarter and the rest was history—or was it?
Heat were 5-for-18 in the 4th quarter, had a lot of trouble with shots outside the paint http://t.co/mRQd0GTLBQ

— ESPN Stats & Info (@ESPNStatsInfo) June 7, 2013
By the numbers, the Heat should have been blowing the Spurs out. The Spurs had been shooting 28.6 percent from beyond the arc before Danny Green drained a clutch three-pointer with 2:13 remaining in the fourth quarter.
Fortunately for the Heat, not all is lost.
4th time Heat have lost a Game 1 in the Bosh/James/Wade Era. Heat went on to sweep the next 4 games in each of the previous 3 instances

— ESPN Stats & Info (@ESPNStatsInfo) June 7, 2013
That's an impressive number—will it carry over?
Key Matchup: Kawhi Leonard vs. LeBron James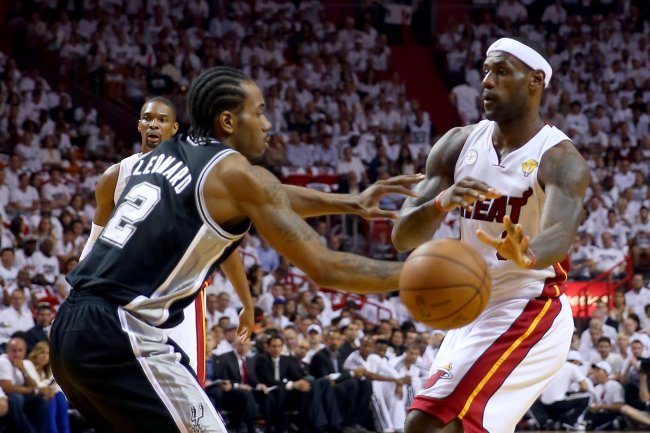 Mike Ehrmann/Getty Images
Entering the 2013 NBA Finals, few expected Kawhi Leonard to match LeBron James' production and overall quality of play. After all, LeBron is a four-time MVP and Leonard is an upside-ridden player in just his second year in the league.
During Game 1, however, LeBron's triple-double overshadowed another impressive truth—Leonard held his own.
Kawhi Leonard held James to 2-of-8 shooting and 6 points overall in Game 1

— ESPN Stats & Info (@ESPNStatsInfo) June 7, 2013
A small sample size, but an impressive performance nonetheless.
If the Spurs are to win Game 2, they'll need Leonard to do more than force LeBron into poor shooting—he'll need to prevent another triple-double. Fortunately, Leonard's poor shooting night wasn't the only story of his individual production, as he rallied off a double-double, as well.
10 points and 10 rebounds pales in comparison to 18 points, 18 rebounds and 10 assists, but for a Spurs team that appeared to have no answer for LeBron, it's a start.
Prediction
When it comes right down to it, neither team played as well as it is capable of during Game 1. The San Antonio Spurs had no business winning, let alone being in that game, while the Heat were absolutely horrendous during the fourth quarter.
The question is, which team will step up when it matters most in Game 2?
The Spurs enter this game with confidence of knowing that, when their offense is faltering, they can play responsible basketball and remain in games. They also know that their three-ball will improve, specifically after shooting 30.4 percent in Game 1 and 37.6 percent during the regular season.
According to Basketball-Reference.com, however, Miami hasn't lost two consecutive home games since June 12, 2011.
For those who remember that date, it's likely due to the fact that it marked the game in which the Dallas Mavericks defeated the Heat to win the 2011 NBA championship. Two years later, another Texas franchise is hoping to do the same.
While I chose the Spurs over the Heat in this series, it's hard to imagine the defending champions leaving Miami without a win.
Dwyane Wade may be a shell of himself with his gruesome knee injury, but it's a significantly stronger casing than we'd seen in recent games. He dropped 17 points on 7-of-15 shooting during Game 1 and scored 21 when Miami defeated the Indiana Pacers in Game 7 of the Eastern Conference Finals.
LeBron will be himself, but it's D-Wade that will decide this game—barely.
Miami Heat 93, San Antonio Spurs 86