NBA Playoffs 2013: Spurs Will Turn Game 1 Momentum into NBA Title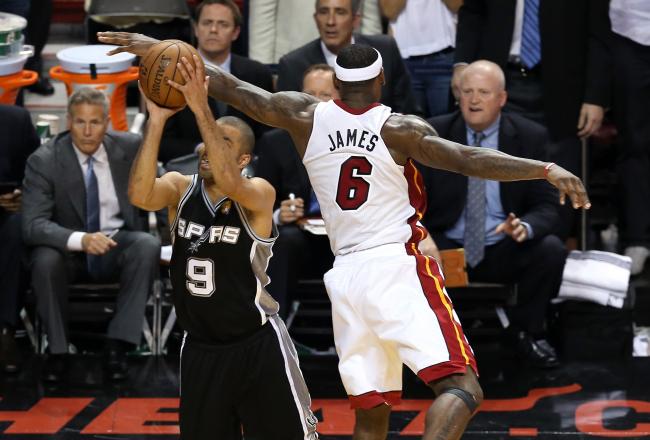 Christian Petersen/Getty Images
Let's be honest, folks—this isn't really an article about the San Antonio Spurs. Cosmetically it is, sure, since I'm saying the Spurs are going to turn a solid Game 1 win in Miami into an NBA title.
But at its core, this is really an article about the Miami Heat, and why basketball's most talented team is going to fall short for the second time in the past three years in the NBA Finals.
And it is an article about that because when this Miami team is in top form, they basically can't be beaten. You can reference their NBA title last year or the 27-game winning streak this season for proof of that statement's validity.
While Dwyane Wade has played well in the past two games—27 points against the Indiana Pacers in Game 7 and 17 points in Game 1 against the Spurs—he's played large portions of the postseason injured and like a man who doesn't quite know what his role is alongside LeBron James.
Chris Bosh, well, let's just say calling he, James and Wade the "Big Three" might be a bit generous these days. He scored all of 28 points in the final four games of the Pacers' series, and offered a ho-hum 13 points and five rebounds against the Spurs.
Now granted, not every team can take advantage of the fact that the Heat aren't playing their style of basketball right now. The Pacers certainly couldn't, and their brand of basketball is a tougher matchup for the Heat than the one that the Spurs play.
But the Spurs are capable of beating the Heat when they aren't their best. They proved that in Game 1, and if there is one thing we've learned about Tony Parker, Manu Ginobili and Tim Duncan, it is that they always seem to find a way to win.
Which team will win this series?
Of course, what makes the Spurs dangerous is that the supporting cast has come up huge as well. Kawhi Leonard is third on the team in points scored (12.8) per game and second in rebounds per game (8.1) in the postseason.
Danny Green has come up with big shot after big shot. Tiago Splitter and Gary Neal have given them solid minutes off the bench. Boris Diaw can step in and bang down low.
This is a deep team that plays well together. That's a key to this entire series—everyone on the Spurs knows their exact roles. For the Heat—at least for Wade and Bosh—that has come into question this postseason.
And there are stats out there that are worrisome for the Heat. Via Jeff Zillgitt of USA Today, the team isn't closing games, having held a fourth-quarter lead in four of their five postseason losses.
Via Ben Golliver of Sports Illustrated, "71.2 percent of Game 1 winners go on to win the Finals" and "San Antonio was 35-6 at home this season and 6-1 at the AT&T Center so far in the 2013 playoffs. During the Tim Duncan era, the Spurs are 9-2 at home in the Finals."
In other words, the odds are already heavily weighing in the Spurs' favor before they've so much as played a game at home.
Look, if the Heat decide to play up to their capabilities again this series; if LeBron and Wade start exploding for huge games at the same time; if Bosh remembers it's the Big Three, not "The Big Two and That Other Rich Guy; and if the supporting cast outplays the Spurs' supporting cast, the Heat are capable of turning this series around.
But the Spurs don't need to change the way they are playing, they just need to keep it up. That's why this article was actually about the Heat, and why the Spurs will be NBA champions this season.
This article is
What is the duplicate article?
Why is this article offensive?
Where is this article plagiarized from?
Why is this article poorly edited?