Breaking Down Braves' Top Prospects, Post-2013 MLB Draft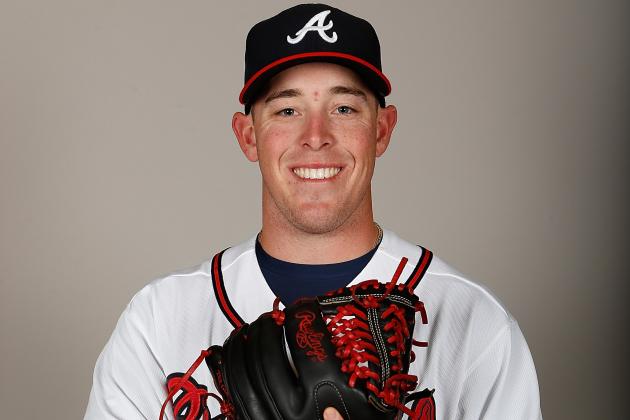 J. Meric/Getty Images

With the first two days of the 2013 MLB draft over, now is a good time to see where the new members of the Atlanta Braves organization fit into the team's list of top prospects. There is another day to the draft, but for the most part, players that would immediately fit into the top prospect list have been drafted.
The Braves didn't take many high-profile players, but with how unpredictable the MLB draft is, we will not know if that is a good thing or a bad thing for years to come. The lack of high-profile draftees is why only three players selected by the Braves made this list of the top 15 prospects within the organization.
Begin Slideshow

»
Cody Martin is a sleeper the Braves drafted out of Gonzaga back in 2011. Martin has done nothing but pitch well since signing with the Braves. He has never had an ERA over 3.00 at any stop in the minors, including this year in Double-A. Yet, because of all of the other pitching in the organization, Martin is sometimes forgotten about by many fans.
This year, Martin is 3-3 with a 2.97 ERA in 10 starts and five relief appearances with 60 strikeouts in 60.2 innings pitched. Just like every other stop in his pro career he has missed bats, limited walks and done a good job of not getting hit too hard.
Martin could be a back-of-the-rotation starter for the Braves, or he could potentially help out in the bullpen. He's close to the big leagues and could potentially make his debut in relief this season if they decide to give him a try due to all of their bullpen injuries.
Aaron Northcraft has always been a bit under the radar for the Braves. The 23-year-old right-hander has quietly been successful at every stop, including his Double-A debut this year. He may not be an exciting prospect, but he is still a guy with the potential to be a nice back-of-the-rotation starter or a trade chip come July.
Northcraft is 2-4 with a 4.58 ERA in his first 11 starts in Double-A, but he has a very nice 2.70 ground-ball ratio and is averaging nearly a strikeout per inning with 49 in his 55 innings pitched. In fact, if it wasn't for getting hit hard in a pair of starts, his ERA on the year would be 3.06.
With Northcraft pitching well in the upper minors, it's almost time for a kid I've thought of as a sleeper for a few years to start gaining some attention as a prospect.
The Braves used their second-round pick on Victor Caratini, a guy they plan to use as a catcher. According to Mark Bowman of MLB.com, Braves scouting director Tony DeMacio likes Caratini's bat, but he also believes Caratini has a chance to become a solid defender behind the plate.
Baseball America ranked Caratini as the No. 124 prospect in the draft because of his two-way potential at the catcher position, and it sounds like the Braves have really bought in based on DeMacio's comments.
Carlos Salazar was taken by the Braves in the third round of the MLB draft. The high school right-hander ranks at No. 93 on the Baseball America list of draft prospects.
Salazar, whose fastball is a potential plus pitch that hits 97 mph, has even been compared to current Brave Jordan Walden by Baseball America.
Salazar has real potential and may get a look as a starter before getting moved to the bullpen, but he needs to sign with the Braves first. He is from the Fresno area and is a Fresno State commitment, which could mean the Braves will need to go a little over-slot to sign him.
You can read more about Salazar on MLB.com in this piece by Eric Single.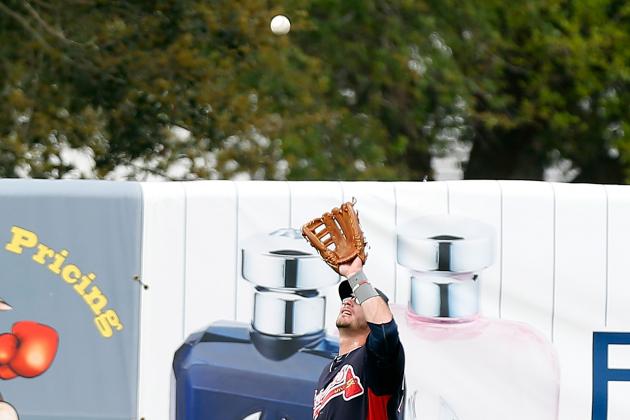 J. Meric/Getty Images

Joey Terdoslavich has brought his career back to life this year. He was seen as the heir to Chipper Jones heading into last year after a monster season in High-A in 2011, but Terdoslavich struggled to adjust to Triple-A pitching and with the move to third base. He did finally start to break out of it after being demoted to Double-A and returning to the outfield, but it didn't get much attention after his horrid start.
This year, Terdoslavich has returned to Triple-A and has gotten some revenge for the struggles he had last year. Currently, he is hitting .326 with 10 homers and 42 RBI, along with 21 doubles and a .908 OPS.
Terdoslavich is really looking like one of the top sluggers in Triple-A, but he's blocked by the other guys already in Atlanta. With guys like Justin Upton, Jason Heyward, Freddie Freeman and Evan Gattis all in the big leagues, he may need to get traded before he gets a real chance in the big leagues.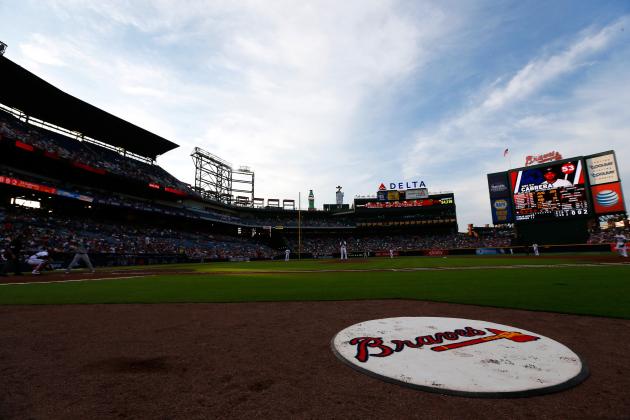 Kevin C. Cox/Getty Images

Promising young left-handed pitcher Luis Merejo has not pitched in a game yet this year, but the 18-year-old will be making his season debut in the next few weeks once short-season ball starts up. Merejo went 0-5 with a 4.61 ERA in 10 games, including eight starts, last year and struck out 53 in 41 innings for the GCL Braves.
He has significant potential, but he is a long ways away from seeing any big league action, and it's hard to pinpoint his true ceiling right now.
However, Merejo does have the potential to rank much higher on this list at the end of the season if he shows improvement from what we saw in 2012.
Matt Lipka is a former top pick of the Braves from 2010 who started off his career on a great note. However, he then battled injuries and has struggled at the plate over the past two seasons.
This year, Lipka has shown up healthy and started to get himself back on track. He's been very strong after a slow month of April.
Lipka hit just .205 in April, but he managed to hit .316 in May and .286 so far in June. That has his season average up to .270 with four homers, 28 RBI and 12 steals. He's also hit 16 doubles and three triples.
Lipka, who just recently turned 21, still has the potential to continue developing into a top-of-the-lineup threat with speed and some pop in his bat. If he keeps up hitting like he has since the end of April, the Braves could catch a break by getting him healthy after two down years.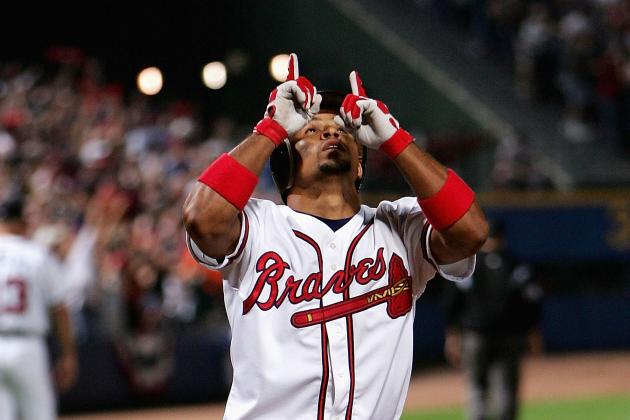 Doug Pensinger/Getty Images
Jose Peraza could become the first true leadoff-hitting shortstop the Braves have produced since Rafael Furcal.
Another promising 19-year-old prospect, Jose Peraza, makes the top 10 prospects within the organization. Peraza hasn't seen things come as easy for him this year as he did last year, but for a guy who just turned 19 at the end of April, he is holding his own in full-season ball.
The young shortstop is hitting .264 with a homer and 12 RBI, and he has also stolen 17 bases in 21 chances this year. He projects as a true shortstop capable of becoming a leadoff hitter down the line, but he'll need a couple more years before he's ready to take on that role.
The Braves' top pick in the 2013 MLB draft was Jason Hursh, a right-handed pitcher from Oklahoma State. Hursh was ranked as the No. 46 prospect in the draft by Baseball America.
He was drafted in the sixth round by the Pirates out of high school, but chose to improve his stock in college, despite requiring Tommy John surgery.
According to Mark Bowman of MLB.com, Hursh was ranked a little higher earlier in the season after a strong start to his sophomore season. But he dropped a little recently, as he ran out of gas towards the end of the season, which may have been a bigger concern for some because he has had some arm issues in his past.
Hursh throws 97 mph with his fastball, and Braves scouting director Tony DeMacio believes he was in the second tier of college pitchers available this year, according to Bowman. Hursh may need some time to develop his other offerings, but he has the potential to be a middle-of-the-rotation starter if not more.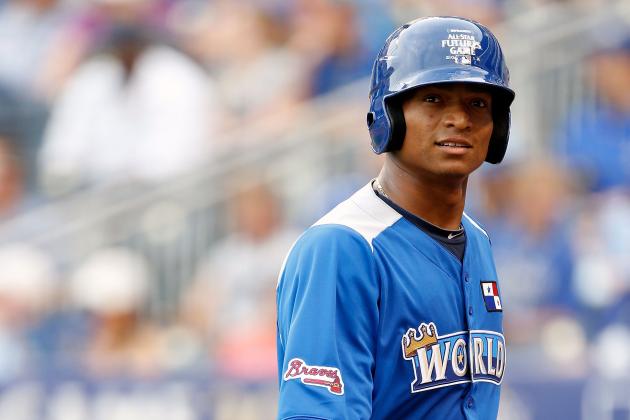 Jamie Squire/Getty Images

The progress that Christian Bethancourt had shown in April didn't last long, as he has struggled at the plate in May and June. He has shown a bit more power than what we saw from him last year, but his plate discipline has actually regressed, despite the fact he is playing at the same level he was last year.
In 71 games in Double-A last year, Bethancourt hit .243 with two homers and 26 RBI while walking just 11 times in 268 at-bats. This year, he is hitting .248 with a homer and 12 RBI, but he has just two walks in 133 at-bats.
Bethancourt is young, as he is still just 21 years old. He has potential to develop into an impact hitter in time, because there are tools somewhere inside of him. The thing is that he just doesn't seem to be making real progress at the plate, and every year that passes just lessens the chances that he reaches his offensive potential.
Even if Bethancourt can't unlock his offensive potential, he is a valuable prospect because of his defense. He is one of the top defensive catchers in the minors and has a real cannon for an arm, so he has more than enough defensive ability to make it as a backup catcher in the big leagues today. Still, the Braves will try to give him as much time as he needs to figure things out at the plate.
Mauricio Cabrera drops a spot in my rankings below Alex Wood after a slightly disappointing start to his season in Low-A. The talented 19-year-old has been hitting harder than expected, but he is young for his level and does still possess the pure stuff that got him noticed a year ago.
Cabrera is 1-4 with a 5.04 ERA in 12 starts this year, but there is some positive to be taken away. Through his first seven starts, he had 21 strikeouts to 27 walks, as he had been struggling mightily with his command. However, in his five most recent starts, Cabrera has 31 strikeouts to just 10 walks, which is a major sign of improvement.
He is far away from the big leagues right now, and could even require another year in Low-A, but Cabrera has a very high ceiling as a starting pitcher.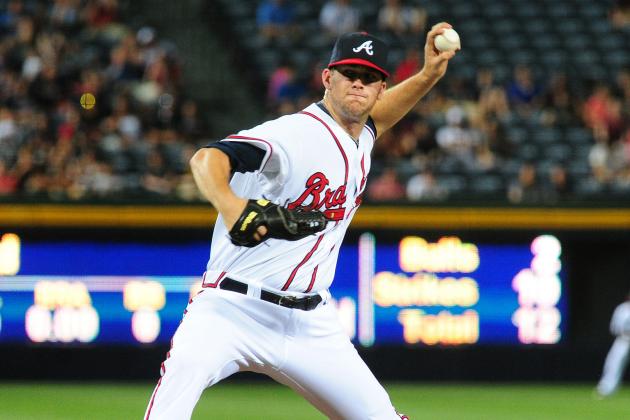 Scott Cunningham/Getty Images

Another 2012 draftee, Alex Wood has made it to the big leagues in less than a year. The college left-hander from Georgia fell in the 2012 draft because of concerns about his delivery and the fact that he already has a Tommy John surgery on his resume.
Wood started the year in Double-A and went 4-2 with a 1.26 ERA—but even that doesn't tell you just how he dominated the competition. Wood averaged a strikeout per inning, kept opponents hitting just .195 and had a ground-ball ratio of an impressive 1.63.
He was promoted to Atlanta recently to pitch out of the bullpen due to injuries to guys like Jonny Venters, Eric O'Flaherty and even Luis Ayala.
The good news for the Braves is that Wood has been successful in relief, despite not having pitched in relief as a professional before reaching the big leagues. In his three games, he has allowed one run and a total of four baserunners in 3.2 innings
He's still got a chance to be a successful starter down the line for the Braves, but with injuries in the bullpen and depth in the rotation, it won't be this season.
Lucas Sims was the Braves' first-round pick in the 2012 MLB draft, and he has done nothing to disappoint this year. The Braves gave the youngster an aggressive assignment to start him in Low-A ball this year, but to limit his innings and help him adjust, they have been working him out of the bullpen until recently instead of giving him a spot in the rotation from the start.
It's hard to question the Braves for working this talented arm out of the bullpen after watching what Kris Medlen did last year in the second half, as he too spent the first half of the year in the bullpen. Plus, they are allowing Sims to work multiple innings at a time.
Sims is 2-2 with a 3.25 ERA in his three starts and 10 relief appearances, and he has looked good in both roles for the Rome Braves. He's at least three years away from the big leagues right now, but when he is ready, the Braves may have a potential No. 2 starter on their hands.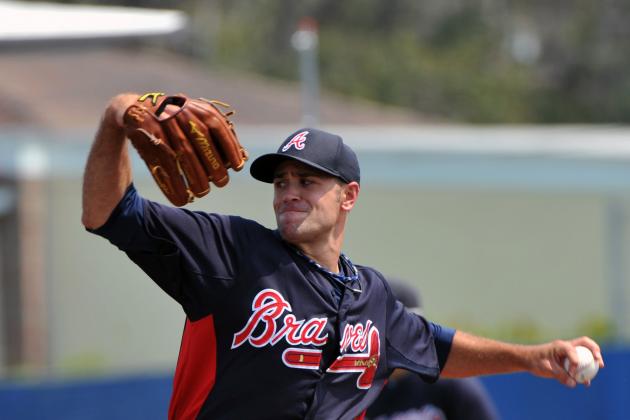 Al Messerschmidt/Getty Images

Sean Gilmartin has done nothing to excite or disappoint this year in Triple-A after being the last guy out of the Braves rotation this spring. Gilmartin is what he is: a left-hander who doesn't throw very hard but gets by on his command and knowledge of how to pitch. This means he still projects as a solid back-of-the-rotation starter who can help a club out.
The former first-rounder will continue to work in Triple-A until a spot opens in the Braves rotation by injury or he gets used at the trading deadline to help the Braves acquire someone for a World Series run.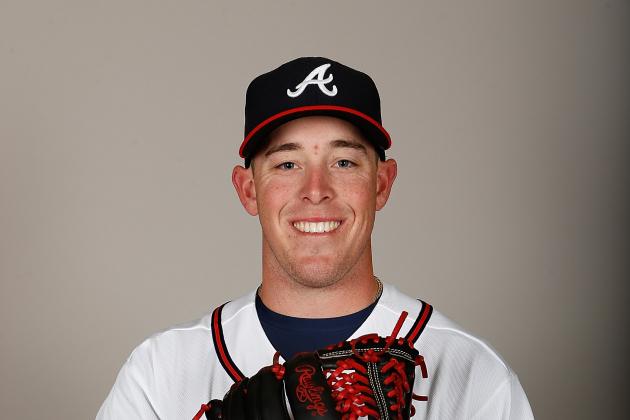 J. Meric/Getty Images

It has been an up-and-down year for J.R. Graham in his second time around in Double-A. The guy the Braves wouldn't send to Arizona as part of the Justin Upton deal saw his ERA spike and was hit harder than at any point in his professional career before a shoulder strain in mid-May sent him to the disabled list.
It wasn't all bad for Graham, though, as his ERA was a respectable 4.04 and he was getting strikeouts and ground balls. He also had strong outings in half of his eight starts and was decent in another pair, so he's still had some success.
Assuming that there is nothing more than a shoulder strain that has kept Graham out for almost the last month, he hasn't done anything to get himself knocked off as the top prospect in the organization ranking.