Jay-Z's Roc Nation Sports outfit has signed its first NBA client, and this might be the burgeoning agency's biggest splash yet.
UPDATE: Monday, June 24, at 3:45 p.m. ET by Tom Kinslow
Kevin Durant has confirmed that he has signed with Jay-Z's Roc Nation Sports after taking to Instagram to post a photo of himself and his newest agent signing their contract.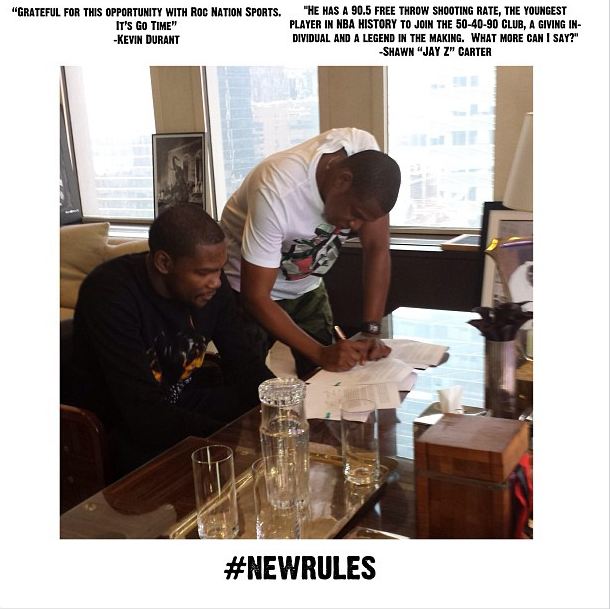 ---End of update---
UPDATE: Wednesday, June 19, at 11:29 p.m. ET by Eric Ball
Jay-Z completed a major step today in his pursuit to sign Kevin Durant (via ESPN's
Sportcenter
):
Roc Nation Sports confirms that, as of this week, Jay-Z is now licensed to work as an NBA agent. He is soon expected to sign Kevin Durant.

— SportsCenter (@SportsCenter) June 20, 2013
---End of update---
---Original Text---
According to the SportsBusiness Journal's Liz Mullen, Oklahoma City Thunder forward Kevin Durant has left his current representation at Landmark Sports and is expected to sign with Roc Nation:
Kevin Durant is leaving Landmark Sports. Sources expect him to join Jay-Z's Roc Nation Sports.

— Liz Mullen (@SBJLizMullen) June 8, 2013
There is no word on when an official announcement will be made, but Mullen notes Durant's move seems imminent. ESPN's Darren Rovell has confirmed Durant desires Jay-Z's representation services:
Source confirms that Kevin Durant has expressed his desire to sign with Jay-Z's Roc Nation Sports to improve his marketing future.

— darren rovell (@darrenrovell) June 8, 2013
The 24-year-old All-Star joined Landmark just last year, signing with agent Rob Pelinka, who is best known for representing Lakers superstar Kobe Bryant.
Pelinka released a statement regarding Durant's switch to Mullen:
Landmark Sports President, NBA agent Rob Pelinka: "We are honored & blessed to have worked on behalf of Kevin for a brief period of time."

— Liz Mullen (@SBJLizMullen) June 8, 2013
Durant is coming off the finest season of his career. The sweet-shooting forward averaged 28.1 points, 7.9 rebounds and 4.6 assists en route to finishing second behind LeBron James in the MVP voting.
Throughout the 2012-13 campaign, Durant showed marked improvement, particularly on the defensive end, and he led Oklahoma City to a 60-22 regular-season record. The Thunder were eliminated in Round 2 of the NBA playoffs after an injury to Russell Westbrook left them struggling to find manpower.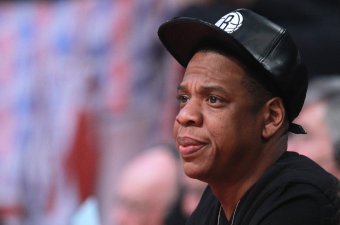 Ronald Martinez/Getty Images
Still, Durant is seen largely as the second-best player in the NBA—a selling point that undoubtedly makes him an attractive client for Roc Nation. Founded by Jay-Z in conjunction with Creative Arts Agency, Roc Nation Sports marked the 43-year-old rap mogul's first foray into athlete representation.
Jay-Z, born Shawn Carter, is a multi-platinum-selling recording artist who ranks only behind The Beatles for most No. 1 albums on the Billboard chart in history. He also has a successful chain of nightclubs, The 40/40 Club, and was integral in the Nets' move to Brooklyn from New Jersey when he owned part of the franchise.
CBS Sports' Gary Parrish noted Jay-Z's habitual excellence in all his endeavors:
I think we've reached the point where Jay could say he's gonna build computers to challenge Apple and we'd have to take him seriously.

— Gary Parrish (@GaryParrishCBS) June 8, 2013
As part of his transition into the sports representation field, Jay-Z agreed to sell his stake in the Nets. Durant will become the first NBA client for Roc Nation Sports, which also represents Yankees second baseman Robinson Cano, Tulsa Shock guard Skylar Diggins and New York Giants wide receiver Victor Cruz.
According to Yahoo! Sports' Adrian Wojnarowski, Durant grew up idolizing Jay-Z and saw an undeniable opportunity land at his feet.
"KD doesn't want a traditional NBA agent anymore," a league source with knowledge of his thinking told Yahoo! Sports on Friday night." He wants Jay-Z to handle his branding. …He had a chance to be with his idol and couldn't say no."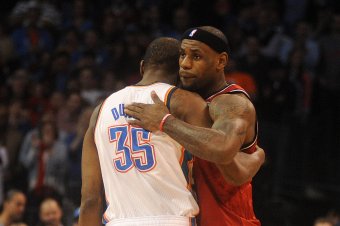 USA TODAY Sports
Becoming the "first" at something has to be significant for Durant, who lamented his second-place history in an April issue of Sports Illustrated.
"I've been second my whole life," Durant said. "I was the second-best player in high school. I was the second pick in the draft. I've been second in the MVP voting three times. I came in second in the Finals. I'm tired of being second. I'm not going to settle for that. I'm done with it."
While we can argue the veracity of that statement—Durant was the first star of the Thunder franchise—it seems the Oklahoma City star can finally rest assured he is first at something. It will be interesting to see just how soon other superstars follow in his footsteps.