Panama vs. Mexico 0-0 WCQ: Player Ratings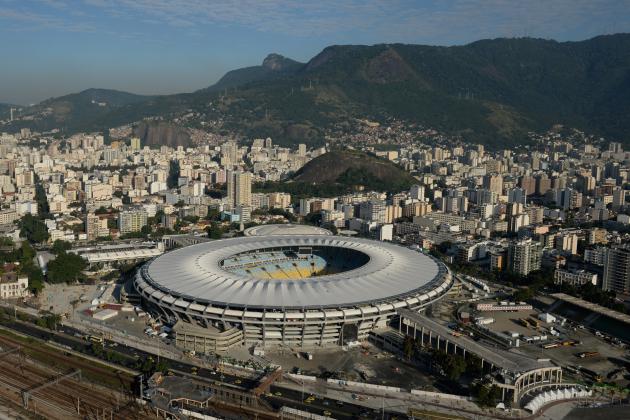 Michael Regan/Getty Images
Rio de Janeiro: In 2014 the World Cup will return to the spiritual home of football.
Before today's games, both teams sat in the automatic promotion spots: Mexico in first, albeit with an extra game played, while Panama rather surprisingly occupied second.
A win for Mexico would have kept them at the top (though still having had that extra game), while a win for Panama would have seen them ease into first. You would expect that both sides would be really pushing for the victory, especially Mexico, who have been far below par in the previous matches.
Unfortunately, it wasn't so, and a tawdry 0-0 was played out at the Estadio Rommel Fernandez, in which Mexico exercised control in the first half but fell away in the second.
Although there are still over half of the matches still to play, Mexico is in trouble after drawing their fourth blank in the qualifiers, and being a game ahead means they will have to pull themselves together if they are to have any hopes of getting automatic qualification. Panama, on the other hand, is still hanging in there.
In a somewhat boring game, this is how the players rated.
Begin Slideshow

»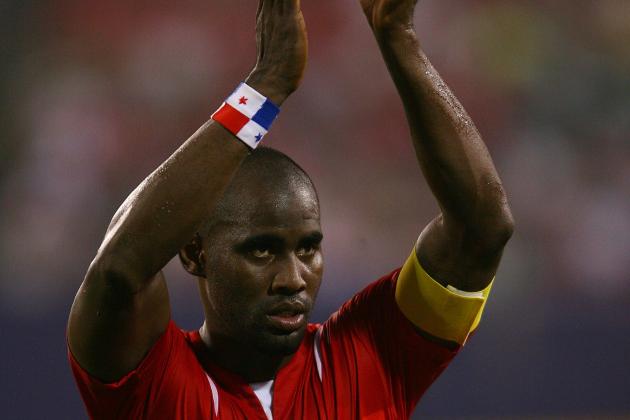 Nick Laham/Getty Images
Baloy teamed up well with Torres to limit Mexico's chances.
GK Jaime Penedo, 7—Such a high rating seems strange for not having all that much to do, but he made several saves of varying difficulty and commanded the box, leaving little room for error and keeping a clean sheet.
RB Leonel Parrish, 6—He made plenty of forward runs but appeared a little lost when he arrived in the opposition half. Defensively he coped well with his opposite number, keeping Guardado unusually quiet in the second half.
CB Roman Torres, 8—He imposed himself in the back four, stifling Chicharito and getting in strong tackles, and pulled his teammates out of some sticky situations. He would be man of the match were it not for his partner's performance.
CB Felipe Baloy, 8 (man of the match)—The captain was his usual imperious self, leading from the back and trying to get his under-performing midfielders going with some passes that went right through the Mexican lines. Too bad that there was no one to pick them up.
LB Carlos Rodriguez, 4—He put in a decent shift defensively but couldn't carry the ball forward well enough and lacked the inclination to makes the runs that Parrish demonstrated.
Gregory Shamus/Getty Images
Amilcar Henriquez struggled to get any momentum going in midfield.
RM Marcos Sanchez, 4—He couldn't forge any real space, and when he did get the ball, he was confronted by a worrying lack of supporting teammates. He fell flat in a game where Panama desperately needed some midfield creativity.
CM Amilcar Henriquez, 4—He was completely overrun in the first half by Torrado and Zavala, with some but not much improvement in the second. He got himself about but couldn't make a difference.
LM Gabriel Gomez, 3—He largely marked out of the game, and when he did receive the ball, he did nothing to impress. Off for Armando Cooper, 58 mins.
CAM Luis Henriquez, 3—He played badly, unable to carve any attacks in open play and wasted a number of free-kick opportunities. He just could not break free of markers and was sloppy on the ball.
Subs
Armando Cooper (on for Gabriel Gomez), 3—He tried to get into the game, but by then 0-0 looked a foregone conclusion. He wasted a chance with an awful cross.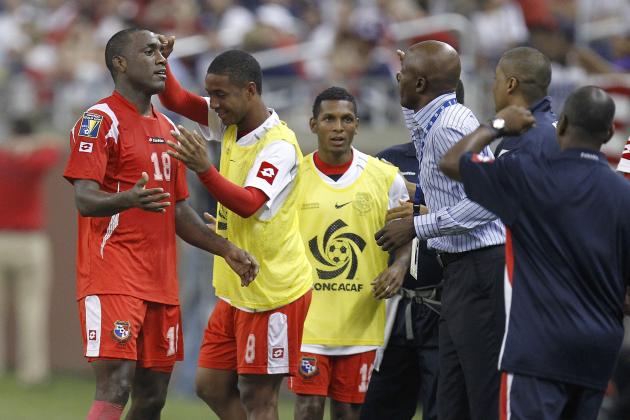 Gregory Shamus/Getty Images
Tejada was well off the pace until being replaced by Blackburn in the 70th minute.
ST Blas Perez, 5—A disappointing first half performance improved in the second, with a shot that forced Corona into a brilliant save. Another long range effort barely tested the Mexico 'keeper, and other than that, Perez was mainly a passenger. Off for Rolando Blackburn, 70 mins.
ST Luis Tejada, 3—He laboured, under par. Largely anonymous, he should have gone off a lot earlier. Off for Nelson Barahona, 77 mins.
Subs
Rolando Blackburn (on for Perez), 3—He couldn't make an impact and just sort off drifted about for 20 minutes.
Nelson Barahona (on for Tejada), 4—He made a couple of runs, one of which drew a free kick on the edge of the D, but Barahona stepped up to blast it miles over the bar.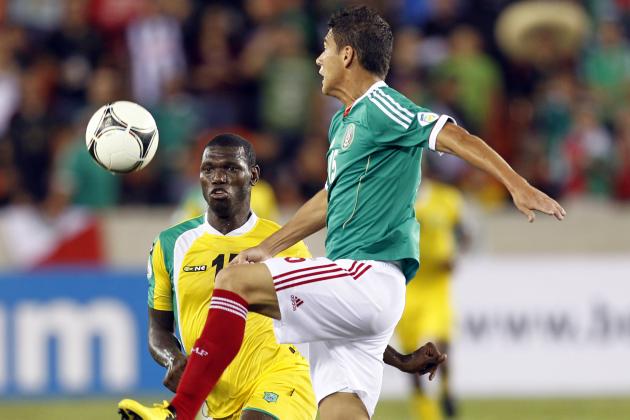 Bob Levey/Getty Images
Moreno in action against Ghana; the centre back enjoyed a somewhat leisurely game against Panama.
GK Jesus Corona, 8—Other than a few easy pick-ups, he didn't have much to do in the first half. In the second he made two saves, one of them rather impressive, and spared his team's blushes. He dealt with everything Panama could throw at him.
RB Severo Meza, 5—He was fine when defending, but the right-back couldn't attack convincingly, which stalled his team as many of their attacks went down the right flank.
CB Francisco Rodriguez, 7—Rodriguez was composed to the point of being almost relaxed, but he unfortunately wasted a good header chance in the Panama box which he should have done better with.
CB Hector Moreno, 7—He passed the ball well with Rodriguez as the starting point for Mexico's attacks and defended solidly. It's a shame that the men in front of him couldn't follow his example.
LB Carlos Salcido, 5—He was okay defensively but unable to convince when going forward. He looked somewhat short of ideas when he found himself in the opposition half.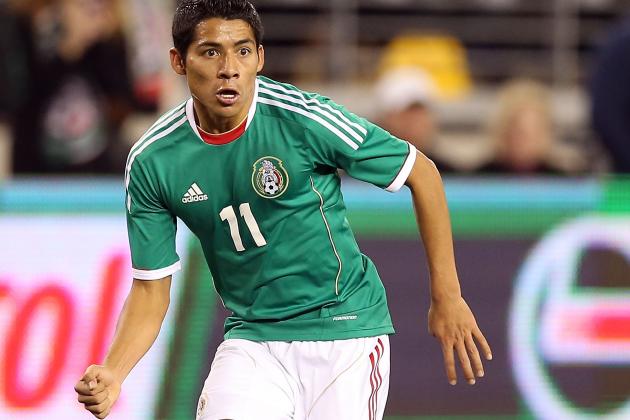 Christian Petersen/Getty Images
Aquino expended plenty of energy running but couldn't make the final ball.
RM Javier Aquino, 7—He had good and bad spells, though the good side just prevailed. He got at the Panama defence, drawing fouls and posing the biggest threat of the Mexican attack, but lacked the final ball. He created his side's best chance with a dangerous cross, but Hernandez put it wide. Off for Gerardo Flores, 72 mins.
CM Jesus Zavala, 6—He had a relatively sturdy performance in the middle of the park, breaking up the Panama attacks and controlling play well in the first half, but he fell away a bit later on. A close range header forced Penedo into a reaction save.
CM Gerardo Torrado, 5—After looking fairly comfortable in the first half and combining well with Zavala, Torrado got snuffed out in the second half and ended the match disappointingly.
LM Andres Guardado, 6—He spent the first 45 minutes making drifting runs and gave Parrish plenty to think about, but a seeming lack of confidence meant he didn't penetrate as well as expected. Marked out in the second half.
Subs
Gerardo Flores (on for Aquino), 4—He tried to calm down play and pass the ball about after coming on, but the damage was already done, and he was unable to inspire his teammates.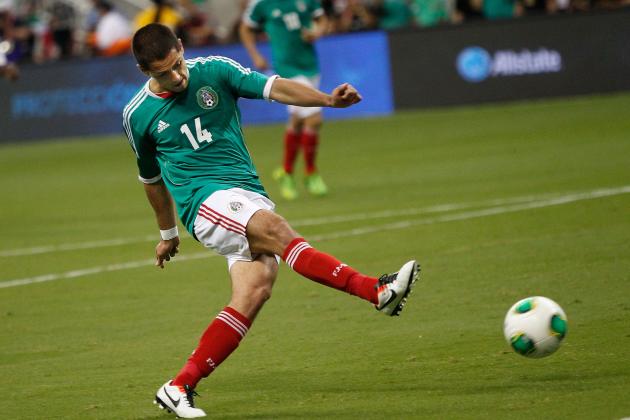 Bob Levey/Getty Images
Hernandez was not up to his usual standard against Panama before going off injured.
CF Giovani Dos Santos, 5—There was plenty of effort from Dos Santos, with him running at the Panama defence and putting them on the back foot, but an overall lack of skill and composure meant that his exertion was wasted. Off for Angel Reyna, 67 mins.
ST Javier Hernandez, 5—This performance was way below what we expect from the Manchester United man, though his performance can be somewhat attributed to a lack of service. However, he spurned the chances he was given, including a great opportunity from Aquino's cross which he put wide of the goal. Off injured for Aldo de Nigris, 79 mins.
Subs
Angel Reyna (on for Dos Santos), 5—He got stuck in but couldn't make the grade or a difference.
Aldo de Nigris (on for Hernandez), 4—He replaced Hernandez too late on to have any impact and looked as though he had decided the game was already over for the 14 minutes he was on the pitch.