How Houston Rockets Can Fix Their Defensive Problems Through Free Agency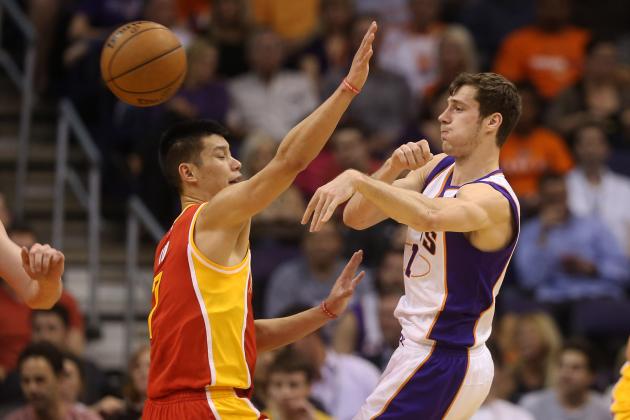 Mark J. Rebilas-USA TODAY Sports
Jeremy Lin is one of Houston's best defenders, but he needs more help.
The Houston Rockets had one of the most potent offensive attacks in the NBA this past season, but on the other end of the floor, they often had problems.
While some responsibility for the number can be attributed to Houston's fast-paced offense, the Rockets allowed 102.5 points per game—the third-most in the league.
Houston's front office will use free agency to find players with a variety of skills who will improve the defense as a whole.
From extra shot-blockers to menacing defenders, there will be number of viable targets available and the Rockets have plenty of money to entice free agents to the Lone Star State.
Begin Slideshow

»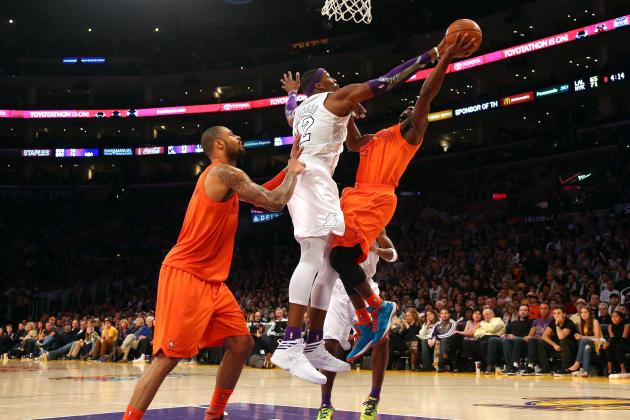 Victor Decolongon/Getty Images
Getting to the rim on Howard is a difficult task.
It is no secret Dwight Howard is on top of Houston's offseason wish list, and Howard is a premier shot-blocker in the NBA.
As a team, the Rockets swatted a mere 4.4 shots per game in 2012-13. Howard, on the other hand, ranked fifth in the league blocking 2.4 attempts per game during the regular season.
Combining Howard with current center Omer Asik would give Houston a lethal tandem of seven-footers in the post, and the duo legitimately could challenge that 4.4 number by themselves.
His contract will be massive, but the Rockets can afford the oft-discussed superstar. Of course, a three-time NBA Defensive Player of the Year is usually worth the hefty price he demands.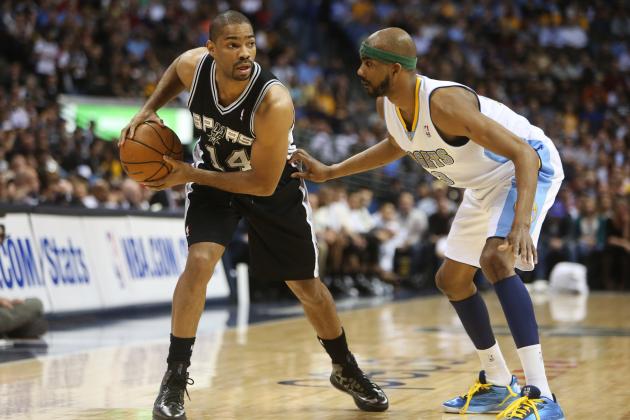 Chris Humphreys-USA TODAY Sports
Brewer has been a great defender for Denver.
With the addition of Corey Brewer, Houston would get an affordable agitator for its defense.
Brewer posts double-digit scoring, but his outstanding length is truly a disruptive factor when guarding an opponent, as he stands 6'9" with quick feet and fast hands.
Although Brewer does not get a ton of blocks (only 0.3 per game), his long frame and athleticism alters and rushes his fair share of shots.
He has grabbed 1.3 steals per game throughout his career, however, and the Rockets already get 8.8 per contest. More steals equates to more transition opportunities, and Houston enjoys fast-paced play on offense.
Houston general manager Daryl Morey needs to pursue Brewer because the swingman was paid a reasonable $3.3 million in 2012-13 and should not command much more than that.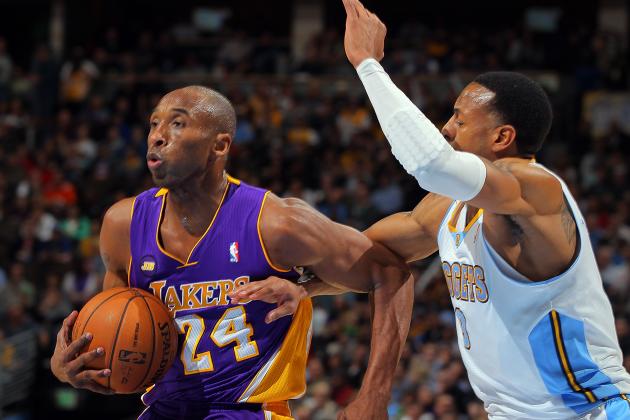 Doug Pensinger/Getty Images
Iguodala guarded the best the Nuggets' opponents had to offer, like Kobe.
The Rockets allowed the third-most made three-point shots per game (8.1) last season, and a lockdown defender would certainly lower that number.
Andre Iguodala may not be the first name to come to mind, but the consequences of the Denver Nuggets firing head coach George Karl may open a new door.
NBA.com's David Aldridge reported that Iguodala texted, "...need some time to let (the firing) sink in."
Iguodala previously admitted he is likely to test free agency, and Houston is a perfect landing spot for the ninth-year pro. Now that Denver has fired Karl, though, it is even more likely Iguodala leaves the Nuggets.
Iguodala always gets the toughest assignment on defense and has proven himself to be one of the best on-ball defenders in the league. He is well deserving of his spot on the 2010-11 NBA All-Defensive Second Team.
In addition to Iguodala being a great defender, his quickness on offense would also be a welcomed asset.
But he will come at a hefty price.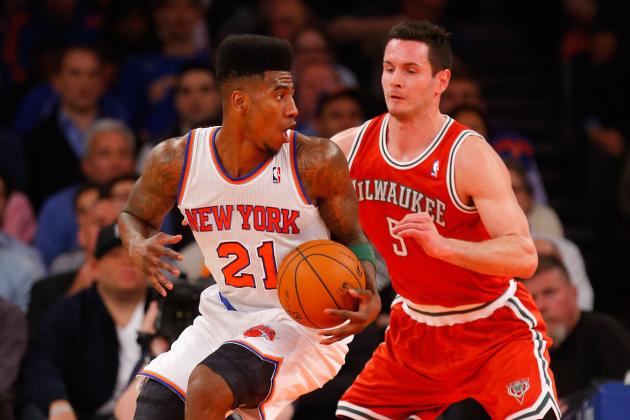 Jim O'Connor-USA TODAY Sports
Iman Shumpert is quick, but Redick keeps up with shifty players.
As previously mentioned, the Rockets allowed too many three-pointers to fall in 2012-13, and J.J. Redick does not give up those shots easily.
CBSSports.com's Matt Moore notes that Redick is leaning toward leaving the Milwaukee Bucks in free agency. Redick is 6'4" and has decent quickness, so Houston needs to pursue the Duke product.
At 28 years old, Redick is currently in the prime of his career, and his on-target shooting from distance complements James Harden's playmaking ability on the offensive end.
His potential contract could be an issue as he made more than $6 million last season, according to Hoopsworld.com. However, if the Rockets can convince Redick to take a lower salary, the seven-year veteran would be a great addition to Houston's squad on both ends of the floor.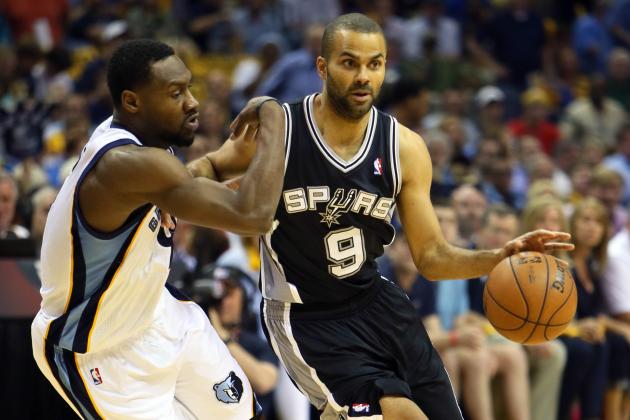 Spruce Derden-USA TODAY Sports
Memphis called upon Allen to disrupt Tony Parker in the playoffs, and it was not a fun job.
Chandler Parsons is Houston's most versatile defender, but he was also the Rockets' second-leading scorer. Passing off defensive responsibility in exchange for offensive production is challenging, but Tony Allen would be an excellent option for taking on extra duties.
Allen is that guy who takes pick-up games way too seriously, sweats through his shirt before either team gets to five points and steals a pass for the game-clinching basket.
In other words, you'd rather play with Allen than against him.
Bleacher Report's Dan Favale perfectly described Allen's defensive ability at the beginning of the season:
This is a guy who can defend the most brutal of slashers like Kevin Durant and Dwyane Wade, yet he also has the patience necessary to man star floor generals like Chris Paul and Deron Williams.



Allen comes with a manageable contract, plus he provides unbelievably menacing defense, and the Rockets need someone who can guard a Durant, Paul or LeBron James without sacrificing offense.