Florida Gators Football: 5 Biggest Challenges for Brent Pease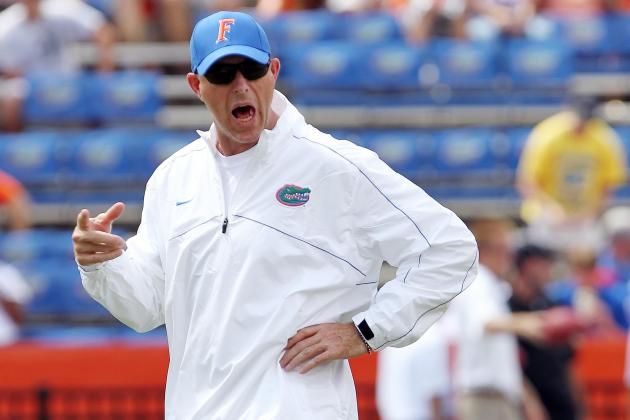 Kim Klement-USA TODAY Sports

The Florida Gators may have won 11 games last season, but the picture on offense was by no means rosy.
Quarterback Jeff Driskel struggled throughout the campaign. He finished his sophomore season with only 2,054 total yards of offense. As a result, the Gators finished with a passing attack that ranked a dismal 118th.
It also forced offensive coordinator Brent Pease to keep a limited playbook and rely heavily on his talented backfield.
Fast forward a few months, and Pease is currently looking for ways to kick-start his offensive unit.
But this will be no easy task.
Here are five challenges confronting Pease as the 2013 season draws ever closer.
Begin Slideshow

»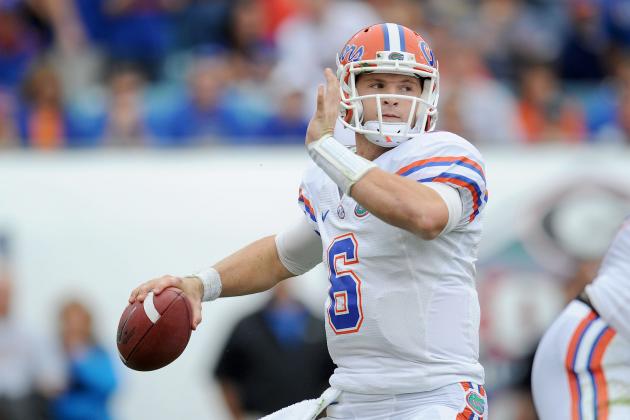 Kevin Liles-USA TODAY Sports

Even when the Gator pass offense worked at times last season, there was no threat of any deep passes.
That has to change this year.
Short passes are nice, but eventually they won't work. There will be plenty of third-and-long situations, whether it be because of penalties or not, that should force Pease to look downfield for an answer.
More importantly, a well-executed deep pass will spark the entire team. The Gators seemed to respond to explosive plays repeatedly in 2012, and they rode that emotion to close victories.
It is critical for Pease to set up the offense for big plays in key spots.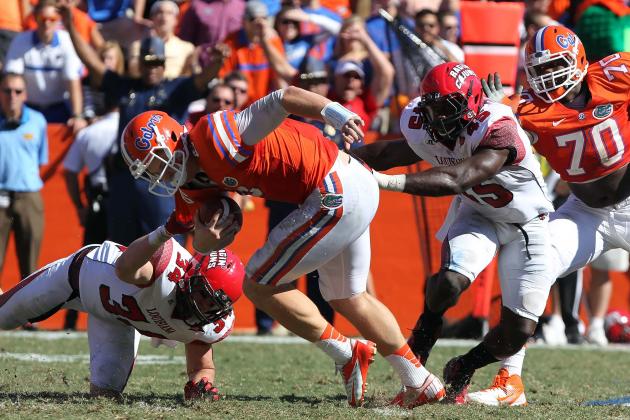 Kim Klement-USA TODAY Sports

Of course, he needs a calm and collected quarterback to deliver the football. That's where Jeff Driskel comes in.
Driskel often had a "deer in headlights" look to him last season. He looked jumpy in the pocket and periodically had moments when he struggled to make his reads.
Most important of all, he took a beating from defensive hits and sacks.
Pease needs to find a new Driskel, one that is forceful and confident.
He doesn't need to put the entire game in Driskel's hands, but he will have to lean on the athletic junior at important moments. Thus, he needs to work with him and find the next level of his game.
If Pease can help improve the deficiencies in Driskel's football IQ, the Gators will be a dangerous team.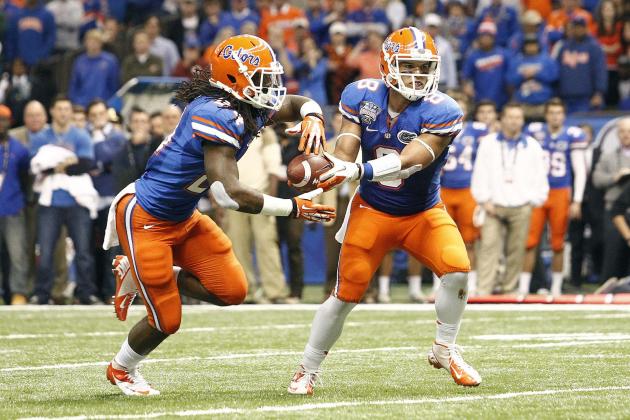 USA Today Sports

It may seem as though I am only focusing on the passing attack and alienating Florida's 2013 backfield.
Far from the truth.
The Gators will have one of the best one-two punches in the SEC next season. Matt Jones ended 2012 on a high note, and Kelvin Taylor has been deemed the next superstar before even taking a handoff in a live game.
Pease will have to rely on his team's strengths, and the ground game is a big one. He will need to trust both Jones and Taylor, even though their combined experience is barely measurable.
Opening up the field with this potent combo will make things easier for Driskel and the entire offense. Thus, it will also make winning an easier task for the Gators.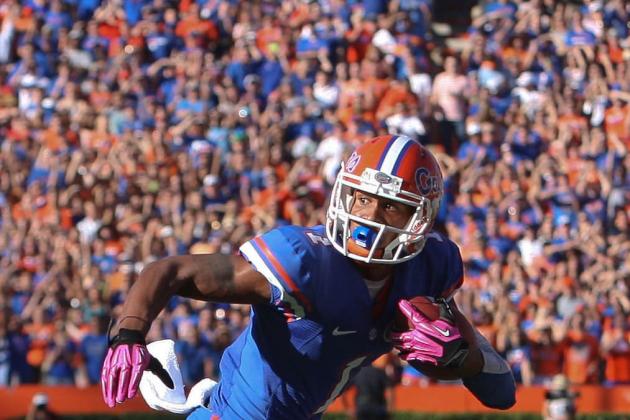 Rob Foldy-USA TODAY Sports

It's the same broken record that Gator fans have had to listen to for the past three seasons.
The Gators lack consistent playmakers at the wide receiver position.
Well, that may finally start to change in 2013.
Pease needs to find a weapon for Driskel, especially now that Jordan Reed is out of the picture. The only time Florida's offense seemed to have any flow last year was when Driskel and a receiver got in a rhythm and found open space.
Most of the fingers are being pointed in Quinton Dunbar's direction, but it doesn't have to be the junior who steps up. It may very well be freshman Demarcus Robinson or another receiver.
But without a doubt, Pease has to find someone.
Until that happens, the Gators cannot be considered a legitimate threat for the national championship.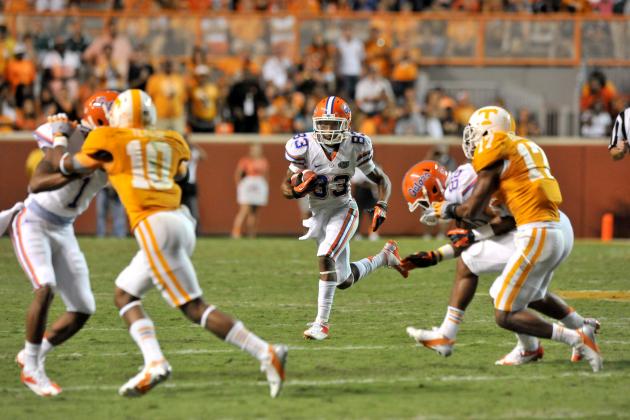 Jim Brown-USA TODAY Sports

Mike Gillislee shouldered the brunt of the load on offense in 2012. By the end of the season, however, he was worn down and not able to make as big an impact.
Pease will need to prevent such a slanted work distribution and let everyone touch the football.
The Gators have a number of players that are often overlooked. Trey Burton is skilled in multiple ways, but his role has remained somewhat minimal. Then there's Solomon Patton, who happens to be one of the fastest on the entire team. He can be very valuable for end-arounds and trick plays.
I already mentioned that Florida has two running backs that can turn into potential superstars. Mack Brown may not be at this level, but he is certainly talented in his own right.
Throw in Quinton Dunbar and Demarcus Robinson, and you have seven players who should have significant roles offensively.
It will be a little difficult for Pease to get everyone involved, but he needs to get as many involved as possible. This will keep opposing defenses guessing, and it should allow Florida to score many more points than we saw last season.