French Open 2013 Men's Final: Nadal vs. Ferrer Preview and Prediction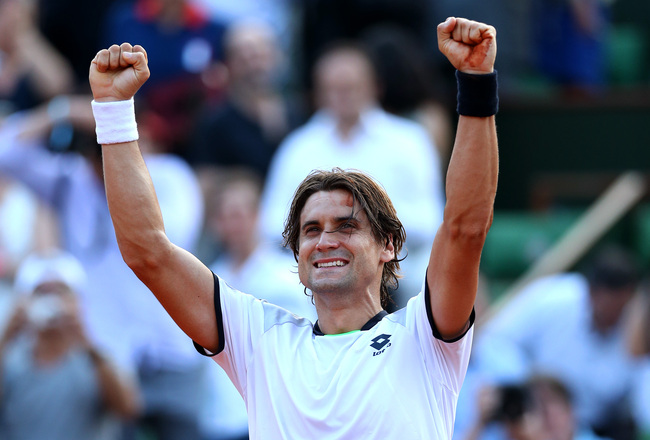 Matthew Stockman/Getty Images
In a dramatic French Open semifinal on Friday, No. 3 seed Rafael Nadal held on to defeat world No. 1 Novak Djokovic in five exhilarating sets in a little under five hours.
In addition to that, his countryman, the No. 4-seeded David Ferrer, also advanced to his first French Open final after soundly defeating Frenchman Jo-Wilfried Tsonga in straight sets during his semifinal contest.
It will be Ferrer's first Grand Slam final, and it comes on clay, his favorite surface.
Reaching his first French Open championship, however, was the easy part. Now the feisty Ferrer must continue doing the improbable by taking out Nadal, the world's best ever clay-courter.
Nadal is bidding for his eighth French Open title with his fourth consecutive win on the grounds of Stade Roland Garros. With his game tightening and improving with each match, Nadal is in top clay-court form and ready to make history on Sunday. The only man standing in his way is a man who never quits.
So who will win on Sunday? Read the following analysis and prediction.
Who Has the Historic Edge?
Matthew Stockman/Getty Images
David Ferrer and Rafael Nadal have met 23 times prior to the French Open final on Sunday. Nadal leads in their head-to-head, 19-4.
Ferrer defeated his countryman at the Australian Open in Melbourne in 2011. He won twice in 2007 on hard courts at the Tennis Masters Cup and ended Nadal's campaign at the 2007 U.S Open. He defeated Nadal once on clay in 2004 at Stuttgart.
But Ferrer has not defeated Nadal since 2011, and he has not upset his countryman on clay in almost a decade.
Not including this year's French Open, Ferrer has won 253 clay-court matches, losing 103 for a 71.1 winning percentage. Nadal, on the other hand, has won 285 matches on clay, losing 21 for an astonishing winning percentage of 93.
Since Nadal returned to the game after withdrawing from action after the 2012 Wimbledon Championships, he has only lost twice, winning 36 matches. All of his contests, except Indian Wells, have been on clay.
Ferrer has won 31 matches prior to Roland Garros, losing nine times.
Based on historic evidence alone, Nadal gains the advantage as the two get set to face each other in the final.
How Ferrer Has Looked so Far at Roland Garros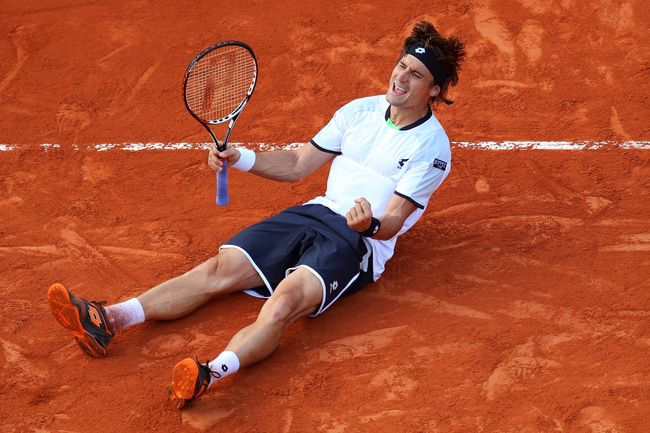 Julian Finney/Getty Images
David Ferrer breezed past Australian Marinko Matosevic in the first round, followed by countryman Albert Montanes in the second. Then he dismissed another countryman, Feliciano Lopez, in the third.
He eliminated big-serving Kevin Anderson in the Round of 16 before defeating another Spaniard, tired Tommy Robredo, in the quarterfinals. Ferrer still has not dropped a set.
Finally, on Friday during the semifinals, the fiery Spaniard excused Frenchman Jo-Wilfried Tsonga in straight sets in a match few thought Ferrer would win. The French crowd was solidly behind Tsonga, but Ferrer quieted them quickly by outhustling and outsmarting the bigger, more powerful man on the other side of the net.
To date at Roland Garros, Ferrer has played 18 sets, winning all of them, with only one decided in a tiebreak. The No. 4 seed has played a total of 155 games, striking 164 winners. Winning 42 return games so far, Ferrer has accumulated 312 points during his service games out of a total of 593 points won in the tournament so far.
He's averaged 56.7 percent of first serves in as well as winning 73.5 percent of them. His serve has given him 12 aces as well 17 double faults.
Ferrer enters the final without having dropped a set. He's remained consistent and unflappable. His serves have been on the mark. But it's his return game that has brought him to the final match on Sunday.
His demeanor on court has remained cool, calm and collected. He'll know exactly what he's up against when he faces the most difficult opponent of all at this year's tournament.
How Nadal Has Looked so Far at Roland Garros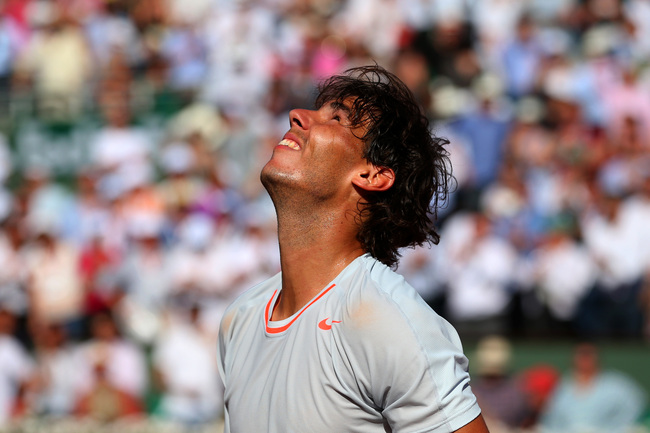 Julian Finney/Getty Images
Unlike Ferrer, Rafael Nadal had some shaky matches coming into the final. But what was true of Nadal at Roland Garros in recent years was true in 2013. The No. 3 seed grew stronger as he advanced.
After two four-set matches in the first two rounds over German Daniel Brands and Slovakian Martin Klizan, Nadal settled into matches quickly from the third round forward. He was, however, severely tested in his semifinal match with world No. 1 Novak Djokovic. Nadal hung on to win their match in five.
So far, Nadal has played 22 sets, winning 18 of them, with three decided in tiebreaks. The world No. 4 has battled through 217 games, hitting 203 winners throughout the first six matches. Nadal has amassed 431 points during his service games out of a total of 739 points won in the tournament to date.
He's been averaging 74 percent of his first serves in as well as winning 72.2 percent of them. His serve has given him 24 aces and 10 double faults.
Playing with his usual aggression, power and speed, Nadal has dominated most opponents since the third round—the exception being his semifinal match when Djokovic stretched him to the limit.
The former champion appears to be rounding into form at just the right time at Roland Garros.
Biggest X-Factors in the Final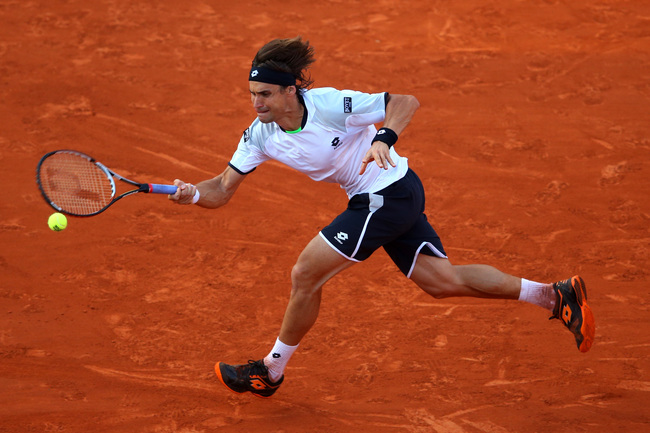 Julian Finney/Getty Images
For Ferrer, the battle ahead looms large. He has not defeated Nadal on clay since 2004. But he definitely has some advantages coming into this final.
For one thing, he has spent far less time on court than Nadal. While his countryman was battling for an extended five sets in just under five hours, Ferrer finished three sets against Tsonga in under an hour-and-a-half on Friday.
Ferrer's form during the tournament has been almost perfect, advancing in straight sets through the first six rounds. His return game remains spot-on, often leaving his opponents wondering just what they did wrong as the ball skirted past them.
At 5'9", however, Ferrer needs help from the weather gods to slow down and moisten the courts so the ball doesn't bounce so high. With Nadal's spin and his power, returning his high-bouncing serves becomes quite difficult for Ferrer.
Weather becomes an X-factor in this match since rain has been prevalent so far.
Nadal has to hope that his knees and his legs can rebound after running—often sprinting—to return the ball during his semifinal contest against Novak Djokovic.
Nadal has not played his usual schedule coming into this year's French Open in an attempt to keep his knees free of injury and his legs fresh. But lack of time on court has made him less confident in the early stages of tournaments, even at Roland Garros.
Nadal's ability to rebound mentally and physically after an exhausting match on Friday becomes an X-factor for him during Sunday's final.
Rafa Will Win If.....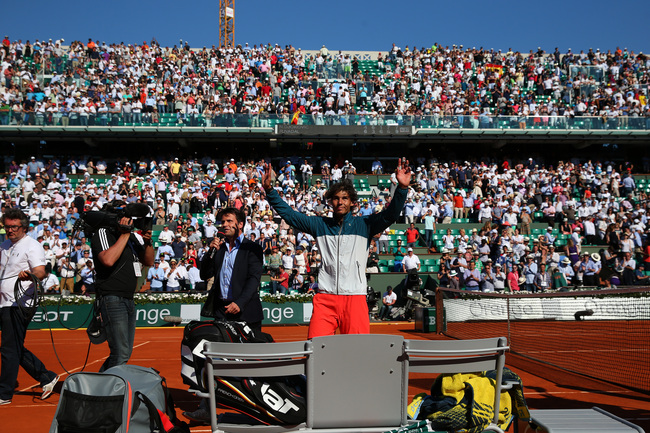 Julian Finney/Getty Images
Nadal needs to bounce back quickly for the final on Sunday. So far, he has shown no signs of slowing down or injury as the French Open has progressed. In fact, his strength and power have seemed to grow with each passing round.
The only factors that might cause Nadal real problems other than fatigue is the weather, which could dampen his ability to counter against the speedy David Ferrer.
Nadal needs to sustain his high first-serve percentages, as well as his wicked topspin returns that dip into the court or fly out of reach.
If Nadal has the strength and energy to stay ahead of straight-sets winner Ferrer after surviving a five-set battle against the world No. 1 Djokovic, then he has an excellent chance of progressing.
His challenge will be to sustain his energy level and his nerves as he battles for a record-setting eighth French Open title.
Ferrer Will Win If....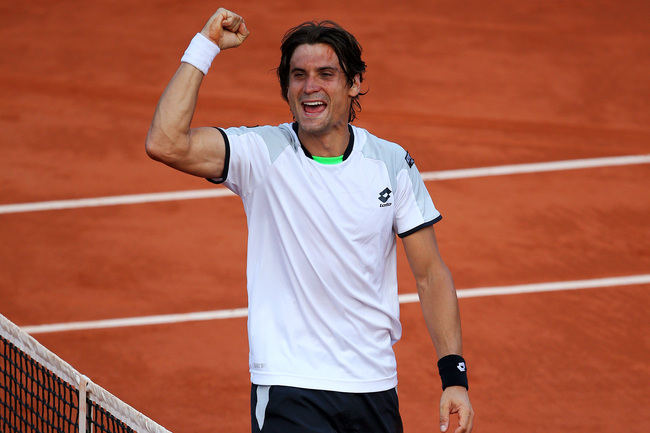 Clive Brunskill/Getty Images
If David Ferrer remains convinced that he will win this match and plays smart, employing all his defensive prowess, he can win this match. But it will be a tall order against Rafael Nadal.
In order to win, Ferrer must come out firing. He must win the first set in order to plant a seed of doubt in the champion's head. Nadal winning the first set is probably the death knell for Ferrer in this match.
At that point, the defending champion would climb all over the match, shutting down his countryman just as he has so many times in the past.
That means Ferrer must move in fast, not giving Nadal time to strike the ball as cleanly as he usually does. He must especially rush the Nadal backhand as Novak Djokovic did at Monte Carlo. He needs to take Nadal out of his comfort zone by striking well-timed drop shots, forcing Nadal to scramble.
This is Ferrer's best shot at winning a major at age 31. History may not be on his side, but desire and drive will be.
Prediction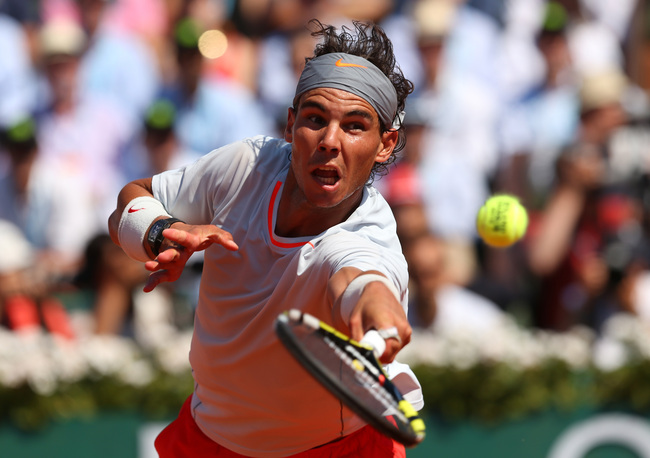 Julian Finney/Getty Images
David Ferrer comes into this final on the wings of a definitive win over Jo-Wilfried Tsonga in the sixth round. He would not be denied despite the crowd trying to push the Frenchman over the top.
He has done everything with seeming ease so far in this tournament, mowing down all opposition standing in his way. Now Ferrer stands ready to move into a Grand Slam final for the first time in his long career.
Rafael Nadal battled for almost five hours before he was able to eject Novak Djokovic in their semifinal match on Friday. He has defeated Ferrer in 19 of their 23 matches to date.
History has proven that Nadal never takes any opponent for granted, and he will not overlook Ferrer on Sunday.
Despite all the drive and determination of Ferrer, his task his almost impossible.
Unless the skies open up with rain, slowing down the court drastically, Nadal will win his eighth title on the grounds of Stade Roland Garros.
Keep Reading